WORLD'S TOP AND INDIA'S BEST GRANITE MANUFACTURER, SUPPLIERS AND EXPORTER -BHANDARI MARBLE GROUP INDIA
Granite is one of the oldest and most durable stones and is highly demanded because of its extraordinary strength along with its truly aesthetic appearance. This perfect combination of durability and beauty is a major factor in its increasing demand. Granite is undoubtedly one of the most unique and strong natural stones and deserves all the popularity it has got over the past several years.
ONE OF THE OLDEST STONES BY ONE OF THE OLDEST SUPPLIERS
Bhandari Marble Group is one of the oldest and most trusted suppliers of Granite- one of the oldest and most durable stones. We have served sheer excellence for several decades now and have been prominent in the natural stone industry for a very long time. We have earned the trust of several buyers and look forward to expanding our reach even more in order to make your dream project come to life. Granite is durable and beautiful but it is very crucial to get the best quality granite in order to experience its true characteristics. Bhandari Marble Group understands this and provides premium grade granite to buyers because when our buyers are satisfied, we are satisfied. We are the world's top and India's best granite manufacturers, suppliers and exporters. Not only are we the most dependable suppliers but also the most prominent ones in the natural stone industry. We are among top 10 granite manufacturers and are the best, we are also among top 10 granite suppliers and top that list too along with being among the top 10 and the best exporters.
FORMATION OF GRANITE
The formation of granite takes place when sticky and thick magma cools down slowly and crystallisation occurs before it is able to reach the earth's surface. This is how this truly beautiful stone is formed and the reason behind its unmatched strength and durability. It is an igneous rock and is formed by slow cooling of hot molten matter. It is largely composed of quartz, plagioclase and alkali feldspar.
WHERE DOES GRANITE COME FROM?
Granite is one of the most widespread igneous rocks, found in a large part of the continental crust. India is the largest supplier of granite along with Brazil, China and Canada. In India, Kishangarh in Rajasthan is a major mining and manufacturing hub for Granite and other natural stones. Bhandari Marble group is the largest manufacturer, supplier and exporter of granite in the natural stone hub of India, Kishangarh. We provide premium grade Granite for your incomparable project.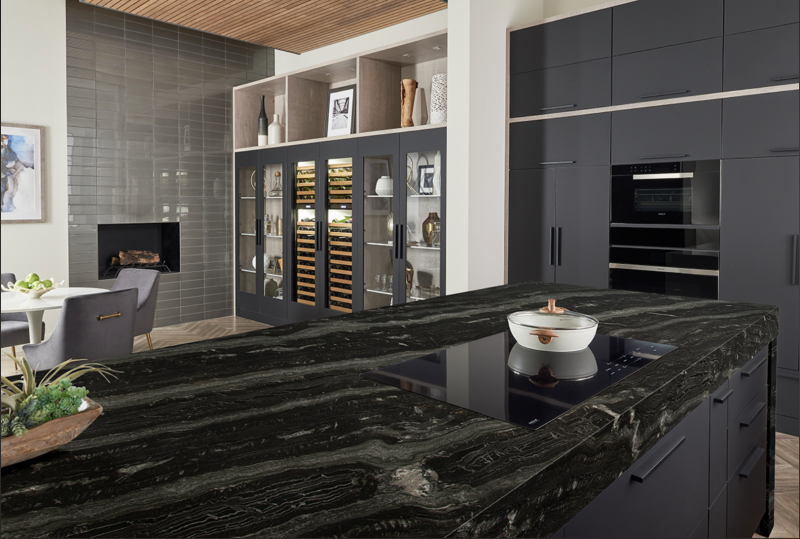 TOP 10 GRANITE TYPES IN INDIA
ABSOLUTE BLACK GRANITE
Absolute Black Granite is the most popular granite in India and is also called Jet Black Granite because of its solid black colour. It is used for flooring, bathrooms, kitchen countertops as well as for wall cladding.
TAN BROWN GRANITE
Among brown granites, this is the most widely used granite in the world. It has a unique brown colour base with light brown flower pattern. It is comparatively less expensive and is used mostly for kitchen countertops, bathroom washbasin, flooring, paving and wall cladding.
BLACK GALAXY GRANITE
Black Galaxy Granite is the second most popular granite and is of solid black colour with golden and silver coloured pattern. It is very beautiful and unique and is perfect for countertops,wall cladding, etc.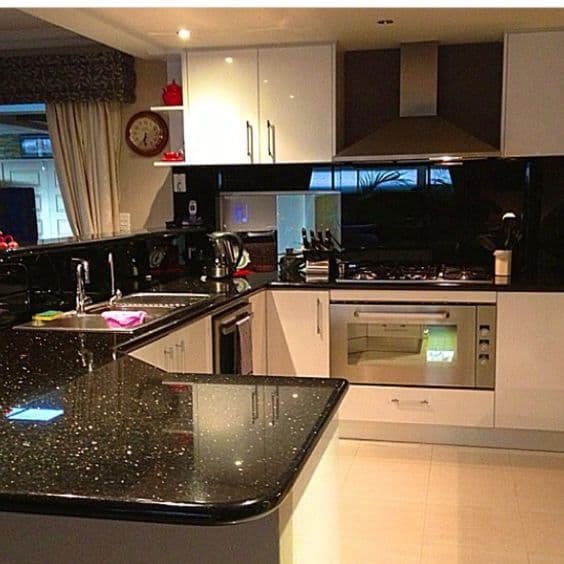 NEW IMPERIAL RED GRANITE
Most factories of this beautiful maroon and red granite are located in rajasthan. It is a very uniquely pretty stone which looks best when used in countertops, bathroom washbasin, flooring and wall cladding.
RIVER WHITE GRANITE
This is the most demanded white granite found in India. It gets its name because of its white colour with a river-like vein pattern. It is mostly used for flooring as well as kitchen countertops.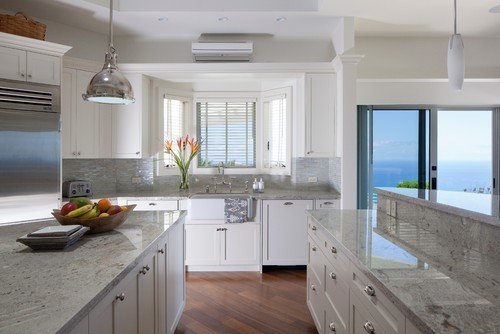 ALASKA WHITE
It is a white coloured granite with a fine vein and big flower pattern. It is mainly quarried in Rajasthan, India and is the most popular Indian granite in the USA. It is mostly used in kitchen countertops.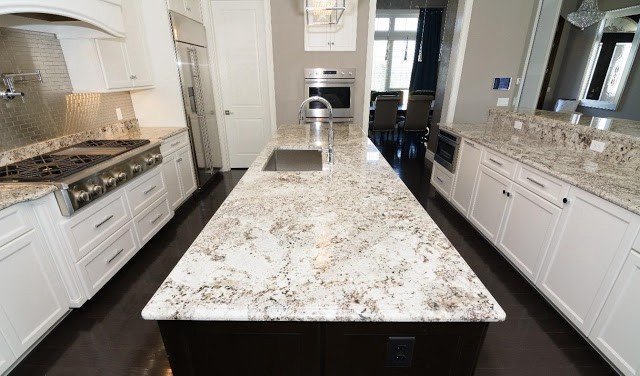 RED MULTICOLOUR GRANITE
This Granite is a red coloured granite with black and brown coloured vein pattern. It is a beautiful stone used mostly for flooring, countertops, wall cladding, etc. and is quarried in Karnataka, India.
PARADISO BLACK/ PARADISO CLASSICO
The Paradiso Black is more towards grey while Paradiso Classico is slightly more purple. These are beautiful and elegant stones which look beautiful in kitchen countertops and flooring.
MOON WHITE GRANITE
Moon White Granite has a beautiful white colour with pearl type flower pattern and is hence called Kashmir Pearl Granite. It is very popular in kitchen countertops and is available in big and small slabs.
KASHMIR WHITE GRANITE
Kashmir White Granite is the classic Indian white marble and is of a beautiful white colour with grey and brown pattern. It is a widely popular granite.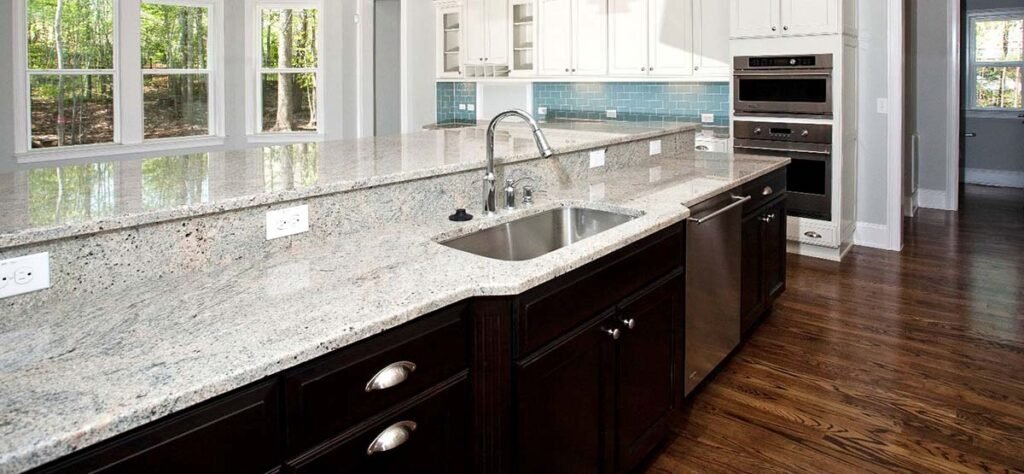 NORTH INDIAN GRANITE V/S SOUTH INDIAN GRANITE
Indian Granite has a lot of very unique traits. These are very decorative yet durable and are highly resistant to harsh weather conditions. North Indian Granite is quarried in the northern states of India like Rajasthan, Madhya Pradesh, etc. while south Indian granite is quarried in southern Indian states like Karnataka, Tamil Nadu, etc. Some sellers specialise in North Indian granite while some others specialise in south Indian granite but we at Bhandari Marble Group provide nothing but the best of both these types of granites. Both types of granites are provided in equally good quality by us because there is nothing better than the best.
WORLD'S TOP AND INDIA'S BEST MARBLE, GRANITE AND STONE COMPANY
ADD BY EXPERT AND EXPORT TEAM OF BHANDARI MARBLE GROUP. CONTACT US ON; +919829040013, +919672941111.
WORLD'S TOP AND INDIA'S BEST GRANITE MANUFACTURER, SUPPLIERS AND EXPORTER -BHANDARI MARBLE GROUP INDIA