BUY MARBLE TILES- INDIA'S HIGHEST-RATED, CERTIFIED COMPANY FOR ALL YOUR MARBLE NEEDS:
MARBLE TILES, SANDSTONE TILES, NATURAL STONE TILES, AND MORE:
Natural stone tiles are smaller pieces of a natural variety of stone cut with precision and are of various types. Tiles are available in different colors and styles and are the best way to beautify and enhance any space with great ease. Tiles come in a wide variety of options to choose from like marble tiles, granite tiles, limestone tiles, sandstone tiles, etc. Natural stone tiles are not only very pretty but also durable.
WORLD'S TOP AND INDIA'S BEST TILES COMPANY- BHANDARI MARBLE GROUP:
Bhandari Marble Group is undoubtedly the first name that comes to one's mind when the best quality marble, granite, and natural stones are thought about. Tiles are a great way to enhance the look of any space but it is also of extreme importance to choose good quality natural stone tiles. We at Bhandari Marble Group are here to provide you with the best quality marble tiles, granite tiles, quartz tiles, etc. You have a vast variety of options to choose from. Bhandari Marble Group is the world's top and India's best tiles company for a reason. Not only are we committed to quality but also to customer satisfaction. Making your dream project come to life is our only goal. We aim at providing you with nothing but the best. Our products are of premium grade and we are the most dependable manufacturers, suppliers, and exporters. The unshakable faith that our buyers put in us is our motivation to do better each day and the reason why we are a prominent name in the natural stone industry.
SERVING ABSOLUTE BRILLIANCE SINCE 1631:
Bhandari Marble Group has been in the natural stone industry for countless years now. In fact, our forefathers were one of the first to provide marble, granite, and natural stones for building monuments and palaces. Our forefathers were the ones to provide the premium grade Makrana marble used in the iconic and classic beauty, the Taj Mahal. The Taj Mahal still stands strong and beautiful and tells the tale of the olden times. Its strength and the fact that it was resistant to damage by natural and artificial means shows the quality of marble it is built-in. We have been serving sheer perfection for many years now and still continue to grow. Bhandari Marble Group is the oldest manufacturer, supplier, and exporter of natural stone in India and across the world.
WE ARE LISTING SOME OF THE MOST POPULAR TYPES OF TILES BELOW THAT YOU CAN CHOOSE FROM:
MARBLE TILES:
Marble tiles are one of the most popular types of tiles which give a very luxurious and high-end look. They are also very easy to clean and maintain and are very durable and long-lasting. There is a variety of marble tiles to choose from.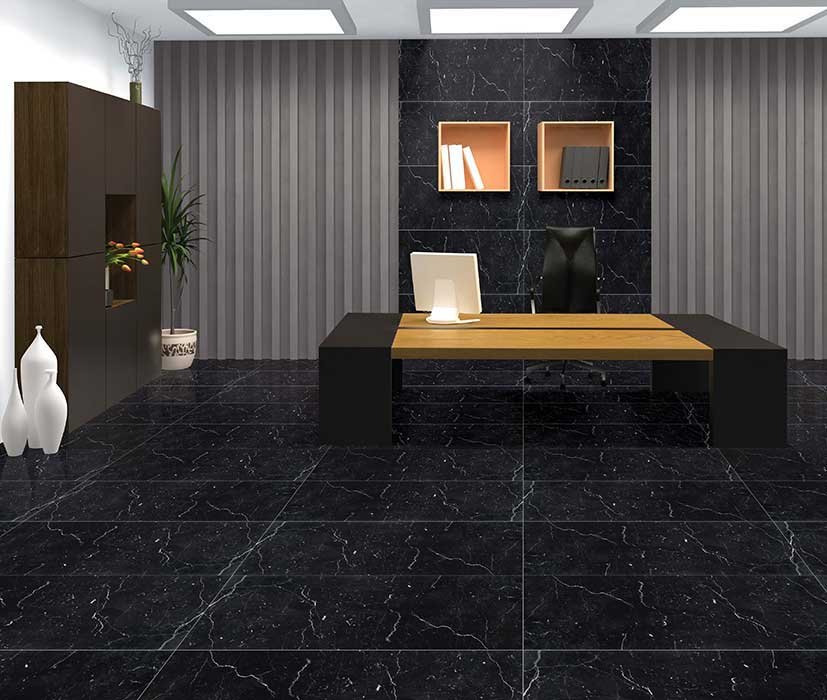 ELEVATION STONE TILES:
Elevation stone tiles are used for wall cladding and are usually made of slate stone. They are used for a boundary as well as front elevation and are the best option to enhance the overall look of any project be it your home, office, or villa. These stone tiles are a perfect and reasonable choice.
FLOOR TILES:
These tiles are used for flooring and are usually square or rectangular covering which makes the floor look extremely beautiful and maintained. These are also easier to clean and prove to be a perfect choice for flooring. There are lots of options available to choose from.
BATHROOM TILES:
Bhandari Marble Group provides bathroom tiles that are glossy yet non-slippery. Our stone tiles are very popular because of their quality and also because they reduce the chances of any accidents taking place in the bathroom. These are the perfect way to remodel your bathroom and make it look sophisticated and maintained.
KITCHEN TILES:
These tiles are used for kitchen flooring, wall cladding, etc., and are a perfect way to make your kitchen look beautiful and to enhance its overall look. These tiles are easy to clean and you can easily wipe them with a wet cloth. This makes them very suitable for the kitchen. These tiles are durable and easy to maintain. Porcelain is the most popular kitchen flooring tile.
CERAMIC TILES:
Ceramic tiles are best used for floors, walls, interiors, and low-foot traffic areas. These are comparatively less expensive and are easily cut and shaped. These are most suitable for interiors and look very pretty in any space.
QUARTZ TILES:
Quartz tiles are also known as engineered or agglomerate tiles and are composed of a mixture of resin, sand, quartz, and colored pigment. These tiles are less slippery and perfect for flooring. These are mostly found in Rajasthan, Bihar, and Andhra Pradesh.
QUARTZITE TILES:
Quartzite tiles are very hard and have a very unique sparkling texture. These tiles are very durable and highly demanded floor tiling. These tiles require minimum maintenance and are resistant to cracking. They give a very luxurious look with long-lasting beauty.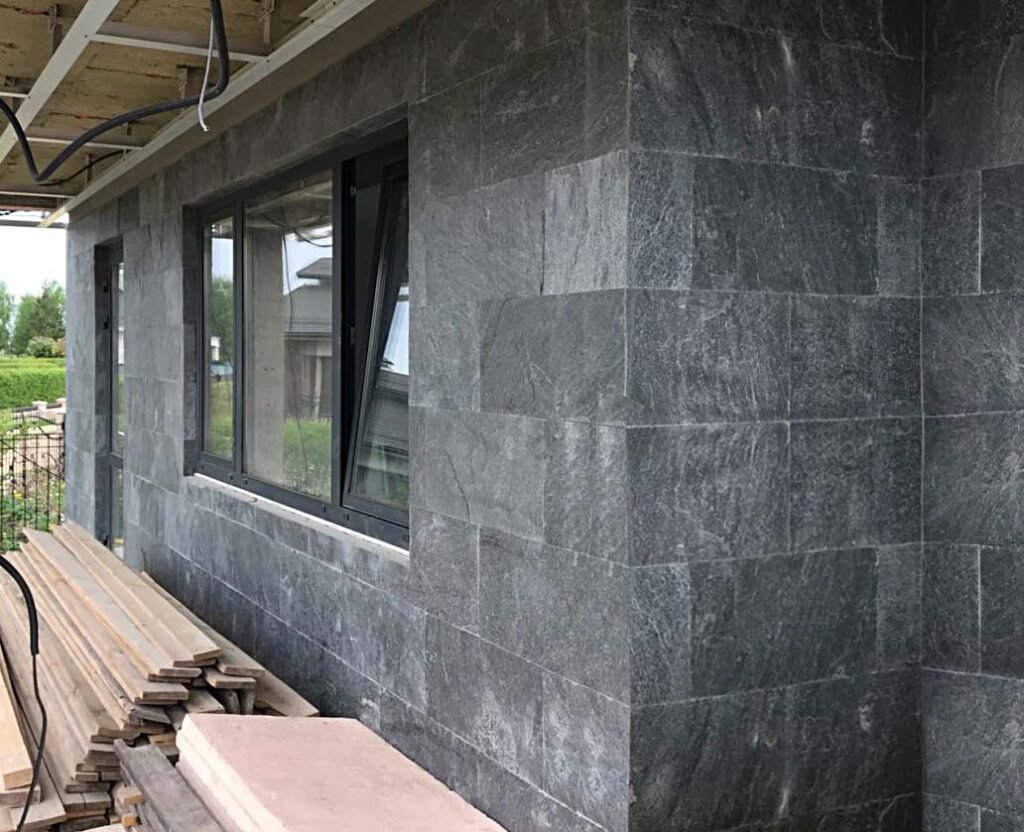 SANDSTONE TILES:
These tiles are very popular for flooring and interior. They can enhance the look of your bathroom and these are also good for the exterior because of their high resistance to damage. These tiles can be slippery when wet but are very durable and long-lasting.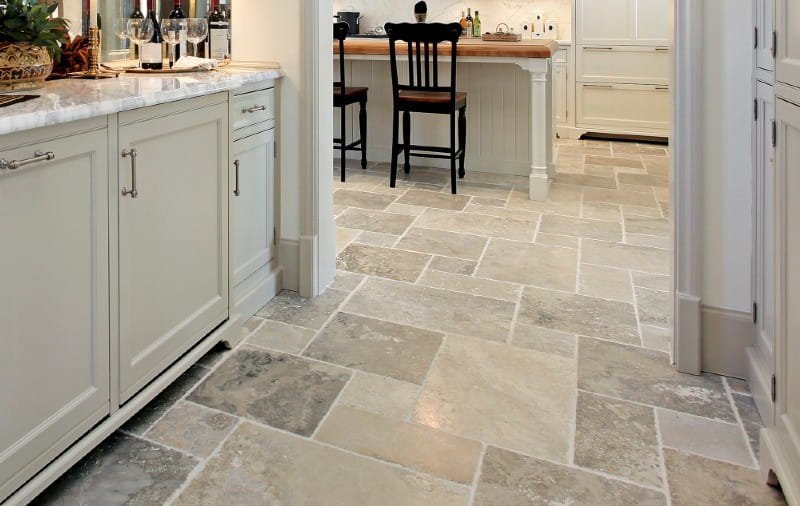 LIMESTONE TILES:
Limestone tiles are popularly used for flooring because of their high durability and also because they provide a regal and rustic look. With their muted earth tones and unique style, these tiles are a perfect choice for any space where a sophisticated and different look is desired.
NATURAL STONE TILES:
Natural stone tiles are perfect for flooring, wall cladding, interiors as well as exteriors because they are a perfect combination of unique beauty and incredible durability. Natural stone tiles are becoming increasingly popular as they match modern aesthetics and are also long-lasting.
PORCELAIN TILES:
Porcelain tiles are popularly used for flooring and wall cladding and are generally denser than other stone tiles. Their water absorption rate is as low as 0.5 percent which makes them perfect for kitchen and bathrooms. They are also less prone to breakage.
DIGITAL TILES:
These tiles are made of ceramic and vitrified materials and are manufactured using digital printing. One can add any design and style they like which is the reason why these are very popular. These are stain-resistant and chemical-resistant.
ONE PLACE FOR ALL YOUR NEEDS:
BHANDARI MARBLE GROUP- ALL YOUR TILES REQUIREMENTS FULFILLED UNDER ONE ROOF:
We at Bhandari Marble Group offer all kinds of stone tiles and make it easy for you to find your perfect tile without any challenges. We also offer personal guidance so that you make an informed decision. You need not visit different places to find the perfect tiles for your project. All you need to do is come find just the right tiles at Bhandari Marble Group. We are truly committed to quality and provide only the best. Our products are of unmatched quality and you can choose from a wide range of options. WHATEVER YOUR NATURAL STONE NEEDS MAY BE, BHANDARI MARBLE GROUP IS HERE TO PROVIDE THE BEST PRODUCTS.
WORLD'S TOP AND INDIA'S BEST MARBLE, GRANITE AND STONE COMPANY
ADD BY EXPERT AND EXPORT TEAM OF BHANDARI MARBLE GROUP. CONTACT US ON; +919829040013, +919672941111.
Marble TILES BY BHANDARI MARBLE GROUP