BLOG – 17
BHANDARI MARBLE GROUP
Brings you the finest quality of naturally occurring colored stones & slabs i.e. from the marvelous marble to the sturdy sandstone from the tough paving's to the beautiful rain forest marble, from the classy international marble to our exclusive Indus Beige, all of these are sourced from corners of the globe. Our selection of stones like marble & granite is famed for their eye-catching shades and excellent texture, which makes them an ideal option to decorate your home.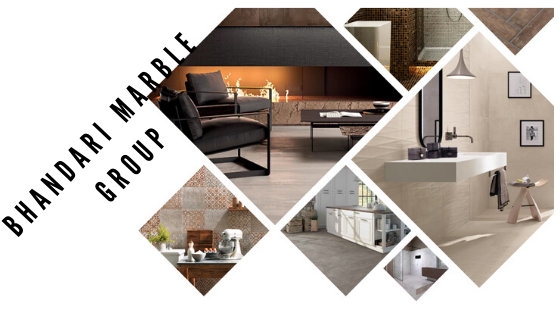 What is Travertine?
Travertine is a type of limestone that is formed by mineral deposits from natural springs. This sedimentary stone is created by the rapid precipitation of calcium carbonate, known as calcite. Other minerals mix together with the calcite to create unique swirls and movement that give travertine its distinctive character.

Travertine is a form of limestone deposited by mineral springs, especially hot springs. Travertine often has a fibrous or concentric appearance and exists in white, tan, cream-colored, and even rust varieties.
What are travertine slabs and tiles?
Travertine slabs and tiles are a preferred type of natural stone for homeowners and architects with its reasonable cost and quite a wide usage area. With its soft texture and soft colors, Travertine provides a sophisticated look to your home designs. Travertine is classified as a sedimentary stone and is a form of limestone.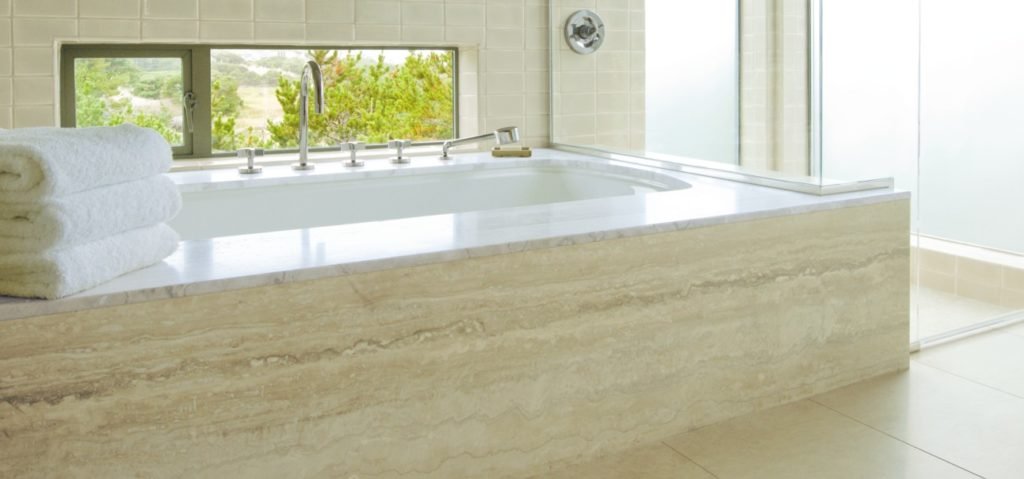 What are the Pros and cons of Travertine?
Travertine is one of the most commonly used natural stones in homes today. The main differences between travertine and other stones are their appearance and their hardness. Its beauty and durability make travertine tiles perfect for floors and walls inside the home. Here are the Pros and Cons of Travertine Tiles.

PROS
The pro to travertine tiles is the cost. It is about twice the price of other comparable natural stones like marble and yet has very similar durability. The pro is appearance. Travertine already looks as though it has been there for a long time. As a result, it will keep its timeless look. Travertine also comes in a variety of stunning colors and can form various patterns. This makes it much easier to replace tiles later on.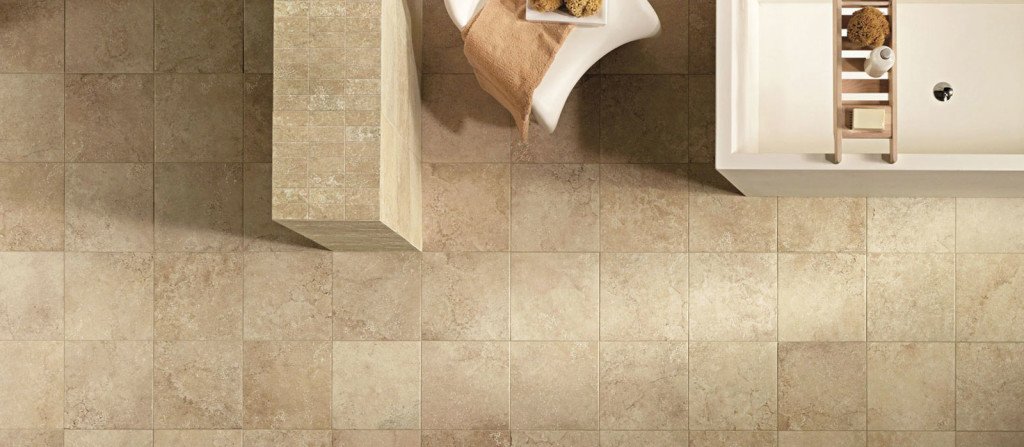 The pro is durability. Travertine tiles can be used for a number of different applications in the home. The tile's non-slip texture makes it easy to grip and walk on. It is also very resilient against extreme temperatures. Travertine tile's versatility makes it a very popular choice for homeowners. The pro is the ease in which travertine tiles are cut and shaped. This allows homeowners to fill small and oddly shaped spaces.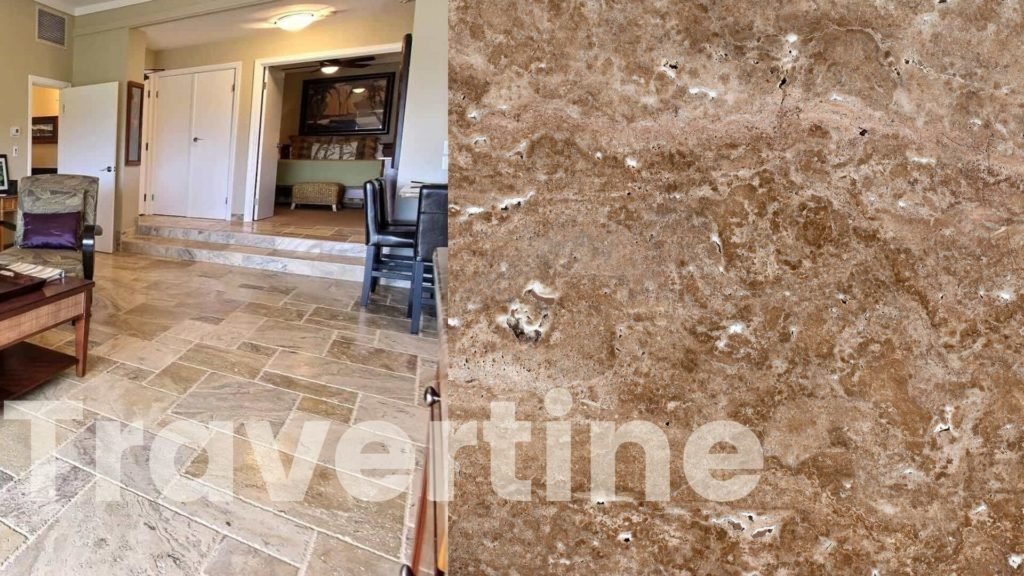 CONS
The con to travertine tile is that it is very porous and has a lot of holes. These holes can show some signs of wear and tear after many years.
Are travertine slabs and tile durable?
Travertine is a very durable material in flooring to heavy traffic. Also, it is a very hard material when compared with marble. The travertine is resistant to temperature changes. Due to the porous structure of the travertine stone, there is a need for more care.
What is the cost of Travertine in India?
Generally, natural travertine with special finishes is the least expensive, typically costing closer to just a 250 to 500 Rs per square foot. However, travertine that's polished, brushed for an aged appearance, honed or tumbled for a rough appearance can cost significantly more.
Get Best Quote
Approx Price: 200/ Square Feet
Minimum Order Quantity: 1000 Square Feet
Rating:
*****
Product Details:
Travertine stone is best known for its internal and external use. It is also referred to as Travertine stone. Travertine is commonly used for Flooring Elevation and Decoration. We are the exclusive suppliers of Travertine stone. Travertine stone is available with us in various sizes, designs, and patterns. We offer the Travertine Marble within the stipulated time period matching to the budgets of our esteemed customers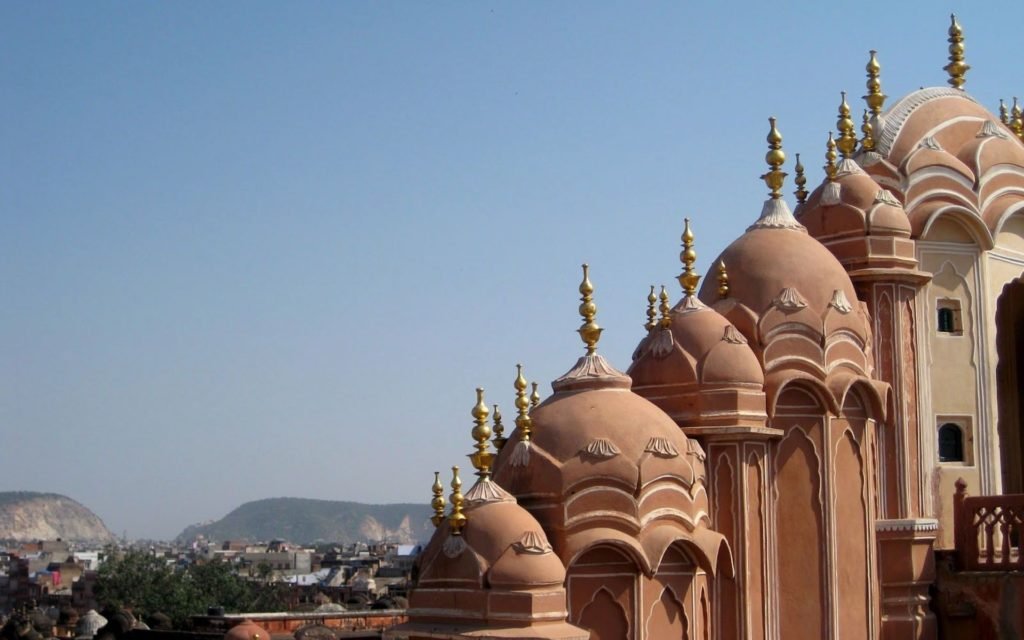 Features
Used as wall Flooring Elevation and Decoration
Long-Lasting
Available in slab, tile
Specifications
Imported Marble
Thickness 15-20 mm, 20-25 mm, 30 mm
Smooth Texture
Good look
Cozy and Charming look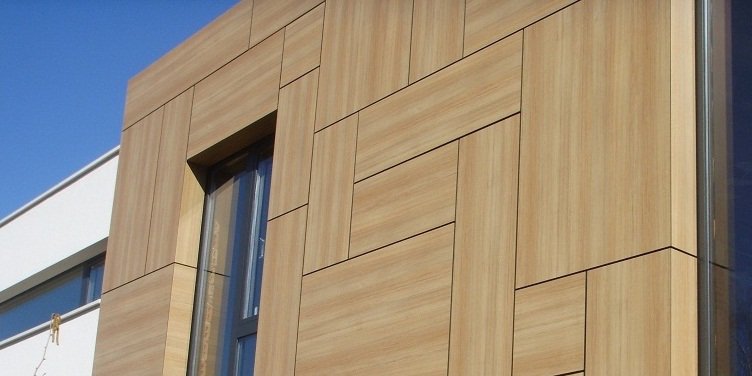 Who are the best Manufacturer, Supplier, Exporter, and Importer in India?
BHANDARI MARBLE GROUP the main strength is that we provide high-quality service to all the Bhandari Marble Group customers coupled with the complete integration and solutions our company has to offer. We can satisfy your needs with a wide range of products from large blocks and slabs extracted from our own quarries to cut-to-size tiles processed at our extensive production facility located in India Rajasthan Kishangarh. In addition, we offer a special line of Architectural Elements that are hand-crafted by our specialized artists.
OUR VISION
Becoming the hub of natural stones in India to meet the global demand of Travertine and Marble from our COLLECTIONS is what BHANDARI MARBLE GROUP INDIA RAJASTHAN KISHANGARH is aiming to reach relentlessly. Accessibility and availability aren't only what we are offering; but also the highest quality of service for our products, with the most effective techniques which we used to give a new shine and life to Italian Travertine & Marble.
ITALIAN TRAVERTINE & MARBLE
Italian Travertine and Marble is one of the best materials available for use inside Residential space. It is a natural homogeneous product. Bhandari Marble Group is one of the top suppliers, exporter, and importer of stone lines that Italian Travertine & Marble is proud to carry. Marble is considered to be a stone of Kings, emperors, And Maharajahs. If you are residing in India then marble must be your first choice because it provides a cooling effect in the hot and harsh weather of India.
It not only brings a sophisticated and elegant look but it also revives the rich cultural backgrounds of India. Your home is no doubt the place where you feel most relaxed and comfortable and you obviously want other people it should be a place where you feel safe and can enjoy yourself and have happy moments, relaxing moments and quiet moments alike.
Stones of various colors & textures have been used in homes, offices, hotels & many other places for decor, tiling & flooring purposes since a long time. Well, the trend continues to be an unstoppable force, with connoisseurs willing to fork out hefty sums to avail finest stones & add a layer of elegance to their living space.
Today we are presenting some collection of Travertine we have and also how it makes your ordinary home extraordinary.
There are four main types of finish for travertine; tumbled, honed, brushed, and polished.
Tumbled travertine has rounded edges that contribute to its distinctive look; it has more texture than the brushed travertine and also looks more weathered and aged.
Polished travertine is glossy and shiny, the colors are richer and they are very smooth and flat. They tend to be slippery when wet and are stain-resistant.
Honed travertine is the commonest type of travertine flooring; the surface has been polished flat, but not glossy, unlike the polished travertine.
Brushed travertine shares some features with tumbled travertine and a wire brush is used to abrade the surface to improve its texture.
COLLECTION OF TRAVERTINE
SILVER TRAVERTINE
Silver travertine is a chic color from the travertine family which is a form of limestone deposited by mineral springs. This silver colored natural stone has a porous structure and is often used in construction as a building material for houses, offices, hospitals, temples, shrines, swimming pools, and bath complexes.

WALNUT TRAVERTINE
A lavish color, Walnut presents a variation of chalky walnut and fawn tones in a rich blend. Besides its appearance and velvety texture, Travertine stability to stay cool underfoot in hot temperatures makes it a premier choice for pool paving and patios.
WHITE TRAVERTINE
Travertine is a form of limestone deposited by mineral springs, especially hot springs. Travertine often has a fibrous or concentric appearance and exists in white, tan, cream-colored, and even rusty varieties.
BEIGE TRAVERTINE
Beige Travertine Classic is dark beige travertine with a striped structure and delicate stains like linear watercolors.
BHANDARI MARBLE GROUP
Since 1631
+91-9829040013/ +91-9672941111/ +91-9116341111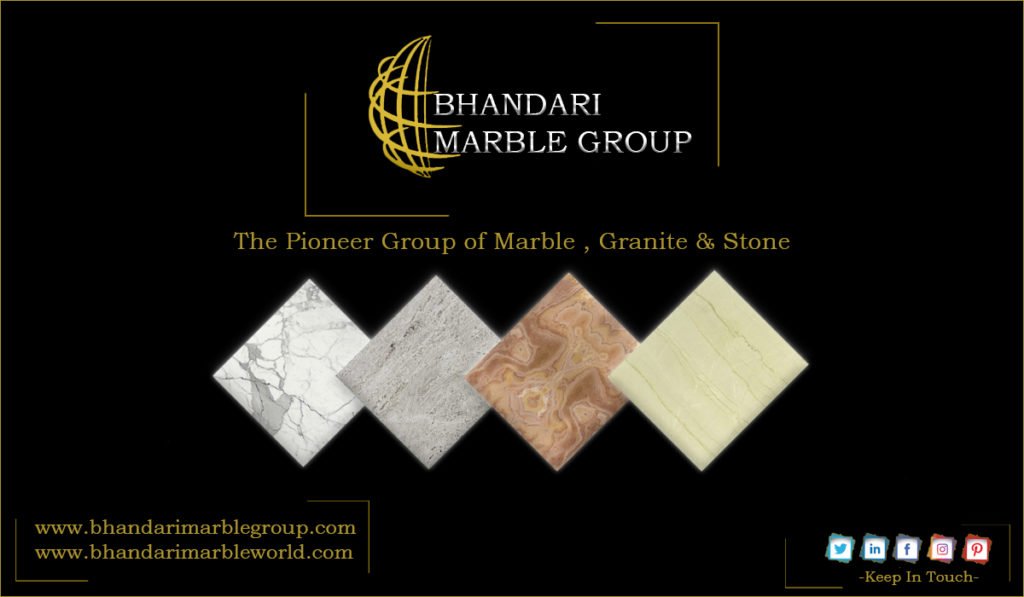 Add by Travertine Italian stone Experts and Export team of BHANDARI MARBLE GROUP INDIA RAJASTHAN KISHANGARH
TRAVERTINE STONE IN INDIA, BY BHANDARI MARBLE GROUP INDIA RAJASTHAN KISHANGARH