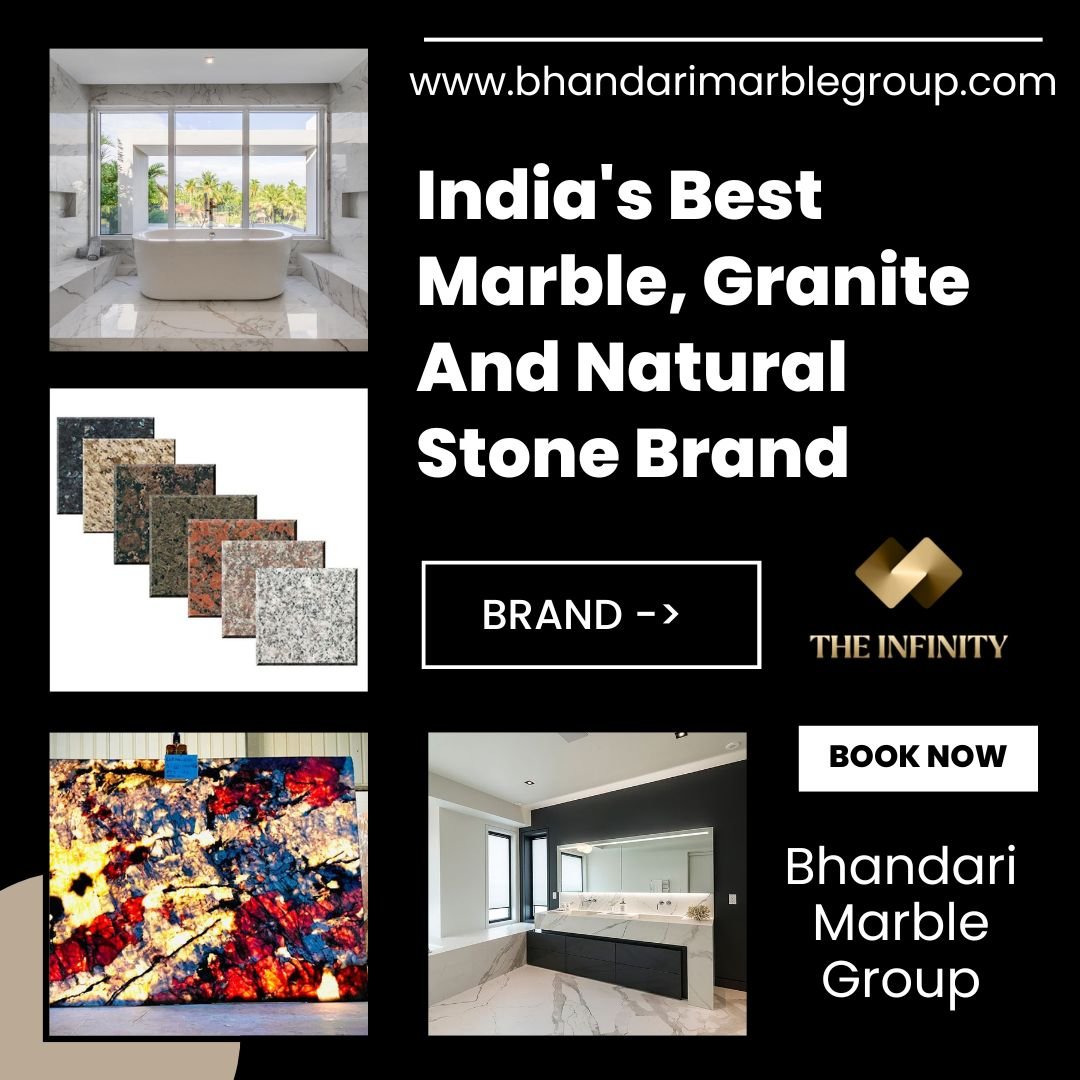 Bhandari Marble Group has been manufacturing and supplying top quality Marble and Granite since 1969. In these 5 decades, we have worked with an esteemed clientele that includes India's top Architects, Interior Designers, Industrialists, Conglomerate and Hotels. This has pushed us to handpick a selection of stones suited to the sensibility and functionality of our customers. We have earned the status of an industry pioneer by offering such premium varieties to choose from. Our reputation and the desire to deliver the best are a testament to our reliability.
WHY BHANDARI MARBLE GROUP?
Welcome to Bhandari Marble Group!!! Thank you for your interest in our Company. Our grandfather Shri Roopchand ji started marble business in 1969. It's the top quality marble products, value of words and our hard work which made us the leader in 
Marble
Industry. What we do know is the teaching of our grand father – to do businesses by utmost honesty, transparency, dedication and conviction. With this moral ethics as the founding philosophy of Roopchand ji group . This is everything that what we stand for. After so many years our group still holds the guideline and strict quality control and all the teachings of our generations from our grand father. Further group members are constantly evolving in research and development of best quality marble.We try to achieve new goals of development and professional excellence, we endeavour to remain quality quantity of marble business.
Bhandari Marble Group is one of India's premier Exporter, Importer, Manufacturer and Dealer of Indian and imported Marble and Granite. We have ventured into catering to the needs of high-end, luxury projects through 'THE INFINITY' which holds a selection of Luxury Marble and Stone. Our skilled and experienced team of executives, supervisors and engineers work towards offering you a wholesome shopping experience.
Apart from being a one-stop-destination for all types of marble and stone, we also specialize in exclusive statuario marble and imported white marble. We deal in Onyx marble, Italian marble, Indian Marble, Kishangarh Marble, Granite, Sandstone and all other types of Natural Stone.
As India's Best Marble, Granite, and Natural Stone Brand, we cater to diverse customer needs. Whether you are an architect, designer, contractor, or homeowner, we have the expertise and resources to assist you in achieving your vision. Our team of experienced professionals is dedicated to providing personalized service, offering expert guidance and advice throughout your selection and installation process.
VISION
Staying true to our founding principles, we aspire to adorn every space with marble and stone that defines finesse, luxury and unmatched quality. Our excellent product range and competitive prices is an evolving trendsetter in the Marble and Granite industry. It is only through sheer dedication and respect for our ethics that we continue to soar high with commitment, quality, integrity and high-performance.
VALUES
Consistency in delivering not just products, but an experience that's memorable for every customer.
Keeping at par with state of the art technologies and emerging global trends.
Integrating honesty and transparency in all aspects of our business functioning.
Building strong relationships with clients through a friendly, responsive and supportive customer service network.
Our approach strives to create a happy environment for employees where they develop an emotional commitment to the company and go the extra mile to serve the customers and their interests. Our foundation as an Indian business that has International Clientele goes strong as we humbly believe in the concept of 'Atithi Devo Bhava', which means respecting our guests as God. The host-guest relationship in India is truly one of the most revered relationships and so is the seller-customer relationship at Bhandari Marble Group.
Established in 1969, Bhandari Marble Group is the sole miner of White miner in India. It is one of India's most revered and trusted names in the Marble and Stone world. The Journey started in Marble City Kishangarh that has a history of marble trading. The city is now known as a hub of marble traders. A familiar name in the city's history is that of Shri Roopchand Bhandari who is the torchbearer of immense knowledge of Marble and Stone. He discovered one of the best Indian marble and gave it the name 'INDIAN STATURIO MARBLE' AND 'INDO ITALIAN MARBLE.' These two are exclusively available at 'BHANDARI MARBLE GROUP' and 'THE INFINITY.' Their quality is one of the best that can be found and all other aspects of the stone are amazing as well. He proved to the world that India's rich resources are a boon. India especially has the finest mineral deposit in the world and thus the finest stone quality can be found here.
We have come a long way since 1931 and our goals have been high on quality, quantity, finishing which is not achieved by any other company. We have broken major records in terms of service and quality hence the true pioneer of marble world.
Bhandari Classic white marble is ranked as world's most beautiful marble. Ahead of its time and all of its counterparts. Reaffirming itself as the benchmark in the marble industry, Bhandari Classic white has been ranked as No 1 in the world's most reputable brands list. We have once again proved our expertise in marble world.
We have the largest range of Indian and imported marble, granite, stone with maximum experience of cutting and finishing of marble stone. Our unbeatable quality along with biggest experienced team of workers supervisors and engineers deliver value products. The advance vision of future market trend and fashion makes the Bhandari brand quiet unique. we have dream plan for individual house, complete township, big hotels, airports, shopping malls, IT centers, showrooms.To experience the quality and skill we invite you to visit Bhandari marble world Kishangarh,
SOCIAL ACTIVITIES OF OUR GROUP
The group in the guideline of shree Roopchand ji Sahab has been regularly involved in social activates helping the needy in the field of medicine, education and educating girl child. Our grandfather always believed in social reforms such as women empowerment, educating girls, fight against dowry and other social evils.
PACKAGING AND POLISHING FACILITY
We have world class packaging and polishing facilities.All kinds of marbles and granites available in various sizes and designs.Contact us for high quality Italian Marble or just view our products.We will definitely provid you the best Marble as per your requirements.For queries please visit our Frequently Asked questions section. We have 
contacts
 in the following cities of India – Delhi, Bangalore, Hyderabad, Ahmedabad, Chennai, Kolkata, Surat, Pune, Jaipur, Lucknow, Kanpur, Nagpur, Indore, Thane, Bhopal, Visakhapatnam, PimpriChinchwad, Patna, Vadodara, Ghaziabad, Ludhiana, Agra, Nashik, Faridabad, Meerut, Rajkot, Aurangabad, Dhanbad, Amritsar, Allahabad, Ranchi, Howrah, Coimbatore, Jabalpur, Gwalior, Vijayawada, Jodhpur, Madurai , Raipur, Kota, Guwahati, Chandigarh, Solapur, Hubballi, Dharwad, Bareilly, Moradabad, Mysore, Gurgaon, Aligarh, Jalandhar, Tiruchirappalli, Bhubaneswar, Salem, Kolhapur, Ajmer, Siliguri, Jammu, Malegaon, Udaipur, Tripura , Kozhikode , Bokaro, Bellary, Patiala, Agartala, Bhagalpur, Muzaffarnagar, Bhatpara, Rohtak, Korba, Bhilwara, Muzaffarpur,