WHITE AND GREEN MARBLE-DETAILED INFORMATION ABOUT PRICE, TYPE, TEXTURE, AND USES
You will find interesting info regarding what is white and green marble, the geology of marble, types of marble available in India. Marble is considered to be a luxurious natural stone that never goes out of style. Hence there is huge demand and consumption of both marble slabs and pre-polished ready-to-fix marble tiles in India. There are rich marble deposits in the states of Rajasthan, which accounts for the huge production of marble in India; the other marble-producing states of India include Gujarat, Andhra Pradesh and Madhya Pradesh. White marble is available in numerous varieties, veins & patterns. One can experiment with different types of marble to create designs by combining marble slabs or tiles of different colours, shapes and patterns.

DETAILED INFO ABOUT WHITE MARBLE
Marble is a metamorphic stone composed mostly of calcite. It is a form of limestone which has changed over the years owing to tremendous pressure and heat. While some marbles are pristine white, others have myriad colour veins due to the presence of the various minerals present in the limestone.

WONDER WHITE MARBLE
White marble is in high demand because it makes the home look more spacious. The Indian varieties of white marble include Morwad white marble, Indian Statuario marble, opal white marble, white sangemarmar marble, Banswara purple marble and others. White marble is used for the flooring, bathroom countertops, walls and tabletops. White marble is also used for kitchen countertops; however, it should be sealed properly so that the marble becomes resistant to stains.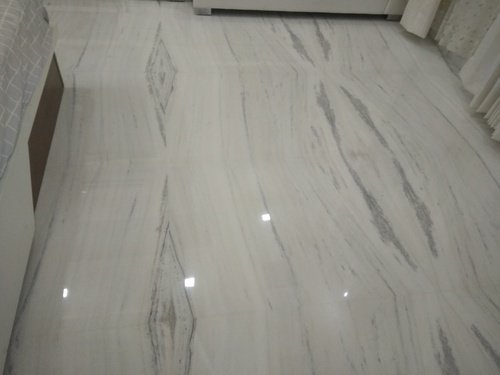 ALBETA WHITE MARBLE
Albeta white Marble is the premium quality of Makrana Marble. It has white as the primary color with a light brown color pattern on it. Also, these Marbles can last for a long time, It doesn't require any chemical processing. The main properties of this natural Marble are resistance to heat and long-lasting Shine.

BANSWARA WHITE MARBLE
Banswara is one of the best and finest qualities of white marble highly recommended for flooring. It has a smooth texture and soft finishing which makes it desired among people. It has a shiny background having black or purple lines which give it a unique look.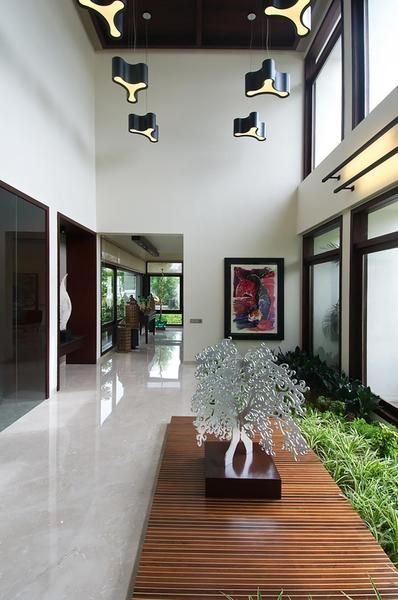 MORWAD WHITE MARBLE
Premium Morwad White Marble is a top-quality white marble that has a stunning White appearance. It is the Indian Stone Mined in the Rajasthan area, India. It has nice strength and durability. Morwad White Marble is the best option for flooring purposes.

AGARIA WHITE MARBLE
This marble has a very unique and flawless design. It is highly durable and very low water absorption capacity. This marble is mined in the marble quarry of Rajasthan. Considering this and the high-quality look that Agaria Marble brings, this stone is an excellent choice.
The starting price for good-quality white marble is around ₹55 per square feet.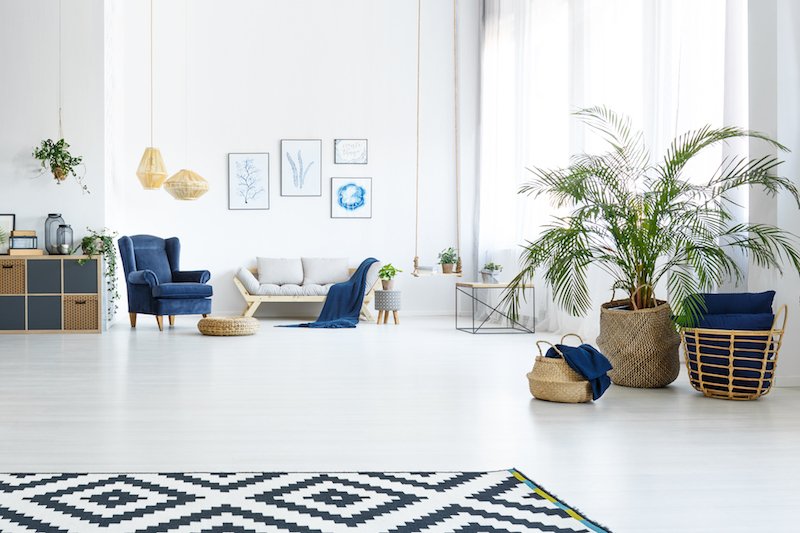 DETIALED INFO ABOUT GREEN MARBLE
If you wish to add a touch of freshness while conveying a sense of calm to any environment green Indian marble is your best option. On the other hand, if you are looking for a unique, cutting-edge natural stonework, then search no more, as Rain Forest Green is the ideal material for you. The popular varieties of green marble include Udaipur green marble, spider green marble (as in this image), rainforest green marble, emerald dark green marble and Kesariyaji green marble. Green marble looks elegant but since it is a dark colour it is used for kitchen and bathroom countertops, staircases and outdoor lobbies (the common areas of apartment buildings).
The cost of green marble starts from ₹35 per square feet.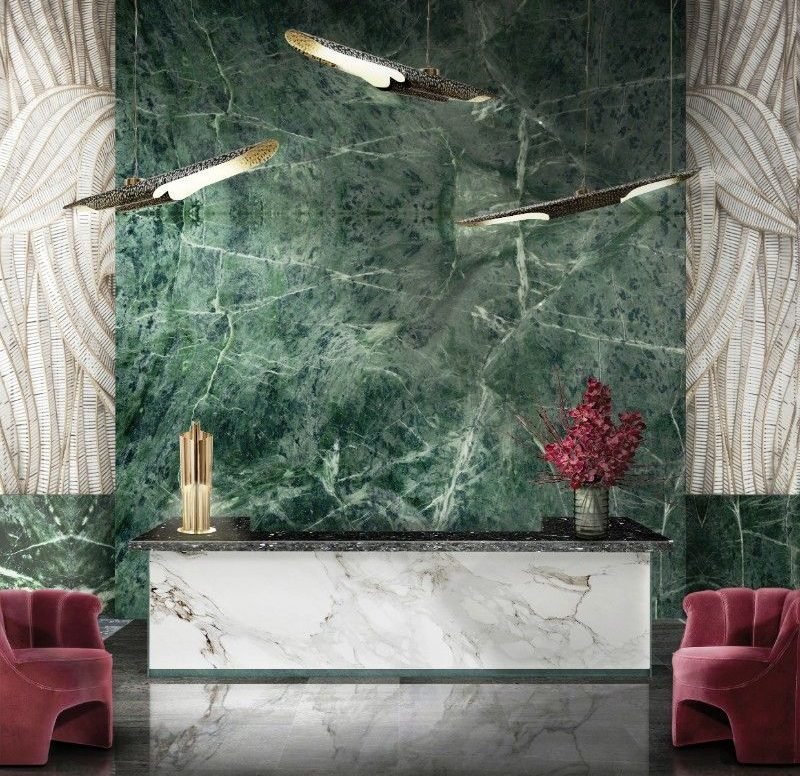 DARK GREEN MARBLE
Dark green marble is a marble that is crystallized and is naturally the color green. it is an excellent choice for someone who likes dark colors and it looks very elegant too. By personal choice, it looks good in dark wood houses.

SPIDER GREEN MARBLE
As its name suggests, Spider green marble is a green base marble. It has a white spiderweb-like structure on it. This beautiful stone's texture is in huge demand. The striking look and appealing colors give you positive vibes whenever you look at it.

BARODA GREEN MARBLE
Baroda Green is a kind of green marble quarried in India. It also called Vadodara Green, Verde Baroda Marble. Baroda Green Marble can be processed into Polished, Sawn Cut, Sanded, Rock-faced, Sandblasted, Tumbled and so on.

RAINFOREST GREEN MARBLE
Rainforest Marble is stylish green color Indian marble with stylish Dark brown variations of deep cream pattern and rich rusts. This Marble is highly durable and heats restive. It is easy to install and maintain like other Indian Marble.

USES OF GREEN MARBLE
We are all used to white marble taking over our kitchens (countertops), bathrooms (sink and vanity area) and even the living rooms (murals, tabletops, and so on). However, have you ever considered experimenting with the other coloured types of marble? For a more memorable looking interior, consider green marble stone.
Here are spaces that were enhanced with this magical marble. Green marble is considerably heat resistant and sturdy when a proper thickness of stone slab used. Apart from kitchen countertops, it is useful in table countertops, cabinet countertops, and washbasin countertops in other areas of the homes and offices.

FOR BATHROOM WALLS
Green marble has a decorative look and its wide variation in veining and colouring is considered its best trait. In this small bathroom, the white bathtub looks striking against the green marble tiles. In the bathroom, an outdoorsy look is achieved with the mixing of green marble with the brown wooden elements. Wood has a warm appeal and its smooth uniform look is juxtaposed with the textured organic appearance of green marble.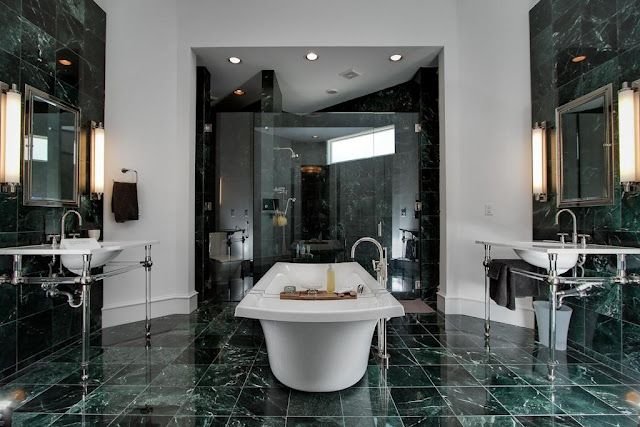 FOR KITCHEN AREA
Not only does green marble look like a striking addition to this kitchen, it also adds a functional value to the space. The material is great for hot areas – so no matter how much cooking, heating and reheating happens in the cook room, making the space sultry, the marble's surface stays cool. The stone is also strong and heat-resistant.

FOR DINNING PART
Green marble has an impressive artistic quality to it, so it looks good and eye-catching as kitchen countertop, island or even dining table (left). Here (above) the green marble countertops are juxtaposed with wooden shelves to create an impressive-looking kitchen. Notice how the veining of the marble complements the textured lines of the wood.

FOR INTERIOR IDEAS
The green marble in interiors can establish a royal appearance by application in building columns inside large rooms and halls. Not to mention, this stone steals away the show when it is installed in spacious living in conjunction with light interiors.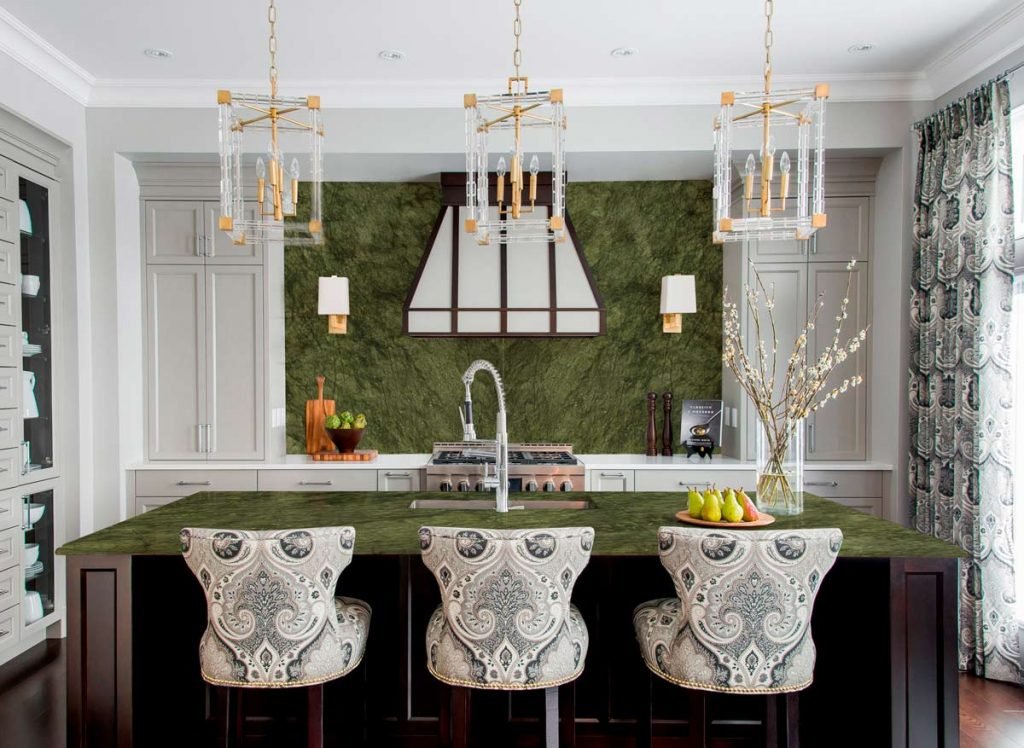 INDIA'S TOP AND WORLD'S BEST MARBLE, GRANITE AND STONE COMPANY
ADD BY EXPERT AND EXPORT TEAM OF BHANDARI MARBLE GROUP. CONTACT US ON; 9672941111.

WHITE AND GREEN MARBLE-DETAILED INFORMATION ABOUT PRICE, TYPE, TEXTURE, AND USES