TAGS: Marble, Granite, Stone, Newtechnology
What are a new technology of marble, granite, and stone proceed and finishes and how can we use it for home decoration?
Ask by top Architects and Interior Designer in a seminar hold in Jaipur.
Well answered by our Company chairman and most experienced marble, granite, and stone Expert in India.
D.C.BHANDARI
"The Marble granite and Natural Stone Process and the latest finishes and uses:
The marble, granite, and Stone Process
The marble, granite, and Natural Stone Process and finishes always wondered how your favorite marble granite and stone blocks, slabs, tiles, Monuments, Cobbles, pebbles, landscaping, paver, Handicrafts, or stunning countertop, tabletop, benchtop came and every piece of stone is as unique finish by expert and export team of Bhandari marble group India.
Well, for starters, the process of marble, granite, and stone starts millions of years before now, long before stone ends up in our stone Studio. Marble, Granite, and Stone begin their life in the earth's core before rising to the crust as massive rock beds.
Formation
After sitting under heat and pressure for millions of years, natural stone formations, including Marble and Travertine, develop into their final forms. Depending on the stone, different events occur before the product you know and love comes to life. Marble, for example, form when limestone exposes to high heat and pressure. This causes it to recrystallize into a denser rock. Marble is a beautiful example of metamorphic rock, which is a category of rock that goes through metamorphosis.
The new marble still contains other minerals like quartz and each resulting patina is as unique as the next piece of stone. This is because each reaction is different, resulting in a different piece of stone each time. As the minerals transform during the 'makeover' process from Limestone to Marble, they settle in layers that become the stones 'veins'. Sedimentary rock, like Sandstone, forms from layers of fine particles of sand and fragments of shells and another material hardening over time. The uniqueness further marks if the stone exposes to the elements, weathering each piece throughout the seasons. Natural stone is natural by name after all. On the other hand, Terrazzo is a composite product that is make from stone and tile off-cuts ground into the clay. It's original is to recycle material and utilizes waste from extraction and fabrication to create stunning Terrazzo slabs and Terrazzo tiles.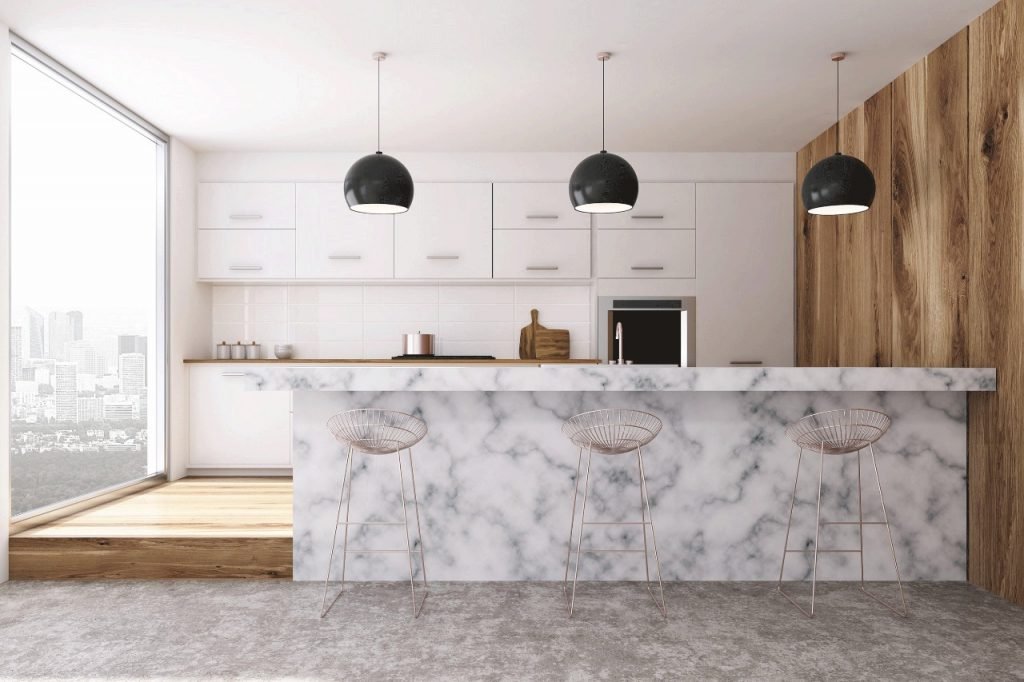 Extraction and selection
The large primary rock formations, which can be up to 1000 cubic meters, remove from the earth by a saw or drilling techniques. There are stone quarries all around the world but perhaps the most famous and favor are in Italy, especially Carrara. The primary stone is then broken down into slabs for suppliers and customers. The slabs are cut using a gang saw, which is a very long and sharp saw that is cool by water. Sometimes gang saws include several blades to cut stone blocks into multiple slabs at once. These slabs may be cut down further into natural stone tiles. It's quite a sustainable process, with minimal water is require to cool the blocks and blades during cutting. And considering that natural stone is constantly forming, it's a smarter building material choice.
Finishing
The finished product can slightly differ in appearance from the original slab depending on the application of the stone, what fabrication it's been through, and the finish you select. For example, an external stone paver might be left in its natural state as you saw in the slab. Whereas a marble benchtop might fabricate to fit and polish to shine in your kitchen. While in both instances the natural beauty of the stone will remain the same, the different elements will be highlighted.
The end look varies on the finishing technique that applies. Some of the more popular finishes are:
Natural: The surface of the stone is left as is after being sawn into a slab.
Honed: The natural surface of the stone is ground to a smooth, mostly matte finish
Polished: The surface is ground and polishes further than honed to bring a shine to the smooth surface of the stone. The shine itself comes from the crystals within the stone.
The way finishes look will also vary on different stones, and some stones like Marble tend to suit particular finishes like polishing. So while it might take a long time to pick the perfect piece of stone for your home or project, don't forget that it took even longer for that very piece of stone to be formed.
Most Popular Natural Stone Tiles
Last week we dove into the pros and cons of natural stone tile flooring. If you think it is the right choice for your home, you're one step closer to your final decision. There are quite a few different types of natural stone flooring, each with its own unique sets of characteristics. This week we are going over the most common types of stone flooring in detail: Granite – Most Popular Natural Stone Tiles. With hundreds of available varieties, this in-demand stone can be flame for slip-resistant texture in busy kitchens and bathrooms.
Installation can be a challenge with granite. If the subflooring of a room is weak or not completely level, even irregularities such as bumps or dips, it could cause the granite tile slabs to crack. Then, as a result, granite flooring installation may take extra time and labor, which has the potential to increase the cost of the project.
Marble
Marble can be similar to granite in both look and popularity. This porous stone is a sophisticates choice for formal spaces but is easily scratch. Slabs or tiles come in many colors, based on where they were quarried. Some varieties of marble can be harder and more stain-resistant than others, so make sure you ask if the marble you rethinking will perform well in the room you have in mind. Since it is more porous than granite, this means it's more susceptible to staining. It's best suited for formal spaces such as dining and family rooms but the kitchen is starting to catch on. This stone definitely requires sealing by a professional.
Travertine
travertine 300×300 – Most Popular Natural Stone TilesTravertine is a very popular stone flooring option and can be used both inside and outside the home. It provides a long-lasting, elegant look. But it's different from other stones, in that it feels soft under your feet and doesn't have that cooling effect you get with granite or marble.
This type of stone doesn't have the same shiny, glossy appearance that some people like. It does however have a matte finish that is unique and offers a more natural, rustic, farmhouse look that can be very pretty. It's a great alternative if you like the look of marble, but don't have to deal with a very sensitive surface. So having kids or pets makes this a great option for you.
Limestone
It is known for its natural, earthy appearance. It is formed from sedimentary materials, like coral and shells. Unlike other stones, when limestone is cut from the same slab, it has very little color variation from tile to tile, so it's easy to get a truly uniform look. The stone can be sanded smooth for a soothing, refined look or even machine-tumbled for a more worn, rustic look. It is a harder stone, which means it is even more resilient than some other stones, like marble or travertine. If you like wood flooring, then lucky for you, certain patterns of limestone can look like wood! limestone – Most Popular Natural Stone Tile. The most common issue with limestone is that it absorbs water. So be careful if you decide to use it in high water areas, especially outside. Even though it absorbs the water, it can be very slippery when wet. So spills should be cleaned up immediately. Limestone can be sealed before installation and then resealed every few years to protect it and help protect it against stain damage.
Slate
Slate is forged from natural materials like quartz and calcite in extreme heat. It is an extremely durable and solid surface that withstands everyday wear and tear If you do drop anything heavy on it by accident and chip the floor, you won't see quite a contrasting color difference like you would with porcelain or ceramic tile.
slate 300×300 – Most Popular Natural Stone TilesNatural slate has the ability to bring unique beauty to flooring. It combines the functional durability of hard tile with the essence of natural stone. Like other natural stone options, the slate will add real value to your home. While the popularity of granite has made it common, the slate will be true.
INDIA'S TOP AND WORLD'S BEST MARBLE, GRANITE AND STONE COMPANY
CATEGORIES: MARBLE, GRANITE, STONE, NEW TECHNOLOGY, SLATE, NATURAL STONE, LIMESTONE, FORMATION, STONE TILES, TRAVERTINE.
ADD BY EXPERT AND EXPORT TEAM OF BHANDARI MARBLE GROUP. CONTACT US ON; 9672941111.
What are a new technology of marble, granite, and stone proceed and finishes and how can we use it for home decoration?