THE CLASSY FEATURES OF OUR MARBLE AND NATURAL STONE TILES FOR CLASSY INTERIORS AND EXTERIORS:
Marble stone tiles are a perfect choice for those who wish to incorporate the goodness of natural stone with looks that precisely fit modern aesthetics. Marble tiles have special popularity when it comes to flooring, wall cladding as well as use in the kitchen and bathrooms. Marble tiles are the most trending material and are made of the evergreen natural stone, marble which ensures that the trend of marble tiles is not fading away anytime soon. Marble stone tiles are a perfect combination of sleek and magnificent appearance, durability, and versatility. Marble is a metamorphic rock that occurs naturally. It is mainly composed of recrystallized carbonate minerals like dolomite and calcite. Marble tiles are 100% natural and very long-lasting. Marble stone tiles are heavier and of superior quality in comparison to other flooring tiles. Marble tiles are the perfect blend of luxurious appearance and astonishing durability.
MARBLE STONE TILES BY BHANDARI MARBLE GROUP – A SYMBOL OF LUXURY:
Marble stone tiles are seen as a symbol of luxury because unlike other tiles, their quality is unmatched and along with ultra-modern and gorgeous looks, they also possess remarkable durability and resistance to damage. The resistant properties of these stone tiles are because they are heavier and denser as compared to other natural stone tiles. The superior quality and subtle luster of marble stone tiles are what make these gorgeous and luxurious tiles so popular. Marble stone tile instantly gives a place a very high-end look and adds a touch of class and elegance to the overall look.
We at Bhandari Marble Group provide supreme quality marble stone tiles that are of the highest quality. We have supplied marble stone tiles for countless projects in India and all over the world and have successfully earned the trust of several buyers with our quality products. With many decades of experience in the stone industry, we have developed an eye for the most superior quality natural stones and we utilize our knowledge in helping others get only the best out of all.
SOME POPULAR MARBLE TILES AT BHANDARI MARBLE GROUP:
CARRARA MARBLE TILES:
Carrara marble tiles are one of the most popular marble tiles. These tiles are usually white and grey. They have a very fine linear vein pattern and are most commonly used in making sculptures and decorative items. They are also commonly used in homes and offices. The stark white color of these stone tiles makes them suitable for use in the bathroom as well, to give a fresh airy look.
CALCATTA MARBLE TILES:
Calcatta marble tiles have a very similar look to Carrara marble tiles. The difference between the two tiles is the color of the vein pattern. The grey veins on the Calcatta marble tiles are darker than that on Carrara marble tiles and the white color base is also brighter on Calcatta marble tiles. Calcatta Marble is rarer as compared to Carrara marble, thus, Calcatta Marble tiles are seen as a very luxurious stone material.
STATUARY MARBLE TILES:
What makes Statuary marble tiles different from the above-mentioned tiles is a more dramatic vein pattern and a glossier finish. The shiny surface of statuary tiles reflects more light and as a result, makes a place look brighter and bigger. Statutory marble tiles are very unique and beautiful along with being very sturdy.
MARBLE TILES – SUITABLE FOR INTERIORS AS WELL AS EXTERIORS:
Marble stone tiles are suitable for interiors as well as exteriors of any project. Marble stone tiles are very versatile. The perfect mix of the following two features makes them perfect for indoors as well as outdoors:
PEERLESS BEAUTY AND ELEGANCE:
Marble stone tiles have gorgeous looks which make them perfect for use indoors as well as outdoors. Their beauty and elegance are matchless and the class that these stone tiles bring to a place, be it the interior or exterior of a project, is remarkable.
STURDY AND DURABLE:
Marble stone tiles are not only beautiful but also very sturdy. These tiles are resistant to damage from water, sunlight and traffic. This makes Marble stone tiles a perfect choice not only for the interior of your project but also the exterior.
Thus, Marble stone tiles can be used in bedrooms, kitchens, living spaces, bathrooms, and even for outdoor pathways, etc. to enhance the look and feel of the place and to add a touch of elegance and class to your project.
CLASSY FEATURES OF MARBLE STONE TILES:
CLASSY APPEARANCE:
Marble tile has a very gorgeous look which lifts the overall look of the space. Marble tiles offer a luxurious and elegant look to a place. Marble tiles are available in a vast variety of options, each of which possesses its own unique characteristics and beauty. The classy appearance of Marble stone tiles has a huge role in making them so trendy.
RESISTANCE TO SHATTERING:
Marble stone tiles are sturdy and durable. They don't catch any damage easily and are also resistant to any sort of breakage. This is another feature that contributes to their massive popularity. Marble stone tiles are also excellent insulators.
LIGHT REFLECTION:
Marble stone tiles have a highly polished and reflective surface. These tiles reflect the light that falls upon them, making the room or the place, especially in the interior of a project look much brighter, bigger, and spacious.
AFFORDABLE AND FANTASTIC:
Marble stone tiles are totally worth what they cost. These tiles are affordable and possess the greatest and rarest combination of traits. This is what makes these natural stone tiles fantastic.
EASY TO MAINTAIN:
Marble tiles are easy to maintain and can be easily cleaned. You can just wipe off the dirt and dust with a warm wet cloth or can wash with gentle cleansers. Marble stone tiles do not require frequent chemical treatments.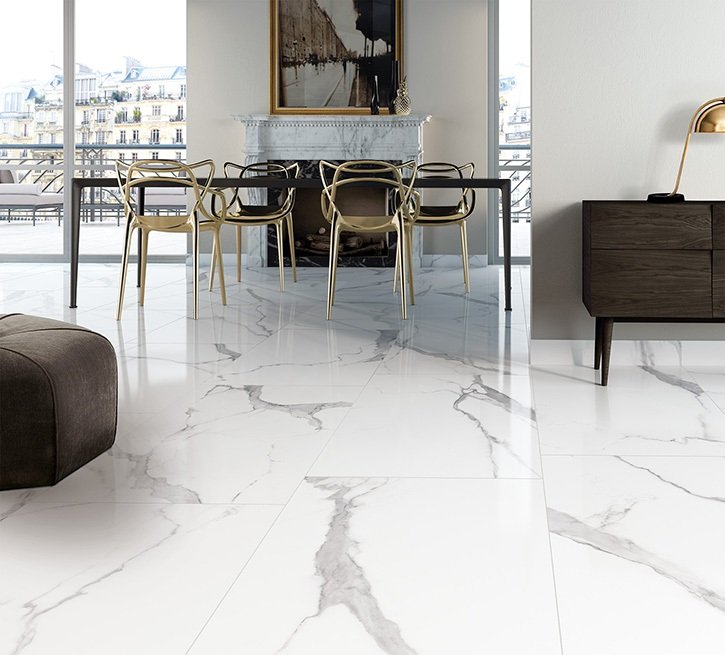 THERE IS A PERFECT MARBLE STONE TILE FOR EVERY PROJECT. TO HELP YOU GET YOURS, BHANDARI MARBLE GROUP IS HAPPY TO SERVE YOU WITH THE BEST GUIDANCE AND PREMIUM-GRADE MARBLE TILES.
WORLD'S TOP AND INDIA'S BEST MARBLE, GRANITE AND STONE COMPANY
ADD BY EXPERT AND EXPORT TEAM OF BHANDARI MARBLE GROUP. CONTACT US ON; +919829040013, +919672941111.
THE CLASSY FEATURES OF OUR MARBLE AND NATURAL STONE TILES FOR CLASSY INTERIORS AND EXTERIORS