TAGS: Marblepacking, Granitepacking, Limestonepacking, Stonepacking
Marble, Granite, and Limestone Packing
Stone seriously consider that the quality of packing is as important as the quality of product and it is indeed a hard fact at our company that we never save on the cost on the packing use such as wood or other packing materials so that your stone products reach you without any hassle, breakage or scratches. The crux of the matter is "we take all possible steps" to ensure 100% that your polished granite slabs and polished marble slabs reach safely to your destinations.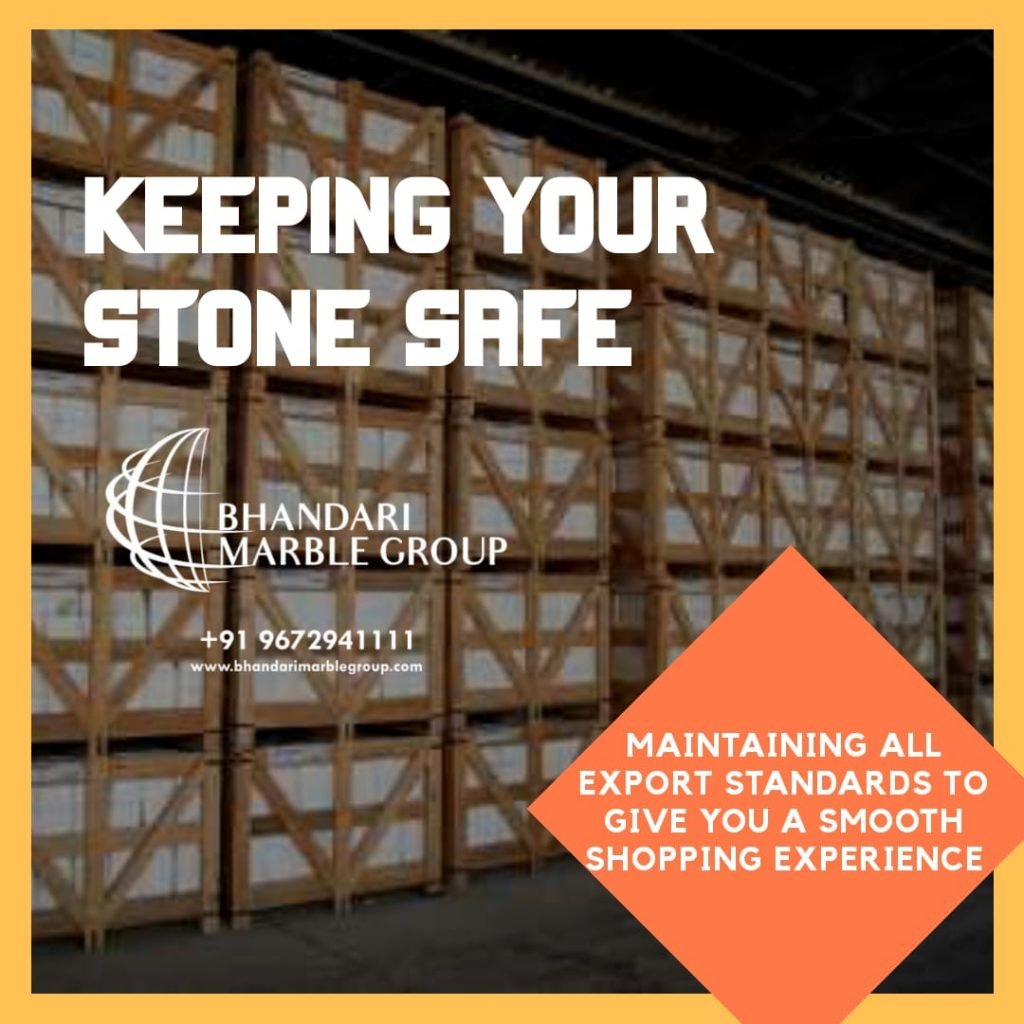 Slabs Stone Packing
Large Marble Slabs and Large Granite slabs are pack in fumigated wooden bundles/crates with the help of a C-clamp. Our wooden bundles are always being made of the best quality wood and firmly locked/fastened. Slabs in the bundles are tightly compressed. Stone put a plastic sheet between each slab to avoid friction during the transit. We tightly and correctly fastened/locked all wooden bundles between each other and nailed down to the floor of the container so that the bundles can not shift during transit.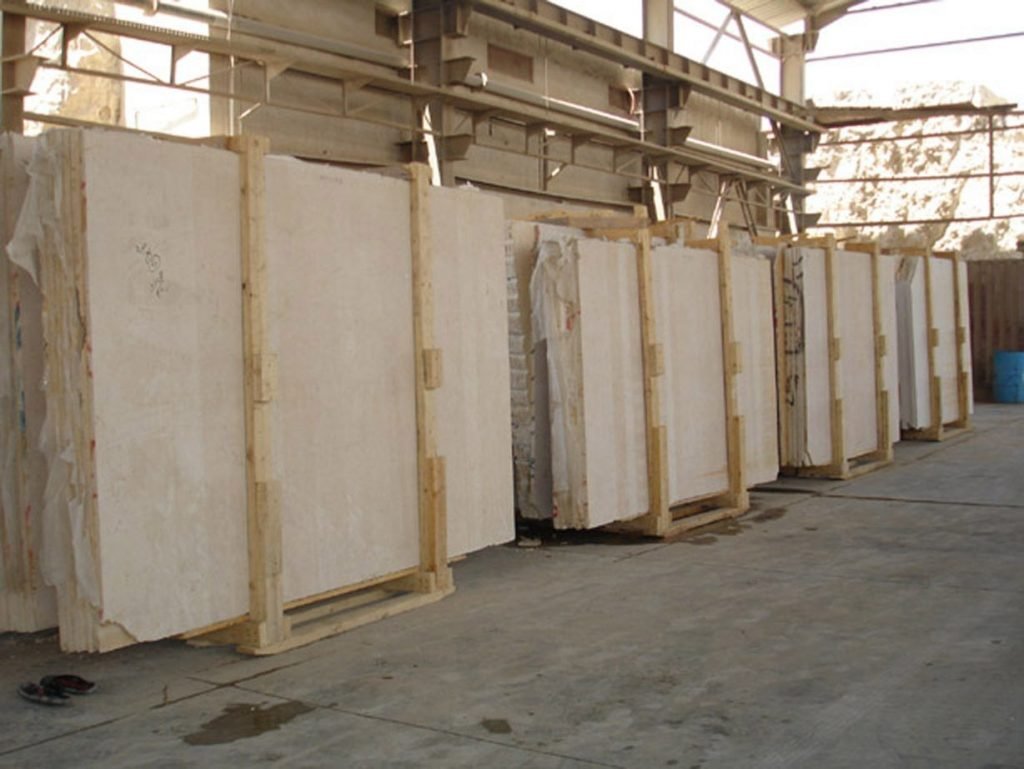 Standard Cut Size Tiles Stone Packing
As per international Norms, we pack our stone tiles directly in fumigate wooden crates, each tile is to be separated by soft paper strips which will avoid friction during the transit. Pyramids Stone put a polythene sheet as a cover on each wooden crate / wooden pallet and then we tighten each wooden crate with an iron / plastic strip. Inside the container, the wooden crates are being tightly locked/fastened to each other so that the boxes can not shift.
10 mm Modular Tiles Packing
10 mm tiles are firstly packed in Styrofoam boxes or paper corrugate boxes as per the client's instructions and further, they are pack into a fumigated wooden crate. Wooden Crates are fixing and so tighten by iron / plastic strips. Especially for calibrated tiles, we need extra carton boxes or Styrofoam boxes.
Blocks' Packing
Blocks of granite and marble are loaded into containers with special cranes and we always put blocks in the container on fumigated wooden rails to avoid movement of blocks inside the container.
Marking on the crates/bundles
Each of our wooden crates has a mark indicating Name of the Material, Billing Sizes, Quantity of Slabs / Tiles in a crate/bundle, Block number from which the slabs cam and Made in Egypt marks.
Dimensions of the GP container: The Shipping of stone products is done in 20 ft long containers. Approximate weight of granite / marble for the calculations: Thickness 10 mm – 27 kg/m2, thickness 20 mm – 58 kg/m2 , thickness 30 mm – 85 kg/m2, blocks 2700 kg/m3
The allowable load weight of the natural stone in containers:
For European destination, we always put 27 metric tons in the container
For USA destination we always put 21 metric tons in the container
Container Capacities: Although we load the weight and quantity as per our client's instructions usually we packing and ship the containers with the following quantities:
10 mm thick tiles – 800 Sq. Mtrs. in the container
20 mm thick tiles/slabs – 410 Sq. Mtrs. in the container
30 mm thick tiles/slabs – 285 to 310 Sq. Mtrs. in the container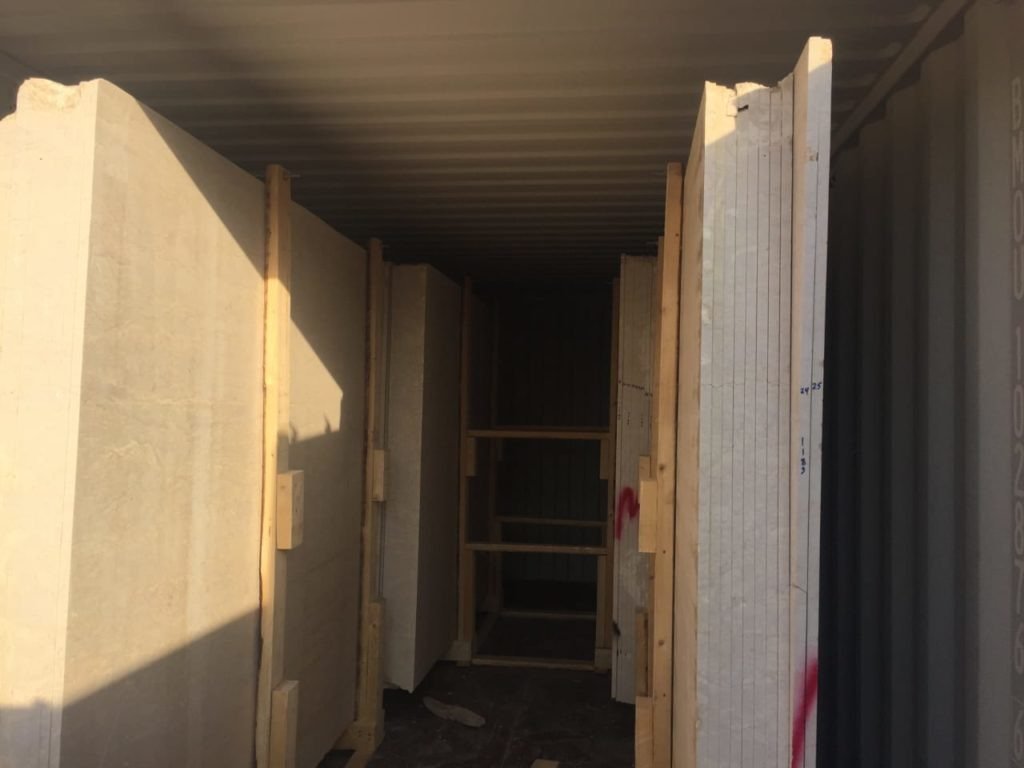 We take care of every container loading and take digital images after fastened/locking the wooden crates inside of the containers and send them to our client for their satisfaction. For Granite Countertops Packing, Granite Steps Risers Packing, Granite Vanity Tops Packing, Granite Cube Stone Packing we always work strictly as per the client's instructions.
Packing
 Stone use the highest international standards for shipping and packing to provide excellence and to insure that our products reach our clients in the best possible condition.
Wooden Crates
 Stone use fine quality of wood for making crates.
INDIA'S TOP AND WORLD'S BEST MARBLE, GRANITE AND STONE COMPANY
CATEGORIES: SLAB STONE PACKING, TILES PACKING, LIMESTONE PACKING, GRANITE PACKING, WOODEN CRATES PACKING.
ADD BY EXPERT AND EXPORT TEAM OF BHANDARI MARBLE GROUP. CONTACT US ON; 9829040013, 9672941111.
Marble, Granite, and Stone Packing