TAGS: Marble, Granite, Naturalstone, Wallcladding, Architecture
Marble, Granite and Natural stone walls inside the home – transform your walls into a stylish feature
If you're looking for a way to create a feature wall – beyond a lick of paint in the latest on-trend color – then look no further: Natural stone walls are the perfect way to transform your home. A stone wall is a more timeless option than almost any other wall style.
The advantages of this unique building material are self-evident: Natural stone walls are strong, easy to clean, and exceptionally long-lasting. The material is also available in a range of types and colors to suit any building and interior style. You can create an interior natural stone wall that looks contemporary, rustic, or sophisticated – the choice is yours. Read on to find out how to use natural stone in your interior.
Natural stone: A multi-faceted interior design option
For many years, architects have been incorporating natural stone into many different styles of buildings. Large stone blocks with natural color and shape combinations have long been a common sight on facades, but more and more people are starting to bring natural stone walls inside, too.
Whether it's in your living area, bedroom, kitchen, or bathroom, natural stone is a great way to create a varied, multi-layered look – and it works just as well in modern interiors as it does in industrial-style or rustic homes. The key to pulling off this enduring trend is to ensure that your color scheme, furniture, and lighting are tailored to this statement style to create a coherent overall look. In living areas and bedrooms, many people opt for bright and warm colors. A coarse natural stone wall made from entire stones is an eye-catching addition that will create a natural ambiance.
The rustic charm of a sand-colored natural stone wall can be combined with dimmed indirect lighting to emphasize and complement the uneven surface.
Anthracite-colored slate to create contrast
Slate is also ideal for use in interior natural stone walls. Classic anthracite-colored slate is perfect for contemporary interiors and can be combined with subtle wall lighting to create a cozy and homely atmosphere.
As well as adding contrast to living areas, slate also looks great in bathrooms and kitchens. Combined with light-colored kitchen units or a minimalist white bathroom suite, an easy-care natural stone wall brings elegance to any room.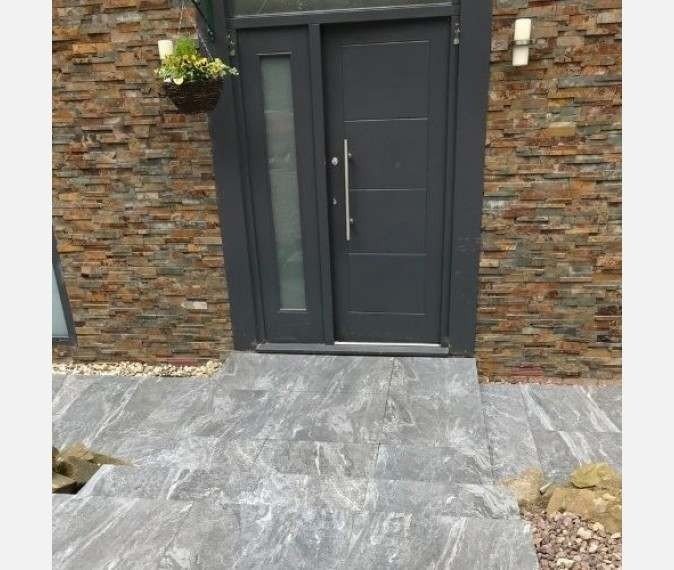 A wall tiled in marble: Luxury natural stone
Since time immemorial, marble has been a symbol of opulence and luxury, adorning the walls of historic buildings and premium bathrooms and kitchens. The wide range of colors and mirror-smooth surfaces create fascinating patterns that lend a touch of natural sophistication to any space.
The latest trend: Combine marble with accessories in precious metals such as rose gold or silver. This combination is sure to create an eye-catching interior feature.
Low-cost alternatives to real natural stone walls
Natural stone walls don't come cheap. But if you want to create a timeless look and enjoy the many benefits of a natural stone wall on a budget, you could opt for an imitation natural stone made from polystyrene or hard foam. These materials are available in a wide range of designs from specialist trade retailers and home improvement stores, and – if you've got the DIY skills – you can even install them yourself. Thanks to their strong textured surface, some imitations are barely distinguishable from the real thing.
Another lower-cost alternative to natural stone is natural stone-look wallpaper.
A natural stone wall is a great way to add style to your interior – perhaps to divide a large space, or as a frame to accentuate certain areas.
Natural stone walls work well:
behind a sofa
behind a bed
alongside the bath
or between the kitchen work surfaces and wall-mounted units. Use natural stone walls with care to ensure that your wall doesn't look overbearing or overpower your interior. When done right, natural stone can be the perfect way to add elegance and style to a room in a way that harmonizes with your design concept.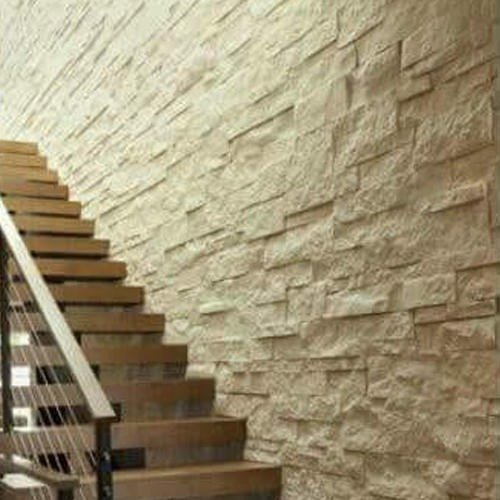 INDIA'S TOP AND WORLD'S BEST MARBLE, GRANITE AND STONE COMPANY
CATEGORIES; MARBLE, GRANITE, NATURAL STONE, WALL CLADDING TILES, STONE WALLS
ADD BY EXPERT AND EXPORT TEAM OF BHANDARI MARBLE GROUP. CONTACT US ON; 9829040013, 9672941111.
Marble, Granite, and Natural Stone wall cladding the current trend in wall cladding for 2021