TAGS: Granite, Graniteexporter, Granitesupplier, Granitewholesaler
ALL ABOUT GRANITES
Granite
• Granite Exporter
• Wholesale supplier
• online booking
• top selected granite
• latest Products
• Indian Granite Suppliers
• Govt certified granite exporter, manufacturer, and supplier
•Granite Exporter from India
• top 10 granite exporting manufacturing unit in India
•Granite Exporter- Bhandari Marble Group
• Granite exporter, manufacturer, & supplier of Black granite, Red Granite, and White Granite
GRANITE EXPORTER
Bhandari Marble Group is a top-ranked country for granite and marble exporting services over the world with high-end premium quality. All granite and marble products are been derived after the long-scheduled natural volcanic processes. Granite material is the first choice when choosing natural stone for kitchen tops, flooring, and other finishing for home, workspace, and other residential premises. Everyone wants to know about the best granite exporting company to buy quality granite collections.
India's top reputed Granite & Marble Exporter and Manufacturing company deals with supplying quality materials always to their customers. It is one of the most reckoned sources of dominant Indian granite colors especially south Indian popular colors with customized sizing & finishing solutions. Business experience and their infrastructure to support sourcing, maintaining quality, logistics, intricacies of packing, and the nitty-gritty of loading and unloading, avoiding most of the pitfalls endemic of this business. As well as, has its own stone processing unit in various regions. The company has all the facilities with a premium quality assurance team. Also, they earned a good company with the most of international clients for granite, marble exports, and other natural stones.
WHOLESALE SUPPLIER
The concept of wholesale indicates sales in large quantities at low costs. We are offering rare and high-quality granites at affordable prices. Granite is one of the most popular natural stone options for home Villa hotel resort mall tower office and projects Stair, porch, kitchens, and bathrooms for a reason. People searching for the best color granite, discover a huge range of colors that translate into a variety of applications in our Granite Stone Studio. Whether you're looking to turn a traditional space into something more modern or add a touch of class to an otherwise bland and modern home Villa kitchen, bathroom, and Staircase granite is perfect for you.
Along with our wide variety of 950 colors and designs of Natural stones, you'll find a substantial selection of color options for granite slabs in our Infinity boutique. These include classic styles and a regular influx of new styles for you to choose from our best collection of granite and Natural Stone. If you want to keep on-trend, we have all the colors you can imagine, and all the popular granite colors being used by Architects, interior designers, Engineers, Builders, Hoteliers, Developers Clients, and Customers right now. For the top granite colors and unmatched prices, Granite Selection is here for you in India. Our team of granite stone Experts also knows what's on-trend so be sure to take a look at our analysis of the upcoming year's trend and the best granite colors for 2021 below.
ONLINE BOOKING
We will confirm your booking. Make a payment online. Your granite will be delivered at your door step. You will entitled for 7% off on your billing. Granite is a natural stone that is formed under extreme heat and pressure. It is naturally resistant to heat and Cracks so cookware, kitchen knives, and cutlery can all be used on granite countertops without the fear of scratching the surface. It is utilized to make monuments, bridges and other architecture. It can also be used as a construction material, a dimension stone or a decorative stone. It has another advantage which is that its color does not fade under the sun, unlike other natural stones. Thus, Granite is a perfect option for outdoor applications. It also has the property of high durability so it can be utilized as a part of counters, washrooms, backsplashes, or floors.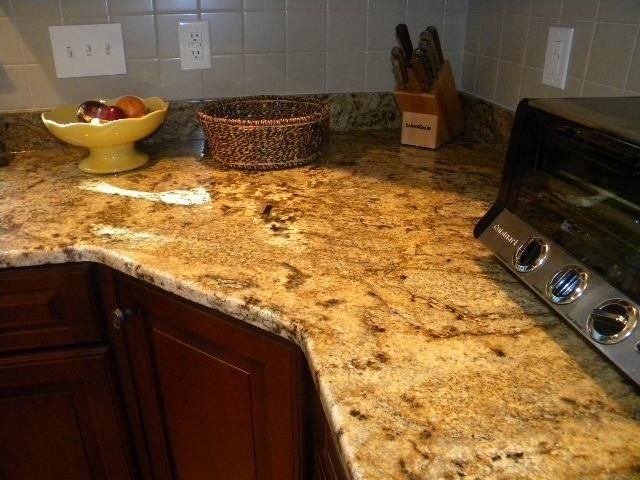 TOP SELECTED GRANITES
Black Granite
A dark-toned black stone; black has a veiny natural stone surface. It features gold, brown, and grey highlights. Black granite is ideal for kitchen countertops, bathroom vanity countertops, and fireplaces. It is one of the rarest granites and can vary from batch to batch, although its unique pattern remains consistent on the surface, Its highlight colors range from dark warm black.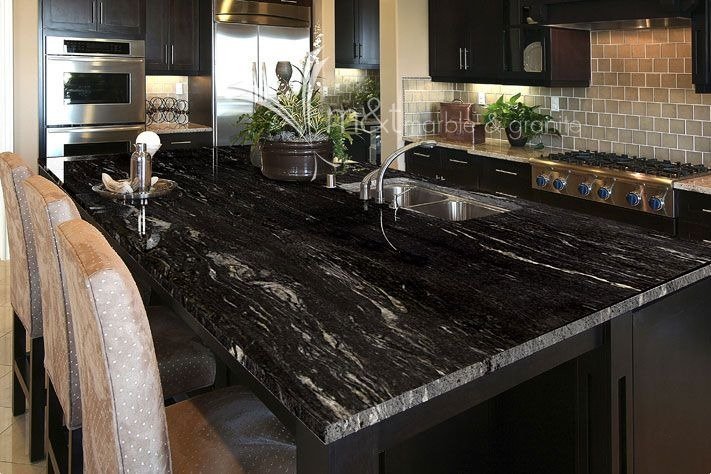 Gold Granite
Gold is pure natural gold, with varying shades of speckled throughout looks very pretty. It features a chunk effect throughout, as opposed to waves and lines, and one of the most popular colors of Granite.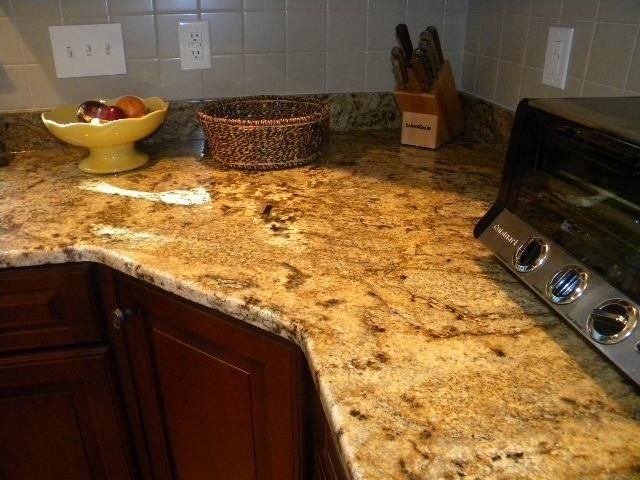 Brown granite
For an alluring appearance in shades of mystifying brown with fine blackish, this trendy granite looks and feels like magic. This Granite has a polished antique look in your home Villa. Brown is a mid-range granite and can range from cool tones to warm in your kitchen. Though it feels like happy, Brown is as durable as any granite in India.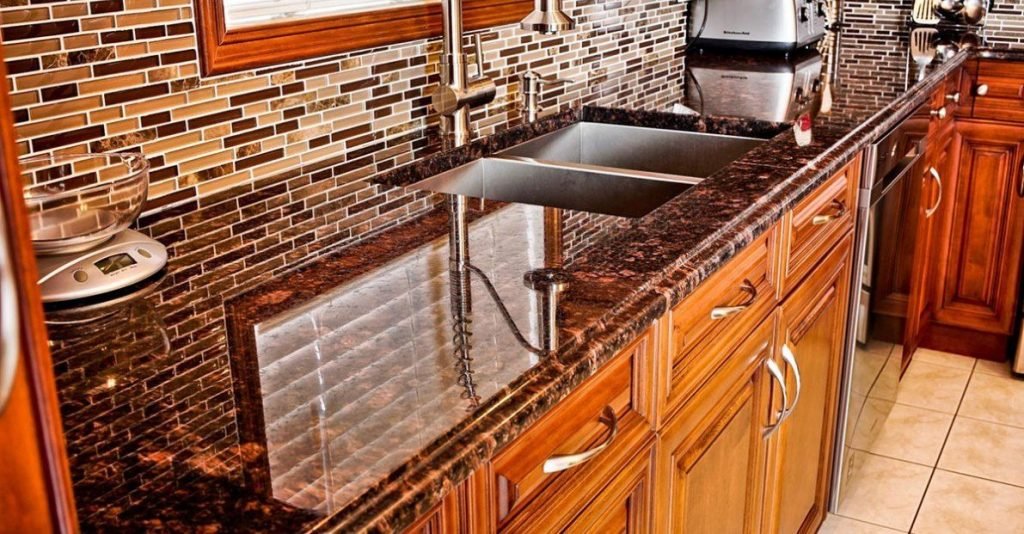 P white Granite
Originating in India, P white is also known by industry experts as budget-friendly. P white Granite is sure to bring life to any home or villa Flooring Elevation Decoration and countertop, fireplace. It is a bold and creative natural stone with white flower colors. It takes after P white unique style. Even though the flowers veining is a busy pattern, the light speckling gives this stone a cohesive, natural look on floor style.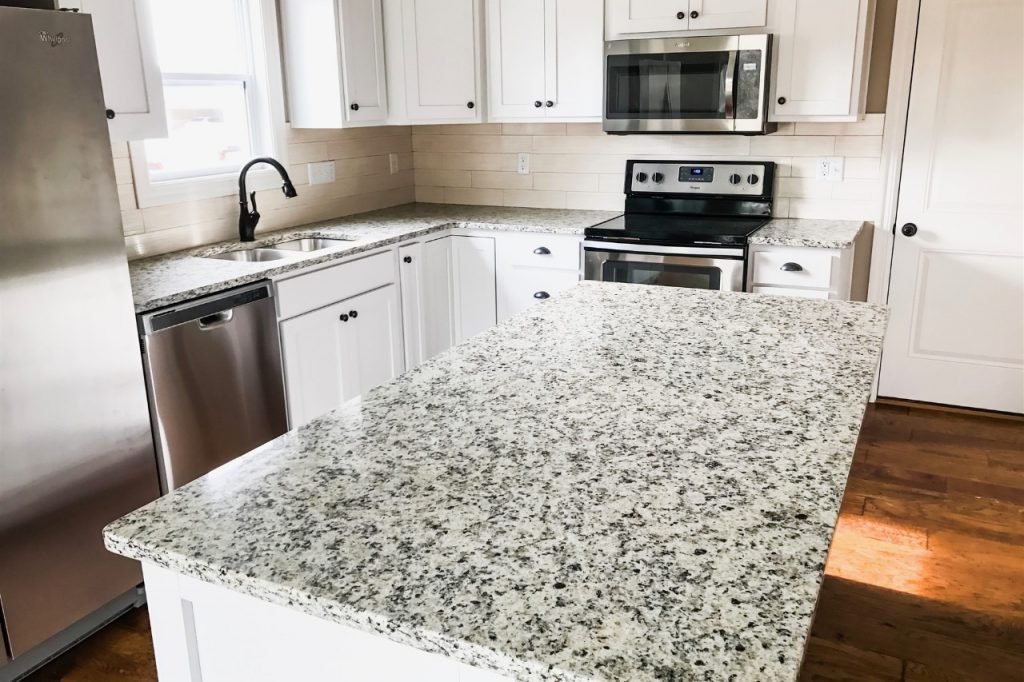 LATEST PRODUCTS
In addition to solid slab countertops, granite tiles can be used to create a colorful and durable work station. The photo above shows how granite tiles were used to create a sink, backsplash, and elevated counter.
The building above was built with granite blocks. Granite blocks for construction can be rough on all sides or finished on one or more sides. In this photo, a combination of rough and finished granite surfaces produce an elegant appearance. Note how most of the blocks used in this wall have both rough and finished sides. This yields tightly fitting joints but a rough surface texture. However, blocks used at window sill and roofline levels are finished on all sides. Rough-cut blocks are the least expensive and provide a rugged appearance. Finishing the blocks is expensive but yields a more refined appearance.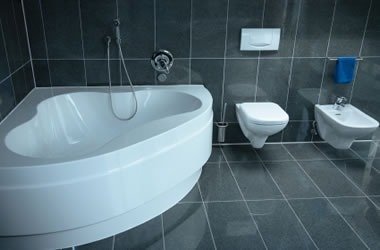 Granite tiles are often used as flooring and wall panels to produce an elegant, high-luster space. The stone used for these tiles might be called "black granite" by the company selling the tiles; however, the rock might be called "gabbro" or "diabase" by a geologist – depending upon its grain size. See the second section of this article titled "What is Granite?" for definitions of granite used by geologists and people who sell architectural stone products.
INDIAN GRANITE SUPPLIER
Bhandari Marble Group makes and exports premium quality marble from India, we are supplying the following products in granite:-
Gangsaw Slabs
Mini Gangsaw Slabs
Tiles 60×30, 60×40, 60×60 cm
Non-Calibrated 24″x12″x 1 cm
Calibrated 24″x12″x 1 cm
Steps & Risers
Flooring
Ready-made countertops
We are a manufacturer and exporter of Indian Granite, Marble, Sandstone, and Slate Stone Slabs, Tiles, and other cut size materials. We are an owned and operated company fully bonded and insured. Research, innovation, new technology, and premium quality are incorporated in all phases of production. Our goal is to provide experienced importers of natural stones in different countries with a superior stone product and the most professional services the dimensional stone industry has to offer. We work every day to apply our know-how in ways that benefit our clients and partners globally. Our superior quality, unmatched commitment, and dependability are the structure of our company. This provides us the opportunity to establish an excellent relationship with our clients all over the world.
GOVT. CERTIFIED GRANITE MANUFACTURER, EXPORTER, AND SUPPLIER
BHANDARI FAMILY was an established in the year 1631 and since then, since 1969 Bhandari Family are recognized as a distinguished Manufacturers, Supplier and Exporter of Granite and Marble, Black granite, Brown Granite, White Granite, Red granite, blue granite, pink granite, yellow granite, gray granite, Rajasthani Indian Granite, South Indian Granite, and Indian granite Stone, etc.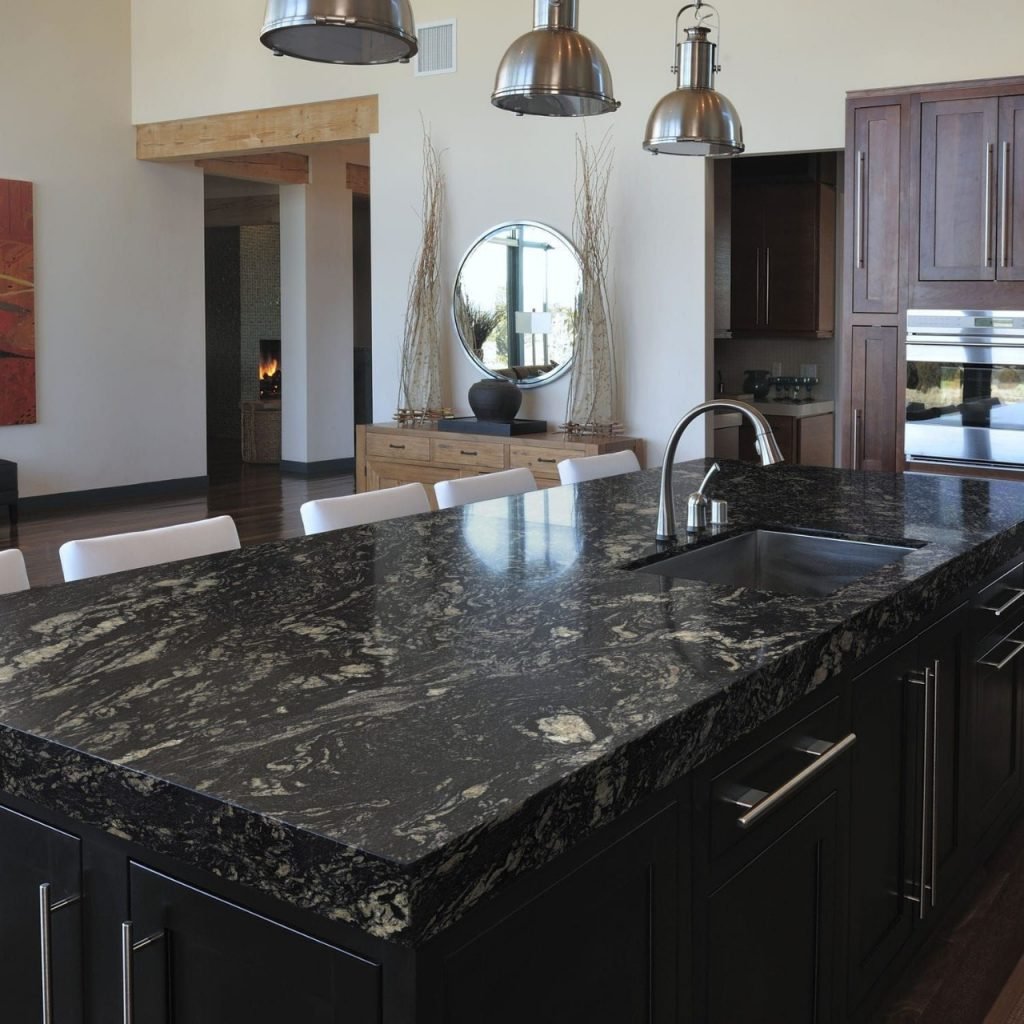 Look at our Ranking on google 758 five-star Reviews Before making a purchase from India, it's the most important thing for us that maximum client satisfaction that makes us World's Top and India's Best it should be certified by our customers.
Granite Products
Granite is a multi-purpose building material used in bridges, paving, monuments, flooring Elevations decoration, and countertop many other uses in projects. Honed, polished, sandblast CNC and waterjet granite slabs and tiles are used in home villa hotel rooms and kitchen countertops, tile floors, stair treads, porch, bathroom, bedroom, lobby, and so many other design elements.
Granite countertops and vanity tops
Granite Countertop Suppliers for All Granite Vanity top & Countertop Needs. Indian granite vanity top and countertop suppliers for colorful granite tabletops, Vanity tops, and countertops in custom sizes as per your requirement, best quality types, and at competitive prices available at our factory outlet showroom.
Granite gangsaw slab and cutter slab
Gang Saw for Granite Cutting Blocks into Slabs
Machines and Plants for Granite Processing
Gangsaw for Granite 80 Blades Gang Saw for Granite
How is granite cut into Slabs, tiles, for flooring elevation decoration and countertops?
D.C.BHANDARI
CHAIRMEN BHANDARI MARBLE GROUP
A Journey of Granite from Quarry to your home villa hotel and project:
When you are shopping for granite slabs and tiles, so you can see on our website or our factory outlet showroom probably seen endless color, design, size, finishes, polish, the thickness of beautiful granite stone in best quality with quantity and competitive price. But do you know how exercise is done by our team for your granite requirement?


We have shown you a wonderful flooring surface and countertop shaped specifically for your home decor. We will give you how we do for the journey of granite stone from the quarry to your home like,
1- Start from the search of granite deposits in the piece of land.
2- Apply to the government for allotments of the quarry.
3- permission of many departments like pollution and forest for mining.
4- purchase of a lot of machines like excavators, dumpers, saw machines, chainsaw machines, compressors, Electricity connection, Generator, Etc.
5- Construction of office and labor quarter
GRANITE EXPORTER IN INDIA
Indian Granite is found very close enough to the surface that it can be cut from quarries. The granite into blocks, old-time we do small holes are drilled in the shape of the desired block size but now in modern time diamond cutting machine we can cut and save 25% raw material. The engineer's team must be very careful to direct the falling rocks onto a bed by plane machines and airbags to soft sand so that it doesn't brack or crack. Earthmoving equipment like JCB and Crains are used to so get these cut raw blocks from rock to load into heavy-duty trucks, to be transported to our factory with Royalty paid to Government at our slab fabrication facilities.
Many blocks of granite in the shape of blocks we Export them by container by ship from India the largest source of granite in the World, to other countries. These countries import granite blocks and slabs from us have a large demand for slabs, tiles, and countertops.
The majority of our granite used for flooring, elevation, decoration, and countertop design projects in the U.S, UK, UAE, DUBAI, CANADA, GERMANY, FRANCE, RUSSIA, CHINA, KUWAIT, QATAR, ITALY, TURKEY, SUADI ARAB EMIRATE, BAHRAIN, OMAN, SPAIN, VIETNAM, NIZARNA, MOROCCO, KENYA, SOUTH AFRICA, NEPAL, BANGLADESH, SHFI LANKA, SINGAPORE, MALAYSIA, BHUTAN, KOREA, IRAN, IRAQ, AUSTRIA, AUSTRALIA, NEWZEALAND, BRAZIL, THAILAND, ETC. We have developed the most modern state of the art stone fabrication facilities in India.
Granite is quarried in the States in places like Rajasthan KISHANGARH and south India and that are used for building materials.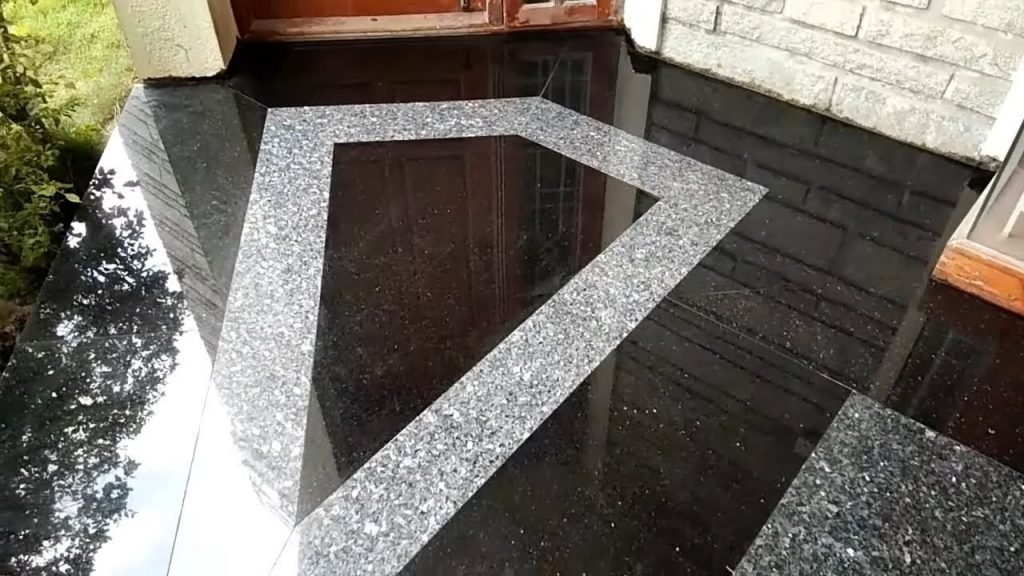 We can process Blocks of granite being cut into slabs on a diamond wire saw and granite cutter machine. Once a block arrives at our stone cutting fabrication factory, it is cut into slabs. To cut the block into even 2 cm or 3 cm and as per Architects, Interior designers Builders, and customers requirement thick slabs, it is run through granite saws that make many slices into the stone. because These cutters can simply have so many large round blades side by side or like diamond wire blades that cut through the block into slabs.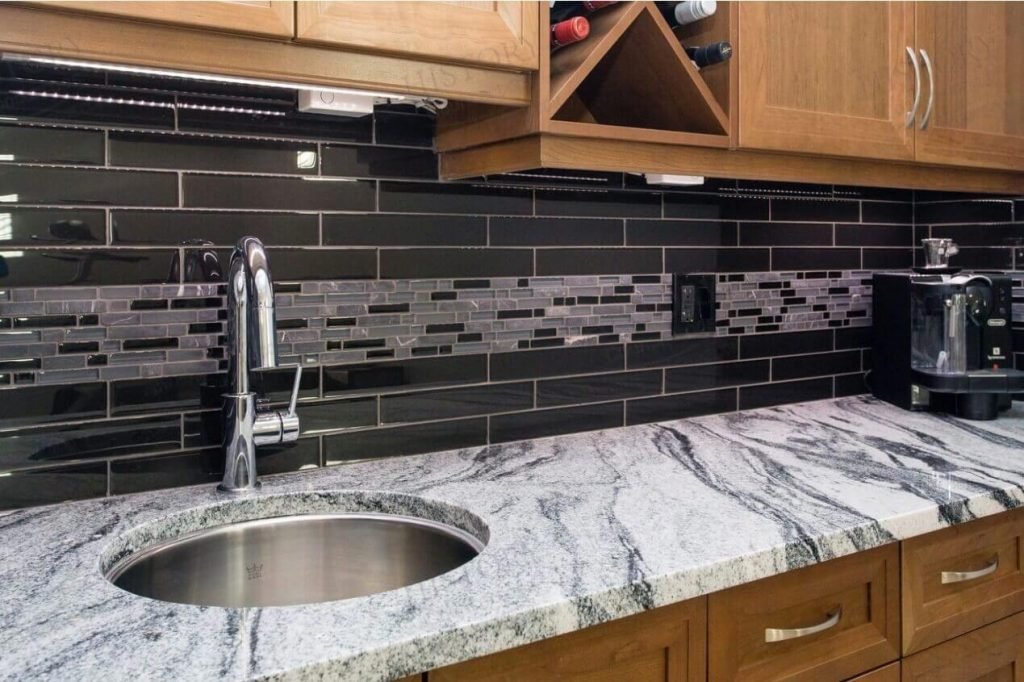 The recent introduction of diamond cutting saws and other advanced technology to our factory has increased the speed of production and accuracy of the granite slab process, leading to more granite market and less expensive finish products for homeowners by our expert team.
The surfaces of slabs tiles and countertop must be polished to bring out the natural colors and patterns and make them smooth to the uses. This is done by running the slabs horizontally through slab polishing machines.
These machines have large, diamond polishing pads that slowly bring out the shine in the stone with each new layer of polishing. Much like wood, granite is polished with progressively finer pads to get a quality finish. This process just polishes the top surface of the stone, leaving the slabs with rough edges.
TOP 10 GRANITE EXPORTING MANUFACTURING UNIT IN INDIA
India is a top-ranked country for granite and marble exporting services over the world with high-end premium quality. All granite and marble products are been derived after the long-scheduled natural volcanic processes. Granite material is the first choice when choosing natural stone for kitchen tops, flooring, and other finishing for home, workspace, and other residential premises. Everyone wants to know about the best granite exporting company to buy quality granite collections..
Stone cutting with Water Jet Technology
Usage of a combination of diamond blade and waterjet cutting in the stone fabrication industry has revolutionized the stone industry. machine not only cuts faster but also reduces the wastage of stone to the minimum. Homeowners get better prices without compromising quality standards.
Modern CNC Stone Fabrication Technology and
Final Touches by Skilled Craftsmen
As soon as the pieces come out of the CNC machine, our fabrication team inspects each piece, making hand-polishing finishes and finalizing any details that could not be crafted in the machine.
Last, but not least, we load the finished pieces onto our trucks, carefully carry them inside your home, and so install them on your cabinets. Sinks attach to the granite, faucet holes are a drill, and so stone installers make sure that the cooktop fits perfectly into the cutout.
GRANITE EXPORTER- BHANDARI MARBLE GROUP
BHANDARI MARBLE GROUP is a manufacturer of all types of stones. Our high-quality products and worldwide appreciation have helped us to elevate our standards of excellence. Every product which leaves our manufacturing unit displays immaculate quality, reliability, and durability. Quality is not a relative factor for us as we have helped in establishing the quality standards of this industry. To manufacture top quality products and to deliver them as per schedule has always been our focus. We feel proud to state that, we have always been successful in our endeavor. We have a very gifted artisan talent pool, which guarantees timely deliveries of high-quality handicrafts.
Bhandari Marble is also a renowned Manufacturer, exporter, and Indian Natural Stones Supplier. We have our Warehouse and Processing unit in Kishangarh, Rajasthan near Jaipur. Our major natural stone mining & processing area is also in Rajasthan, India. We are exporting all kind of Indian Natural Building Stones viz; Marble, Granite, Slate, Quartzite, Sandstone, and Limestone in forms of Slabs, Tiles, and Cut to size and Customised value-added products. We believe in the utmost customer satisfaction. Our in-house processing unit, in-depth knowledge of products, and a dedicated team of staff members are our strengths. Our commitment towards on-time delivery with good quality Natural Stones has given us a winning edge over our competitors.

Natural Stone Manufacturer, Supplier & Exporter in India:
We offer a wide range of Indian natural stones that suit the varied requirements of our buyers. Along with our regular range of natural stone products, we also export customized products as per the buyer's specifications. Natural stones are one of the most beautiful gifts of nature. The composition of various minerals decides their colors and textures. Our Natural stone product includes: • Natural Marble Stone
• Natural Granite Stone
• Natural Slate Stone
• Natural Sandstone
• Natural Limestone
Our infrastructure: stone floor tiles manufacturer:
We are a Natural stone manufacturer offering a single point solution to multiple requirements of our esteemed buyers. We are well equipped to produce, process, and supply high-quality natural building stones and natural stone floor tiles. Our strength lies in our • A dedicated team of staff
• Our in-house Quality monitoring system
• Our mutual tie-ups with natural stone Quarry owner, Block cutters, and highly equipped Processing Units for regular and consistent supply of natural Stone Blocks, Slabs, and Tiles.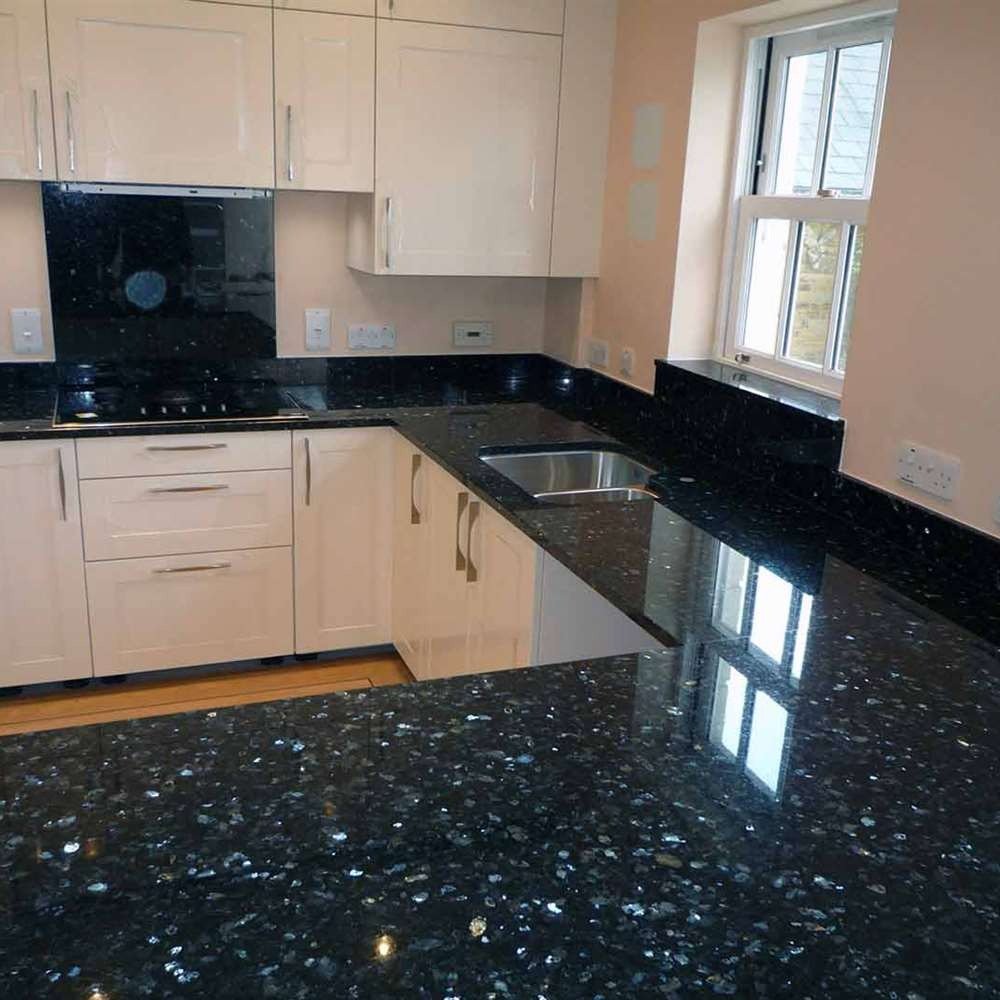 GRANITE EXPORTER, MANUFACTURER, ND SUPPLIER OF BLACK GRANITE AND MORE
Black Granite
The aesthetics that are created by the addition of black granite to your home decor or exteriors simply stands out in the crowd. The range of patterns and swirls of black and white on this granite are not as much as other natural stones yet it tends to produce a style statement that is modern, unique, and luxurious.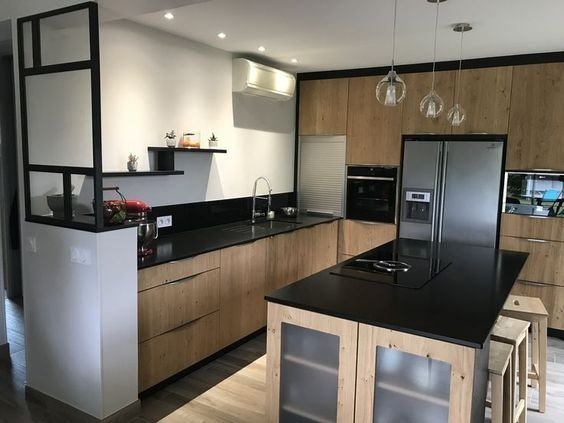 A huge number of homeowners uses fancy black granite to give a striking look, especially for their kitchens and bathrooms. Even if you are just remodelling your kitchen, the incorporation of black granite can endow the space with a novel look. Another big reason to use the granite for a remodel is that it can complement well with the design elements including flooring, cabinets and sink – no matter which colour or texture. Black is the ultimate colour that easily blends with other colours. The black colour accentuates other colours already present in your kitchen or bathroom design. That being said, the black granite provides spectacular contrasting appearance when matched with white or lighter islands and cabinets. When choosing granite slabs or tiles, the look offered to any commercial or residential space is beautifully consistent in colour and texture. According to natural stone experts recommendation, black granite can be used in countless applications including indoors and outdoors depending on the individual interest.
Black Granite For All Kinds Of Design And Space
The properties of black granite are the same or even better in some rajasthan other granite variants. The stone is resistant to water and heat and requires very little maintenance. It can easily be sanitized by just cleaning it with soapy water. Hence, no matter for which project it is chosen, the stone stands the test of time, even in freezing temperatures.
Let us look at some of the applications where black granite can prove to be an apt choice.
Kitchen Counter-tops – For a long-lasting and sturdy counter-top that remains as it is for years together, the black stone is a smart choice. A polished black counter-top shines like a mirror and highlights everything sitting around it. The black granite is an excellent partner for the wood cabinetry or light color design elements. Another great design idea is to match the stone with the kitchen surrounded by stainless steel features. It imparts a sophisticated look with a combination of steel grey and black.
Bathroom – Black granite is the ultimate choice for bathrooms. The stone proves to be a perfect choice for bathrooms as it adds a unique dimension and a level of sophistication. The stone provides resistance to water, heat, and a humid environment.
Table Tops/Bar Tops – The stone is a great choice for customizing table tops and bar tops. This stone is heat and scratch-resistant, therefore an ack granite slab is used as a tabletop of the laundry room.
Flooring – Black color floors add depth and intensity to any space. The granite slabs or tiles used on flooring enriches the aesthetics while giving a classic look to space. Natural stone experts recommend installing black granite flooring in rooms with big windows and ample sunlight.
Accent Walls – Without much effort, just the installation of the black stone on accent walls is enough to give a wow feel to even the simplest home decor. The granite can be used on accent walls in bathrooms, behind a shower, r a bathtub. It forms a classic backdrop for walls in living rooms or kitchens as well.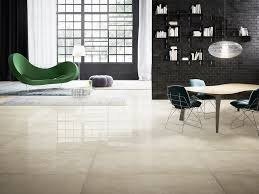 Outdoor Cladding – Black granite is an innovative option for wall cladding as it displays its beauty amazingly in the presence of sunlight. Additionally, it is a better choice than other stones as it stands strong in sunlight, dust and water without any deterioration to its quality and looks.
For counter-tops, the stone has always been a staple choice, but going out of the line, one can install it in innumerable ways.
The Quality And Variety At Bhandari marble group
India, Rajasthan, Kishangarh the granite supplier in India is a master in quarrying premium varieties of black granite. Owing to our knowledge and experience in the world of natural stones, we are known for being a granite exporter.
We offer a black granite range in rectangle and square shape slabs that can conveniently fit into space as per individual interests. There are different types of black stone available around the world. But we offer three of the most desired options among all.
INDIA' S TOP ADND WORLD'S BEST MARBLE, GRANITE AND STONE COMPANY
CATEGORIES: GRANITE, GRANITE EXPORTER, GRANITE MANUFACTURER, GRANITE SUPPLIER
ADD BY EXPERT AND EXPORT TEAM OF BHANDARI MARBLE GROUP. CONTACT US ON; 9672941111.