WORLD'S TOP & INDIA'S BEST MARBLE, GRANITE & NATURAL STONE COMPANY BHANDARI MARBLE GROUP
The pioneer of Marble, granite and Natural stone
Know More about Bhandari Marble Group
Bhandari Marble Group is well known for top quality marble suppliers in the marble market. Since 1631 we are manufacturing and supplying the top quality marble and Granite in India. We have more than 500 unique designs and different-different sizes of marbles and Granite. The strength of leading company marble, granite, and stone in India. India possesses a wide spectrum of dimensional stones that include granite, marble, sandstone, limestone, slate, and quartzite, in various parts of the country.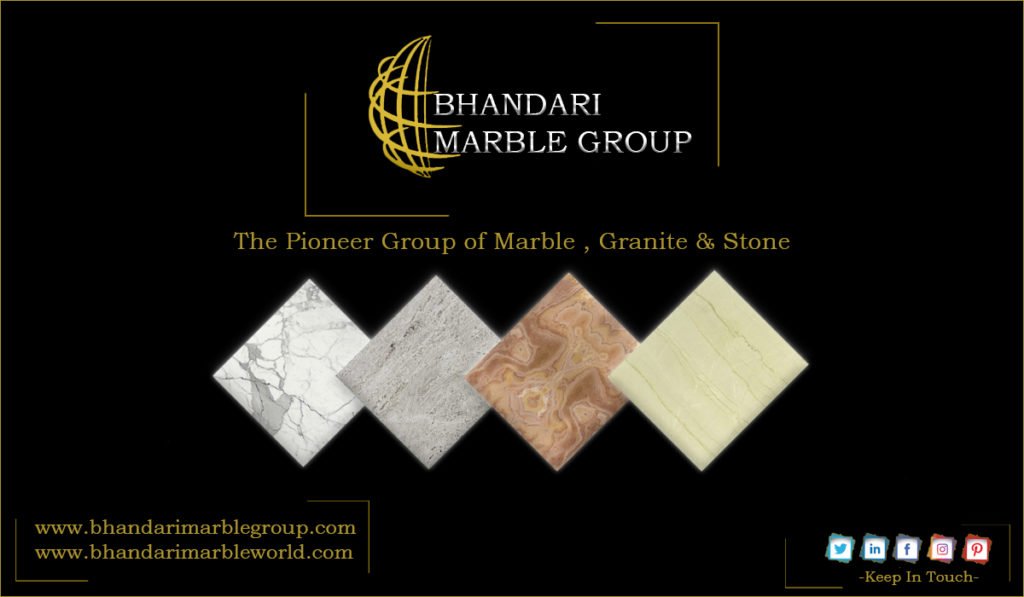 Bhandari Marble Group
The Indian stone industry has evolved into the production and manufacturing of blocks, flooring slabs, structural slabs, monuments, tombstones, sculptures, cobbles, pebbles, and landscape garden stones.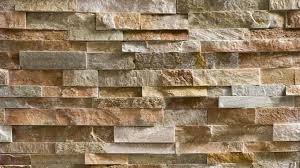 India's history, dating back to 3200 BC has been influenced considerably by the disposition, development, and use of stones and other construction materials. Dimension stones have also left deep imprints on the architectural heritage of the country. Innumerable temples, forts, and palaces of Ancient Indian Civilization have been carved out of locally available stones.
The Taj Mahal at Agra was constructed from Indian marble. Some of the rock-cut structures include Khajuraho Temple, Elephanta Caves, and Konark Temple. Besides, all major archeological excavations have revealed exquisitely carved statuettes and carvings in stone. Ancient Buddhist monuments like the Sanchi Stupa of 3rd century BC have also been carved out of stone.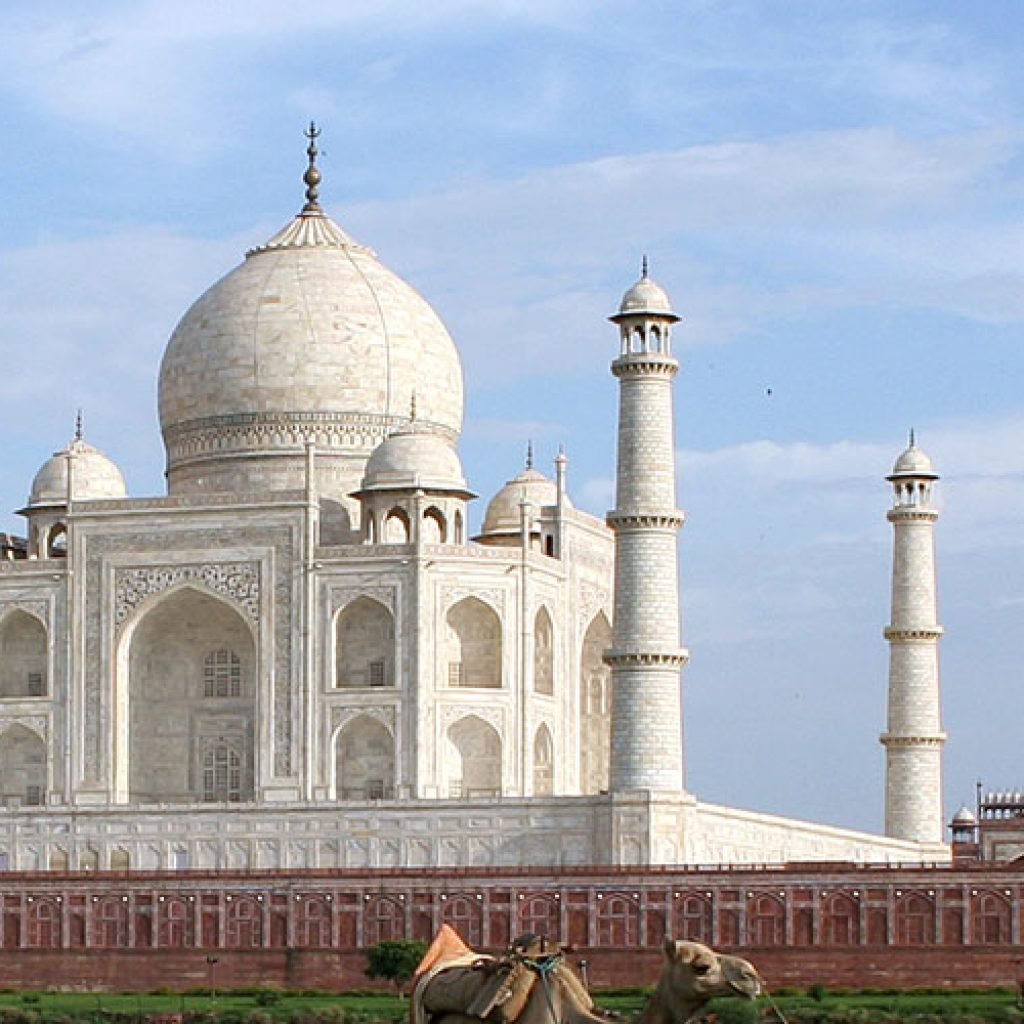 This tradition of Stone Architecture has continued to the present era, with most of the important modern buildings in India like the Presidential House, Parliament House, and Supreme Court made from high-quality sandstone of Rajasthan. The Baha'i House of Worship of New Delhi stands testimony to the relevance of marble in modern Indian architecture.
Stones are still the mainstays of civil construction in India, with stones being used extensively in public buildings, hotels, and temples. It is increasingly being used in homes, with the use of stones now penetrating amongst the growing middle class of India.
The success of the commercial stone industry solely depends upon defects in rock stone. Natural defects in ornamental commercial rock deposits adversely affect the quality of rock deposits. Detection of natural defects in the decorative and dimensional stone industry plays a vital role in the quality assessment.
BHANDARI MARBLE GROUP
India is a pioneer in the exploration, mining of commercial rock deposits, and in establishing a firm base for the stone industry. India, with an estimated resource of about 1,690 million cum, comprising over 500 shades of Dimension Stone Granites DSG, accounts for about 205 of the world resources of the 300 varieties being traded in the world market, nearly half of them are from India. Commercially viable granite and other rock deposits are reported from Andhra Pradesh, Bihar, Gujarat, Karnataka, Madhya Pradesh, Maharashtra, Orissa, Rajasthan, Tamil Nadu, Uttar Pradesh, Telangana, and others.
Marble was used for building tombs, temples, and palaces. For a time it was considered as Royal Stone. It is, however, now used in hotels and homes too. There are many varieties.
THE EVERGREEN MARBLE AVAILABLE WITH US ONLY AT OUR EXCLUSIVE STOCKYARD
Makrana Marble
Makrana is the source of the marble used in the Taj Mahal. It is situated at a distance of 60 km from Kishangarh and falls in the Nagaur district of Rajasthan. The region has various mining ranges, mainly Doongri, Devi, Phlodi, Saabwali, Gulabi, Kumari, Neharkhan, Matabhar, Matabhar kumari, Chuck doongri, Chosira and Pahar Kua amongst others.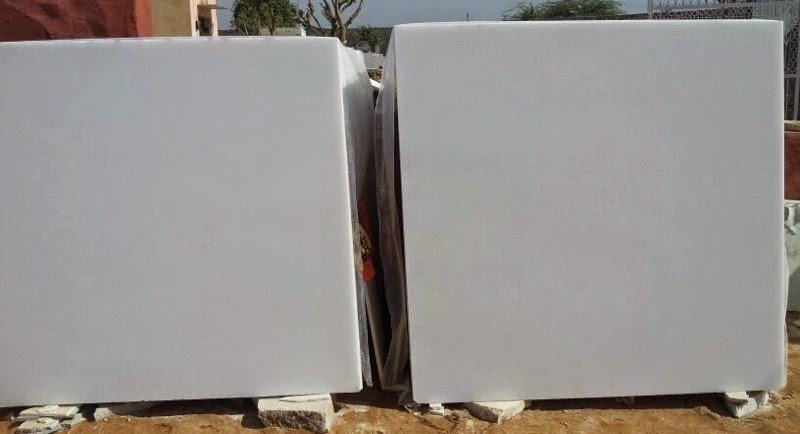 Rajnagar Marble
World's largest marble-producing area, with over 2,000 gangs saw units located in the nearby town of Udaipur to process the material produced. Agaria is a variety of this area, with numerous other varieties and patterns, primarily in white base. The marble is dolomite and often has quartz intrusions.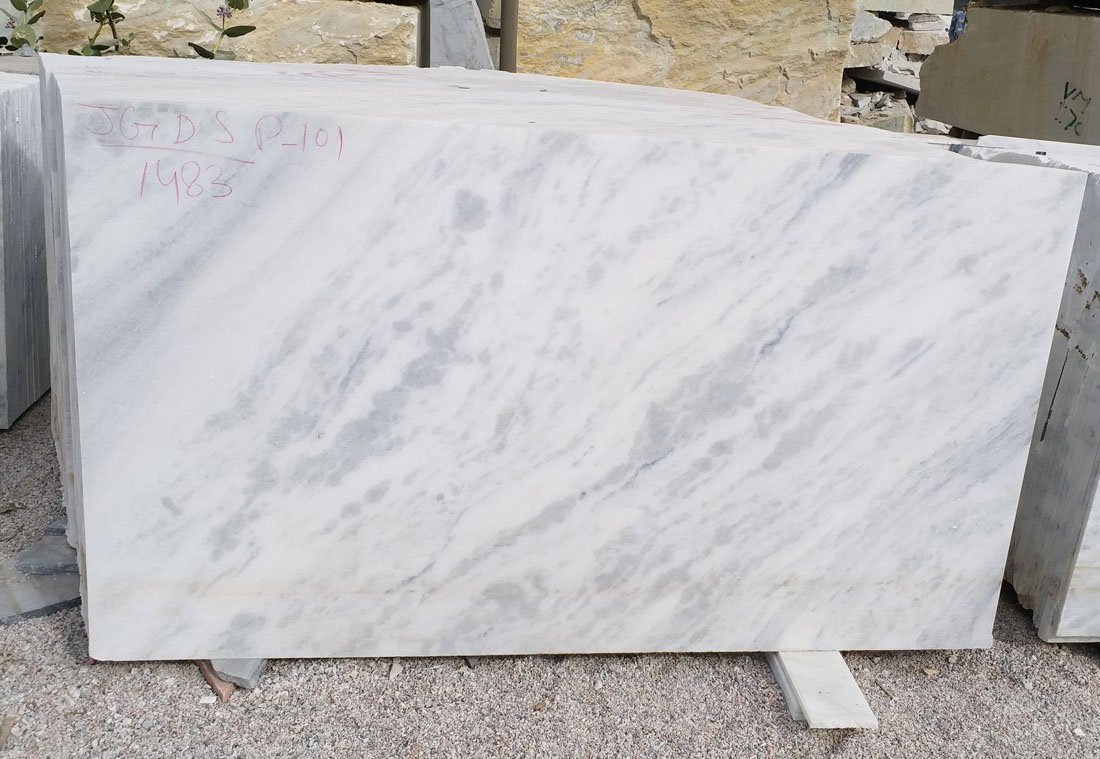 Andhi Marble
Located near the capital city of the state of Jaipur also known as the 'Pink City', it is dolomite marble with intrusions of tremolite and is commonly known by the name of pista pistachio marble, because of green-colored tremolite against an off-white background. One of the famous varieties of this area was known as Indo-Italian, owing to its resemblance with Statuario Marble. Most of the mining of this famous field is now banned by the Supreme Court of India because of the vicinity of the area to the Sariska Tiger Reserve.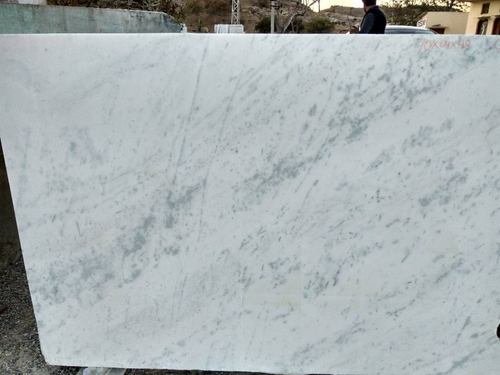 Slumber Marble
Also known as Onyx Marble, it has thick bands of green and pink hint. The resemblance to Onyx Marble from Pakistan gives it this name. This is also highly dolomite.
Yellow Marble
Jaisalmer stone is found in the Jaisalmer district of Rajasthan. Though not been metamorphosed and hence is still a limestone, it is known as Yellow Marble in trade circles. It is mined in the Jaisalmer District.
Bidasar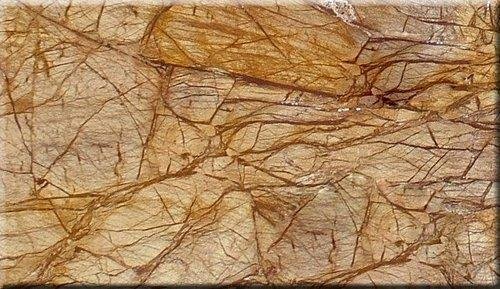 These are ultra basic rocks in shades of brown and green color found in Rajasthan. The criss-cross linear pattern gave it a remarkable resemblance to a photograph of dense forest. These are also known as forest green/brown or fancy green/brown.
Ambaji White Marble
It can be compared with Makrana Marble. It is highly calcic and is produced in a town called Ambaji famous for its temple of Durga Devi. The marble has a very soft and waxy look and is often used by sculptors.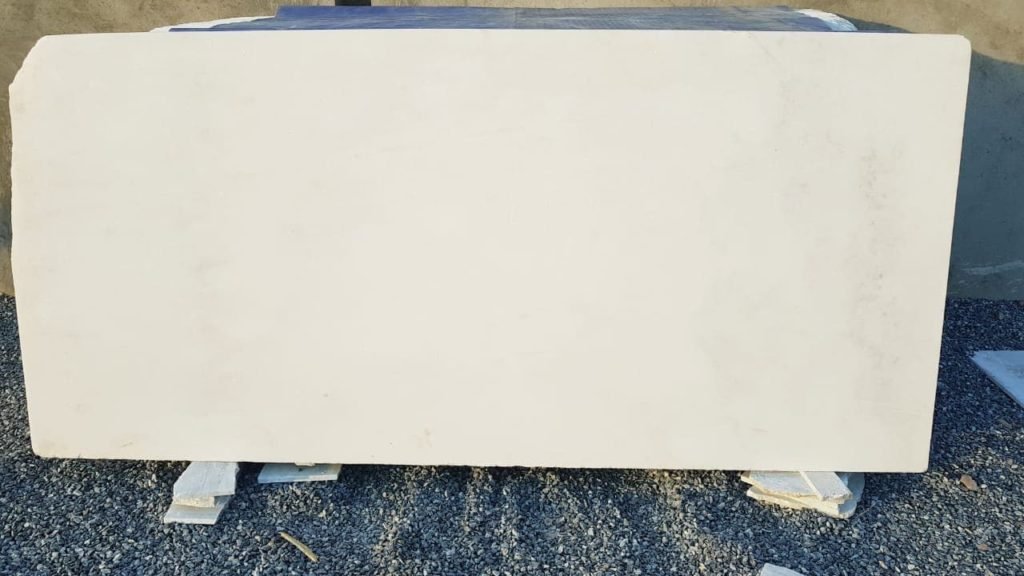 Abu Black
This is one of the rare Black textured marble available. Only produced in the mines of Abu road, this black textured stone is a decorative marble used in temples and sculptures.
Katni Marble
It is famous for its beige colored marble which is dolomite but highly crystalline, with very fine grain size and some quartz intrusions. The marble accepts polish. Another variety of the same range is red/maroon-colored marble. 'Jabalpur range' contains white dolomite marble. It is more often used as dolomite lumps for chemical and industrial uses.
Indian Green Marble
It is found in Rajasthan India, Indian Green Marble's most quarries are situated in Kesariyaji it is 60 km far from Udaipur Rajasthan India. This Indian green marble is known by name in all over the world. In Europe, people know Indian green marble as a Verde Guatemala. Many varieties are available in Indian green marble. Indian Green Marble is exported to Africa, Europe, Australia, Middle East, and many Asian countries. It is found in Rishabh deo town of Udaipur District state Rajasthan of India.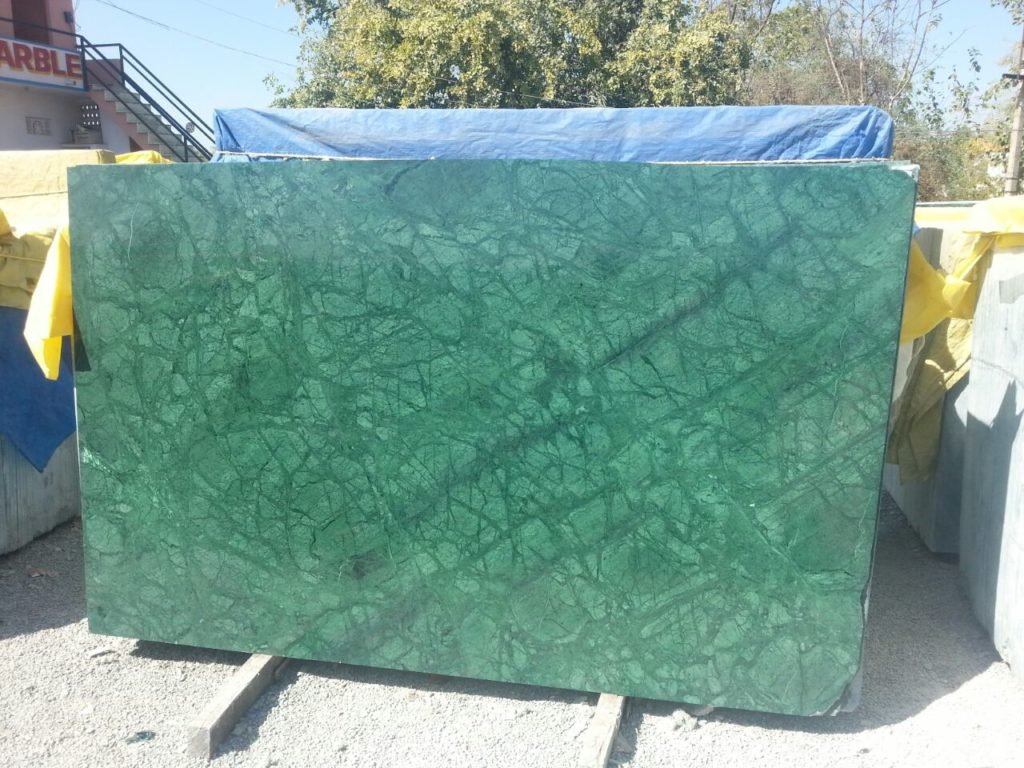 Granite
India has varieties of granite in over 500 shades. Granite reserves in India were 37,426 million cubic meters and ranked fifth in the export of the processed product. Resources are found in Madhya Pradesh, Orissa, Tamil Nadu, Karnataka, Jharkhand, Chhattisgarh, Rajasthan, Telangana, Andhra Pradesh.
Sandstone
Sandstone reserves in India are found over the states of Andhra Pradesh, Assam, Bihar, Gujarat, Haryana, Madhya Pradesh, Meghalaya, Mizoram, Karnataka, Odisha, Punjab, Rajasthan, Uttar Pradesh, Tamil Nadu, and West Bengal. Over 90% of the deposits of sandstone are in Rajasthan, spread over the districts of Bharatpur, Dholpur, Kota, Jodhpur, Sawai-Madhopur, Bundi, Chittorgarh, Bikaner, Jhalawar, Pali, Shivpuri, Khatu and Jaisalmer.
India is among the leading countries when it comes to mining and export of sandstone. The best part with Sandstone from India is that it is available in different colors and considered best for interior as well as exterior use. Few most popular sandstone products from India include names like Tint Mint, White Mint, Mint Fossils, Modak, Agra Red, Rainbow Sandstone, Raj Green, Teak, Buff Brown, Dhoplur Chocolate, Beige, Dholpur Pink, Lalitpur Pink, Mandana Red, Jodhpur pink, Jodhpur red, Jaisalmer yellow, etc.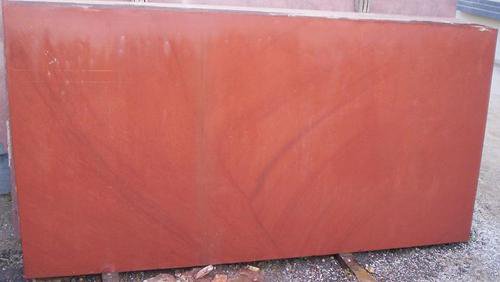 This sandstone is available in a number of finishes and comes with great strength. However, Sandstone like Rainbow is only available in layered form and so is not suitable when the good thickness is required and Jodhpur sandstone is best when used in front elevation and high comprehensive strength. To illustrate it clearly, you can't have cobbles out of Rainbow sandstone in particular as it is usually available in the slabs form.
Slate
Slate reserves in India are found in Rajasthan, Behror, Haryana, Himachal Pradesh, Andhra Pradesh, and Madhya Pradesh. Deposits in Rajasthan are spread over the districts of Alwar, Ajmer, Bharatpur, Tonk, Sawai Madhopur, Pali, Udaipur, Churu, and Chittorgarh. Few important names in slate are Jak Black, Silver Shine, Silver grey, Panther, Deoli Green, Peacock, Peacock Multi, Kund Black, Kund Multi and so on. Being to some extent fragile in nature, it is good for interior use only and can be used even as washboards.
Flaggy limestone
Kota stone of Kota district and Yellow Limestone of Jaisalmer district of Rajasthan are the prime limestone occurrences in India. Other deposits include the Shahabad Stone of Gulbarga and the Belgaum districts of Karnataka, Kadappa Stone of Kadappa, Kurnool and the Anantapur & Guntur districts of Andhra Pradesh, Milliolitic Limestone from Saurashtra Region, Gujarat, and 'Yellow Limestone' of Kutch district of Gujarat, amongst others.
Limestone
Andhra Pradesh and Telangana put together possess 32% of the country's total reserves of limestone. world-renowned Nazi limestone is available in the Kadapa district. Commercial grade limestone deposits are being exploiting from Bethamcherla, Macherla, Neereducherla, Tandur, shahabad Mudimanikyam of Kurnool, Guntur, Anantapur, Rangareddy, and Nalgonda districts are widely used in our country for paneling, and flooring purposes. Sullivan limestone of Karimnagar and Warangal districts, massive limestones of Mudimanikyam, Nalgonda districts. Total of India's limestones are estimated at about 93,623 million tonnes. Limestones are extensively utilized for the manufacturing of cement and also building stones, particularly flooring and roofing .
Other Dimensional Stones
There are some other dimensional stones being quarried and used in consumption, in addition to the dimensional stones already detailed above. Laterite bricks are quarried in huge quantities and are utilized as bricks in the construction of houses and for pavements in the states of Orissa, Karnataka, Goa, and in other parts of coastal states. The felspathic sandstone occurring with the coal seams as overburden is also used as building stone.
The huge deposits of basalt in the states of Maharashtra, Karnataka, and Gujarat are used as building stones since ancient times. Other quartzitic bands, occurring with phyllites and schists, are also utilized for building purposes. Khondelites from the East coast are being used widely in sculptures and as a building material. Felsite from Karnataka is being extensively used as a dimensional stone as well. India also contains many stones which are semiprecious like-zoisite, apophyllite, cava site, muscovite mica, almandine, etc.
Indian Marble
Indian Marble is known for its beautiful textures, strength and durability. We offer this beautiful Indian marble in quality and natural shine to use for commercial and residential purposes. Generally, Indian highly demands in pure white color. Bhandari Marble Group also exports white Indian marble, pink, gold, onyx, and more other colors. Bhandari Marble Group supplying this beautiful Indian marble in reasonable rates.
MARBLE, ITALIAN MARBLE, SANDSTONE, GRANITE, AND OTHER IMPORTED MARBLE
Bhandari Marble Group is the well known for top quality marble suppliers in marble market. Since 1969 we are manufacturing and supplying the top quality marble and Granite in India. We have more than 500 unique designs and different-different sizes of marbles and Granite. So people have lots of choices to choose from them. We deal in onyx marble, marble stone, Statuario marble, Italian marble, Indian marble, Kishangarh marble, granite and provide any kind of natural stone with great finishing that our customers need.
We are the most reputed suppliers, manufacturers, exporters, imported marble suppliers in the market. We provide a great collection of imported and Indian marbles to your home, office, hotel, hospital, and any other location with fast and quality service. We are well known or most famous for quality, quantity, and finishing of natural stone. Since 1969 we have come to this field. People call us the pioneer company of marble field.
KISHANGARH MARBLE, MARBLE IN INDIA, GRANITE, GRANITE IN INDIA, SANDSTONE, SANDSTONE IN INDIA
We have the great collection of Indian marble and Kishangarh marble, granite, sandstone with the great and latest cutting and finishing tools for marble stone. We have the fully experienced team for cutting, finishing and supplying the marble stone with the latest technologies.
We are one of the greatest marble manufacturers, suppliers, and exporters of all kinds of marble stones like marble, Italian marble, Marble Flooring, Onyx marble, Statuario Marble, Sandstone, Kishangarh marble, Indian marble, Makrana Marble, and Granite at an affordable price. Looking for any kind of quality marble, granite in India, or anywhere in the world, you are at the best place. We provide quality marble, Granite, Limestone, etc in India or anywhere all over the world at wholesale price.

OUR SPECIALIZATION
We are specialized in quality, quantity, and finishing of marble stone, that is our unbeatable strategy or no one can match our quality and price. We have a wide collection of Indian marble, Italian marble, granite, sandstone, and much other marble stone. We have the largest and maximum experienced team of engineers who delivers the marble products to our customers at a reasonable price.
OUR ACHIEVEMENTS
We have come a long way since 1631 and our goals have been high on quality, quantity, finishing which is not achieved by any other company. We have broken major records in terms of service and quality hence the true pioneer of marble world.
SOCIAL ACTIVITIES
The group in the guideline of Shree Roopchandji Ji Sahab has been regularly involved in social activates helping the needy in the field of medicine, education, and educating the girl children. Our grandfather always believed in social reforms such as women empowerment, educating girls, fight against dowry, and other social evils!
LIKED BY THOUSANDS
More than Many thousands of Happy Customers across the Globe and Company growing very Fast is not only proof. There is a Big Group of an experienced team of workers supervisors and engineers who deliver UN-match-able products.

For more information, follow our Face book and Instagram.
We provide the best quality marble in Kishangarh India at a low price. We are the supplier of Best Quality Indian Marble, Italian Marble, Granite, Sandstone and Other Natural stone.
Top Marble Granite Manufacturers Suppliers & Exporters in India
We are one of the best Indian Marble Manufacturers Exporters Suppliers in INDIA based at KISHANGARH in Rajasthan, we are a leading Indian Marble Manufacturing Company & largest Exporter of Marble Slabs, Marble Tiles, Calibrated Tiles, Marble Skirting / Borders, Free Length Strips, Marble Blocks, Marble Floor Tiles, Cut-To-Sizes, Marble Stairs Steps Risers, Stair Treads, Marble Countertops / Marble Vanity Tops / Marble Table Tops, Marble Window Sills, Garden Paving, etc. using latest stone processing technologies for cutting, polishing and profiling which helps us to meet any clients requirements around the world.
We are one of the leading Granite Manufacturers Suppliers Exporters from INDIA based at KISHANGARH in Rajasthan. We ship our Granite Tiles, Granite Slabs, Granite Vanity Tops, Granite Monument and Granite Tombstone to all countries. We proudly serve our customers mainly from Poland, Germany, Russia, Italy, Spain, Sweden, UK, USA, Mexico, France, Argentina, Netherlands, Turkey, Qatar, Albania, Slovenia, Austria, Canada, Australia, Belgium, Kazakhstan, Uzbekistan etc.
Our concept is to offer our customers the largest variety of Indian Granite Colors and the best customer service far better than the Granite Manufacturers Exporters Suppliers in China; you will find totally convenient and easy process when importing a granite container from our Stone Company. We have more than 500+ Granite Importers, Granite Wholesale Distributors around the world. Contact us and start importing your container of granite countertop slabs.

Let's Work Together…
If you're looking for the very best in Marble, Granite, Indian Slate, Indian Sandstone, Indian Black Basalt, Indian Porphyry Stone, Quartz Slabs, Semi Precious, Mosaics… you've reached to the right place. With many years of experience, We BHANDARI MARBLE GROUP Marbles & Granites offers unparalleled expertise and unbeatable quality in regard to our Indian Stones. Our goal is to provide high-quality Natural Stones and Incomparable Customer Service. We truly know that long term business relations depend "ONLY" on top-quality stones.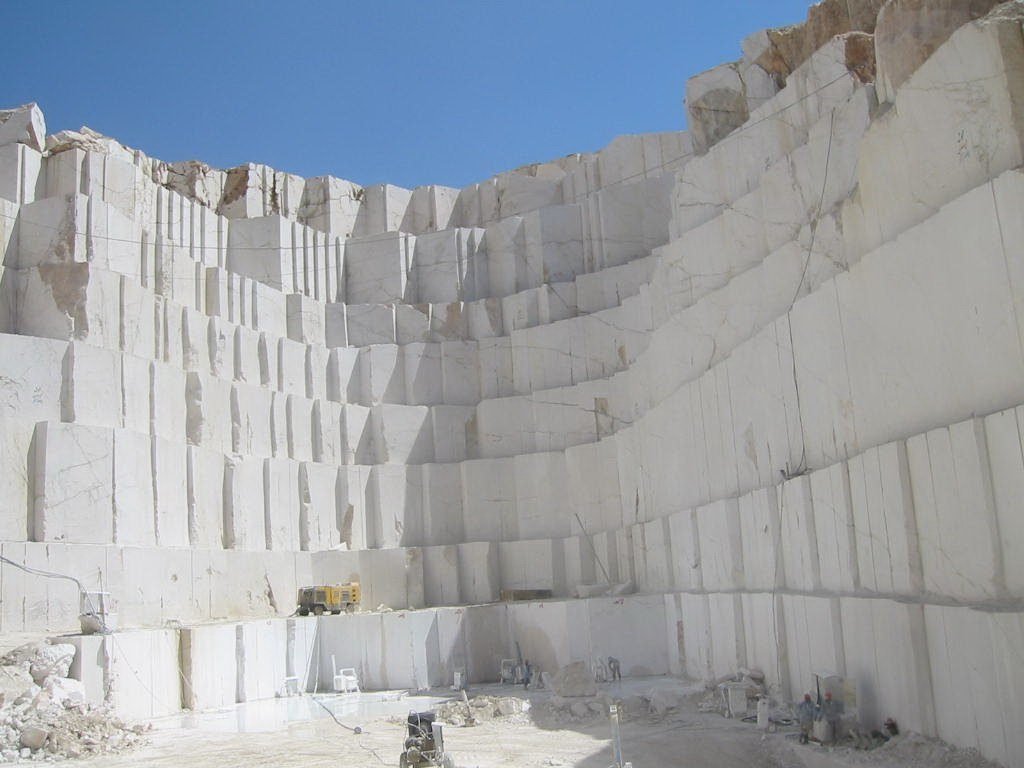 "Your consideration is greatly appreciated"
Be 100% Assured for Best Quality, Price, Service & Delivery
Innovation in the production process
Focus on customer service
BHANDARI MARBLE GROUP PROFILE
Since its foundation in 1631, the company has grown and strongly expanded, becoming a global model in the Natural Stone industry, providing innovation and technology leadership. Among its greatest assets is its considerable responsiveness —it owns numerous quarries—, competitiveness and innovation. All this is the result of the  factories that we have strategically located and where it develops the most advanced technology; the accessibility provided by private distribution warehouses; and, lastly, its international presence thanks to trying for exporting to more than 100 countries.
CAPACITY OF GROWTH
International expansion of the company is synonymous with service and accessibility. We have an extensive global presence with quarries, supply offices, factories, and private distribution warehouses all over the world.
HIGH RESPONSE CAPACITY
The main source of supply is its own quarries, which allows it to guarantee the supply of materials and deal with large-scale projects.
COMPETITIVITY AND INNOVATION
The company has factories, strategically located, with the most advanced technology.
HIGH LEVEL OF CUSTOMER AND MARKET FOCUS
The company has team of expert's employees with great experience in the industry and private distribution warehouses.
SHOWS ITS NATURAL STONE TO CUSTOMERS IN DISPLAY AREAS & ONLINE ALSO
Large amounts of Natural Stone in stock and the team have highly specialized industry knowledge to help customers.
BHANDARI MARBLE GROUP
Has a Marble Stone Studio located in India, the marble region par excellence in Rajasthan. It contains more than 200,000 m² of Marble, granite, and natural stone and other marbles, making it one of the centers with the most marbles available in the world.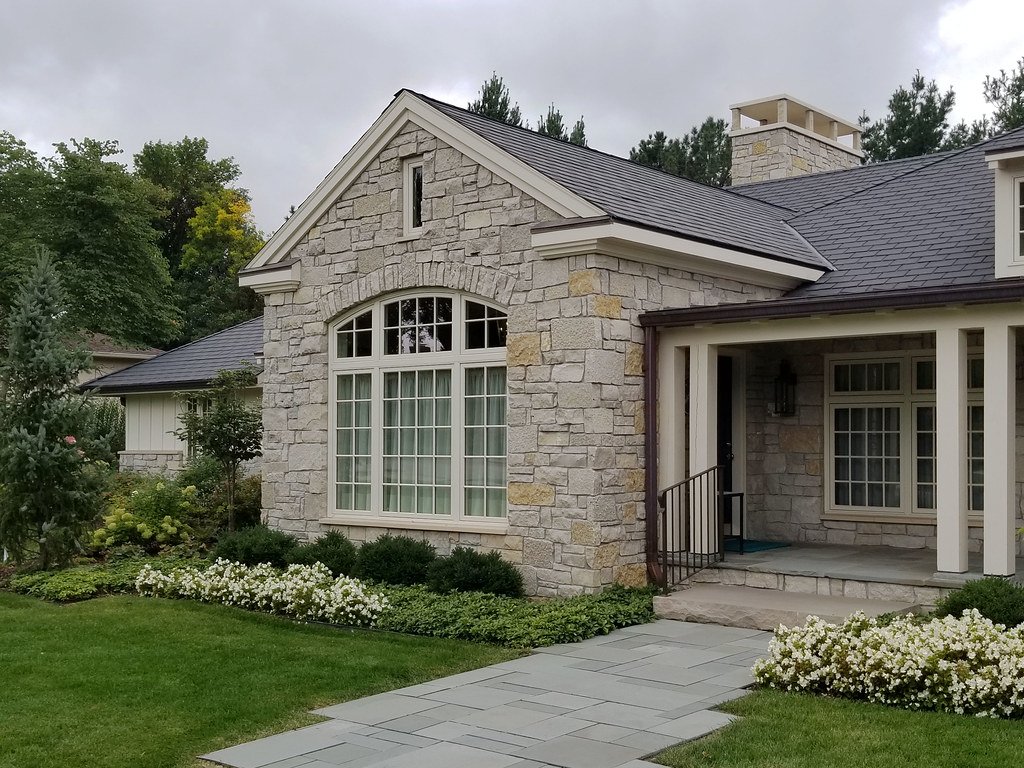 Modern Luxury Stones has awarded a Best of Design Award In the next Interiors issue release celebration coming up on we will be together honoring and celebrating The stores, showrooms, services, and Faces of Design in their newest issue.   Stay tuned, we will
ARCHITECTURES AND DESIGNERS
An expression of BHANDARI MARBLE GROUP Corporate Social Responsibility and, in particular, of its commitment to the improvement of the communities where it carries out its business.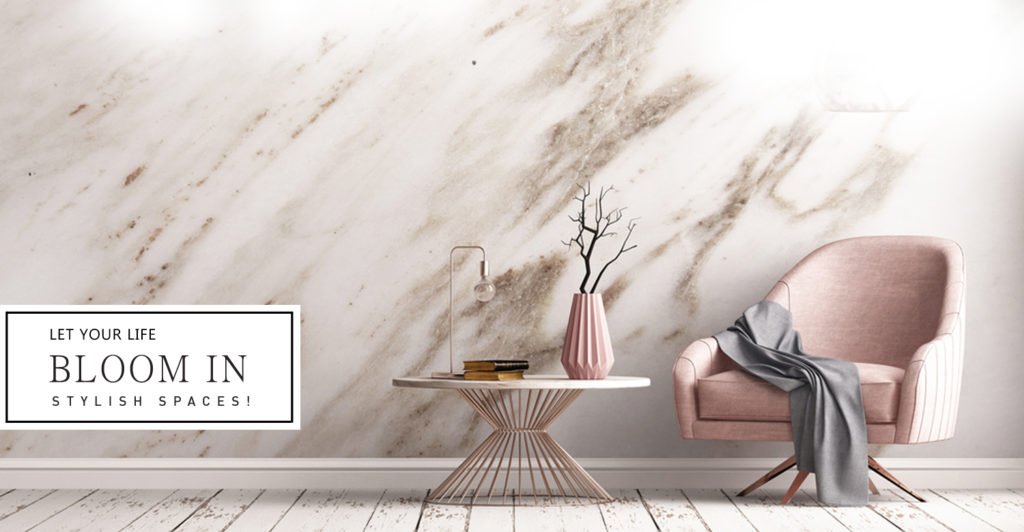 TRADE FAIRS AND EVENTS
BHANDARI attends the most important international fairs and events in the interior design, architecture, and Natural Stone industry to present its various design colors, 360-degree finish.
Add by BHANDARI MARBLE GROUP INDIA RAJASTHAN KISHANGARH.
WORLD'S TOP & INDIA'S BEST MARBLE, GRANITE & NATURAL STONE COMPANY BHANDARI MARBLE GROUP