STATUARIO MARBLE TILES BY WORLD'S TOP AND INDIA'S BEST MARBLE COMPANY – BHANDARI MARBLE GROUP – BY D.C. BHANDARI (CHAIRMAN)
Natural stone tiles are gaining wide popularity in the marble world. There are many advantages of choosing tiles over conventional stone slabs. Tiles are more suitable options for certain kinds of projects or spaces but one may wonder if natural stone tiles are better than artificial stone tiles. Another question may be whether to choose Indian or Italian marble tiles. Bhandari Marble Group is here to answer all your queries and share our knowledge to help you make the best decision.
STATUARIO MARBLE- THE EXTRAORDINARY MARBLE FROM THE HEART OF ITALY:-
Statuario marble is a very precious and exclusive marble stone that is quarried in the Carrara region in Italy. Statuario marble has a one-of-a-kind, classic look which makes it the first choice of marble for many architects and interior designers. With a bright white background covered with gray veins, it is truly a mesmerizing marble to behold. The low availability and high demand for this marble make it even more rare and precious. The statuario marble is the epitome of a luxurious stone that has the ability and quality to make any space look brighter and better. It gives a very posh look to a space and offers the ultimate luxurious look for your project. The immense popularity of this marble is not recent but has lasted through generations and centuries. Statuario marble was used in historical times by many artists and designers to create masterpieces that are still admired by the world.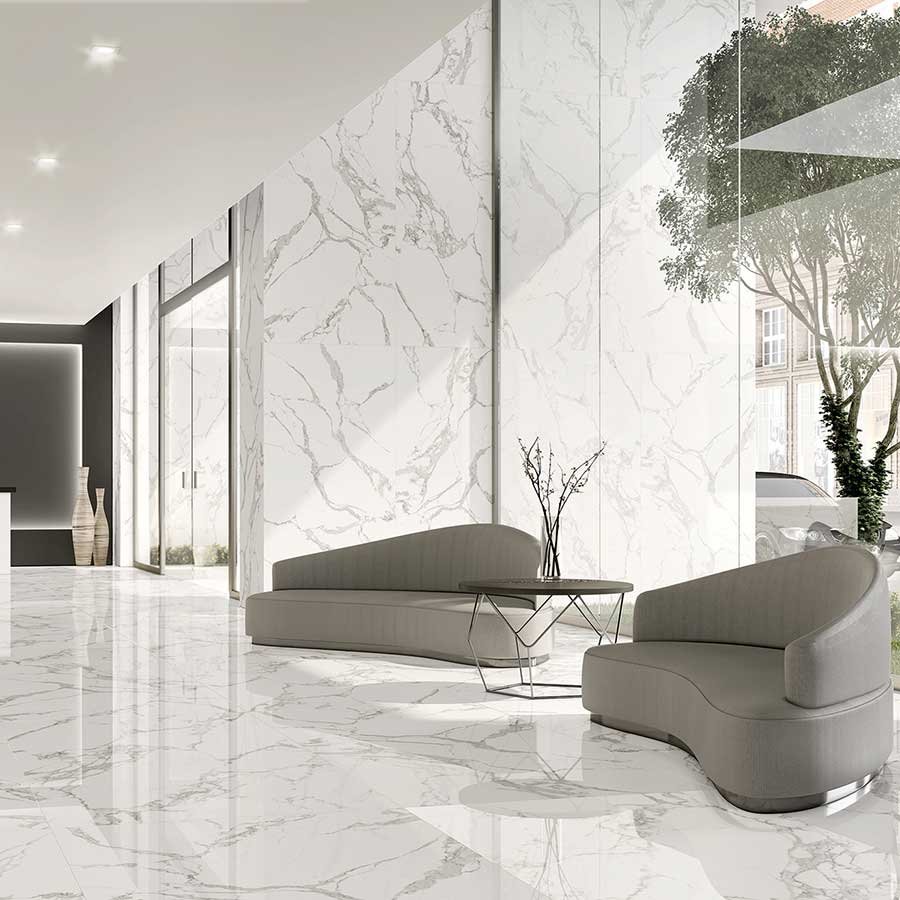 STATUARIO MARBLE TILES- WHAT MAKES IT THE BEST OPTION?:-
There are many advantages of using statuario marble tiles for your project. Bhandari Marble Group has curated a list of some noteworthy advantages to help you decide if it is the perfect option for your project.
SPECTACULAR APPEARANCE:-
Statuario marble is undoubtedly one of the most beautiful marble which possesses a highly luxurious appearance. Not only does this beautiful marble give your space a very posh look but is also bound to make all the visitors enchanted by its gorgeous appearance. With a dazzling white background and medium-wide gray veins, this marble has a truly magnificent appearance. Its mesmerizing beauty is one of the many factors that make it the most demanded marble type.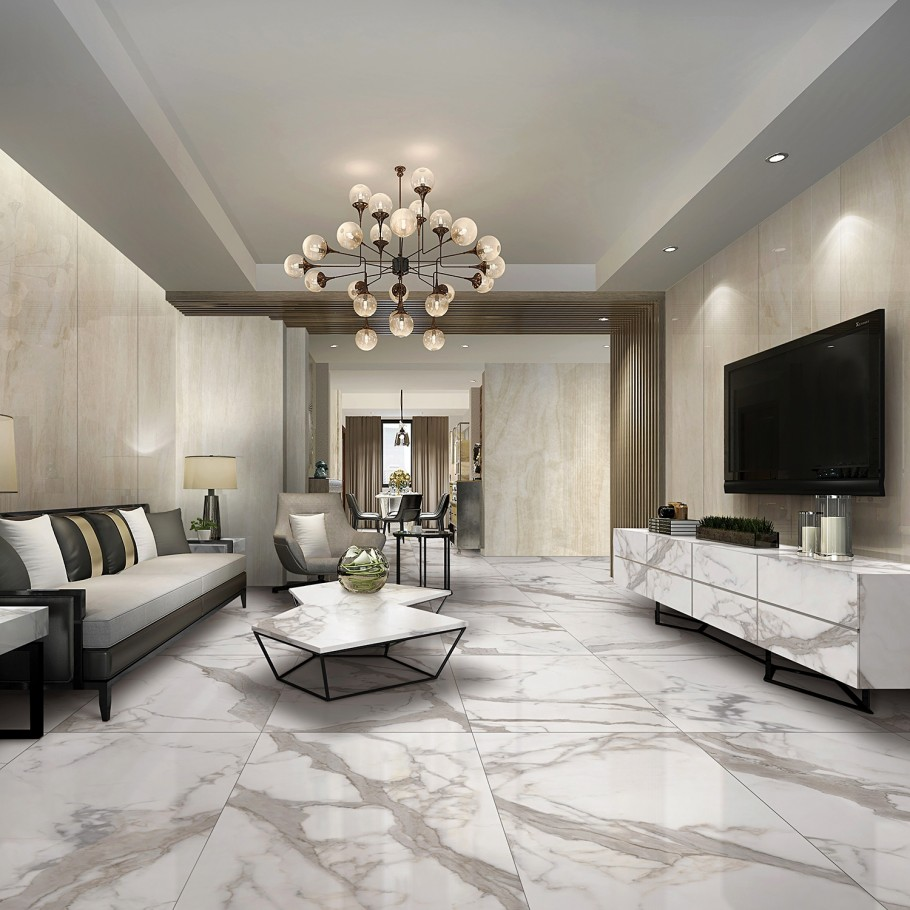 HIGHLY DURABLE:-
Statuario marble tiles are highly durable and completely natural. Statuario marble has been used since time immemorial for various architectural and artistic purposes and its highly durable nature is evident from the historical monuments that still stand unharmed. These marble tiles can remarkably endure the cruelties of time.
RESISTANT TO SCRATCHES AND SHATTERING:-
Statuario marble tiles are scratch-resistant and can also endure a remarkable amount of weight. These marble tiles are resistant to shattering and breakage and are very heavy-duty. There is no need to worry about cracked tiles when you choose statuario marble tiles.
OUTSTANDING INSULATOR:-
Marble is an outstanding insulator. This makes marble tiles highly resistant to weather changes. Statuario marble tiles stay cool during summers and relatively warm during winters. Thus, they help in maintaining the temperature levels to a certain extent.
LIGHT REFLECTORS:-
Marble tiles reflect light which makes the space look brighter and bigger. This is a major reason for the popularity of marble tiles for use in homes and offices. It makes the place look more spacious and bright.
WHERE TO FIND HIGH-QUALITY AUTHENTIC STATUARIO MARBLE AT BEST PRICES?:-
Your search for the best statuario marble supplier ends here. You need not look for any other marble providers when you have come across Bhandari Marble Group which is the oldest and largest natural stone provider in Kishangarh, Rajasthan, and all over India. We have the trust of countless buyers not without a good reason. We are committed to quality and customer satisfaction and make sure that our customers get only the best quality and that too at competent market prices. We consider it as our duty to ensure that our buyers get the highest quality, authentic products and also to make sure that they have all the necessary information so that they know what they are choosing for their project. So, if you are looking for the best quality statuario marble tiles, contact Bhandari Marble Group now to get free personal guidance, premium-quality products, and the best services.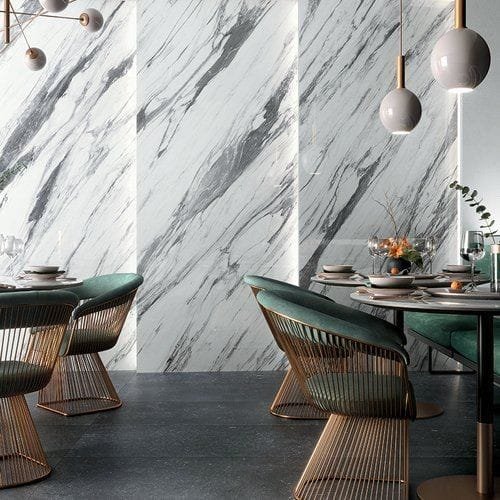 WORLD'S TOP AND INDIA'S BEST MARBLE, GRANITE AND STONE COMPANY
ADD BY EXPERT AND EXPORT TEAM OF BHANDARI MARBLE GROUP. CONTACT US ON; +919829040013, +919672941111.
STATUARIO MARBLE TILES BY BHANDARI MARBLE GROUP