NATURAL STONE FACTS BY BHANDARI MARBLE GROUP
Michelangelo's David Different types of Natural Stone
Porphyry. This is a volcanic rock formed during a slow cooling process of igneous material, which gives the stone its high compressive strength and density.
Quartzite. This stone is a natural building material that is quarried in the mountains.
*Granite.
*Limestone.
*Basalt.
*Sandstone.
*Flagstone
There are so many varieties of natural stone
Whatever color you like, whatever texture you like, whatever movement you like, there's a stone for that Marble, Onyx, Serpentine, Granite, Slate, Flagstone, Soapstone, Travertine Limestone, Quartzite These stones come in so many colors, some have veins, some have flecks. The bottom line is there is a stone that will fit your taste.
Red White Blue
Honed or Polished?
Do you want a lot of shine or do you prefer more of a matte finish? Or maybe even a textured/rough finish. Whether you like a high gloss finish or a rustic finish, many natural stones can be honed or polished, depending on your taste. The good news is, even if your marble, limestone, or travertine was installed with a certain finish, we as a restoration company can hone or polish the stone on-site.
Travertine Polished Honed
Travertine tile is a popular choice for both indoor and outdoor flooring because of the wide variety of color options and variations you can achieve with this durable material. This ultra-strong flooring has a tendency to look dull over time. You don't need to call in the professionals to restore dull travertine floors to a like-new luster. All you need is a free weekend and a couple of supplies to polish the travertine floors yourself. It is a build-up of wax and dirt on travertine tile makes it lose its original sheen. Fortunately, cleaning and polishing your travertine tile is a simple process that can be done as a weekend project.
*vacuum
*Waterproof tape
*Protective plastic sheeting
*Floor stripper
*Travertine filler compound
*Mop and bucket
*Steam cleaner
*Weighted Buffing Machine
*Polishing powder
*Buffing pads
*Sealer
*Strip Excessive Material

Before you can polish a travertine floor, you have to start by deep-cleaning the built-up wax and dirt. Purchase a travertine stripper designed to remove a waxy build-up from the surface of the tile. The fresh mop is the ideal tool for applying the stripper to the floor. After covering the floor in an even coating of the stripper, repeat the mopping process with plain water a number of times, until you are certain the grime and wax are removed.
Steam Clean the Travertine
Use a steam cleaner to give the floor a deep-down clean. This step helps to break up any residual stripper and grime remaining on the floor and can even help to remove some light scratches and stains from the surface. The steam cleaner will also help to clean the grout between the tiles. Getting a high polish is only possible when you start with a nice, clean floor and steam cleaning is an essential second step in this process.
Fill Cracks, Chips, and Holes
Once the floor is steam cleaned, it is time to make any repairs needed to restore the travertine floor to a like-new look. Filler compounds, such as epoxy, make it easy to patch cracks, chips, and other glaring imperfections in the tile. If epoxy is not available, a grout of the same color as the travertine makes a suitable substitute. Follow the material instructions, allowing the appropriate time for curing before the next step.No matter which material you use, make sure to find a color that will match the existing color variations on the floor.
Tape Plastic Sheeting Around Edges
Keep furniture, baseboards, cabinets, and other surfaces around your floors protected during the polishing process by taping them off and protecting them with plastic sheeting. Use waterproof tape around the perimeter of your floor and plastic sheets to prep the floor for the polishing step. If possible to move furniture, get it out of the way to prevent damage from the buffing machine or polishing solution. If you are polishing multiple rooms, consider tackling one at a time, moving the furniture to the room that is not currently being polished.
Travertine Tile Polished
Polishing the travertine tile requires renting a weighted buffing machine. There are two primary methods for completing the polishing process. The first method is using various grit pads to bring the surface of the travertine to a shine gradually. For the first pass, attach a low-grit diamond pad to the bottom of the buffing machine. The pad will help to remove scratches, and remaining stains and other surface etches or imperfections from the top layer of the travertine tile. This step also makes the compounds used to fill holes and cracks level and consistent with the rest of the flooring. After the first run is completed, continue the process with higher-grit pads with a polishing range from 800 to 8500 until you have a smooth finish with just the right amount of shine.
The second polishing method uses a polishing powder as opposed to multiple sanding pads. The instructions on the polishing powder will indicate what type of pad is needed for the weighted buffing machine. Sprinkle the polishing powder on the floor and work it into the tile using the buffer. This step can be repeated if necessary for additional polishing. You get to decide how much shine you want the floor to have. The higher the grit or more times you use the polishing powder, the more shine you will achieve with your floors.
Tidy Up & Seal
Polishing travertine is a messy process. Once you have restored the travertine to its original luster, the clean-up process begins. Mop the entire floor with clean water to eliminate any dust that is sprinkling the floor after the buffing process. After the floor is both clean and dry, apply a sealer of your choice to protect the surface of the travertine and keep the floor looking polished for a long time to come. Apply the sealer using the manufacturer's instructions and allow it to dry completely. With your polishing project completed, all that's left to do is remove the tape and protective plastic from the cabinets and baseboards. Arrange your furniture again and enjoy the look of your floors once again.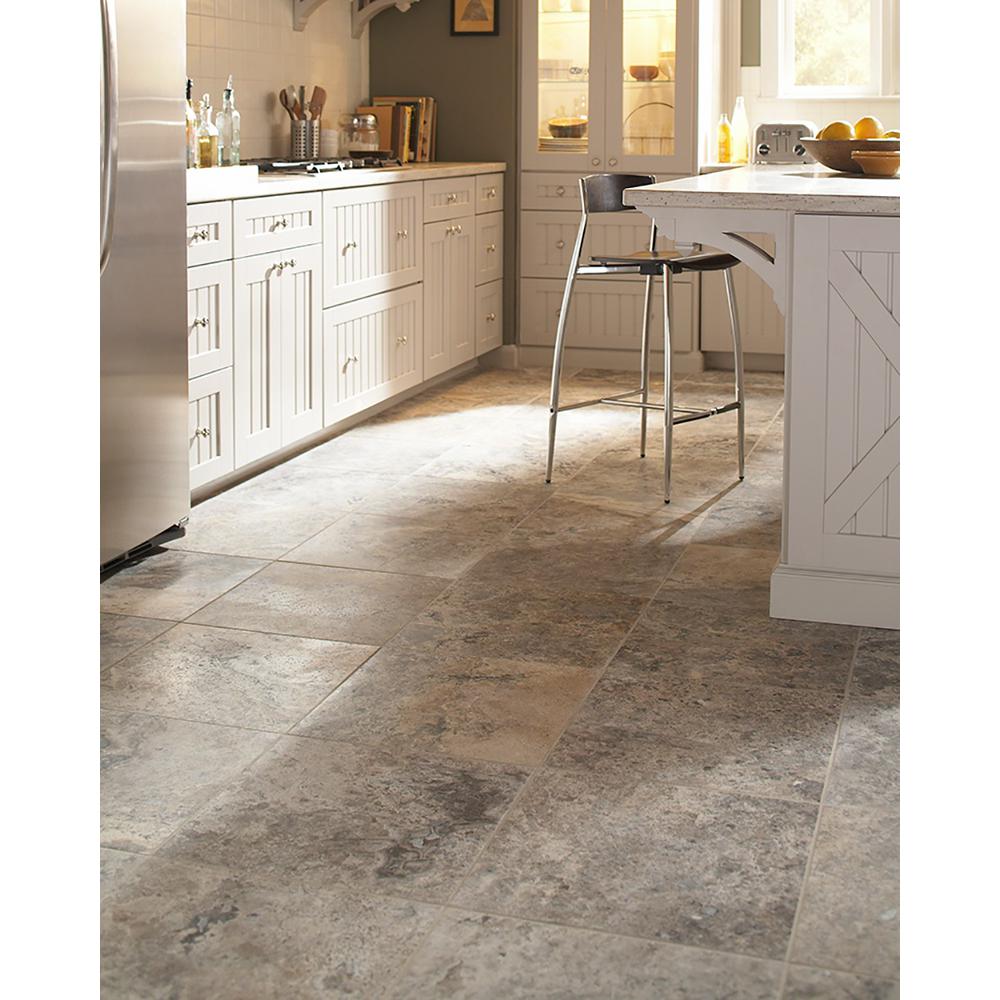 Travertine tile is a popular choice for both indoor and outdoor applications, especially in well-used spaces such as the kitchen and the bathroom. A well-polished floor calls attention to the intricate color variations in the surface, making the floors a focal point of the room design. While labor-intensive, the process of polishing travertine floors is not particularly difficult. Instead of replacing worn-looking floors, restore them to their original luster by completing this six-step process.
Egyptian pyramids
Its immense size makes it a marvel to behold, but the Great Pyramid, and its neighbors, the Pyramids of Khafre and Menkaure, are mostly just solid masses of stone—2.3 million blocks of cut limestone, to be more precise, which is the approximate number making up the Great Pyramid
The pyramids were built of limestone, granite, basalt, gypsum mortar, and baked mud bricks. Limestone blocks were quarried at Giza and possibly other sites. Granite likely came from upriver at Aswan.
"Natural stone stands up to weathering and time better than any other building material, natural or manmade. This has been proven through the ages. The Egyptian pyramids, the Parthenon or any ancient city offer lessons that demonstrate natural stone is the most sustainable building material available."
Uses of Marble in Architecture, Sculpture, Design,
About The Tajmahal & Bhandari marble group :
Tajmahal is such an awesome sample of stone art. It was built by Great Mughal Emperor Shah Jehan, got married to Mumtaj Mahal. Tajmahal built in loving memory of his wife. Afrox 20,000 workers worked for 22 years to build it. The construction period of Tajmahal in 1631 A.D. to 1653 A.D.White crystalline marble, Gemstones, sandstone are the main stone, which has been used in Tajmahal. White Marble which was used in Tajmahal was brought from Rajasthan India.
Gemstones: Semi-Precious Stone: Agate, Turquoise, Lapis lazuli, Coral, Onyx, Cat's eye, Jade, Bloodstone, etc were used in Tajmahal for the art of creativity.
Rare Stones: Some rare gemstones such as Goldstone, Magnet stone used in Tajmahal.
Common Stone: Many common stones such as Grey, yellow, red sandstone, black state, white marble, limestone used widely.
White Marble:
White Marble is the ultimate old and best quality of marble. It is the best marble variety for floors and walls. It gives natural and visual appeal to the area. White Marble Rajasthan is a great source of natural marble. It consists of a very high amount of calcium carbonate CaCO3 (90-98%). White marble is not chemically treated hence doesn't change color. Marble is Available in vast variety and colors. Resistance to water and weather, Resistance to alkyl and acids, Easy to cut, easy to carve and Excellent building material. Hence white Marble was used in Tajmahal as a building material.
Sandstone:
Sandstone is a sedimentary rock. It is formed by compaction and consolidation of sand, which is together by natural cementing material, such as silica. Sandstone is made of sand cemented by silica, iron, lime, etc. It is a quartz-based stone. It is one of the hardest and toughest materials. Even it is harder than granite. Sandstone is mined by quarrying. Commonly sandstone is composed of quartz and feldspar. It is widely used for stonecraft.
St. Peter's Cathedral in Vatican city
The Papal Basilica of Saint Peter in the Vatican Italian: Basilica Papale di San Pietro in Vaticano, or simply Saint Peter's Basilica Latin: Basilica Sancti Petri, is a church built in the Renaissance style located in Vatican City, the papal enclave which is within the city of Rome. It endures the test of time and it can take your breath away.
If you have ever taken a tour of St. Peter's Cathedral in Vatican City or toured the Roman aqueducts, you know that natural stone is simply stunning.
Natural stone business online
By the Bhandari marble group.
THE PIONEER COMPANY IN MARBLE. Our services are also available online. BHANDARI MARBLE GROUP has been rated the 5-star MARBLE GRANITE AND NATURAL STONE
How the stone industry will change in 2020?
India is a naturally blessed country with an abundance of natural resources. One such precious resource is a natural stone for which the nation has been lucky to have the most diverse variety of stones. Indian market contributes 27% to the international stone market with 11% of the export share. The stones produced in India include marble, granite, sandstone, slate, limestone, and quartzite. Out of these stones, the market for marble is quite vulnerable as it faces rapid movements of many internal as well as external factors.
As per the expert's estimate, the marble market in India is around 35 million tons per year. Out of this, 800,000 tons are exported and rest is utilized by the natives. The market is a closely-knit network of marble factories, suppliers, wholesalers, and retailers.like any other industry, the marble industry has shown signs of growth. The first sign of which is 'adaptation' to newer technology and smart techniques of the trade. The members of the industry have understood that change is the way to keep pace with the continuously evolving market trends and thus are eager to learn new business styles and techniques.
Some progressive retailers, who have a futuristic vision have estimated the way the stone industry will operate in the next 5 years. But, for all to survive and succeed; it is important that this concept is shared with all: Technology:
As we discussed, technology will have a major hit on the stone industry. Not only will it affect how business is done from scratch but also how the industry will outgrow other industries in terms of effective technological utilization. This includes more business done through, e-commerce, more influence of online presence and faster and efficient modes of logistics aligned with online transactions.
Consumer Behavior:
The world has become completely digitally optimized, as we turn to the internet to find anything we need. The interesting part is, this dependability of the consumer on the internet is going to rise by each passing day. More and more customers will reach online to find marble and thus to have an online presence will become imperative.
Government rules and regulations:
In September 2016, the government announced a new policy for marble import block which had a great effect on marble business. Similarly, the demonetization policy imposed by the government also had a significant effect on the market as the closely linked construction industry was purely based on cash inflow. There can be many such government policies and regulations that can affect the marble industry.
These are the many aspects that will frame the future of the Indian marble industry in the future. The signs of each of these factors can be easily seen on the market. In the next 5 years, the Indian stone industry will be technologically advanced and guided by strict government rules and regulations.
To ensure that you have a competitive edge over the changing scenarios, you need to have a strategic plan keeping all these influencing factors in mind.
We know that the number one source for information about building products is the Internet. Consumers, designers, and architects often conduct online research before contacting or visiting natural stone suppliers. As the market expands, the Internet has become host to an array of articles touting the benefits of new and/or alternative building materials quartz, concrete, recycled glass, wood, etc.. In the rush to inform audiences about these new products, many online outlets have begun predicting the demise of natural stone—glossing over the good things about stone in order to spread myths and misconceptions.
THANKS, AND REGARDS BY D.C. BHANDARI
+91-9829040013
+91-9672941111