NATURAL MARBLE V/S COMPOSITE MARBLE AND QUARTZ
If your client's red wine and pasta Sundays are pushing your design from natural stone to quartz, it may be a myth about durability driving your design rather than your eye (or your client's cooking). The differences between marble and quartz, for instance, are varied and complex, with each material excelling in different applications and under different conditions. The choice between engineered or natural surfaces is more than an issue of performance; it's still about the look. Quartz is a good choice when designs call for consistency and uniformity like in kitchens with ultra-modern lacquered cabinetry. The unbroken surface of says a high polished gray or white quartz has a sleek formal appearance. It's also available in a wide variety of shades.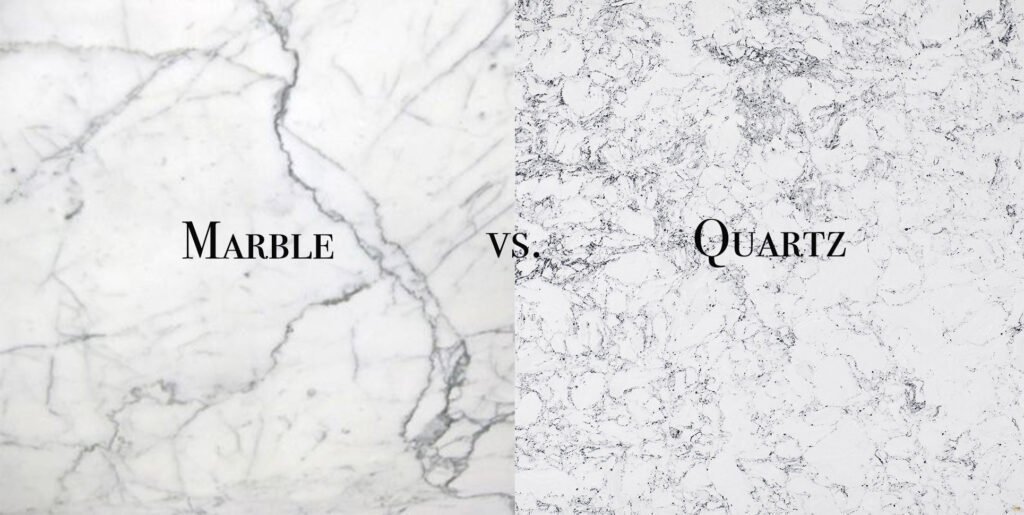 DURABILITY OF MARBLE COUNTERTOPS COMPARED TO QUARTZ COUNTEROPS
The durability of marble versus quartz is probably one of the most misunderstood subjects to those inside and outside the trade. Marble is luxurious but requires maintenance. True. But does its need for maintenance means it's fragile or impractical? Actually, no. Every material has its own absorption rate. It's a good indicator of how quickly something will penetrate the surface. The lower the absorption rate, the more density it has, and the more time to wipe up spills. Granite for instance has a very low absorption rate, which makes a good choice for any surface. Quartz also has a low absorption rate because its engineered surface is made with a resin made from petrochemicals. Marble is known for staining because when left unsealed many varieties can absorb liquids more quickly.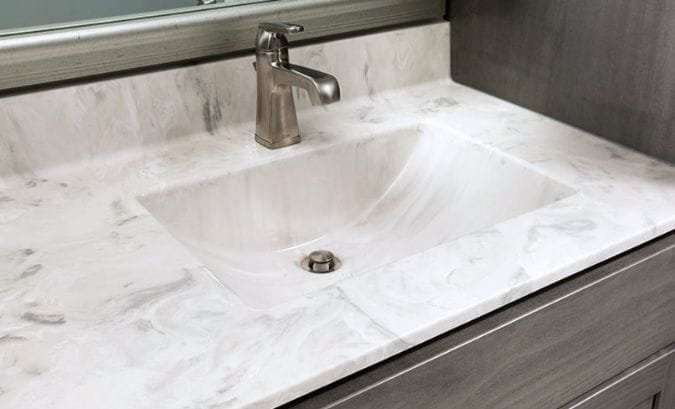 Difference Between Artificial Marble and Natural Marble
1. Myriad of Colour Patterns
2. Maintenance
3. Weight
4. Homogeneity
5. Heat Resistance
6. Price
7. Installation
Pros and Cons of Natural and Artificial Marble
Natural Marble
| | |
| --- | --- |
| Pros | Cons |
| Crafted from naturally occurring limestone.Marbles are gorgeous and enhance the grandeur of the house.Increase property value.It is quite heavy.Long-lasting and unique. | Natural marbles are expensive.It can get stained and discoloured.Degrades with time. |
Artificial Marble
| | |
| --- | --- |
| Pros | Cons |
| Its pricing gains its significant advantage over natural marblesIt can be remodeled and shaped as per the user's preferenceHigh-quality cultured marble resembles a natural marbleEase-of-maintenance and cost-having extremely durable | Hard to remove starches from the cultured marble surfaceIts manufacturing process makes it weaker than natural marbleCan differ in quality due to the incompetent elements used while manufacturingThe gel coating on artificial marbles often cracks with prolonged usage. |
Marble is the epitome of beauty. Several interior designers and homebuyers are increasingly using marble, especially artificial/cultured marbles, to create a style statement within an affordable range. While natural marble is a gem, the worth of artificial marble is as great.
INDIA'S TOP AND WORLD'S BEST MARBLE, GRANITE AND STONE COMPANY. CONTACT US ON; 9672941111.
ADD BY EXPERT AND EXPORT TEAM OF BHANDARI MARBLE GROUP. CONTACT US ON; 9672941111.
NATURAL MARBLE V/S COMPOSITE MARBLE AND QUARTZ