Granite, Marble, and stone decor for the bathroom
Bhandari Marble Group is a top marble and granite manufacturer in India. This marble company is also a renowned marble supplier as it offers a vast array of international Marble. Marble & Granite Marble Manufacturer offered by Marble from Kishangarh, Rajasthan, India. Marble, Granite, Natural Stone, Stone Design, Engineered Stone, and Marble Agglomerates.
Bhandari Marble Group is the leading global group for the natural stone industry and represents the entire supply chain, from raw material to finished Marble, Granite, and Natural Stone products, from processing machinery and technologies to applications of stone in architecture and design.

The pioneer group of Marble, Granite, and Natural Stone!
As an international Manufacturer, Supplier for all sectors in this field and an international group where business meets professional updating,
BHANDARI MARBLE GROUP is the ideal Supplier in terms of quality and completeness of exhibits combined with the most advanced know-how in the natural stone processing operations.
Finishes on Marble, Granite and Natural Stone. 360 degree finishes on all types of Marble Granite and Natural Stone and More than one million satisfied customers. However, granite marble comes with its downsides: mostly, maintenance. Marble has to be sealed yearly and cleaned regularly to avoid stains, scratches, and moisture damage. But if you can handle the work, the results are worth it: an elegant and classic bathroom that will stand the test of time.
Large Granite Marble Master Bathroom
Our first example is a classic master bathroom with floor and wall marble tile, by BHANDARI The different tile sizes provide some interesting flow and movement to space, and the gray paint around the alcove shower highlights the veining really well. All-Over Modern Granite Marble Bathroom If you really like marble, this bathroom is for you. This design by Architect and designer uses large blocks of marble for the sinks and tub, and large tiles for the flooring and walls. The brass fixtures are the only touch of color in the whole space. This keeps the space minimal and clean, perfect for lovers of contemporary design.
Granite Marble for Small Bathrooms Granite, Marble is a great choice for smaller spaces too. This wet-room style bathroom by Bhandari has a shower-tub combination in the same area, as well as a red brass fixture. The dark slate flooring makes it less monotonous than the previous example, too. Classic Corner Shower With Marble granite Tile Refresh your classic corner shower with a marble tile on the floor and walls. This design by Architect and designer shows how you can update your old bathroom by changing the floor, the wall area of the shower, and the countertop to marble for a classic, timeless look.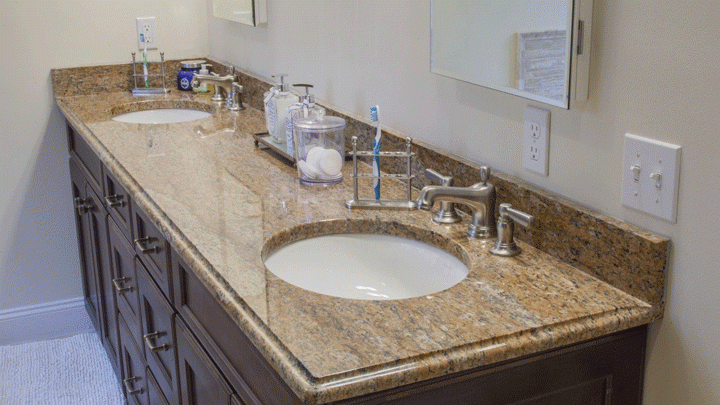 Luxurious Italian Marble
This master bathroom in a home, by BHANDARI, shows why luxury and marble often come together in people's minds. The tan-veined marble is a little different from the typical grey-veined one, but it also brings more warmth to space. The classic, traditional fixtures detail the whole with a muted, brushed finish. Bright Granite Marble Bathroom This beautiful, bright marble bathroom by BHANDARI shows what's possible when mixing tile shape and size, color, and veining. The marble granite lattice-looking tiles in the shower are especially interesting and brighten up what could otherwise be just another all-over marble shower.
Modern Marble granite
Sometimes, using the same tile size and color can also work, especially if you use other decorative elements to break up the monotony. In this bathroom by Architects, and Interior, in the recess make for personal yet classic space. The all-over rectangular marble tile doesn't seem boring or overdone. Dark Granite Marble Bathroom This dark-veined marble might just do the trick. This presents a contemporary, minimalistic design that features the beautiful details of this darker type of marble. Notice how the tiles on the wall were placed to contrast, rather than match. The wall-mounted faucets keep the counter space visually clean.
Granite and Marble bathroom
Combine granite and marble to keep your bathroom space from looking too cold and clinical. This design by Bhandari takes advantage of every corner for storage and uses large marble tiles to maintain the natural look of the veining as much as possible. Bathroom With Granite Marble Countertop and Real Marble Backsplash Want marble granite but stuck with a small budget? This bathroom by Architect and Interiors shows you how to do it all for a good price. The countertop is actually laminate, while the backsplash is real marble. The hex shape is unusual and fun, and for such a small surface, won't cost you an arm and a leg.
Granite Marble Bathroom With Freestanding Tub This bathroom by BHANDARI is a study in shapes. The two black cabinets enclose a right-angled freestanding tub on a marble floor with large tiles. The countertop is one block of marble with a large vein running through it. Notice how the glass tile mosaic on the wall recalls the shades of marble, granite too. Bathroom With marble granite
It would be easy to overdo the marble in this large master bath by BHANDARI, but the amount of marble is perfectly on point. The way it's set back into the alcove brings the eye towards it and makes space seem even larger.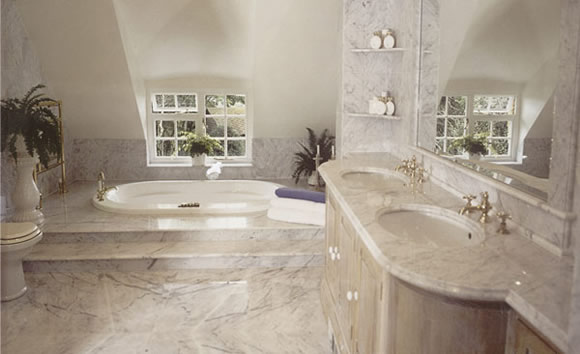 Bathroom With Different Marble, Granite Colors
Add by expert and Export team of BHANDARI MARBLE GROUP. CONTACT US ON;9872941111
Marble Granite in Kishangarh