MARBLE V/S GRANITE OR MARBLE AND GRANITE WHAT IS THE DIFFERENCE BETWEEN TW0 PROS AND CONS MARBLE AND GRANITE BEST USES GRANITE V/S MARBLE FLOORING BETTER FROM TILES TRADITIONAL OR MODERN DESIGN CNC FINISHES
DIFFERENCE BETWEEN MARBLE AND GRANITE
Marble and Granite can be used in varied application and be it in a kitchen, flooring, staircase, statue, handicrafts, and bathroom, they can completely transform your space. Being functional, highly long-lasting, and aesthetically pleasing, marble and granite countertops can bring a sense of luxury and feel to your interiors. Bhandari Marble Group recommended marble and granite for countertop application, flooring, staircase, statue, handicrafts and this might make you wonder which one is an ideal and good option. The easiest way to find the difference between marble and granite is primarily their visual impact. Marble has a homogeneous surface, with more or less thin veins that can vary in color and intensity, in place of granite can be recognised by its dense grain composition. Granite is more intense in its colors and veins when compared to marble. Granite's superior hardness and durable nature make it a suitable choice for kitchen countertops, bar counters or even granite floors as compared to marble. Granite kitchen counters will show minimal scuffing or discoloration from everyday household activities.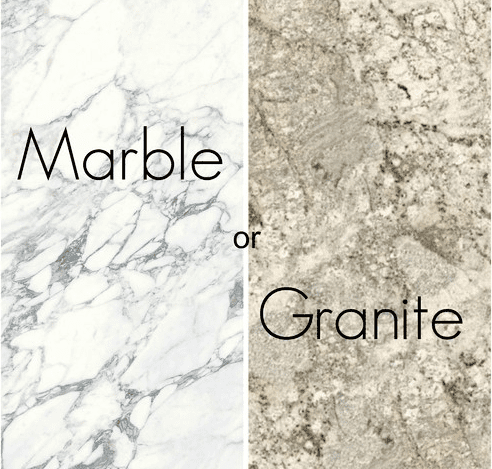 DIFFERENCE OF PROS AND CONS OF MARBLE AND GRANITE
STRENGTH AND DAMAGE– Created over millions of years under extreme pressure, natural stones like marble and granite are exceptionally strong and long-lasting. It does not mean that this material is indestructible. It needs to be handled carefully during installation to avoid cracking or breakage.
RESISTANCE- Marble is heat-resistant, which is a big pro for using it for kitchen counters or even a fireplace and bathroom countertops as well. Being a natural stone – marble and granite both absorb liquids like water, oil, wine and more leading to staining. This can be avoided with The Densification process that reduces the porosity of the slab.
COLORS AND CARE- We all know that natural stones are available in stunning colors like rose, yellow, grey, green, blue, white, black and more. The Bhandari Marble Group displays a breath-taking range of marble, granite and rare onyx in over 33 colors. The porosity of each marble and granite varies. So when it comes to choosing a marble for your countertops, make sure you consult an expert to check if the stone fits into your application.
BEST USES OF MARBLE AND GRANITE
MONUMENTS
FLOORING
PATHS AND PATIOS
EXTERNAL AND INTERNAL CLADDING
BUILDING BLOCKS
MOSAICS
STAIRCASE
COUNTERTOPS
TABLETOPS
HANDICRAFTS
STATUES

MARBLE FLOORING BETTER THAN TILES
| | |
| --- | --- |
| Marble | Floor Tile |
| Marble is a natural stone | Tile is made of clay and then polished |
| Cost of marble is expensive | Cost of floor tile is affordable |
| Marble is primarily used on floors | Tile is especially used to cover roofs, floors, and walls, outdoors |
| Marble is porous and easy to get stains | Tile is stain resistant |
| Marble is difficult to load and is less heavier to install | Floor Tile is easier to load and install |
| Marble installation is difficult and long | Floor Tile installation is shorter and easier |
| Wastage is more in Marble | Wastage is less in Tiles |
| Marble is not suitable for cold climate | Tile is suitable for all climate |
| Marble is difficult to clean and maintain | Tile is easier to clean and maintain |
CNC FINISH DESIGNS
Taking the idea of using standard material stock, you can expand on this principle into all aspects of your parts design. When it comes to manufacturing, the more you can standardize the better. Create your holes, slots, pockets based on standard drill sizes and end mill diameters. Choose your material based on most commonly stocked alloys. Dimension your drawings with standard machining tolerances. Each of these steps better positions you for success in the machining process and will help save you time and money along the way.
WORLD'S TOP AND INDIA'S BEST MARBLE, GRANITE AND STONE COMPANY
ADD BY EXPERT AND EXPORT TEAM OF BHANDARI MARBLE GROUP. CONTACT US ON; +919829040013, +919672941111.
DIFFERENCE BETWEEN MARBLE AND GRANITE