BEST MARBLE SLABS AND TILES DESIGN FOR FLOORS SURFACES!!
Marble Flooring plays an important role in defining the aesthetics of your home, villa, hotel, restaurant, commercial mall, residential tower, temples, mosques, palaces, showrooms, flats, community hall, marriage hall, churches, memorials, statues, furniture, Walking into a project, Marble flooring is one of the most eye catching aspects. A home without good flooring and elevation looks dull and unpleasant. But with your flooring and elevation done in marble you can enjoy an abundance of indoor lighting. White Marble can naturally, and quite efficiently reflect light. Italian Statuario Marble is also an excellent insulator that retains the warmth of your project. Italian and Indian Marble flooring can add on to the style and elegance of your home, villa, hotel and project giving it a touch of royalty,luxury, precious, cozy and charming beauty.
Italian and Indian Marble are the natural stone, formed when limestone is subjected to high pressure. This natural process under the Mother Earth gives marble its variety of unique designs, patterns and colors. There are maximum advantages of marble slabs and tiles that will convince you to install marble for your flooring surfaces, wall tiles, kitchen tiles, Elevation tiles, etc. A wide range of Italian and Indian marble tiles design more then 900 types are available in The Infinity Luxurious Imported marble.
And our ebook online catalogs and virtual showroom on website helps you explore the most popular marble floor tiles design out there:
Statuario marble
Exported from and mined in Italy, this classic marble is nature's true work of art and beauty. It is popular as flooring material in different countries and places, including home, villa, hotel, restaurant, commercial mall, residential tower, temples, mosques, palaces, showrooms, flats, community hall, marriage hall, churches, memorials ultra-luxurious residences, commercial buildings, and offices. Statuario marble is a true source of pride in Italy's stonework tradition since from many centuries. Marble flooring not only offers timeless beauty to your space, but is also sturdy and easy to clean the most prestigious Michelangelo's David also made from Statuario marble.
When polished, these prestigious marble stone take on the look of a crystal and you can use as honed, lapatro, tumbled, Flamed, cnc, waterjet and many more surface finishes. The Italian Statuario marble upholds its clarity and strength. Typically, they are manufactured in slab and tiles form by Bhandari's since 1969 in India.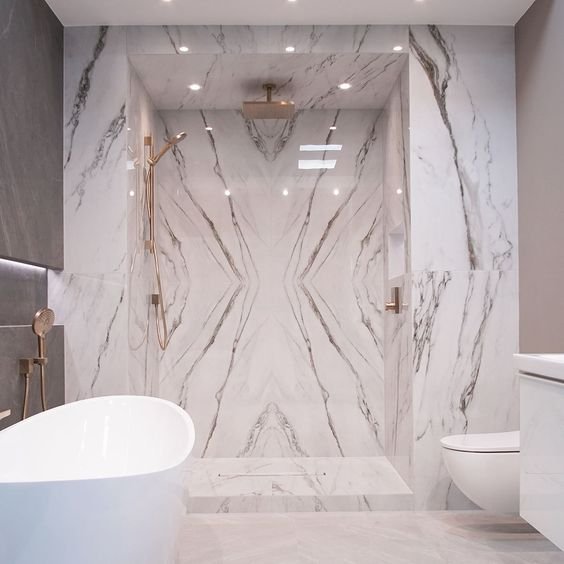 Tiles marble floor design
If you prefer out-of-the-box, zig zag patterns for your floor, the tiles marble design white and black is for you. This gives your project area a cosy, warm feel. The marble tiles appear into irregular or regular smaller bits for this kind of pattern for surfaces.
Indian marble floor tiles
Indian Marble tiles are cut into several pieces and arranged in an order to make a unique pattern of black and white. These tiles have a long shelf life and also have a contemporary aesthetic to them for any corners of home.
Italian White marble flooring
The perfect way to lighten up a home, villa is to install Italian white marble flooring. This brilliant Italian white tone makes the home appear more spacious and stylish than it is. This white Italian marble floor design is best if you're looking for a simple floor design that is still exquisite enough. This Italian white marble provides a neutral foundation for a wide variety of decor styles to your project.
Rajasthani marble flooring
Rajasthani marble floor makes for another classic marble floor design. It is made when pieces of marble block are cut into slabs. This unique design is created by combining marble, white, grey, beige, cream, green, blue, yellow, pink, together to make a sturdy, robust surface. The Rajasthani style also most likely originated in India and Gulf countries.
Kishangarh marble flooring
Kishangarh is the biggest marble market available natural kind of Italian marble and Indian marble. However, its one of a kind color tone and style is why it is still popular among all Architects and Interior Designers. It is made of fine grained marble and gives out a white tint. Kishangarh marble are usually complemented by a light cream and white background colour that imparts a very appealing texture and depth. There are two available variants of the Kishangarh marble tiles, both of which originate in kishangarh –Italian marble and Indian marble.
Makrana marble flooring
Makrana is a marble floor design inspired from Dungri village in Rajasthan, India. For its clear milky white color, these marble tiles are perfect for anyone looking to give their home a strikingly glorious new look. Makrana marble is resistant to heat and is typical material used for erecting museums, churches, and other significant condominiums but now less in use due to rear availability mixing of other marble and very high prices.
Border marble floor with white Italian marble design
Modest designs and minimalist color schemes are best suited for your lobby flooring. Nothing can beat the elegance of white Italian marble with simple black borders that can subtly elevate any home. Borders with rounded corners add a special touch to any interior design scheme, Statuario classic or modern. Bordered marble floor is another timeless design for a floor design with a white Carrara marble.
Italian Black and Italian white marble floor designs
If you already have eye catching furnitures and in search of a flooring design that doesn't overshadow them, a Italian black and Italian white marble floor design would be the way to go. This classic pattern of Italian marble will surely draw attention without stealing attention from your antiques. This antique look is popularly associated with Victorian and Edwardian era architecture from many historical Buildings and Monuments.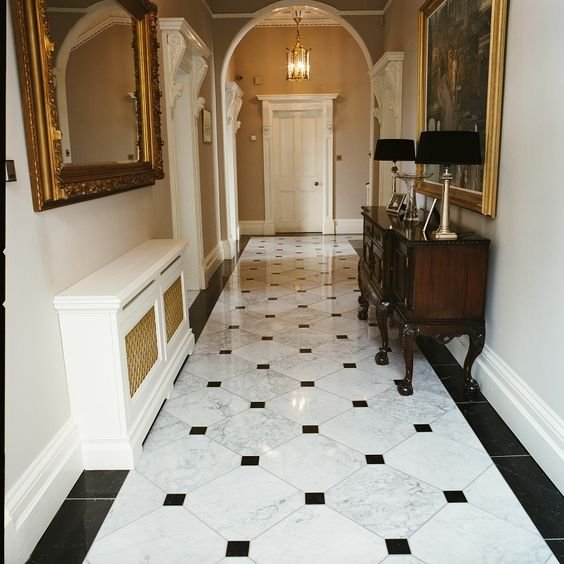 Indian Zebra marble flooring
If you like simple, geometric designs then the symmetry of a classic Indian black and Indian white zebra pattern will elevate your home, villa, hotel and project lobby to appear more sophisticated without drawing too much attention to the flooring design. The Indian zebra pattern works well with exquisite, antique furnishings as well and popular in India.
Indian marble are one of the most elegant natural stone out there with such a plethora of applications by Bhandari marble group India. It's economical, low maintenance, sturdy, and aesthetically timeless so your Indian marble flooring will never go out of style. Back in the days, Italian marble was a material for the rich and royal, exquisitely being found in palaces. But now they are easily available to common man.
The Infinity luxurious Imported Marble by Bhandari marble group India is the leading manufacturer of luxurious Italian Marble tiles with their presence in over 60 countries. They are headquartered in India and have experience centers Rajasthan, Kishangarh. Italian Marble and Indian marble tiles manufacture at Bhandari are exquisite in design, high quality marble and truly easy to maintain. So if you're looking to your interiors, or exterior Bhandari is your one stop destination.
For more details about Italian marble slabs and tiles and Indian marble slabs and tiles feel free to contact us;
The Infinity luxurious Imported Marble by Bhandari marble group India, Rajasthan, Kishangarh.
Contact and whatsapp number:
+91 9829040013
Email id bhandarimarblegroup@gmail.com
Website www.bhandarimarblegroup.com
BEST MARBLE SLABS AND TILES DESIGN FOR FLOORS SURFACES