Welcome To Bhandari Marble Group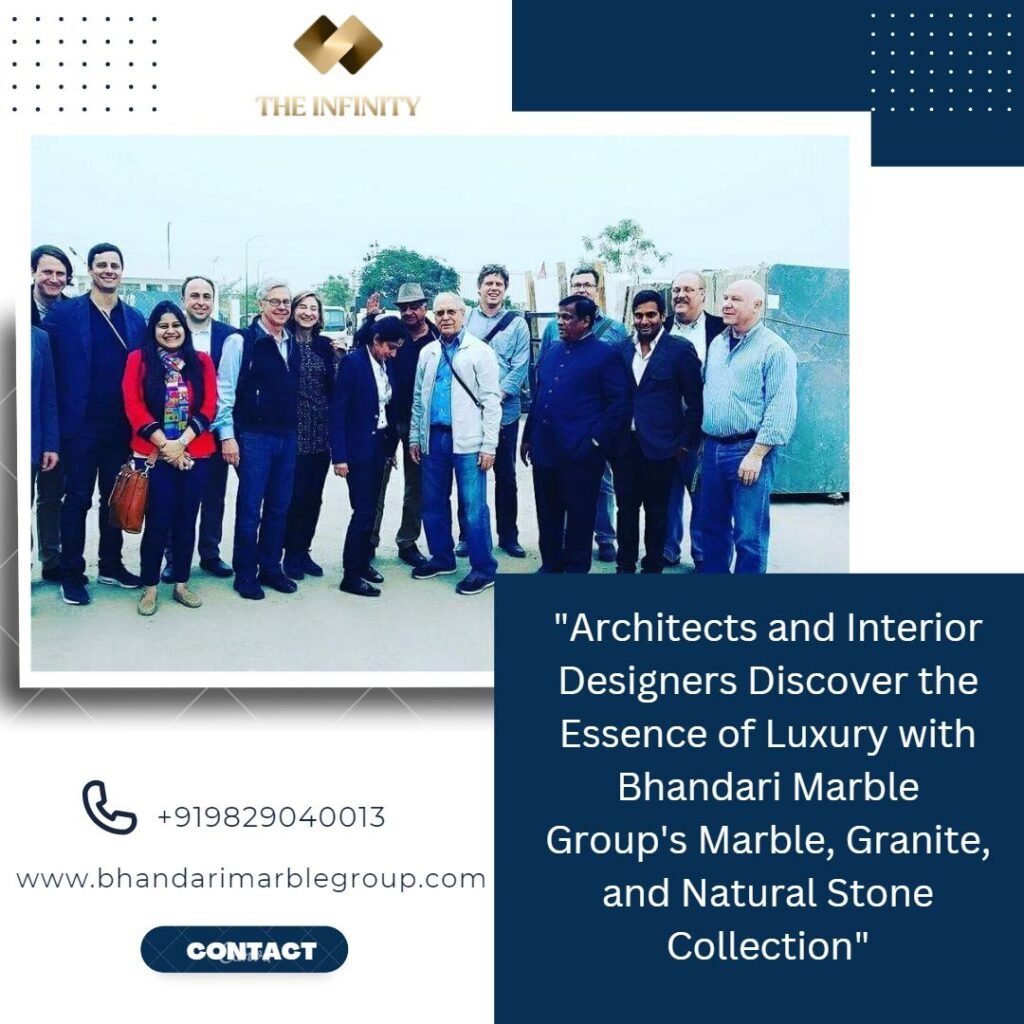 Architects And Interior Designers From All Around The World Come To India For The Purchase Of Marble Granite And Stone
Architects and Interior Designers came to India in our factory to purchase marble, granite, and many other natural stones due to our latest technology, and best quality at the rates.
Architects and Interior Designers from other countries contact us for quotations and purchase marble, granite, and stones due to our latest collection and easy and fast elegant quotations for their sites, projects, homes, and so on.
Architects and Interior designers recently visited our Marble Granite, and stone factory outlet Marble Stone Studio in India to closely examine our latest Natural Stone products, production methods, and improvements in working conditions.
Nothing enhances sites, hotels, and Projects like marble, granite, and Natural Stone. From enriching some of the most historic buildings to its continued use in interiors, exterior,s, and landscaping even today, it is safe to say this marble, granite, and Natural Stone has a timeless appeal.
Renowned architects and Interior designers from other countries and India known for their work that carries a distinct artistic sensibility, agree with the sentiment. Other marble, granite, and natural stones have their distinct charm.
Architects and Interior designers explore the Bhandari marble world state-of-the-art space Natural Stone Studio.Let's go behind the scenes and see what makes their new collections tick.
Aesthetic Pieces
Luxury means different things for different people, but for us, it's when art and imperfections collide, Architects and Interior designers say. And the beautiful, luxury, stunning green marble, Absolute Beauty by Bhandari marble world beautifully captures that luxury. The elegant Stones from the Bhandari premium material collection is a subtle brown slab featuring a rustic design with beautiful finish patterns.
Eye-catching Collection
The wall and floor latest collection has been created using the stone art method. This process uses a method to carve out intricate patterns on stone surfaces with a high-pressure CNC and water jet. Marble, granite, and natural stone wall cladding and flooring could easily make for a grand statement wall in any large space.
Why the visit to India?
Indian Marble, Granite, and Natural stone have long been a favorite choice for Home, Villa, Hotel, Resort, Malls, Towers, Hospitals, Restaurants, Colleges, Universities, Township, Flooring ELEVATION DECORATION countertop landscaping, and garden paving. And they get customized sizes and thicknesses according to their needs.
Architects and Interior Designers Discover the Essence of Luxury with Bhandari Marble World's Marble, Granite, and Natural Stone Collection