Why you need colored marble in your home in 2020
While Carrara marble has long been the stone of choice for its clean palette and versatility, a new breed of colorful slabs is encouraging us to indulge in something a bit more playful.
In the vibrant beach home, pictured above, the desire to avoid any interior design clichés of being 'by the sea' led to an unlikely mixture of Marble granite and stone flooring flanked by a black and white stone plinth in the living room. Its clever application lent the space an air of sophistication while maintaining a relaxed, laid-back feel.
Marble is being created by the transformation of other stones through the action of high temperatures and intense pressures. As a result of this process new minerals, textures, and structures give rise to a large number of different types of marble, as we will see in the examples below.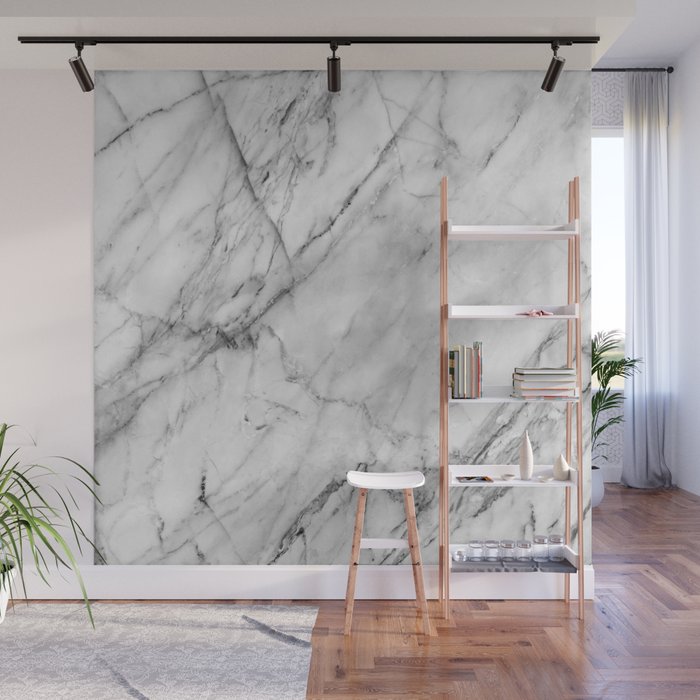 CALACATTA
Mármol Calacatta –
Calacatta is a natural stone from Italy. It is a calcitic white marble. It has a very peculiar chromatism, in which broken white and very fine light grey veins are punctually dotted with tiny amber and golden notes.
This Italian variety has lasted for centuries and is the protagonist of many relevant architectural projects dated in the period of classical Rome, the Renaissance, and the Baroque. Nowadays, it is considered a luxury marble and dresses the interiors of large residential or hotel projects.
CARRARA WHITE
Blanco Carrara
Bianco Carrara marble, as its name suggests, comes from the Carrara quarries in the Tosco-Emilian Apennines. Its homogeneous greyish white base is composed of fine, shiny particles. Its veins are grey in color and are distributed over the surface as capillaries. There are different classifications of Bianco Carrara, and its level of whiteness defines each group.
It is one of the most famous marble in the world, both today and in the distant past, through the Renaissance and Baroque. Michelangelo Buonarroti used Carrara White marble to sculpt the famous sculpture of David.
STATUARIO
Carrara Statuario
Statuarietto is extracted in Carrara as well. It is a unique compact white, medium-fine grain marble. Its white base intermingles shades of pale grey and alborea indigo. The veins present a bluish-grey tonality. It is ideal to be used for interior floors and walls, as well as kitchen worktops.
MICHAEL WHITE Michaell White is a famous Spanish white marble. It is extracted in the region of Macael (Almeria, Spain) which is also the origin of its name. Michael White is the protagonist in great architectural projects of the history and art of Spain. An example of this is the Patio de Los Leones of the Alhambra Palace (Granada).
Blanco Macael marble is calcitic, has a coarse grain and a uniform appearance alternating white and grey shades in the form of glazes. Calcite is the main mineral of this natural stone (98%), including as additional components quartz, muscovite and mineral opaques.
CALACATTA LINCOLN
Calacatta Lincoln – White Marble – Mármol Blanco
Although it may seem like an Italian variety, Calacatta Lincoln comes from Colorado, United States. It is named after the material used to build the Lincoln Memorial Centre in the early 1900s in Washington, DC. Calacatta Lincoln is a white calcite marble. Its white base is glazed in smoky tones. The veins are unsettled and have a beautiful gray color that occasionally turns silver.
THASSOS WHITE
Mármol Blanco Thassos – Thassos White Marble
Thassos White is a white dolomite marble. It has a crystalline base and is recognized worldwide for being one of the whitest marbles around the world. Its name is inspired by the Greek island of Thassos, a paradise famous for its white houses and sands. Salaria beach on the island of Thassos is known as the "marble beach" for its clarity and transparency.
Types of beige marble Beige marble preserves the luminosity of light colors but incorporates chromatic warmth thanks to its toasted tones. It can contain brighter streaks than its base or darker streaks, radically changing the appearance of each variety.
BOTICCINO
Mármol Boticcino crema – Boticcino marble cream
Boticcino is a beige calcitic marble. Its soft beige base contains light golden streaks and white shadows that suggest the movement of the seafoam. The Boticcino cream marble has an Italian origin, specifically from the borders between Lombardy and Veneto. Faithful to the classic aesthetics of Italian marbles, it manages to delight us with its timelessness.
PREMIUM BEIGE Premium Beige is the trade name of another calcite marble. It has a background that stands out because of the homogeneity and its subtle beige tone. Its surface intermingles white and notions of broken white offering the possibility of creating luminous environments without the need to resort to pure white. With a clean and crisp appearance, it is commonly used in interior coverings such as bathrooms, kitchens, worktops, and showers.
Types of grey marble The grey marble incorporates neutral tones that cover different ranges of colors. Its chromatic scale ranges from pearl tones through silver and grey ochre to graffiti such as a mole. It is mainly used in places that aspire to transmit calm and serenity.
PIETRA GREY
Pietra Grey is a grey calcite marble. It has a very uniform and compact appearance. It shuffles coals and graphite subtly and alternates thin white streaks with barely noticeable slate-colored linear glazes.
PICASSO GREY
Mármol Gris Picasso – Picasso Grey marble
Picasso Grey is the trade name of a unique white greyish calcite marble. It has a pearly background intertwined with a large number of grey veins but also mole and amber, of different thicknesses, which again intertwine with each other. The Picasso Gray marble is used in design pieces and large-format cladding, for example in outstanding luxury interiors.
Types of black marble Another great family of marble types is black marbles, which include some of the most exclusive examples in the world. The background of each of them may contain different intensities of black and veins of different colors, including white, gold, and light gray.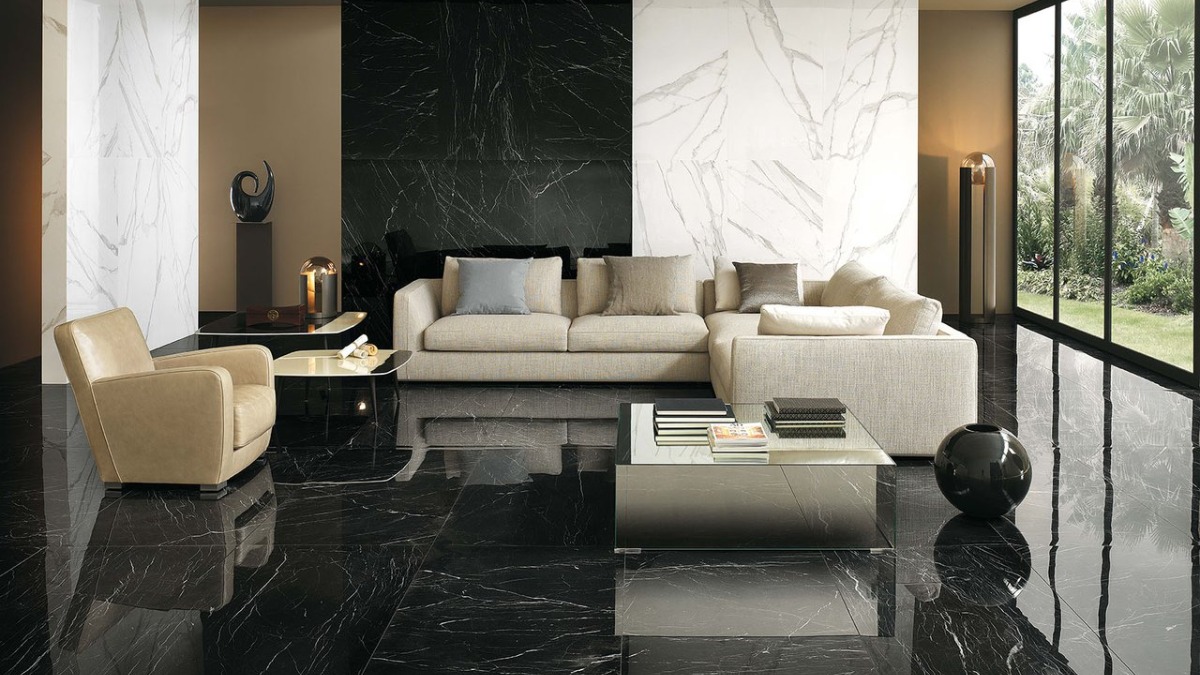 MARQUINA BLACK
Marquina Black – Negro Marquina
Marquina Black is a black calcite marble. The intense black color of its base contrasts with the alternation of radiant fossil white veins. Calcite is the main mineral of this rock, present in 98%.
Due to the purity and beauty of its formidable black color, it is being used in interior design projects that are reference projects in terms of quality and exclusivity. Marquina Black enjoys the most significant international recognition.
PORTORO
Black marble Portoro – Mármol negro Portoro
Portoro is a high-end black crystalline marble. The intense jet color of its base contains a large number of dynamic golden veins and white effervescences that seem to be in motion. This exclusive natural stone is the most expensive black marble in the world.
SAINT LAURENT Considered a semi-precious stone, Saint Laurent is a coppery black marble from France. Its dark crystalline background contains delicate brown, gold, and white veins touched by occasional notes of coral color. It is a perfect natural stone for design elements and for interior cladding.
Brown marble The different varieties of brown marble include the rich chromatic range of earth tones. Each example can start from breccia structures, more homogeneous, or even striated.
SEQUOIA BROWN Sequoia Brown is the trade name of a unique crystalline brown marble. It presents a particular striated aspect due to its marked bands in brown, earth, and grey tones. The particular morphology of this natural stone sculpts a beautiful pattern of sinuous forms. The relief of its surface evokes the millenary trunks of the great American sequoias.
OASIS BROWN
Mármol marrón – Oasis Brown – Brown marble
Also considered a semi-precious stone, Oasis Brown is a brownish marble. It has a crystalline background of the coriaceous aspect furrowed by golden veins. The intensity of its range of browns is medium, very close to cocoa tones. It is used for interior coatings, bathrooms, and walls, among others.
Green Marble The green marble invites to be calm, creating a space in which nature is the great protagonist. The intensity of its green color evokes fresh, tropical, and jungle landscapes. It usually presents white streaks.
Yellow Marble
Yellow marble offers a touch of differentiation due to its uniqueness and oriental connotations. The best-known variety is the Triana Yellow, described below.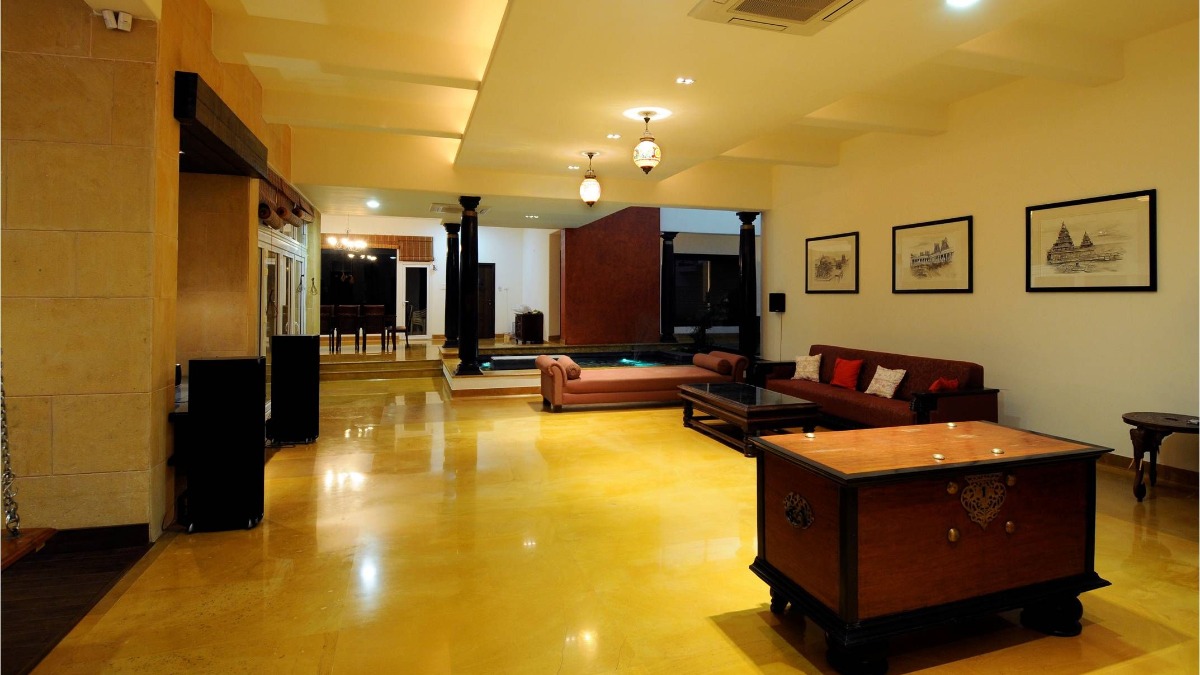 Add by Marble expert and export team of Bhandari marble group, India, Rajasthan, Kishangarh. CONTACT US ON; 9672941111
why you need colored marble in your home in 2020