What Are The Different Types Of Marble?
The Flooring, Elevation, Decoration, Landscape, Countertops in home, villa, hotel, restaurant, commercial mall, residential tower, temples, mosques, palaces, showrooms, flats, community hall, marriage hall, churches , memorials, statues, kitchens, bathrooms, mudrooms, and utility rooms contribute beauty and functionality to home interiors. If you're building a new home or updating an existing one, you'll want to give ample consideration to your choice of materials for countertops. We notes that updating your countertops can add to not only the quality of your interior space but also the monetary value of your home. Further, it recommends marble as a material of choice. Formed from limestone and sedimentary rocks, marble offers natural strength and durability. Impurities trapped inside the rock materialize as the veins that create visual interest in this naturally beautiful stone.
Marble countertops are especially suited to kitchens and bathrooms due to their waterproof and heat-resistant properties. Although marble is a strong material, it provides a soft presence in a modern interior. Designers and homeowners can choose from various colors, each with distinctive variations created by veining. Additionally, according to the customer's preferences, marble can be honed for a matte finish or polished for a high gloss finish. You can easily maintain marble countertops by wiping them with a damp cloth daily and sealing the marble once a year. If you're looking to remodel, here are all the different types of marble options.
Afyon marble is a material of choice for many Hollywood celebrities. It is in demand for its durability and ease with which stonemasons can shape and polish this type of marble for interior and exterior applications. It is primarily light in color, with beige, white, and gray color variations available. Afyon white marble is popular for its pristine whiteness and is considered one of the world's highest-quality marbles. Additionally, Afyon Cream and  Afyon Gray offer color variations along with both light and dark veins throughout the stone. Afyon Sugar marble features calcite crystals that produce a semi-translucent appearance on a pale, gold-colored background with delicate, thin veins.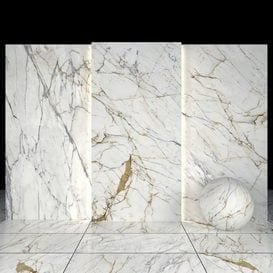 Bianco Venato marble features a pale gray or white background along with conspicuous gray veins for visual interest. Sourced from quarries in the Carrara region of Italy, this marble exemplifies the classic elegance that people have associated with marble for centuries. Levantina explains that each piece of Bianco Venato marble is like a unique work of art. Dark gray and lighter gray veins spread and crisscross over this stone's light-colored surface. Fascinating visual patterns emerge from the intricate veining that appears to stand out from the pale, neutral background.
According to us, Bianco Venato marble is strong and durable enough for exterior applications. In fact, it can be used in flooring, outdoor monuments, fountains, and exterior pool-wall capping. However, it's equally useful for interior design. Due to its tensile strength and water resistance, this type of marble functions well for countertops. Bianco Vanato marble lends itself to numerous finishing processes, including polishing, honing, sanding, and tumbling. Each method produces a slightly different look to the finished marble countertops. 
The fascinating vein patterns and color variations of Breccia marble provide decorating possibilities for stunningly elegant interiors. Rather than allowing the countertops to fade into the background of an interior design, Breccia marble becomes a focal point in any interior space. Due to its tensile strength, this marble is recommended as a flooring material. However, Breccia marble works well as a material of choice for countertops.
The secret to this Breccia marble's beauty lies in its composition. Rollza Granito explains that during the pressurized, underground formation of this type of marble, tiny bits of rock became embedded in the stone. These bits of rock are called brecicles (in Italian), and they create a unique, textured appearance within the marble's smooth surface. Due to the brecicles in the stone, Breccia marble offers widely varying patterns in its veining. For decorators who want marble countertops that make a prominent statement, Breccia marble may be a viable choice.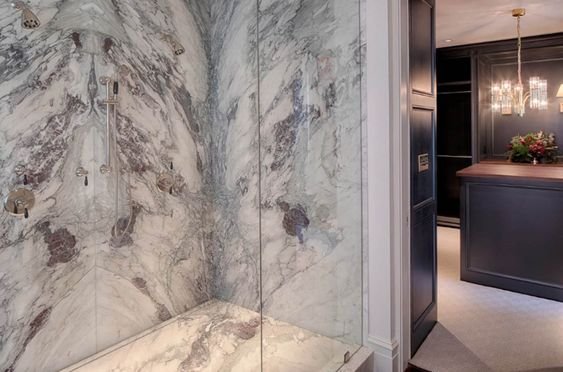 High-end Calacatta marble is sourced from only one quarry in Carrara, Italy. Therefore, it's one of the rarest and most expensive marble materials in the world. Not to be confused with Carrara marble, the Calacatta type features thick, bold veins that create dramatic effects on the marble's white surface. When compared with Carrara marble, the Calacatta type reveals fewer veins that are spaced further apart with deeper coloring. The coloration of the veins in Calacatta marble varies from golden to pale gray to dark gray. Whereas other marbles reveal thin, wispy veins, Calacatta's heavy veining allows designers to create bookmatched installations where the bold and unique vein patterns mirror each other.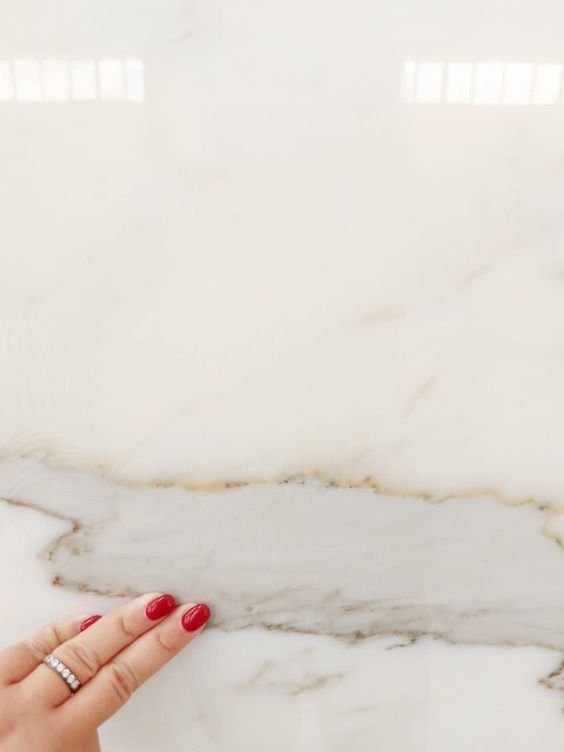 According to us, all marbles are not created equal. Although all marble is formed through the underground change of limestone reacting to heat and pressure, the process produces marble stones of varying qualities in various localities. Calacatta is a marble whose appearance is so stunning that it is highly sought after for its beauty and opulent appearance. Although it is the most expensive type, homeowners with extensive budgets may choose Calacatta marble for its rarity and stunning appearance.
Extracted from quarries in the Carrara region of the Apennine mountains in northwest Italy, Carrara marble lends classic elegance to home interiors. Remodelista states that the marble types from Carrara, Italy, are the most commonly available marble materials in the United States. These include Calacatta, Statuary, and Carrara. Of the three, Carrara is the most economical option.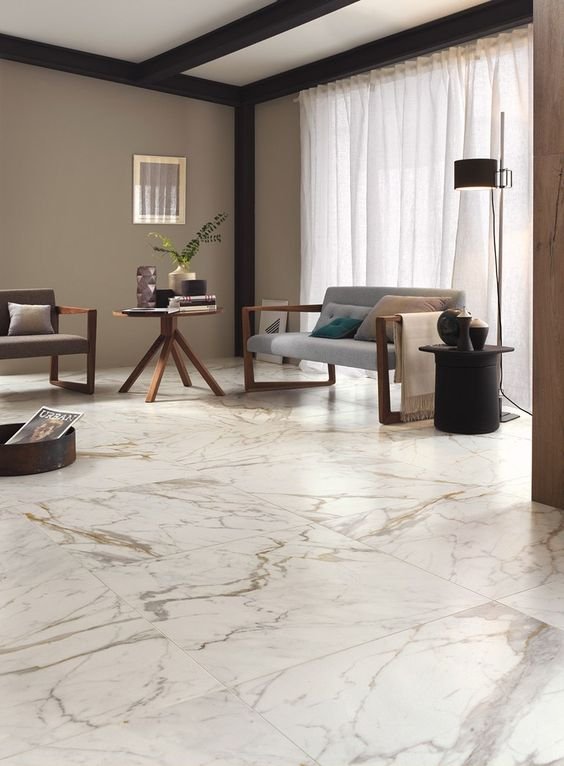 According to us, the Carrara quarries date back over 2,000 years, and the city of Carrara in the Tuscany region is renowned for its high-quality marble. Carrara marble is available in two graded categories: Grade C and Grade CD. Grade C marble features light gray veining on a white background, and Grade CD offers darker gray veins on a pale gray background. Of the two types, Grade C is the more expensive material. However, Grade CD Carrara marble is a viable option for applications where staining might be a problem. With its darker appearance, any discoloration caused by scorch marks or food stains is less noticeable. On top of that, Carrara marble delivers the beauty of exquisite veining in the stone, where each slab contributes a one-of-a-kind piece of nature's art to the interior decor.
Although white marble with gray veining may be an option for interior designs that rely on white as a prominent color choice, not all marble types fall into this decorating niche. These colors appear in both the backgrounds and in the heavy veins. Additionally, this marble is known for its superior strength as well as its translucent quality that emerges when it's polished to a high gloss. Although geologists would label this type of marble as limestone, architects and stonemasons classify it as marble. We offers visually interesting color variations due, in part, to tiny fossils that became embedded in the rock millions of years ago. 
With its bold color variations and swirling veins, Cipollino Ondulato mimics the look of undulating ocean waves. (The Italian word ondulato may be translated as wavy or undulating). Slab Co. Ltd. notes that this marble evokes the "turning tides and flowing cycles of the natural world." For those who desire a graceful element in a room's decor, Cipollino Ondulato marble countertops provide a nod to nature along with flowing lines that create the look of artistry. Based on its luxury appearance and durability, it's not surprising that this Cipollino Ondulato is among the more expensive types of marble.
Blue is not a color that we frequently associate with marble. However, Cristalita blue marble (also called azul marmore) introduces visual interest through its blue color and wavy vein formations. Stone Week notes that installing Cristalita blue marble countertops in your home is a viable investment that can increase your home's value for future sale. With its gray and blue veins against a gray or white background, this type of marble becomes the focal point for an elegant interior design.
Although many types of marble are sourced from Italy, Turkey, and Greece, Cristalita blue marble is quarried in Brazil (via Shihui Stone). The gentle blue coloring of this marble lends a calming vibe to a home interior. It is well-suited for countertops, and stonemasons can process Cristalita blue marble in a variety of finishes. These include honing for a matte finish, polishing for a high-gloss finish, and brushing for a warm and textured finish. All three finishes produce stunning results, with the rippling veins of Cristalita blue lending a sense of natural motion to the decor.
The quarry in Vermont yields nine types of marble, including Royal Danby, Imperial, Eureka, Mountain White, Olympian White Classic, Olympian White Select, MontClair, Fantastico, and Vermont Cipollino. Danby marble exhibits high density for strength along with a low absorption rate. This quality makes it an excellent choice for countertops. It's impervious to spilled liquids and does not stain easily.  If you're creating a dramatic effect in your interior design, may be a viable choice. With its dark coloration and busy veining, this type of marble makes a bold statement. It features exotic colors, and experts recommend this marble type for exterior and interior applications.
Although white marble with gray veining is a frequent choice for countertops, it may not contribute to the look that some decorators and homeowners desire. This marble exudes an earthy vibe in a home's decor, and some pieces are quite dark in their coloration. It does not show stains. This quality makes it an optimal choice for the countertops in the kitchens of avid cooks. 
Featuring gold veins on a black background, Portoro marble lends a feeling of over-the-top luxury to any room. It's one of the most expensive types of marble in the world. Discover Portovenere notes that this type of marble is sourced from the Liguria region of Italy and has been used in buildings since Roman times. Portoro marble may be categorized as "Macchia Grande" (thick veins) or "Macchia Fine" (thin veins). Both types of Portoro marble feature the gold-on-black coloration that exudes drama and opulence in a living space.
On the intense black background, crisscrossing veins vary in hue from bright gold to a soft honey color. The unusual gold-on-black appearance derives from the oxidation of organic marine materials during the underground formation of the stone. When polished to a high gloss, this marble appears as if gold had been poured directly onto a velvety black background.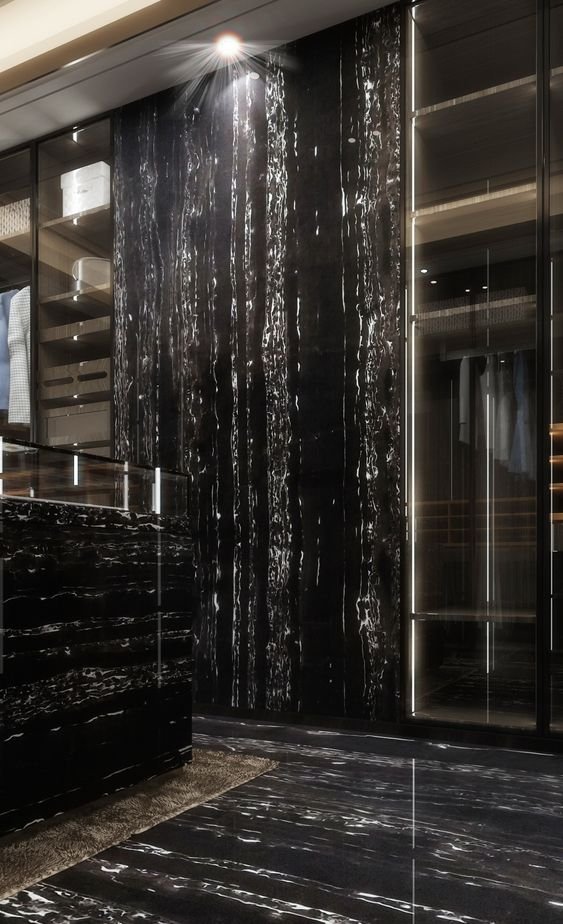 Sourced from India, Rainforest marble offers a distinctive appearance that makes a stunning statement in any room. As the name of this process suggests, the fine veins in Rainforest marble resemble the appearance of snakeskin. In addition to fine veins, thick and bold veins crisscross and intersect throughout this marble. The dramatic earth tones in both the backgrounds and the veining create striking effects in Rainforest marble.
Offering warm colors and intricate vein patterns, this marble has enjoyed an increase in popular demand in recent years (via Bhandari Marble Group). With its earthy vibe, each marble slab may be seen as a unique work of art. In some pieces of Rainforest marble, the veins are close together, while other pieces exhibit veins more sparsely spaced throughout the marble surface. The extraordinary veins in Rainforest marble resemble tree branches, and the green, brown, rust, and gold color variations are reminiscent of natural earth materials.

For a warm and vibrant interior design, Rojo Alicante marble provides dramatic red coloring with white veins. A variegated effect in the red background color reveals lighter red and orange hues as well as deep red tones. Natural Stone Outlet explains that a polished finish brings forth a deep red color while a honed finish produces a muted red appearance. On this background, white calcite veins run in all directions. Various pieces of Rojo Alicante marble differ in the quantities of white veins as well as the thickness of the veins. While some veining creates busy patterns, other pieces of this marble offer a refined appearance with sparse, thin veins.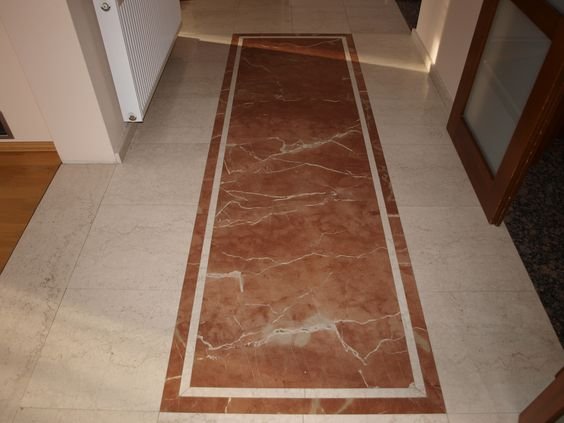 Statuario marble is considered one of the most high-end marble materials in the world. According to us, it's in demand for its dazzling white color with significant patterns of gray veining. Although it's known for its gray-on-white coloration, several varieties of Statuario marble offer ivory, cream, and pale gray background tones, along with diversification in the quantity and thickness of the gray veins. Therefore, shoppers may find distinctive variations within the Statuario type of marble. 
Although it is quarried in Carrara, Statuario is a more exclusive choice than Carrara marble. Therefore, Statuario is more expensive than Carrara marble but less expensive than Calacatta marble. In Statuario marble, the gray and gold veining is bolder than in the Carrara and Calacatta marbles. This type of veining produces dramatic and artistic effects in interior design. However, the porous surface and light color of Statuario marble make it susceptible to staining.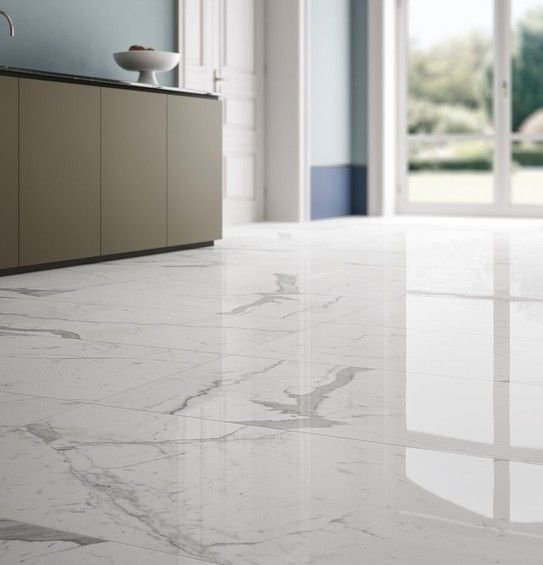 With its white background and lack of veining, Thassos marble is an attractive choice for modern interiors. However, it is one of the most expensive marble types. Connecticut Stone notes that this type of marble has been extracted from quarries on the Greek island of Thassos (in the Aegean Sea) since the 6th century B.C. Despite its ancient origins, Thassos marble complements the clean, contemporary aesthetic popular in today's interior designs. As one of the whitest natural stones in the world, this marble is prized for its purity and dazzling beauty. It is unique in how it reflects light, and the Tile Club explains that the crystal composition of the stone produces this effect. However, due to the risk of staining, Thassos marble may not be the best choice for kitchens.
With a wide array of available choices, designers and homeowners might select the most suitable marble types for countertops throughout the home. Whether the purpose is to make a dramatic statement or to create an atmosphere of serenity, marble countertops may contribute significantly to the decor. On top of that, marble introduces an element of natural beauty that is easy to maintain for years of durable service.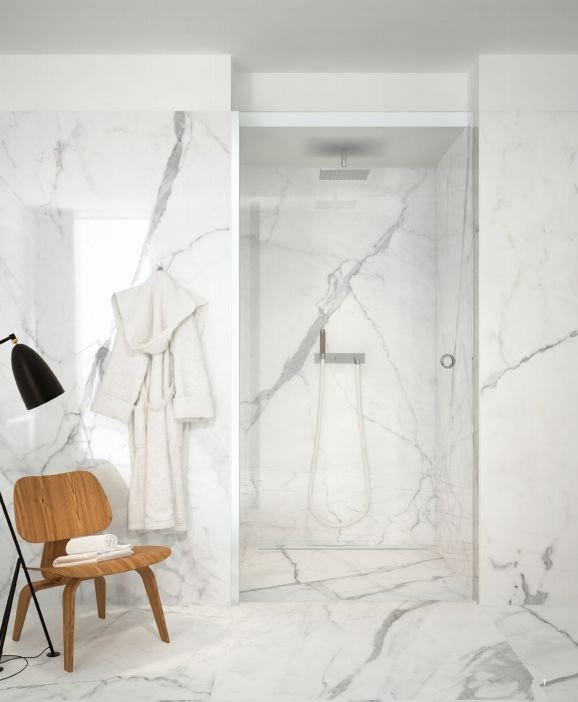 But having an all-white kitchen doesn't mean you are getting a cookie-cutter kitchen that millions of other people have in their homes. There are many different ways to create a white kitchen, and they all tap into different design aesthetics and tastes. It's just as easy to design a sleek white kitchen as it is to create a European farmhouse kitchen or a Scandinavian kitchen. It all hinges on what kind of tiles you use, what kind of countertops you pick, and what kind of lamps you install. The possibilities are endless, and below are some excellent examples to inspire your next kitchen remodel. 
WORLD'S TOP AND INDIA'S BEST MARBLE, GRANITE AND STONE COMPANY
ADD BY EXPERT AND EXPORT TEAM OF BHANDARI MARBLE GROUP. CONTACT US ON: +919829040013
What Are The Different Types Of Marble?