Marble and Construction go hand in hand throughout history. The material possesses incredible strength with exceptional aesthetics enough to captivate one's attention. Because of this, it has been used in art, architecture, and the like over the centuries.
Famously introduced in Italy, marble stone is known to be high-grade and luxurious material. The popularity of this charming stone is anchored to its roots and history; firstly, it has been proven to stand the test of time and adapt to different styles. Secondly, Italians observed a high-quality control standard and are experts in cutting and carving stones. Lastly, marble is considered unmatched among other stones in terms of durability and beauty. These are a few reasons why it is one of the most sought-after stones in construction practices. However, the delicate Italian marble has proven to be porous and quickly catches stains and hairline cracks. In the present time, it also became more expensive.
But there is good news! An alternative marble material that still contains the unique characteristics of its Italian counterpart and is more durable and less expensive is available in the market –Indian marble. Here is a list of its different types.
Makrana Marble
The Makrana marble is named after the town in the Nagaur district, where it can be found. Quarried from marble mines in Rajasthan, India, this elegant type of marble has white base color accented with black, brown, and grey veins spread around it. It is made of calcite stone, suitable for construction applications; it is highly durable and resistant to extreme weather conditions like heat and rain. Hence making it a good choice for interior or exterior façade design. Available in slabs and tiles of different sizes, it is best applied to flooring and kitchen or bathroom countertops. Since it has a lifespan of 15-20 years from the time of instalment, this marble is highly efficient and economical.
Ambaji White Marble
Known for its milky white color, the Ambaji marble is another type of Indian marble available in the market. It has attractive texture and color splattered like map-like art against a white canvas. It is also durable and easy to maintain. Just like Makrana marble, it is also a good choice for flooring space and is more popularly applied in interior hallways. In addition, its striking aesthetic makes an excellent external wall cladding as well. This marble can last up to a good 15 years.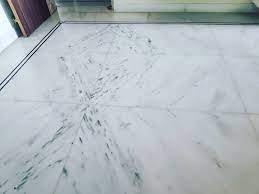 Indian Green Marble.
This type of marble can be quarried in the Rajasthan region of India. Suitable for classic interiors, this material is usually applied to accent a fireplace or a tabletop. Like the types mentioned above of marble, Indian Green Marble is a superior flooring material ideally used in living rooms, bedrooms, kitchens, and galleries to create a dramatic focal point. It has a light and dark shades of color variations characterized by speckles, dots, waves, and flecks over the surface. It is exported worldwide in various sizes and thicknesses like 10mm, 15mm, 16mm, 18mm, 20mm, 25mm, and above. It also comes in different shades, such as light, dark, and plain green.
Onyx Marble.
Due to its rarity and luster, the Onyx marble is a desirable stone suited to achieve appealing design intent. It is one of the most luxurious stones formed by black and white parallel bands. This material levitates the overall look of a space as if emanating a sense of grandeur. It can be used as flooring, countertops, and even wall panel accent. Since it is a rare stone and possesses that one-of-a-kind aesthetic element, the price range of onyx stone varies according to the quality of the product and color occurrence.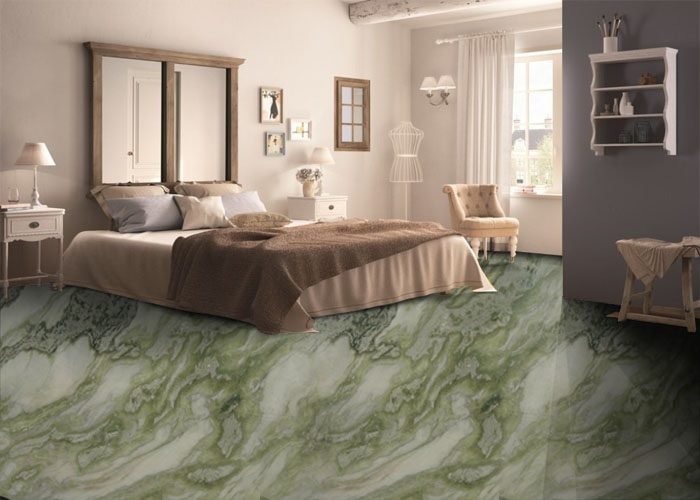 Abu Black Marble
The Abu Black is another marble material that displays sophistication and elegance. Its name originated from the quarry station in India that produces black marble with fine white strips scattered on its jet-black canvas. It is also durable since the stone contains calcite content. Abu Black marble is a good choice for indoor or outdoor floorings, marble artefacts, exteriors & interiors of residential & commercial complexes, decorative wall tiles, toilet & bathroom tiles, classical sculptures, monumental architecture, and many more. And since this is a natural stone, one can expect that the pieces used have unique patterns from the rest.
MARBLE EXPORTER IN INDIA BY BHANDARI MARBLE GROUP IN INDIA
Bhandari Marble Group, as one of Country's top Marble and Indian Granite Exporters, is well aware of the best ways to meet their clients' needs. Bhandari Marble group has been a leading Granite & Marble Suppliers and Manufacturers in India and abroad for its expertise in offering a diverse range of marble products. We are an Indian Granite Exporter, has built a brand for themselves after specializing in Slate, Sandstone, Limestone, Stone Articles, and Exotic Stones. Bhandari Marble Group's team is dedicated to providing 100 percent customer satisfaction and always aims to deliver the best in terms of the diversity, quality, and cost to its consumers. If you are seeking for the top Indian Granite Exporter in India, Bhandari Marble Group is the place to go. You will find a wide selection of high-quality international Granite and Marble gemstones at reasonable costs here.
About the Author
About the Author Hi, I am D.C. Bhandari, chairman of Bhandari Marble Group living in India, Rajasthan, Kishangarh. I love seeing the new and creative ways people use our Marble, Granite, and Natural Stone. Our customers are so creative. My favorite design style preppy traditional mix with modern especially pieces that can be found at a vintage or antique stone. I like to invent travel, search, experiment with natural stone products. For more posts visit our website.
WORLD'S TOP AND INDIA'S BEST MARBLE, GRANITE AND STONE COMPANY
ADD BY EXPERT AND EXPORT TEAM OF BHANDARI MARBLE GROUP. CONTACT US ON: +919829040013.