Prime Minister Narendra Modi On Wednesday Inaugurated The New International Exhibition-cum-convention Centre (iecc) Complex 'bharat Mandapam' In Delhi.
Introduction:
The Inauguration Of The Integrated Exhibition-cum-convention Centre (iecc), Lovingly Christened As 'bharat Mandapam,' Marks A Momentous Occasion For India's Architectural Landscape. The Iecc, Built As Part Of The Pragati Maidan Redevelopment Project, Reflects A Blend Of Modernity And Tradition. Among The Key Elements That Contribute To Its Grandeur Are The Exquisite Use Of Marble, Granite, And Natural Stone. In This Blog, We Will Delve Into The Beauty And Significance Of These Materials In Enhancing The Iecc's Allure.
Prime Minister Narendra Modi Dedicated The International Exhibition-cum-convention Centre (iecc) Complex To The Nation Which Has Been Developed At A Cost Of About ₹2,700 Crore.
1. Timeless Elegance Of Marble:
Marble, Renowned For Its Timeless Beauty, Has Adorned Some Of The World's Most Iconic Structures For Centuries. The Iecc's Incorporation Of Marble Signifies A Profound Commitment To Preserving India's Rich Heritage While Embracing Contemporary Design Principles. The Smooth, Lustrous Surface Of Marble Exudes Sophistication And Refinement, Making It A Popular Choice For Prestigious Buildings Like The Iecc. Additionally, The Variety Of Colors And Veining Patterns Found In Marble Offers A Limitless Palette For Architects And Designers To Work With, Ensuring Uniqueness In Every Application.
2. Strength And Grandeur Of Granite:
Granite, A Natural Stone Renowned For Its Strength And Durability, Serves As A Symbol Of Permanence And Grandeur In The Iecc's Design. As A Metamorphic Rock Formed From Molten Magma, Granite Showcases Distinct Mineral Patterns That Add Character To Any Structure. Its Ability To Withstand The Test Of Time And Environmental Elements Makes It An Ideal Choice For Long-lasting Construction, Ensuring The Iecc's Beauty Will Endure For Generations To Come.
3. Embracing Nature With Natural Stone:
Beyond The Classic Charm Of Marble And Granite, The Use Of Various Natural Stones Throughout The Iecc Exemplifies An Appreciation For Nature's Diversity. Different Types Of Natural Stone, Such As Limestone, Sandstone, And Slate, Offer Unique Textures And Colors, Allowing The Iecc To Feature A Captivating Blend Of Earthy Elements. The Integration Of Natural Stone Creates A Harmonious Connection Between The Building And Its Surroundings, Providing Visitors With A Sense Of Unity With The Environment.
4. Sustainable Architecture:
Beyond Their Aesthetic Appeal, The Use Of Marble, Granite, And Natural Stone In The Iecc Aligns With The Growing Emphasis On Sustainable Architecture. These Materials Are Inherently Eco-friendly, As They Are Sourced Directly From The Earth And Require Minimal Processing. Moreover, Their Longevity Reduces The Need For Frequent Replacement, Promoting Responsible Construction Practices And Reducing The Overall Environmental Impact.
5. Celebrating Cultural Heritage:
In Addition To The Architectural Significance, The Use Of Marble, Granite, And Natural Stone In The Iecc Pays Tribute To India's Rich Cultural Heritage. These Materials Have Been An Integral Part Of Indian Art And Architecture Since Ancient Times, Embodying The Country's Artistic Legacy. By Incorporating Them Into The Iecc, The Complex Becomes A Living Testament To India's Artistic Heritage, Celebrating The Past While Embracing The Future.
PM Modi inaugurates new ITPO complex 'Bharat Mandapam'
Conclusion:
The Iecc, Or 'bharat Mandapam,' Stands As A Magnificent Testament To India's Architectural Prowess, Combining Modernity With A Deep Respect For Tradition. The Skillful Incorporation Of Marble, Granite, And Natural Stone Adds A Touch Of Timeless Elegance, Strength, And Environmental Harmony To This Grand Complex. As Visitors Step Inside, They Will Be Greeted By The Majesty Of These Natural Materials, Creating An Unforgettable Experience That Celebrates Both India's Cultural Heritage And Its Commitment To Sustainable Architecture. The Iecc Is Not Just A Convention Center; It Is A Living Ode To India's Artistic Legacy And A Symbol Of The Nation's Aspirations For A Better, More Beautiful Future.
Welcome To Bhandari Marble Group
Marble Manufacturer, Wholesaler, & Exporter in India
As India's Best Marble, Granite, and Natural Stone Brand, we cater to diverse customer needs. Whether you are an architect, designer, contractor, or homeowner, we have the expertise and resources to assist you in achieving your vision. Our team of experienced professionals is dedicated to providing personalized service, offering expert guidance and advice throughout your selection and installation process.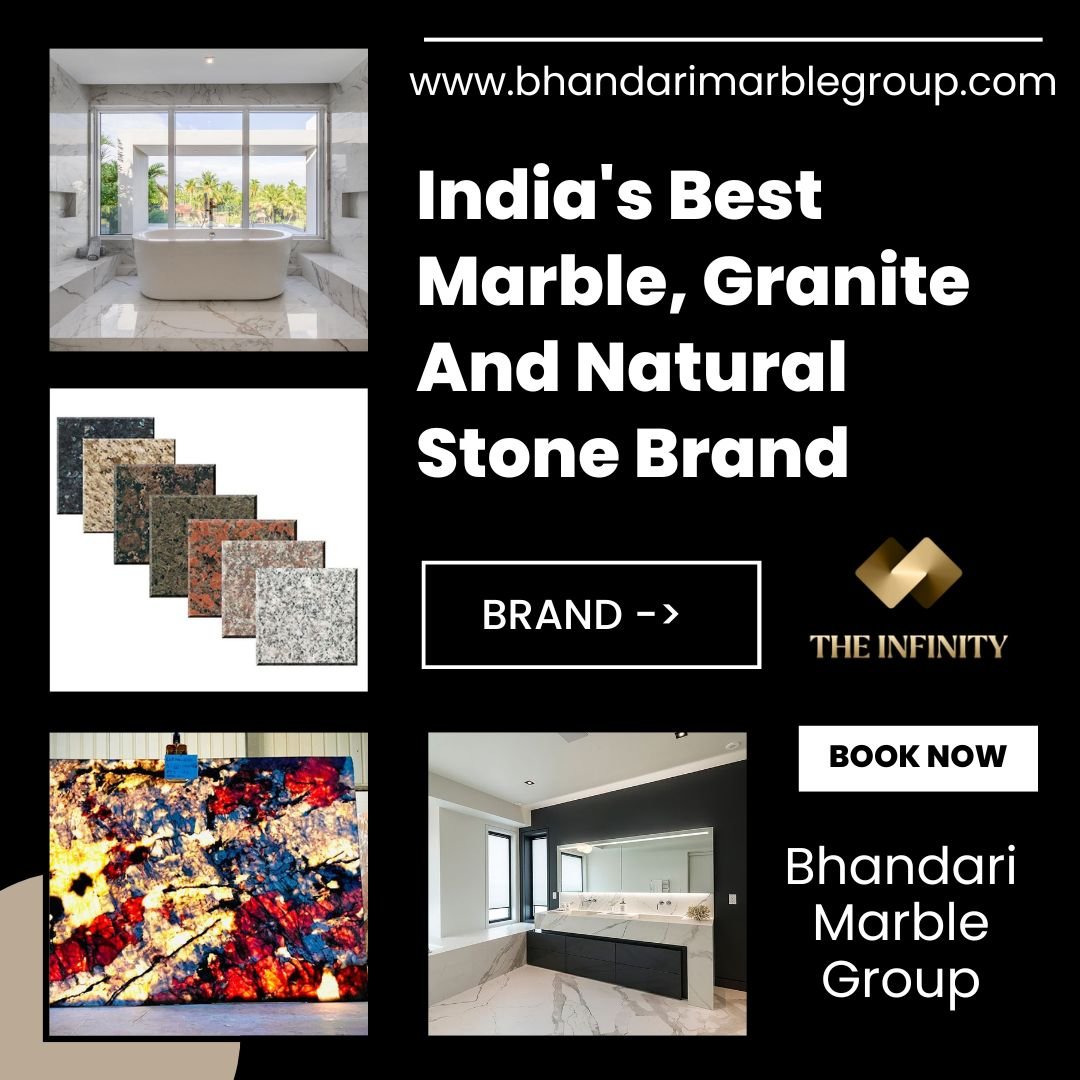 Please fill out the form given below and we will get back to you.
The New International Exhibition-cum-convention Centre (iecc) Complex 'bharat Mandapam' In Delhi.