STATUARIO MARBLE,
STATUARIO MARBLE,
CARRARA MARBLE,
ITALIAN STATUARIO MARBLE,
WHITE STATUARIO MARBLE,
BOLD AND BEAUTIFUL MARBLE BY BHANDARI MARBLE GROUP. Statuario Marble-The Beauty In White
The Statuario Marble is a very exclusive White Marble from Italy that is currently used on several high-standard and exclusive projects.
One of the all-time classic marbles Statuario is a highly dramatic white and grey marble. With vivid and artistic veining, Statuario is bound to be the focal point of any design interior it occupies. Whether for backsplashes, feature walls, cladding, bathroom vanities or flooring, Statuario marble will make a statement.
USED MOSTLY FOR HIGH-END PROJECTS:
BY BHANDARI MARBLE GROUP
Italian Statuario marble
Derived from a Greek word that means "to sparkle, flash, and gleam," marble is undoubtedly one of the most luxurious materials in the world. And although marble is extracted from quarries all over the globe, some of the most precious varieties of marble are found in Italy. The most popular Italian marble varieties are Carrara, Calacatta, and Statuario. To the untrained eye, these stones may all look like the same type of white marble. Confusion is also added because Calacatta is quarried in Carrara, Italy.
OTHER SIMILAR ITALIAN MARBLE: While these three precious Italian marbles can sometimes resemble one another, there are slight differences that are important to note in order to be able to choose which one is right for your project. – Carrara Marble is greyish-white with less large veins and finer, feathery veining that often appears to be linear.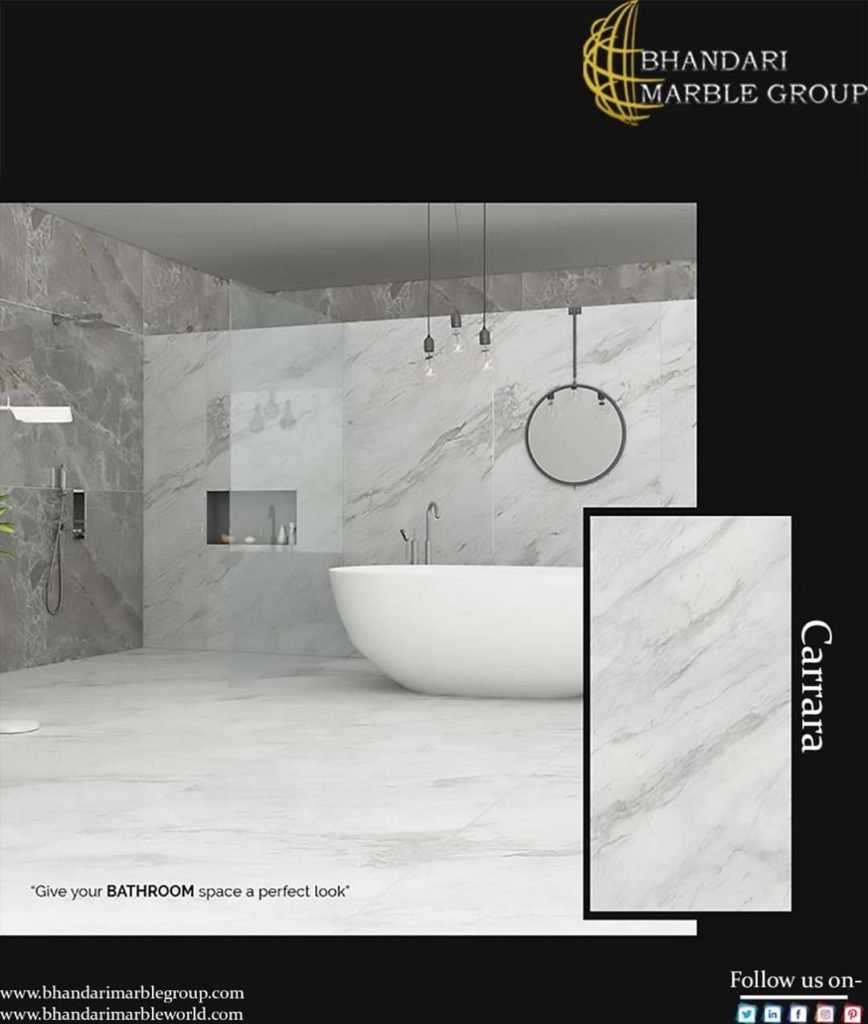 – Calacatta Marble is a rarer than Carrara and is more white than grey with dramatic veining that results in thick, predominate patterns. It often has brown and gold undertones.
– Statuario Marble is the most precious marble varieties found in Italy. It has distinctive veining that can range from gold to grey.All three types of marble will vary from slab to slab, as no two marble formations are the same. The uniqueness of each marble slab is what can result in distinguished luxury kitchens and baths. For this reason, it is often advised that when picking out white Italian marble, one should ask the stone provider to see at least three samples in order to find the color variegation and patterning that speaks.
BHANDARI MARBLE GROUP'S STATUARIO MARBLE
PRETTY AND ATTRACTIVE!
BHANDARI MARBLE GROUP features rare and precious Italian marble varieties including Carrara, Calacatta, and Statuario which can be purchased from our website online without any hassle or from our production unit in Kishangarh, Rajasthan, India. STATUARIO MARBLE USES AND APPLICATION:
White Statuario Marble is used for flooring and wall in interiors as well as exteriors. It generally comes with natural textures and white color and it has nice durability and strength. In order to provide maximum satisfaction to our clients, we use the finest raw materials, modern machines, and technology for manufacturing the White Statuario Marble. Our marble is long-lasting & durable in nature and is specifically designed to enhance the look of any place.
BHANDARI MARBLE GROUP manufactures and supplies the best White Statuario Marble in all over the world. Call out price and other technical specification details. FEATURES OF STATUARIO MARBLE:
– Smooth finish
– Striking color
– Used for Flooring
– Appealing design
– Polished
– Easy to maintain and long-lasting
EASY INSTALLATION AND MAINTAINANCE WITH THE HELP OF EXPERTS AT BHANDARI MARBLE GROUP:
Statuario marble contains heavy, bold grey veining mixed with thinner patterns.
Origin: Statuario marble is also quarried in Italy.
Application: Statuario marble is an ideal stone for indoor applications such as kitchen countertops and backsplashes, bathroom vanities, and floor tiles
It often has brown and gold undertones. Statuario is the most precious marble varieties found in Italy. It has distinctive veining that can range from gold to grey. All three types of marble will vary from slab to slab, as no two marble formations are the same. Statuario Marble is a white marble from Italy. This is one of the most beautiful white marble available. This marble is extracted from quarries in Italy. This is an expensive white marble. The price of Statuario Marble depends on the variety and variation. We have Statuario Marble slabs available in stock. Statuario Marble tile can be made on order.
ALL YOU NEED TO KNOW ABOUT STATUARIO MARBLE
BOLD AND BEAUTIFUL NATURAL STONE
Statuario Marble Price
The price of this white marble depends on the variation, color, variety, and size of slabs. For example, if the size is big with more whiteness and lesser grey veins or veins in a specific design the prices will be high. If the size is small, with lesser whiteness and different type of veins or more grey veins the prices will be lower. Statuario Marble Tile
The tile of this material can be made from slabs. The tiles are generally of the size 1ft x 1ft x 16 mm or 2ft x 1ft x 16 mm. Tiles can be used in Bathroom, Flooring, Wall cladding.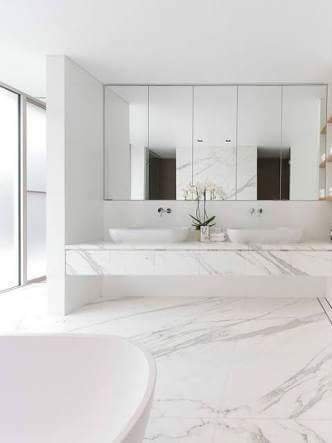 Statuario Marble Slab
We are one of the leading suppliers of Statuario Marble slab. We buy blocks directly from the quarries of Italy and process the slab at our state of the art plant equipped with the latest machinery. The slab of Statuario marble is in thickness 16 mm 18 mm, 20 mm 30 mm, 40 mm, 50 mm and we can customize as per your requirements.
GET A FREE QUOTE BY BHANDARI MARBLE GROUP FAQs TO GUIDE YOU ALONG:
Statuario marble is, without doubt, one of the most beautiful Italian marble available. It is the epitome of style and elegance and has been utilized as a symbol of sophistication and status in interior design for centuries. Here at BHANDARI MARBLE GROUP, we are often asked about statuario marble by architects, interior designers, luxury builders and end-users alike. In this article, we will discuss the traits of statuario marble along with its most common uses in architecture.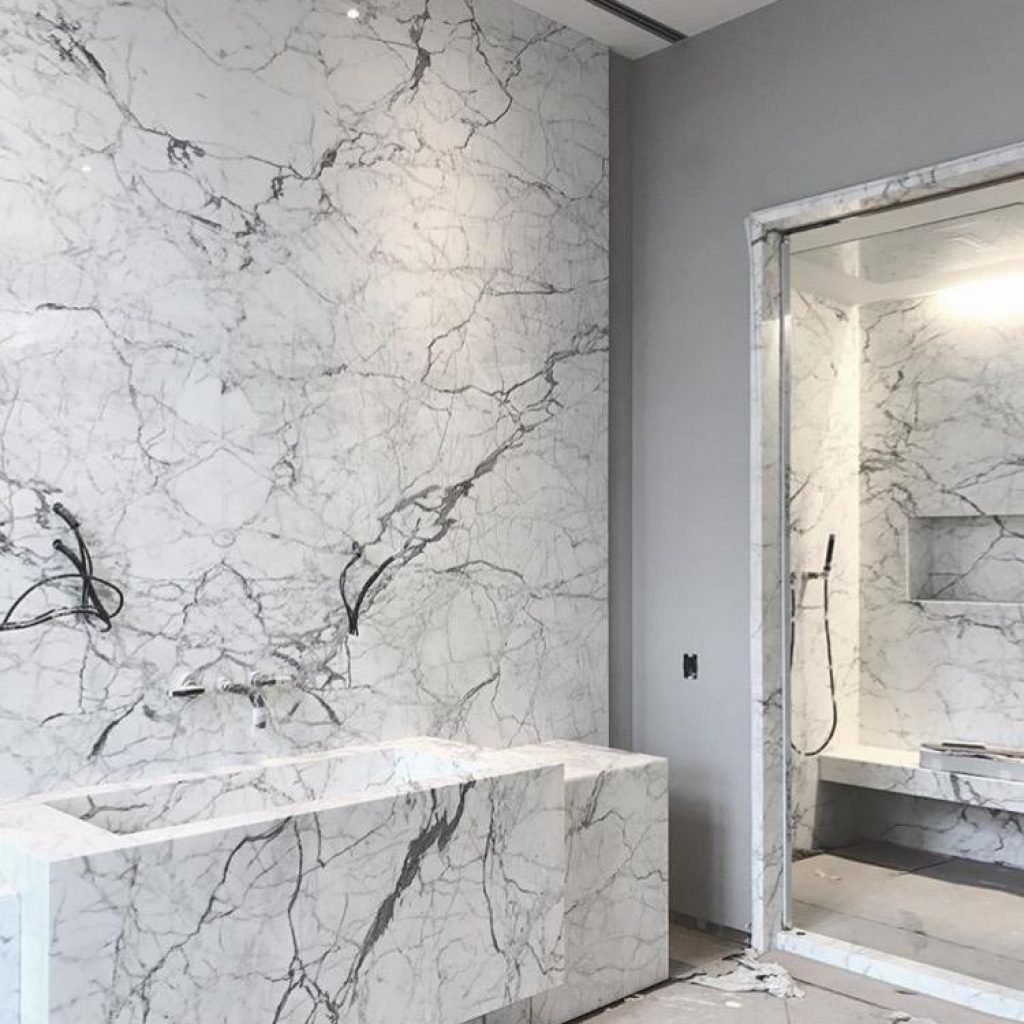 – What is Statuario Marble:
COZI AND CHARMING
Statuario marble is a striking and exclusive bright white natural stone, denoted by its beautiful gold and grey veining and its rich, bold patterns. It is arguably the most sought-after white stone in the marble family. Statuario marble often contains heavy grey veining throughout with unique and complex patterns. It originates from the mountain quarries of Statuario, above Carrara in Italy. Here at BHANDARI MARBLE GROUP, we are one of the leading suppliers of the rare statuario marble in India and its limited availability, coupled with its high demand, makes it a real statement in any residence or commercial building.
– Best Uses for Statuario Marble in World Architecture
Given its prestige status, statuario marble is unsurprisingly commonly used as a focal point of any room. Most of our clients use it for stunning kitchen countertops and backsplashes or as large floor tiles. Luxury bathrooms are equally good uses for this natural stone, as it's the perfect material for a vanity area or even as eye-catching floor tiles. Generally speaking, statuario marble is not a good material for external projects. It's equally popular with our commercial clients where it can be used as part of a statement reception area or boardroom, in 5-star hotels and can often be seen in religious buildings such as churches. In ancient Italy, statuario marble was the marble of choice for carving lavish statues and was the stone used for Michelangelo's famous 'David' masterpiece.
– Caring for Statuario Marble
Like any marble product, statuario marble must be properly maintained and cared for to ensure it keeps its stunning looks over time. Marble must be sealed before use and from time to time to keep it in optimum condition. Spills should be wiped up quickly to prevent staining and regular cleaning is recommended. Here at Euro Marble, we will happily advise you on how to take care of your particular type of statuario marble or other type of natural stone as all-natural stone products require different maintenance plans.
CONTACT THE EXPERTS AT BHANDARI MARBLE GROUP FOR COMPLETE GUIDANCE:
The above are just a few reasons why statuario marble could be the perfect building material your luxury interior project. Here at BHANDARI MARBLE GROUP, we are market leaders in Italian Stone in India. To discuss your options and how to make natural stonework for you, drop into our showroom today or give us a call or email and we'll be happy to give you an honest and expert opinion! Bhandari Marble Group is the perfect place for Statuario marble tiles. We make these tiles from slabs as per the order of the client. Generally, the size of the tiles is 1ft*1ft or as per. These tiles are used for wall cladding, bathroom flooring or for flooring.
TALK TO A DESIGN SPECIALIST OF BHANDARI MARBLE GROUP,
INDIA,
RAJASTHAN,
KISHANGARH-305801
CONTACT US
+91 9672941111
+91 9829040013
STATUARIO MARBLE IN INDIA