INDIA'S TOP AND WORLD'S BEST MARBLE, GRANITE AND STONE COMPANY
Our team of US, UK and Indian Architects, Interior designers and Engineers visit to Marble, Granite and Natural Stone company in India:
Working in Marble, Granite, and Natural stone Export, Supply, Manufacturing,
Flooring, Elevation, Decoration, Counter tops|Landscaping, Paving |
USA, UK, and Indian Architects and Interior designer recently visited our Marble Granite, limestone, sandstone, and slate factory outlet Marble stone Studio in India to take a close look at our latest Natural Stone products, production methods, and improvements in working conditions. In this blog, they'll be asking Cliff about what he learned from the trip.
Why the visit to India?
Indian Marble, Granite, and Natural stone have long been a favorite choice for Home, Villa, Hotel, Resort, Malls, Towers, Hospitals, Restaurants, Colleges, University, Township, Flooring ELEVATION DECORATION countertop landscaping, and garden paving. The Indian Marble, Granite, and Natural stone market offer us a huge range of characterful stone for every finish, polish, and style, from our popular Natural Marble, Granite, and Sandstone Trade Packs to contemporary options like Indian marble, Italian marble, Imported marble, Indian Granite, Imported Granite, South Granite, Rajasthani Granite, Black Granite, White Granite or Dholpur Sandstone, Teak Sandstone, Rainbow Sandstone, limestone, Slate, Marble Handicrafts, Countertop, Statues, Veneers, Cobbles, Pebbles, etc. With so much competition in India's stone regions, We are under constant pressure to keep prices low.

Over the centuries we've been importing Marble, Granite, and natural stone, we've found it's really important for us to personally visit the quarries all around the World it comes from. Doing this allows us to work with our stone expert and Export Team to make sure our products are the best quality and ethically produced and Customers as per the requirement of Architects, Interior designers, Builders, engineers, Hoteliers, Contractors and other Construction Projects. The good news is that every time we visit India, we see improvements to working conditions and facilities in the whole of the supply chain, from the processing factories right through to quarries.
Where did you visit?
We visited the Bhandari marble group in India, Rajasthan, KISHANGARH where we source our Indian marble, Statuario marble, Italian marble, Imported marble, Granite, Black Granite, Limestone, Sandstone, Kota stone, Marble slabs, Marble tiles, Tiles, wall cladding stone, Handicrafts, cobbles, pebbles, Veneers, Mosaics tiles, Kitchen tiles, Bathroom tiles, Staircase, Slate and some of our natural stone. As the finishes vary on these products, we were looking at a range of production processes, from machine cutting edges to brushing and flaming surfaces and Art and Craft.


How do you make sure Bhandari marble group India, Rajasthan, Kishangarh provide Marble, Granite, and Natural Stone is high quality?
Visiting the quarries and factories gives us the opportunity to scrutinize the facilities and quality assurance processes at each stage of the supply chain, right back to the source of the stone. We can also make sure our existing and future supply understand the high quality we expect for our customers. Here are some of the different processes our stone goes through and what we look for when we work with the Bhandari marble group.
Black Granite: our Black Granite comes from the Bhandari marble group where huge blocks are removed from the quarry and process slabs, tiles, Handicrafts, etc.
These are then split into more manageable pieces using cutting machinery. The manufacturers check the quality of the stone is good enough to cut into sheets for paving. Those blocks that are good enough are taken from the quarry to the processing factories where they are cut into sheets using a rotary saw land most modern technology.
Machine saws cut the sheets into slabs of specific sizes which are then hand flamed. As well as creating a beautiful textured finish, flaming helps to show up occasional structural weaknesses in slabs that can then be discarded.
Limestone and slate: as these are sedimentary rocks, they are split between their natural layers, rather than sawn. The BHANDARI manufacturers at the quarries look for these natural split lines and then sort the stone according to quality, with the densest stone being the highest quality. Below are higher quality pieces of Marble, Granite, Natural Stone, and Slate that have arrived from the quarries.
When we visit BHANDARI, we work with them, They make sure they reject low quality of stone from our orders, although much of it inevitably ends up elsewhere in the USA, UK, UAE, and International market.
The split sheets are transported to the factory where they are sawn into slabs. While our Marble, Granite, Natural Stone, and slate are naturally riven, some of our limestone like Dholpur, Teak, Rainforest, Rainbow, Yellow Limestone has a honed, brushed, and tumbled finish. We were pleased to see BHANDARI have recently been investing in their machinery for this, like this brushing machine.
And this new tumbling machine.
CNC machines,
Waterjet machines,
Honing opens the pores of the stone and brushing gives a softer texture, changing the color tones vary slightly. Because our Marble, Granite, and Natural Stone tends to be used in the Interior or outside, we ask BHANDARI for a fairly lightly brushed finish so it's not too smooth. Tumbling also softens the slab around the edges too.
Our Antique Yellow Limestone and Sandstone are honed, brushed, and tumbled.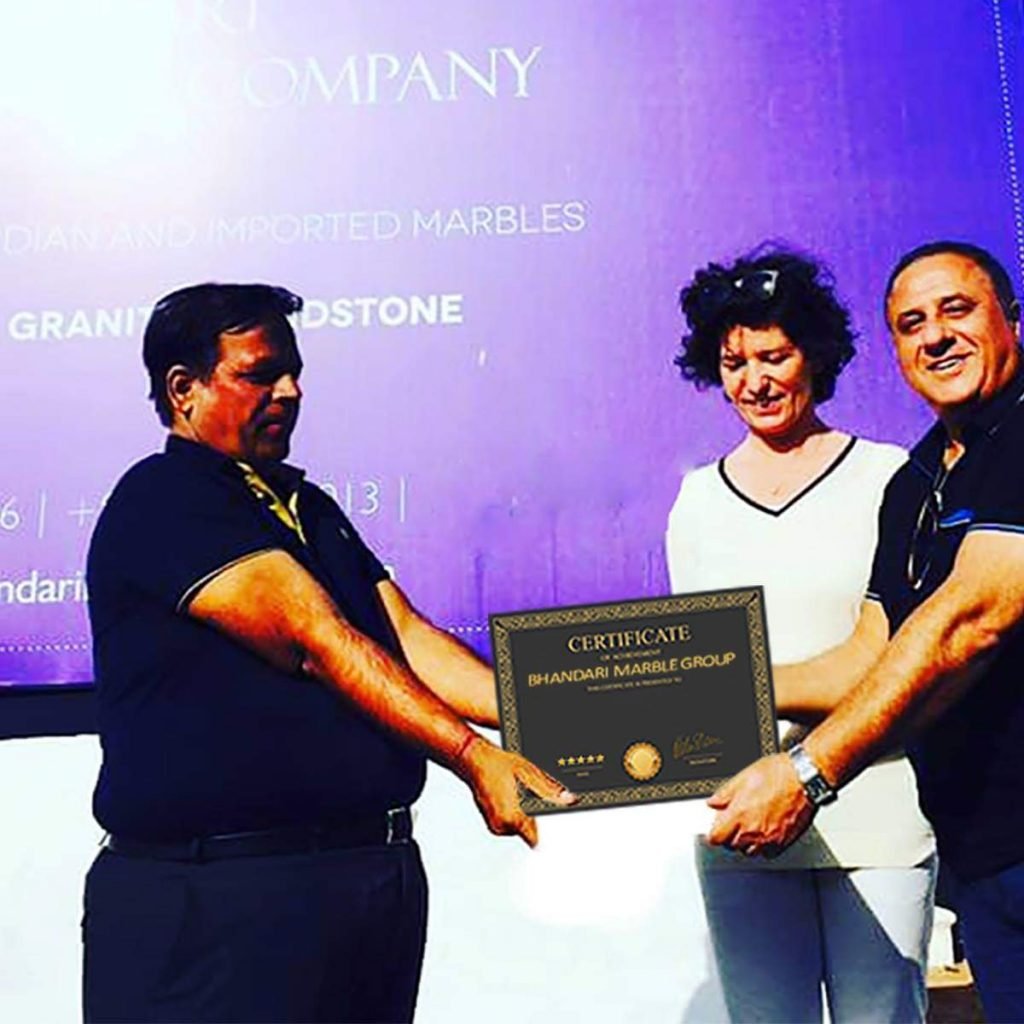 How do you make sure BHANDARI'S natural stone is ethically sourced?
At BHANDARI, we're committed to improving the lives of those who produce our Marble, Granite, and Natural Stone. We aim to source all our products according to our Ethical Trade Policy. We expect BHANDARI to not only comply with local labor regulations, which cover issues like child labor, but also the internationally recognized Ethical Trade Initiative Base Code. We also believe that treating suppliers fairly is key to improving conditions right through the supply chain. And it makes good business sense. This means we actively work with our suppliers to address improvements and always pay them on time.
Our relationships with BHANDARI are key to improving quality and working conditions
When we visit BHANDARI'S stone factories and quarries, we are able to ask challenging questions and look for a genuine investment in working conditions. On our India visit, for example, we inspected facilities, health and safety risks, and working hours. We also looked at whether staff are being paid a fair wage and are part of a government-regulated union. In remote processing plants where living accommodation is provided, we'll see if this is suitable too.
We look for a genuine commitment to improving working conditions for stone workers. Compared to our visit three years ago, we noticed a real improvement in working conditions.
BHANDARI seem to be more aware of what the USA, Gulf and European market expect. What we also noticed in India, Rajasthan, KISHANGARH was the number of schools and children in school uniform everywhere. Education is so instrumental in eradicating child labor; it was really positive to see this reflected in the attitudes of our Indian suppliers and on the ground in communities.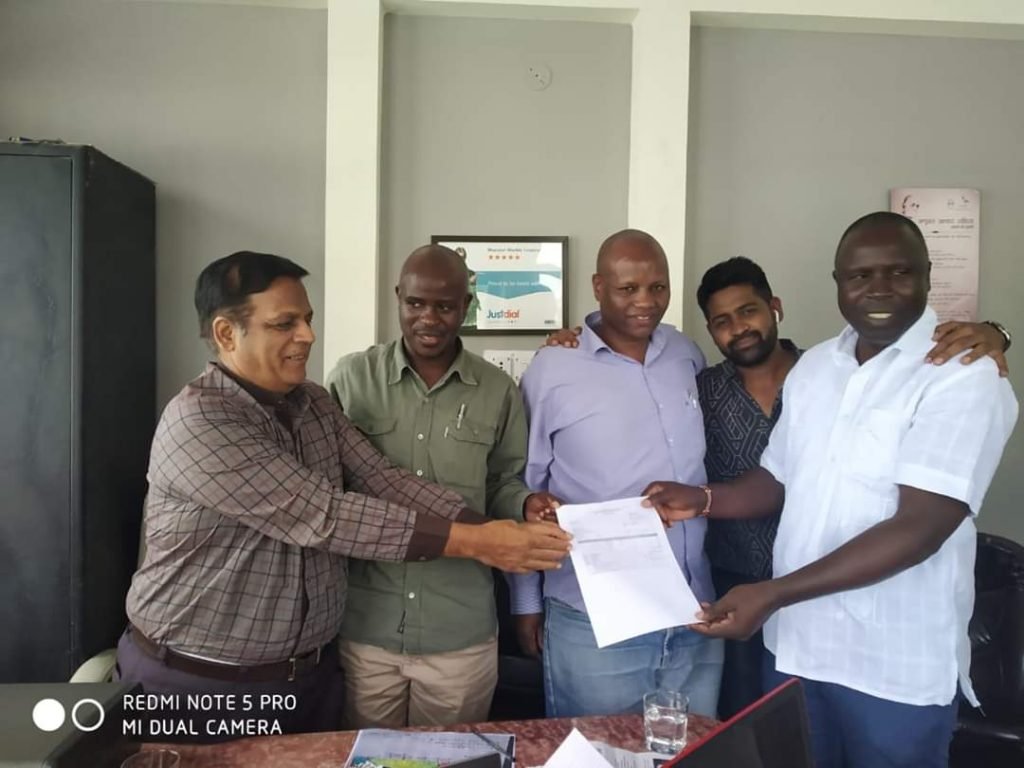 What about the environmental impact of natural stone?
Visiting BHANDARI also gives us the opportunity to talk about how we can reduce the impact of Marble, Granite, and Natural Stone production on the environment. We know this is increasingly important and there is much to do in this area. We were pleased to find that recent investments in machinery at the Marble, Granite, and Natural stone quarry and Industry will lead to greater energy efficiency and lower emissions. BHANDARI, we visited was filtering and recycling the water they use for brushing, tumbling, and sawing machines, just as we see in the US and UK. And we've had some interesting conversations including how quarries are restored after use and how factories can package their stone with less plastic BHANDARI guide us for good packing systems.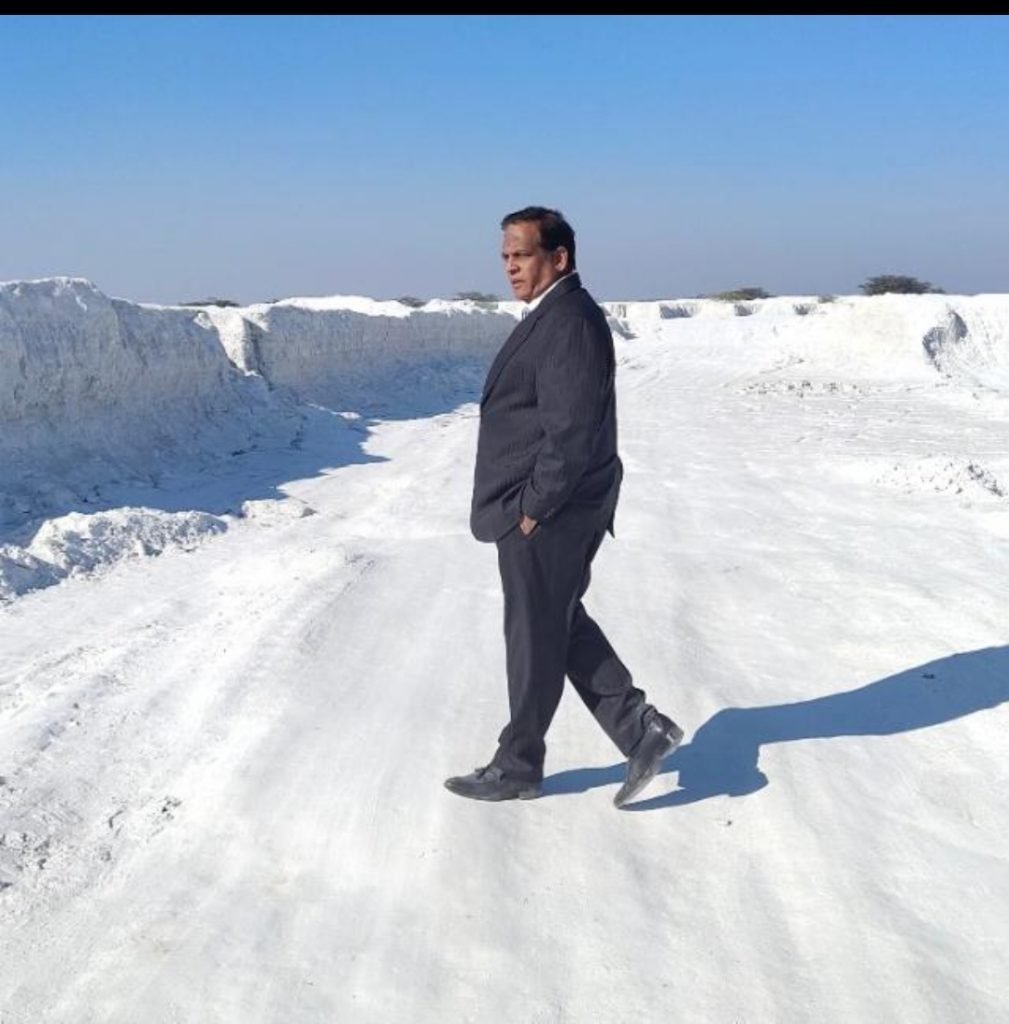 What else do you learn from visiting Bhandari marble group?
Over years of personally visiting Marble, Granite, and Natural stone suppliers, we've learned so much about sourcing quality, ethical stone. Each visit to a supplier is an opportunity to develop our knowledge and keep improving the quality of our products and our impact as a business. We look forward to future visits in the upcoming years after COVID 19 solutions. We Bhandari marble group welcome the World's best and US'S top Architects, Interior designers, Engineers in our factory, and assist them for Best quality with quantity and on-time delivery. Once again thanks to the team of Indian Architects to make plans and visit the World's Most Reputed Architects Regular base.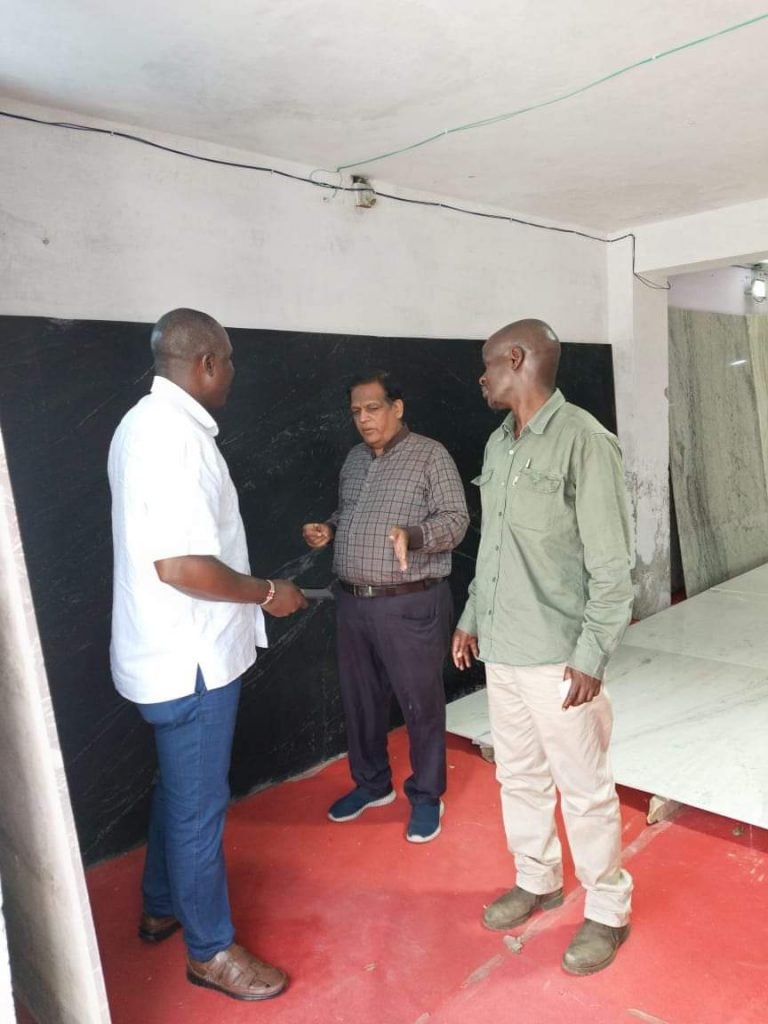 Add by Marble, Granite and Natural Stone expert and Export team of Bhandari marble group, India, Rajasthan, Kishangarh. contact us on; 9672941111
Our team of US, UK, and Indian Architects, Interior Designers, and Engineers visit Marble, Granite, and Natural Stone company in India