One point destination for Top class marble, granite and building stone. Bhandari Marble Group India World's top and India's best Marble Granite and Stone company
ORIGIN
The advantage of using Italian Marble is obvious: you know your stone is coming from one of the world's best quarries. Understanding the characteristics and quality of your chosen stone requires knowledge of its origin. The prominent reason that Italian Marble is thought to be superior stems from Italy's rich stone working heritage. They were the first to streamline and perfect quarrying techniques that are still in use today. Indeed, Italians are still regarded as some of the most skilled stone cutters and carvers in the world today.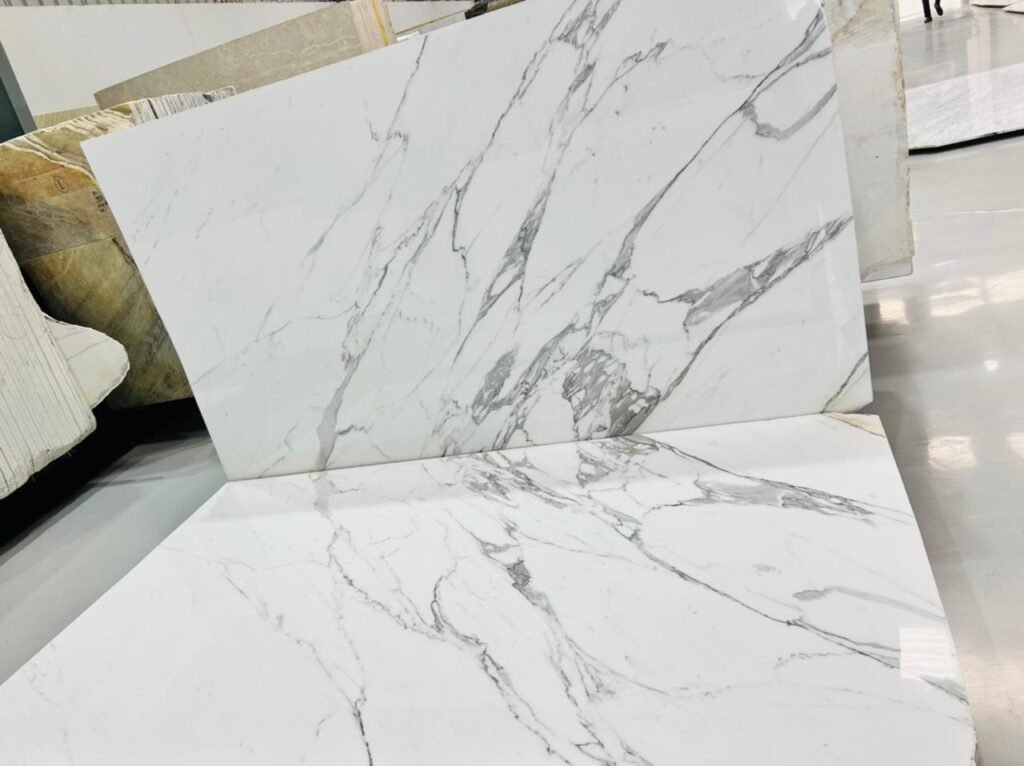 LOOK AND FEEL
The Italian Marble is highly sought after for a variety of reasons. With its crystal-like appearance, Italian marble flooring can add a thoughtful touch to your home. Statuario and Bianco Lasa are far more gleaming. Italian marbles are a very soft stone with high lustre and a crystal-like appearance. The way Italian Marble is formed contributes to its purity and durability. They can add a dreamy and luxurious touch to your home. People mostly use it as a decorative feature in the nooks and corners of their homes. Because it is more prone to staining, they generally avoid using it on kitchen countertops. They are sourced from Italy and arrive in slabs in India. Many people consider Italian marble stone superior because of its purity, durability, and beautiful white colour. Many buildings, sculptures, and other works of art made of marble centuries ago still exist today and are considered a testament to its durability.
CONTENT AND COMPOSITION:
Marble is composed primarily of crystallised limestone. The limestone content and other chemical components obtain it in various hues like the black Italian Marble and others. When limestone is subjected to extreme heat and pressure, large crystals form and bind together to form Marble. The intense heat destroys most of the impurities found in the stone. Owing to these many reasons, there is a pattern formation in the form of veins. The amount and type of minerals present in the limestone influence the colour and boldness of the veins. This naturally varies depending on the location of the Marble, making each marble slab one-of-a-kind.
What are the various kinds of Italian stone?
Italian Marble is available in various colors and textures, including, Italian Botticino, Sicilia, Nero (black), Rossa Verona, Crema Marfil, and Statuario marble.
WHAT ARE THE BENEFITS?
Italian Marble stone has a timeless and luxurious appeal, whether used in living rooms, kitchens, or bathrooms. Italian Marble has always been one of the most popular natural stones for home décor, and here are some of its advantages.
WORLD'S TOP AND INDIA' BEST MARBLE, GRANITE AND STONE COMPANY
ADD BY EXPERT AND EXPORT TEAM OF BHANDARI MARBLE GROUP. CONTACT US ON; 9829040013.
One point destination for Top class marble, granite and building stone.