Marble Into Your Interior Design
How To Incorporate Marble Into Your Interior Design

In the past few decades, marble has fallen by the wayside in interior design. Odds are that when you picture marble as a design element, you have visions of large, cold rooms encased in floor-to-ceiling stone. Or, of the ornate sculptures that adorn your Grandma's pristine living room. It's hardly modern and sleek – or so you may think.
Marble has made a modern comeback in the world of interior design. However, the key to keeping the trend fresh is using it in small doses – accents and statement pieces – rather than in amounts that overwhelm the eye. In this case, less is infinitely more.
If you want to be ahead of the curve, check out this list of ways to incorporate marble into your interior design. We'll walk you through innovative ways to use marble to give a classic touch to your décor while still staying modern.

Use Marble Columns To Delineate Space
Open-concept living is becoming increasingly common. Whether you live in a small studio apartment or a spacious single-family home, this type of floor plan opens up space and leaves it feeling less stuffy and confined. However, though your home may lack certain walls, you still need to delineate the space in order to keep it looking organized. Let marble do the job.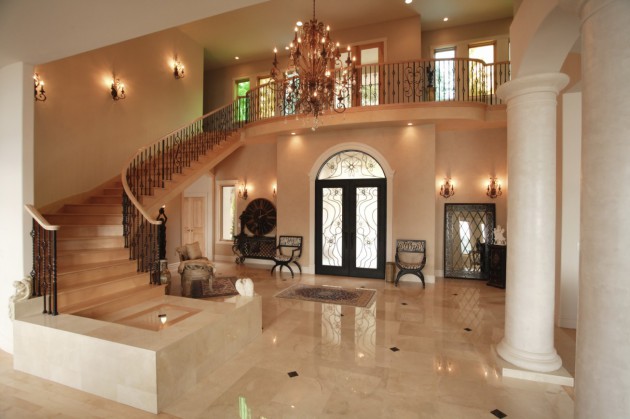 Columns are, of course, the obvious answer. But, there's no need for them to look like they came straight out of a white telephone feature. Choose columns with straight edges and relatively few decorative touches to give the space a more industrial feel.
Keep in mind that there's no need for the columns to stretch from the floor to the ceiling either. Consider building a half-wall with columns that will separate spaces while still letting the eye through all the way through space.
Collect This Idea
Use modern marble columns to visually separate spaces.
Make Marble Part Of Your Walls Or Floors
The "or" part is key in this instance. If both the walls and floors were covered in marble, space might end up looking too stark and cold. However, by just choosing one, you have the ability to tie just a touch of classical feel into space while tying it in with more modern materials. Whichever element you pick, there are a variety of ways to execute the design.
Think about adding marble to the backsplash in your kitchen. Use marble as an alternative to traditional wainscoting in your bathroom or dining room. Add a pinch of marble to your living space by encircling the room with a marble chair rail.
If you would rather add marble to the floor, the foyer is a great option since it is traditionally a more formal space. Add an artistic flourish to your dining room at low cost by using marble to create a design that anchors your dining room table. Marble flooring could add a luxury feel to anyone's master bathroom.

Focus On Marble Furniture
Though it may seem cold and uncomfortable at first glance, when paired with the correct pieces, marble makes an excellent material for furniture. It is strong, sturdy, and will last a lifetime. Don't be afraid to invest in a statement piece of marble furniture. It can withstand a lot of wear and tear while still looking high-end.
A note on choosing the right pieces for your space: Be sure to take measurements. Since marble is particularly heavy and unforgiving, you'll want to be certain that your new purchase will fit into space before you make the effort to bring it home. Additionally, don't feel like you need to stick to neutral tones. A colored marble tabletop could add just the right pop of color needed to bring your space to life.
Tables work particularly well when made of marble. Replace the wooden island in your kitchen with one made of marble to create a visual transition from the stove into the dining area. Add a bit of elegance to your living space with a marble coffee table. Think about using marble tables as outdoor furniture since they are hardy enough to stay put during stormy weather.
Incorporate Marble Into Your Accessories And Décor
In the past, adding marble into your home's design was a significant commitment. After all, it's not cheap to have a stone company come in and start digging up your walls and floors to replace the old materials with a heavy stone. One of the best aspects of this marble reassurance is that smaller marble accessories and décor items are popping up on store shelves. They allow you to try out the trend before taking a lasting plunge or to incorporate it into small apartments that would have previously been deemed too tight of a space.
When looking at accessories, focus on adding one or two marble pieces to the room. A pair of marbled lamps like the ones shown above would be a nice focal point by your bedside or in your family room. Marble candleholders and a soap set can add a romantic touch to your bathroom.
For a subtler feel, focus on marble-inspired pieces. They offer the same pop of classical style without the big price tag. A piece of wall art or a patterned throw rug that mimics the neutral colors and bold lines found in marble could be all you need to tie a room together.
ADD BY EXPERT AND EXPORT TEAM OF BHANDARI MARBLE GROUP CONTACT US ON; 9672941111
Marble Into Your Interior Design