KNOW ABOUT BHANDARI MARBLE GROU
We deal in onyx marble, marble stone, Statuario marble, Italian marble, Indian marble, Kishangarh marble, granite, and provide any kind of natural stone with great finishing that our customers need. We are the most reputed suppliers, manufacturers, exporters, imported marble suppliers in the market. We provide a great collection of imported and Indian marbles to your home, office, hotel, hospital, and any other location with fast and quality service.
Bhandari Marble Group is a well known and reputed company in India and also out of India. We are in this business since 1631. In that year we have established our faith and believe in our customers by providing them top-quality white marble. Indian marble is world-famous marble till now. Bhandari Marble Group always works for their customer and provide them top-quality marble.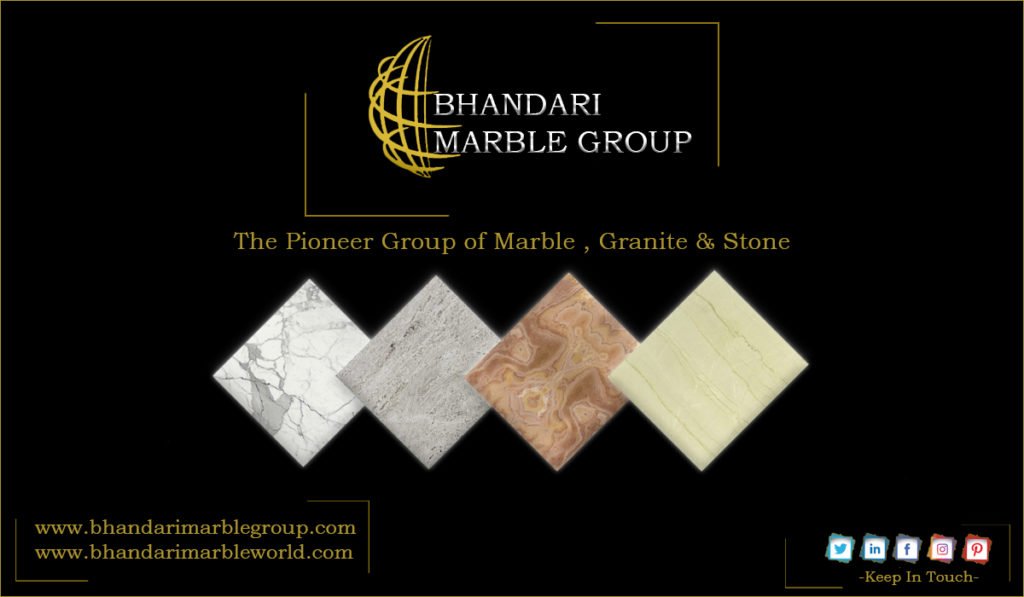 MARBLE THAT NEVER COMES OUT OF FASHION
Marble is never out of fashion. Marble is a gift of nature which is very beautiful and although they always catch the attention of people toward them. Marble is extensively used by people not only nowadays but also in the past of Raja Maharaja. Marble since ages is known popularly as a luxurious stone not only for its beauty but also for its elegance.
This versatile feature of marble makes it conducive to be used at homes as well as in offices. Marble as a stone has always been admired and also earned supreme position when its mesmerizing charm and charisma hit not one but many with its smooth texture, ethereal colors, and the qualities that endear it all the more to the human heart. The stone that can be easily cut or carved, the stone that does not require any add on to prove its excellence and the stone that can be put to use in the most versatile manner without the fear of damage. It can even be used for paving, flooring, and landscaping.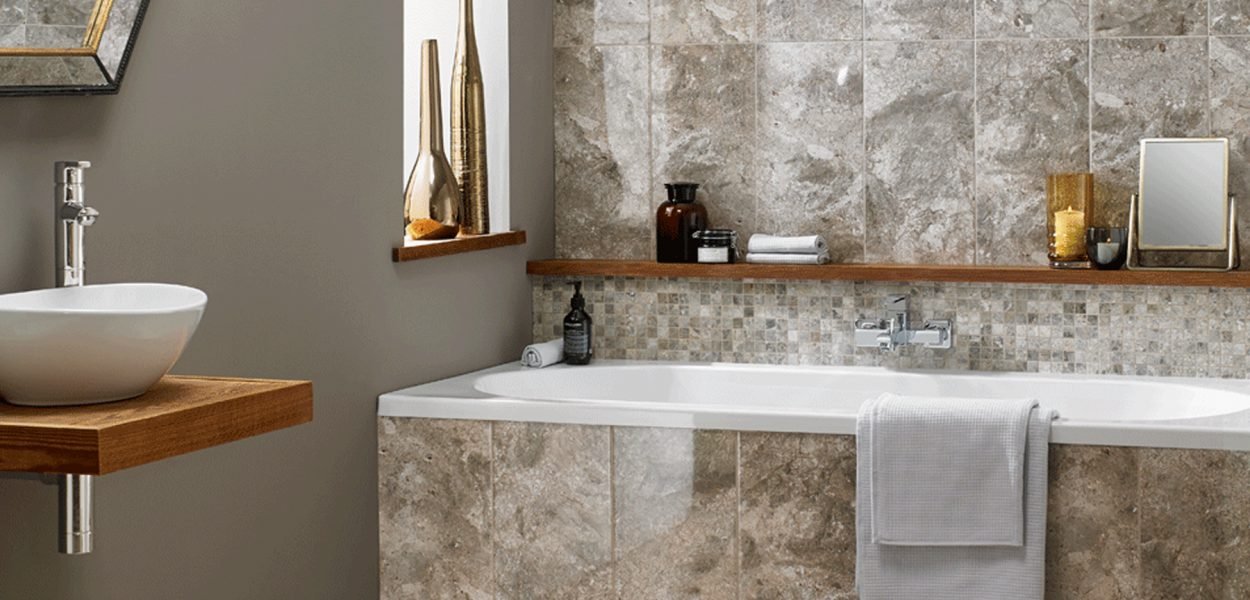 MARBLE THE PERFECT BLEND OF LONGEVITY AND BEAUTY
Marble is found in many parts of the world but India is Asia's number one marble mandi. In India Kishangarh, the city situated in Rajasthan is the biggest marble mandi where you can find all kinds of Indian Marble, Granite, and also Italian marble. Kishangarh is the hub of Indian Marble. There are more than 5000 marble companies are in existence. Here you will find a marble slab, marble tiles, granite slab, granite tiles, Italian marble slab, and also Italian marble tiles. As everybody knows that India is Asia's biggest marble mandi. Indian marble is the all-time favorite choice of architects, builders, designers even the customer who are making their new villa.
BIGGEST MANUFACTURERS OF INDIAN MARBLE
BHANDARI MARBLE GROUP is the biggest manufacturer, supplier, and exporter of Indian Marble. We supply all kinds of Indian white marble, wherever they are used, whatever color customers want we have all those marbles with excellent quality and features. We love to supply only the best to our customers. That is why our marble slabs are sold with pride as we know they are going to make this world more beautiful.
How to choose the right marble for your home…
Marble is a world on its own. One of nature's most amazing creations. It takes millions of years to produce this natural stone, which is a cluster of calcite. When mixed with the metal strains, it produces the most amazing patterns which end up in the form of floorings or miniatures or walls or buildings, the architecture of which can be seen all over the world.
MARBLE IS A WORLD IN ITSELF
As mentioned above, marble is a world in itself. There are many kinds of marbles available in marble. The most unique feature/fact about marble is it doesn't have a definite name. The variety is mostly named after the place it is mined from. Marble is extensively used by people not only nowadays but also in the past of Raja Maharaja.
Marble as a stone has always been admired and also earned supreme position when its mesmerizing charm and charisma hit not one but many with its smooth texture, ethereal colors, and the qualities that endear it all the more to the human heart.

LET'S TALK ABOUT WHITE MARBLE
The first known marble in white for everyone that Makrana White Marble. Makrana marble is the pure white marble which having no stain or no any kind of spots on it. After the Makrana white marble people normally search for Kishangarh White Marble, Bidasar, and many more.
The marble decorated our homes. Marble decorates the offices, buildings, community parks. The floorings made from marble add strength to the building. Many ports have used marble.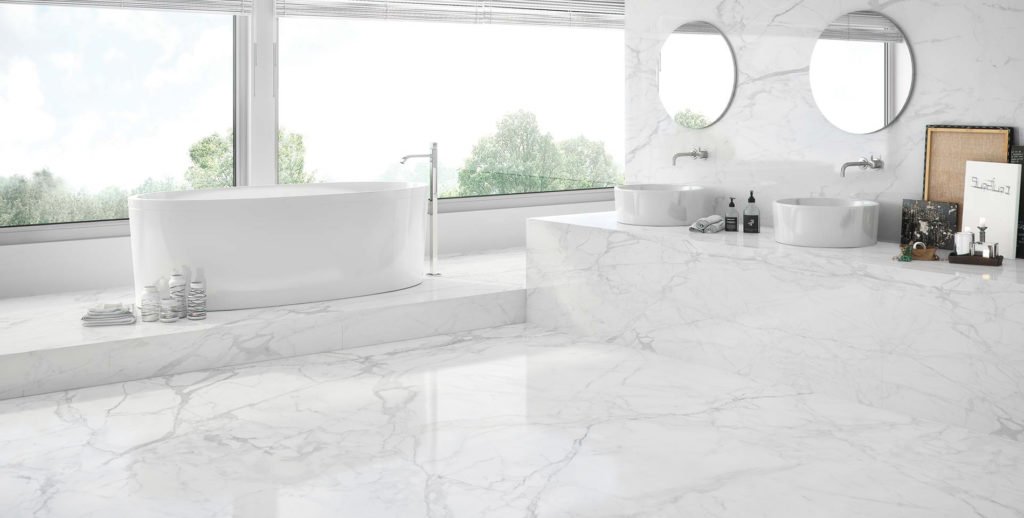 Marble dealers are spread all across the world. The best of the marbles, at easy prices, could be found in the Rajasthan mining regions, like Udaipur, Kishangarh, and Makrana. Some varieties are also found in South India, certain parts of Gujarat as well. Marble quality matters on the basis of their look, patterns, the involvement of impurities of offbeat colors as we call it.
PRICES THE MOST AMAZING FACTOR OF MARBLE
The prices of marble, like diamonds, are never decided. Everything depends on the purity, as it is a natural stone, the texture, the patterns, the color, and brittleness, the polish, and various other factors to decide the quality of marble. But the result of all is sure, that if architecture and planned correctly, the best marble or not the best marble, the result will lead into beautiful patterned results, which, like a diamond, is forever. Bhandari Marble Group spreading the quality of some marble they have in their stockyard.
COME TO KNOW ABOUT MAKRANA WHITE MARBLE
Makrana White Marble is pure white marble, which is also known as white sangemarmar. First grade white Makrana marble is very white color marble, and the cost of first grade Makrana white marble is 700-2000 per square feet. Second-grade white marble is less white than first-grade white marble, and the price range of second grade Makrana white marble is 400-700 per square feet. Third Grade White marble is less white than second-grade white marble, and the price range of second grade Makrana white marble is 150-400 per square feet.
AMBAJI WHITE MARBLE
Nature has always been the biggest inspiration for all of us in many ways as it has offered many things to mankind –Right from Waterfalls, greenery to natural stones. One of the quarry locations in India is Ambaji. It is a type of marble that is exceptionally soft. It is quite possibly the finest marble that India produces. The most common use of it is in interior decor. Ambaji Marble can be used on any surface areas of the bathroom right from shower walls to flooring and even tub decks. Not only this, but you can also even use our imported Ambaji Marble to decorate the walls of your house, as a wall furnishing, kitchen platform, fireplace facings or just to have a pious surrounding in your Puja room.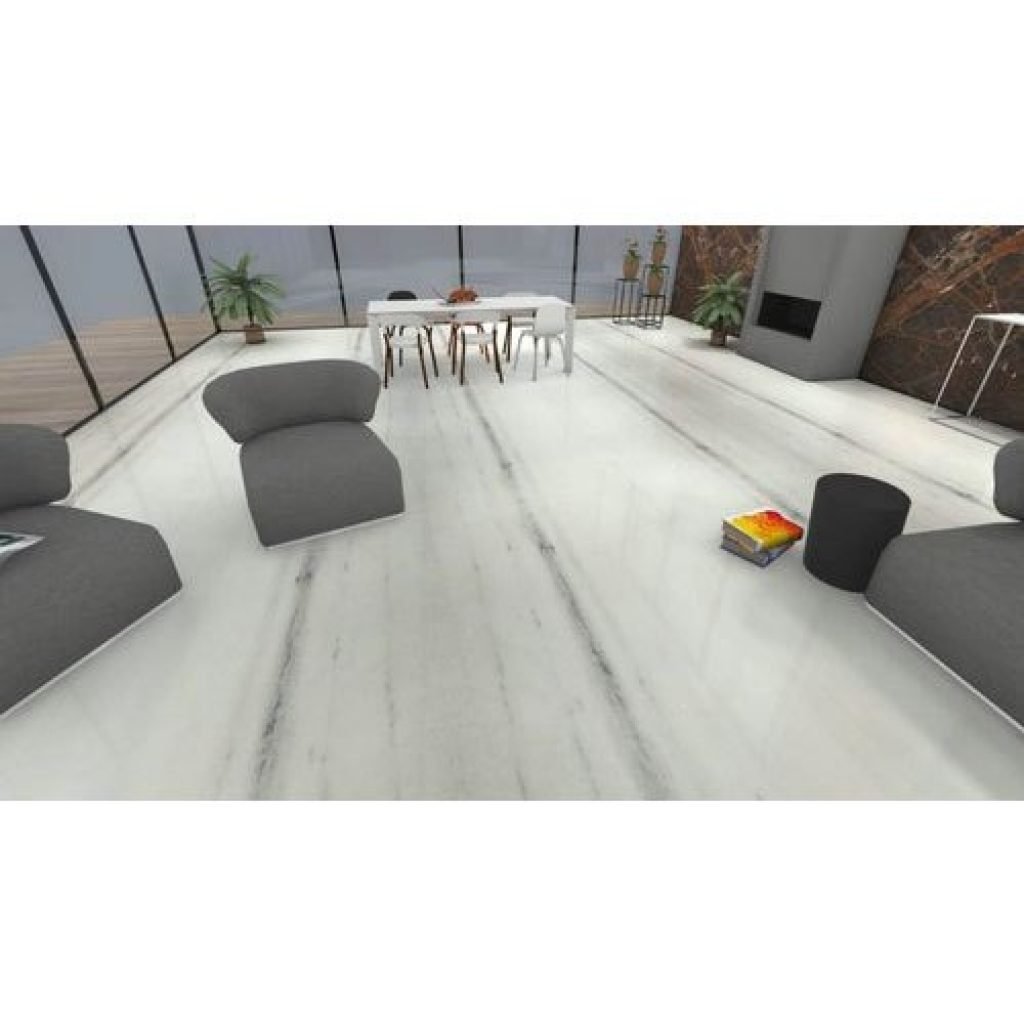 DUNGARI WHITE MARBLE
Dungari marble is one of the most famous varieties of Makrana marble and is also one of the best choices you have. This like all other Makrana marbles does not need chemical reinforcements of any sort and there are no pinholes as well. There is no fear of losing color and shine and these are certainly great benefits. This variety of marble is white in color and has a black lining and there can be other designs and figures as well. Various quality of Dungari marble is available and the whiteness depends on the quality to a great extent.
ALBETA WHITE MARBLE
Albeta marble is one of the finest and the oldest marble and is a great quality of marble that does not need any chemical reinforcements. It also has no pinholes and does not require any polish and you do not have to worry about any color changes as well. Albeta marble has been used since time immemorial to make churches, temples, and mosques in India and is still in great demand. Its background is white in color and it usually comes with small black lining. Sometimes lining of other colors might be present as well.


EXPERIENCE SPEAKS BY ITSELF
We have a fully experienced team for cutting, finishing, and supplying the marble stone with the latest technologies. We are one of the greatest marble manufacturers, suppliers, and exporters of all kinds of marble stones like marble, Italian marble, Marble Flooring, Onyx marble, Statuario Marble, Sandstone, Kishangarh marble, Indian marble, Makrana Marble, and Granite at an affordable price.
Looking for any kind of quality marble, granite in India, or anywhere in the world, you are at the best place. We provide quality marble, Granite, Limestone, etc in India or anywhere in all over the world at wholesale
THE MEANINGFULNESS USES OF MARBLE, MARBLE IS FOR FLOOR OR MORE…!
Marble is commonly used for sculpture and as a building material. Very few rocks have as many uses as marble.
Marble is a beautiful, natural substance that has been loved and used for years. Marble is a metamorphic rock that forms when limestone is subjected to extreme heat and extreme pressure. Marble has a variety of appearances and colors and is mined from caves and quarries. Marble has been known to humans and been around for thousands of years, and marble relics from long-gone societies are discovered every day.
Today, it is most likely that you will find marble used in and on buildings. Durable and attractive, marble can stand up to the elements, and survive them while maintaining its look.
BEST USE FOR FLOOR
Marble is most commonly used for flooring. This has been a trend for thousands of years, and a trademark of the wealthy in Europe and the Americas. Marble floors can add a touch of sophistication to otherwise drab home areas, and even make appearances in business reception areas. The most iconic marble is the white with grey or black veins that trace through the stone at random.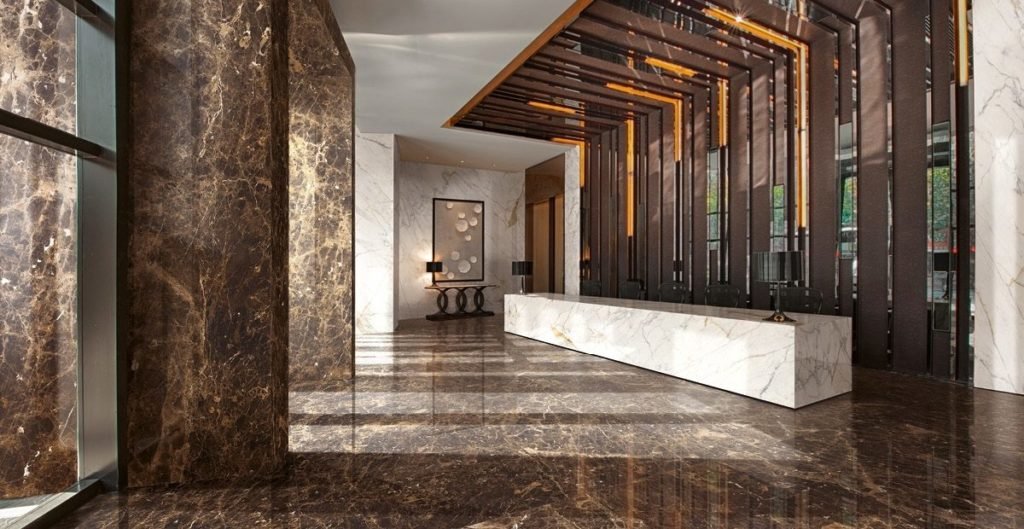 FOR STAIRS
Can you think of anything more luxurious than marble stairs? Moving through your mansion at the edge of the beach, up your incredibly beautiful stairs for an ocean view would be something that many would envy. With all of the trauma that normal stairs endure, however, marble stairs can actually be a practical solution: wood or carpet quickly shows wear and tear, ages, and can be high maintenance. Marble shows through with beauty and strength. Marble stairs and floors can cut down on your cleaning time, too.
FOR WALLS
Marble walls are something revered by royalty and nobles in Europe and some parts of Asia. At once a simple wall and a masterpiece, marble walls may be slabs of marble in their natural and uninterrupted splendor, or they may be broken into the familiar squares that are cut for floors. Marble walls can be susceptible to crayons in homes with children, but marble itself is a low-maintenance solution to a nice home environment.

FOR COUNTERTOPS
Marble counters, like granite counters, are growing in popularity. Both a bold fashion statement and practical addition for those who love to cook, marble counters can take all of the heat and knife marks without quickly showing damage.

FOR SINKS
Marble sinks are all about fun. It brings the user pleasure to be able to wash their hands in a marble sink. On the practical end, marble does not erode easily underwater and makes a good material for kitchens and bathrooms for that reason.
FOR FOUNTAINS
Another fun, but the luxurious item that has become a trademark of the wealthy is the marble fountain. Marble, again, doesn't easily erode with water and often mimics marble sculptures of days gone by. Marble fountains can be beautiful additions to your home garden or even a small one in your bathroom for a dose of tranquility in the morning.

MORE CAN BE USED AS ……
Marbles are used principally for buildings and monuments, interior decoration, statuary, tabletops, and novelties.
There are a lot of reasons why marble is an excellent stone for carving. The marble used most often for carving the human forms tends to be translucent, rather than opaque, so when it is well lit, it almost seems to glow. It makes sculptures made from marble look lifelike and soft, rather than hard and shiny.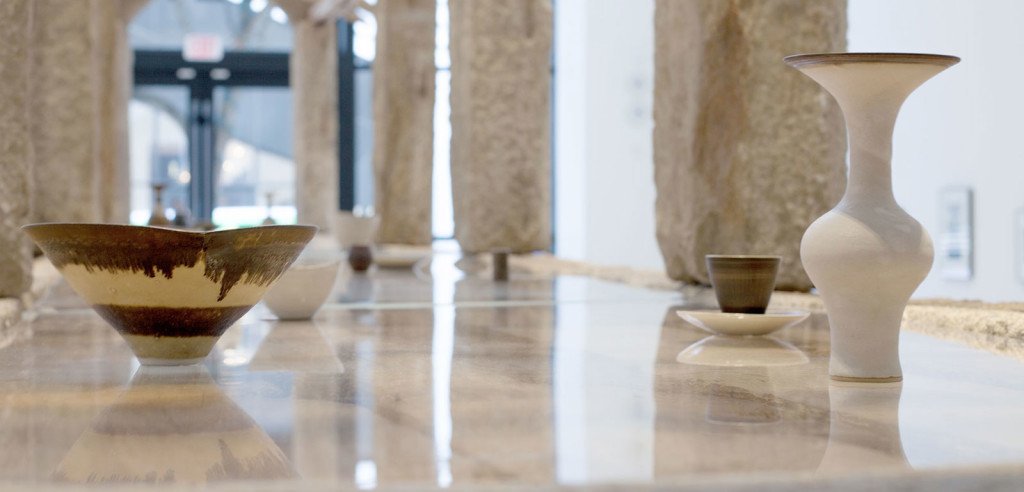 SCLHPTURES
White marble has been prized for its use in sculptures since classical times. This preference has to do with its softness, which made it easier to carve, relative isotropy and homogeneity, and relative resistance to shattering. Also, the low index of refraction of calcite allows light to penetrate several millimeters into the stone before being scattered out, resulting in the characteristic waxy look which brings a lifelike luster to marble sculptures of any kind, which is why many sculptors preferred and still prefer marble for sculpting.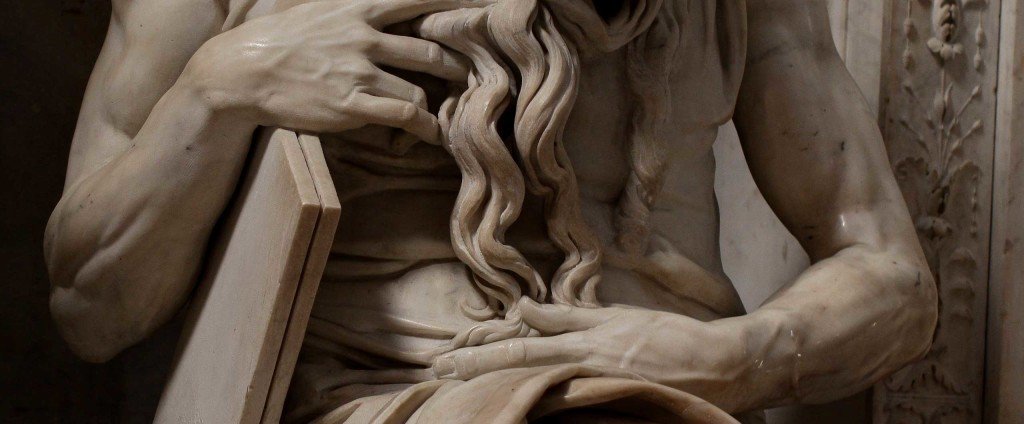 MARBLE MADE FOR CONSTRUCTION
Construction marble is a stone that is composed of calcite, dolomite, or serpentine that is capable of taking a polish. More generally in construction, specifically the dimension stone trade, the term marble is used for any crystalline calcitic rock and some non-calcitic rocks useful as building stone.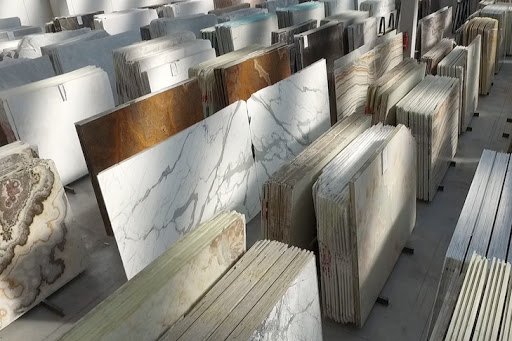 MARBLE FOR HOMEOWNERS
People love using marble while designing their homes as it is a versatile stone. It is commonly used for countertops but there are numerous ways to use it while designing a home. It can be used at all places from kitchens to basements or anywhere that a person pleases to use it. It can be used to give the place a classy and luxurious feel but using it in a certain way. The limited of a well-thought use of marble makes a better statement compared to the whole wall being covered with it.
Here are some uses of marbles and how it makes the place look trendy and timeless.
PILLARS
Marbles have been used for designing pillars for thousands of years. It is still being used in the building columns. The columns can be used for load-bearing and making the pillars look beautiful. It creates a great vibe and ambiance which is hard to ignore. Also, its strength and durability make it the right choice as pillars need to be strong.
WALLS
Whether a person uses natural stone to completely cover the wall or add design to it is what makes the look totally different from each other. It gives the place a fresh look and makes it look clean. The marble walls provide a cool or warm feel to the eyes depending on the kind of slab a person has chosen. The color choices make a huge difference when creating a cool or warm feel for the place.

COUNTERTOPS
The marble is usually associated with countertops, kitchens, and bathrooms. Carrara marble is known to be the perfect choice for countertops as it is affordable and looks quite elegant. It would brighten up the place it is used in. It is necessary to clean and seal the countertops perfectly in order to protect them from stains and keep them in great shops for a long period of time.
FIREPLACES
some people have fireplaces in their homes trying to make it more attractive. It makes the place look amazing and classy. It can be made to look modern or vintage depending on personal choice. The colors are chosen to provide the place warmth and complement the room.
FLOORING
Flooring is another purpose for which marbles are commonly used. It makes the look breathtakingly stylish and grand. It is necessary to ensure that all marbles are of the same batch when getting the floor done or else it can ruin the flow. The marble needs to look seamless in order to get the best out of it.
FURNITURE
The marble can be used to make furniture accessories as well. It is a cost-effective way of making furniture. People can choose to make marble coffee tables, cutting boards, coasters, etc. It adds class to the room and makes it look luxurious.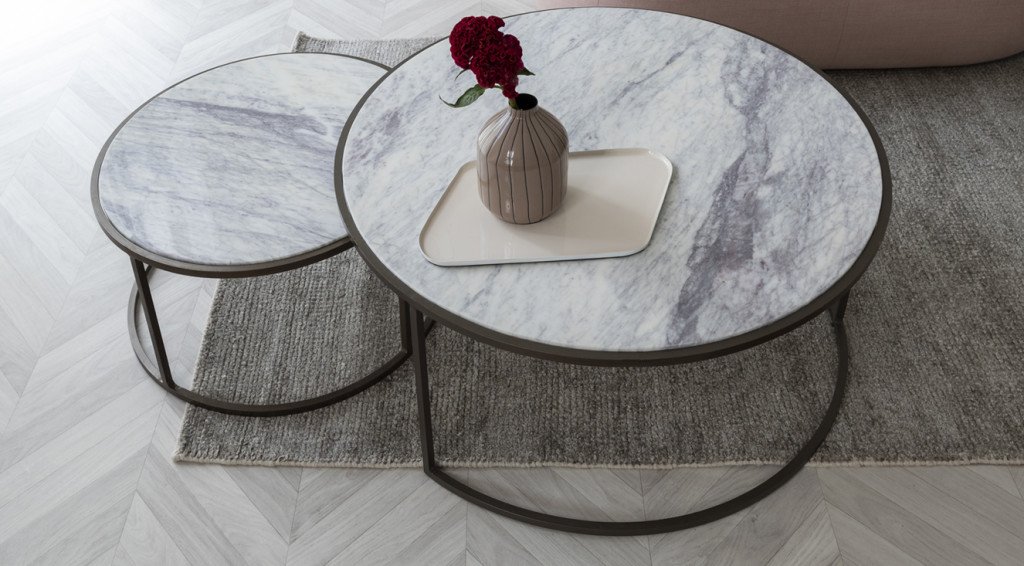 COLOR COLLECTION OF MARBLE BY BHANDARI MARBLE GROUP
With amazing colors and beautiful veins, marble is a versatile stone that is great for various applications in a home. People would never regret making an investment in marble as it is long-lasting, beautiful, and needs little maintenance. It is durable and resistant to basic problems such as scratches and cracks. It can be replaced or removed easily. It is perfect for places with high temperatures as well.
To purchase marble tiles in with important products that are top-class. People can reach out to them for quotes and share their ideas to get a better knowledge of how to use it.
Bhandari marble group Kishangarh Rajasthan, India was recorded in the of Records as having the world's highest concentration of white marble.
PROPERTIES OF MARBLE
Very few rocks have as many uses as marble. It is used for its beauty in architecture and sculpture. It is used for its chemical properties in pharmaceuticals and agriculture. It is used for its optical properties in cosmetics, paint, and paper. It is used because it is an abundant, low-cost commodity in crushed stone prepared for construction projects. Marble has many unique properties that make it a valuable rock in many different industries. The photographs and captions below illustrate just a few of its varied uses.
Many Colors of Marble
MARBLE FOR SAMPLES
Marble occurs in a very wide range of colors. Marble formed from the purest limestones is white in color. Iron oxide impurities in the limestone will produce yellow, orange, pink, or red color. Clay minerals can produce gray colors that often occur in bands after the compositional stratification of the original limestone. Abundant bituminous materials can produce dark gray to black marble. The marble that contains serpentine often has a green color.
SOME MOST POPULAR USES OF MARBLE ARE ……..
Among the different types of rocks, marble is the most widely used rock. The principal use of marble is found in architecture and sculpture. But apart from that, it is also used for its chemical properties in different fields or industries. Let's look at some of the uses below.
Buildings and Sculptures
Marble has often been considered as the stone for gods and kings. If we closely observe the ancient buildings and monuments they have been made using marble. For example, the Taj Mahal is built using this rock. However, this rock is still used today as a decorative construction material. Marble is used in both internal and external applications. Further marble has a translucent feature and it allows light to enter and give out a soft glow. Marble can also take a very high polish. Thus it is also used in making sculptures.
Construction Aggregate
Crushed marble is often used as a construction aggregate and is used as fill. It has been found out that marble cleaves more readily than limestone due to the presence of calcite. Brightener, Filler, Pigment Some marbles are extremely white in color. These types of marbles are used to manufacture a white powder which is popularly known as whiting. This is used as a brightener, filler, and pigment in the paper, paint, and some other products.
Soil Treatment
Like limestones, some marble can be heated to form calcium oxide which is also known as lime. And this compound is used in agriculture for treating the soil and basically to reduce the soil acidity. It is used in combination with fertilizers to improve the yield of a soil.
Neutralizing Acids
One of the main compositions of marble is calcium carbonate. Due to this, marbles can be crushed to form a powder and used in neutralizing acids and removing impurities. marble is also used in water treatment and as an acid-neutralizing agent in the chemical industry.
Marble is also often used to produce animal supplements. Crushed marbles are soft easily soluble, and rich in calcium. The most common use of marble that we can relate to is its use as a tombstone or cemetery markers. It is easy to cut and engrave on marble.

The main mineral in marbles is calcite, and this mineral's variation in hardness, light transmission, and other properties in divers directions has many practical consequences in preparing some marbles. Calcite crystals are doubly refractive—they transmit light in two directions and more light in one direction; slabs prepared for uses in which translucency is significant are therefore cut parallel to that direction. The bending of marble slabs has been attributed to the directional thermal expansion of calcite crystals on heating.
The use of explosives in the quarrying of marble is limited because of the danger of shattering the rock. Instead, channeling machines that utilize chisel-edged steel bars make cuts wide and a few meters deep. Wherever possible, the advantage is taken of natural joints already present in the rock, and cuts are made in the direction of easiest splitting, which is a consequence of the parallel elongation of platy or fibrous minerals. The marble blocks outlined by joints and cuts are separated by driving wedges into drill holes. Mill sawing into slabs is done with sets of parallel iron blades that move back and forth and are fed by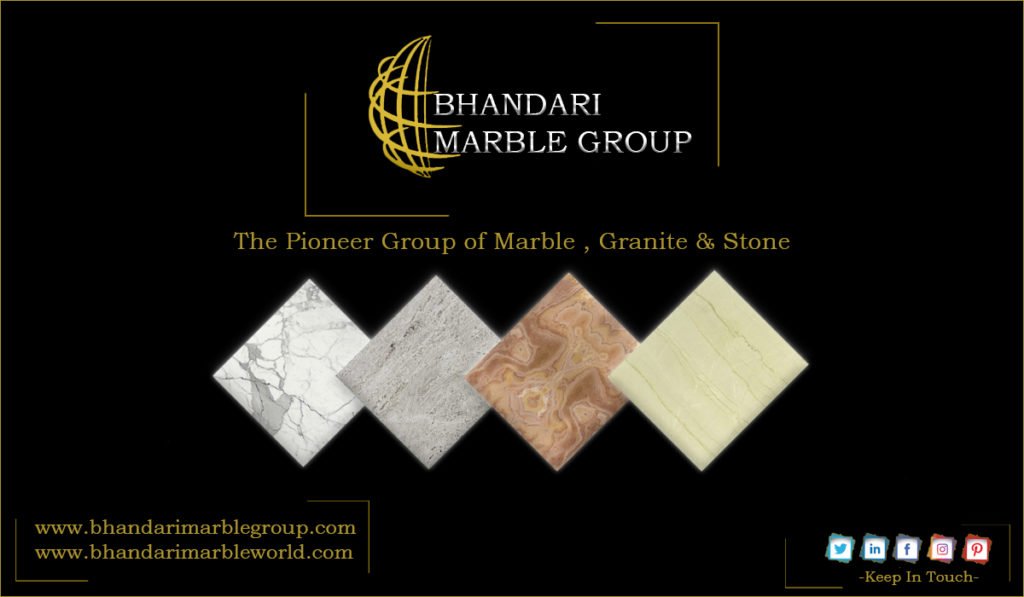 THIS ARTICLE WAS MOST RECENTLY REVISED BY EXPERTS AND EXPORTS TEAM OF BHANDARI MARBLE GROUP INDIA RAJASTHAN KISHANGARH 305801 CONTACT US +91 9829040013 +91 9672941111
MARBLE DIARIES……BY BHANDARI MARBLE GROUP