MARBLE-AND-GRANITE-THE-BEST-NATURAL-STONE-BY THE INFINITY LUXURIOUS IMPORTED MARBLE BY BHANDARI MARBLE GROUP INDIA 🇮🇳
When it comes to building materials, marble and granite are both very popular surfacing materials. But that doesn't stop the debate on marble vs granite from resurfacing every couple of days. After all, why should it not? Being naturally available stones that are available in affordable ranges, both marble and granite are great for interiors. But then, what must you choose?
Hence, to put an end to this debate, we at Bhandari Marble Group, decided to give you a comprehensive insight into both these materials; their differences with regards to strength, durability, cost, availability, and other parameters. Now that you're here, let's get you started on the marble and granite difference right away.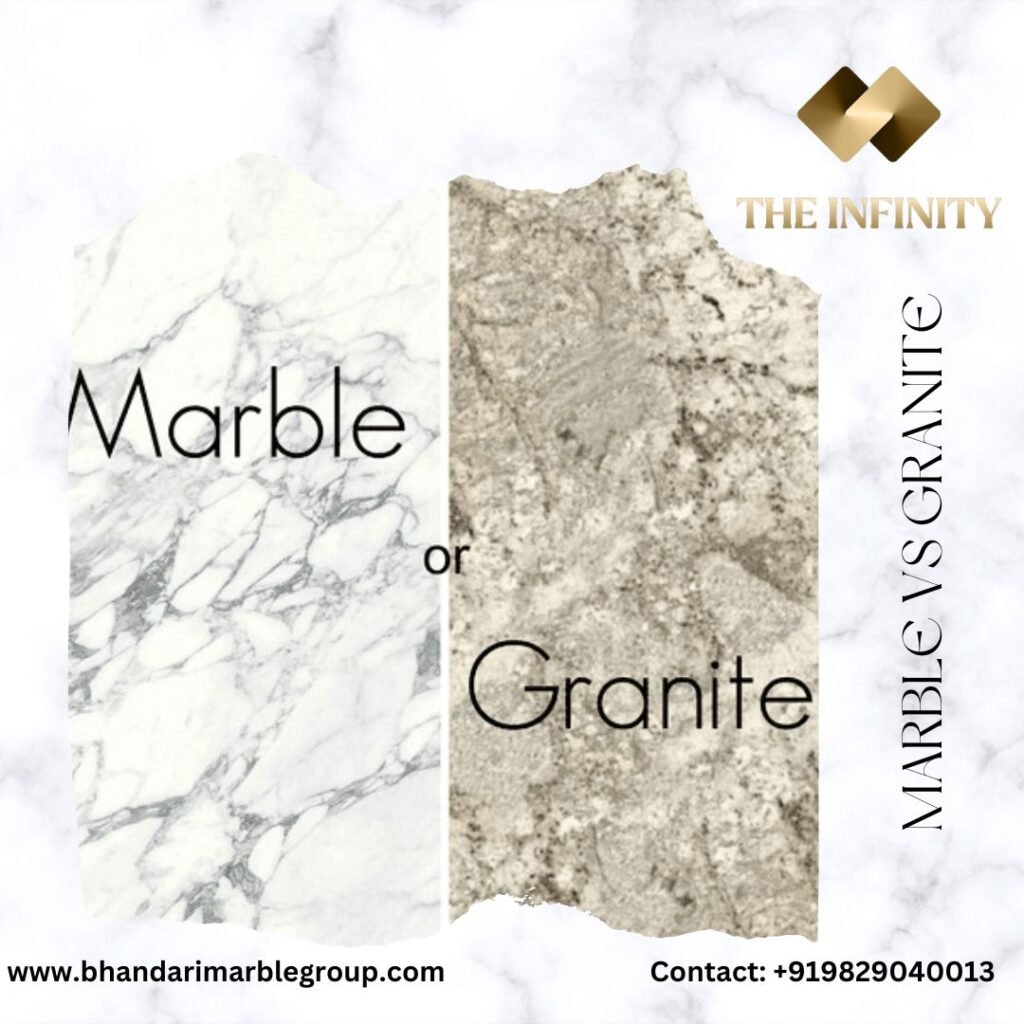 What's the Difference Between Marble and Granite?
Although marble and granite are both widely available stones, there are some crucial differences that set them apart from one another.
MARBLE VS GRANITE
Marble
Granite
Durablility
Durable; has a hardness of 3-5 on the Mohs scale
Highly durable; has a hardness of 6-7 on the Mohs scale
Acidic Resistance
No; marble is porous, so it's more prone to etching
Yes; granite has a high density
Porous
Yes; it's a soft metamorphic stone that requires sealing
No; it's not affected by water, but it's best to have it sealed
Cost
Affordable than granite; some varieties can cost more
Affordable; granite price can be ₹80-₹2200/sq.ft. depending on many factors
Damage by Strong Chemical Cleaning Liquids
Strong chemical cleaning liquids can cause damage and discolouration
Strong chemical cleaning liquids can wear away the sealant, and can cause discolouration
Stains
Prone to acquiring stains & spills due to high porosity
Not prone to stains; even acidic liquids don't permeate granite as long as it has a sealant barrier
Outdoors
Usage not recommended; but can be used with sealants
Can be used with or without sealants
Heat Resistance
Susceptible to heat damage; not recommended for kitchen countertops
Highly heat resistant; ideal for kitchen countertops
Scratch Resistance
Prone to getting scratches from common activities like cutting
Very hard stone; naturally scratch resistant
Maintenance
Might be better to polish and reseal twice a year
Low maintenance; might require polishing once every few years
Appearance
Has veins in a different colour; most popular colours include white, black, green and chocolate; available in light to medium shade
Can have freckles in a variety of colours or veins; every slab of granite is entirely unique and can come in black or solid colours; available in medium to dark shade
Properties
Crystalline rock which can get dull over time
Igneous rock which retains its shine
Used for
Flooring, pooja rooms, wall cladding, shower walls, vanities, tub decks; Recommended for usage in low footfall areas
Countertops, tabletops, flooring, outdoor landscaping, wall cladding; Recommended most for high footfall areas due to its strength
Origin
Metamorphosis of sedimentary rocks
Solidifcation and cooling of Magma
Environmentally-Friendly
Can last for many years; but carbon footprint is high for mining, transportation and installation
Can last for many years; but carbon footprint is high for mining, transportation and installation
Health Risks
Can emit carbon dioxide when exposed to heat
Pros & Cons of Marble
PROS
Marble can last very long, if maintained properly
It is unique and has a rare lustre, that gives it a sophisticated vibe
Plus, it is a 100% naturally occurring mineral that's widely available
Marble is affordable
CONS
Being a softer stone, marble can be vulnerable to nicks and cracks (if not sealed well)
Marble can be vulnerable to stains, hence not recommended for usage in kitchen countertops
Needs frequent sealing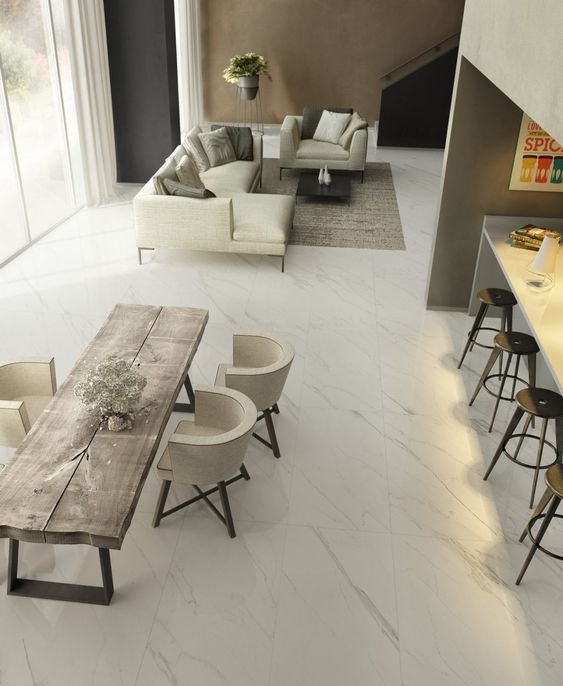 Pros & Cons of Granite
GRANITE PROS
Granite is great because it's heat-resistant and durable (ideal kitchen countertop material)
It's scratch-resistant with or without a sealant, so it is great for outdoor landscaping as well
Granite is also naturally stain-resistant. When sealed well, it's absolutely stain-proof
Incredibly versatile, safe and non-porous (so no room for moisture or bacteria)
It's very durable as well as aesthetically appealing
Affordable versions are available; though certain varieties can be expensive
CONS
Dark granite slabs aren't trending anymore
Can be susceptible to cracks, if not maintained well
As granite slabs have to be cut, they will show seams when used in L-shaped and U-shaped kitchen layouts
Marble vs Granite: The Battle of the Greats
When it comes to marble vs granite, there's no clear winner. As granite is naturally heat-resistant, stain-resistant and scratch-resistant, it happens to be the personal favourite of many designers. Others like marble for its lustre, easy availability and affordability. If you're looking for the right material, you can choose a mix of granite and marble for your home.
FAQs
1. Which Is Better: Marble or Granite?
Comparatively, granite is better than marble due to the former's non-porosity, natural stain-resistance and heat resistance. Marble and granite are both popular surfacing materials suited for different areas of the home.
2. Which Is Costly: Marble or Granite?
Marble and granite are both affordable, and they both have varieties which are expensive. However, marble is more affordable than granite sometimes.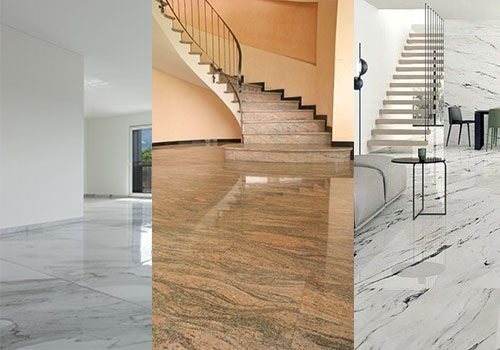 3. What Is the Difference Between Granite and Marble?
Granite is a harder rock than marble. It is also stain-resistant, heat-resistant and scratch resistant. Plus, it withstands exposure to water.
4. Which Is Good for Health: Marble or Granite?
Both marble and granite are considered safe. However, if you expose marble to acidic liquids, it can emit carbon dioxide, which is bad for health.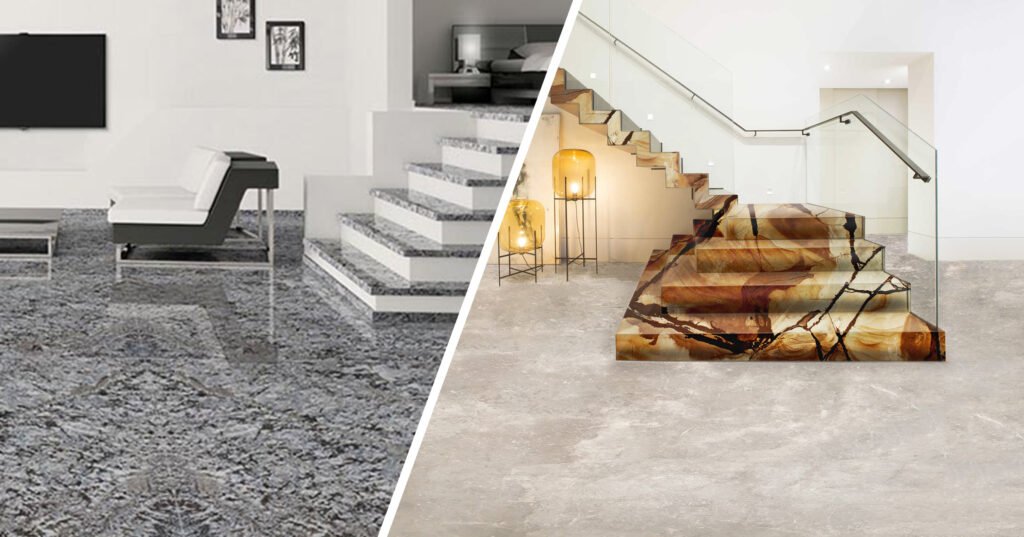 WORLD'S TOP AND INDIA'S BEST MARBLE, GRANITE AND STONE COMPANY
ADD BY EXPERT AND EXPORT TEAM OF BHANDARI MARBLE GROUP. CONTACT US ON: +919829040013
MARBLE-AND-GRANITE-THE-BEST-NATURAL-STONE-BY THE INFINITY LUXURIOUS IMPORTED MARBLE BY BHANDARI MARBLE GROUP INDIA 🇮🇳