IMPORTED, ITALIAN MARBLE BY BHANDARI MARBLE GROUP
Marble stone floor, elevation, and decoration play an important role in creating a unique ambiance and guest experiences while being crucial in defining a hotel's success. One of the most fundamental aspects that contribute to the process of enhancing hospitality design is the flooring, elevation, and decoration one of our favorite international hotels in terms of design is the JW Marriott in Jaipur, a hotel that has paid special attention to its flooring.
The designers have used varied and interesting sources such as reclaimed Banswara marble and Jaisalmer Yellow, encaustic tiles and herringbone parquet to create a varied flooring palette that delights. Obviously, in the hospitality segment, the design is increasingly focusing on flooring design as a way to enhance the guest experience.
Finest At Bhandari Marble World Imported Marble Supplier, Imported Granite Supplier, Imported Onyx Italian Importer In Kishangarh International Importer In Kishangarh Grey Emperador Bhandari Marble Group.

"The distance between you and your dream called action right, So take action now and choose the best for your dream home interior from only at Bhandari Marble Group."
Presenting Grey Emperador range for our precious customers and for their dream
Grey Emperador Marble adds a contemporary look to your commercial and residential projects. Suitable for flooring and cladding systems can be combined with dark grey colors and other forms of Stone Collection products such as mosaics, moldings, etc. brought to you by BHANDARI MARBLE GROUP at the very best price in India."
It adds a contemporary look to your commercial and residential projects. Suitable for flooring and cladding systems can be combined with dark grey colors and other forms of Stone Collection products such as mosaics, moldings, etc.
About the Author
Hi, I am D.C. Bhandari, chairman of Bhandari Marble Group living in India, Rajasthan, and Kishangarh. I love seeing the new and creative ways people use our Marble, Granite, and Natural Stone. Our customers are so creative. My favorite design style preppy traditional mix with modern especially pieces that can be found at a vintage or antique stone. I like to invent travel, search, and experiment with natural stone products. For more posts visit our website.
While the industry of surfaces is inundated with numerous options such as tiles, ceramics, and marbles, but look and finish of Natural stones are far ahead from other options and we go together Marble and stone for flooring, elevation, and decoration.
Architects and Interior designers
A decade ago they were favorite choices just for interior spaces. But they have now evolved as top contenders for exterior spaces too, thanks to various innovations in terms of design, material, texture, size, finishes, and colors that have kept the segment interesting. Materials such as marble, granite, and stone are no longer only decorative coverings; they also define the vividness and subtleness of space with their design, color, and finish. Market leaders and design professionals share their views about various aspects of the industry.
Architects and Interior designers
The materials that are on-trend Keeping up with market trends, marble, granite, and stone industry has come up with several latest products, which are not only technologically more advanced but also have an art element infused in them. There is a heightened demand for new-age floors, aesthetically appealing surfaces, natural stone tiles, and slabs.
Architects and Interior designers
"In India, marble flooring, both polish and finish is the norm. High-quality marble has found significance in five-star hotel projects. Italian marble is the norm for public spaces. Travertine marble also finds a place in areas of private spaces and outdoor elevation areas." Project was done by Bhandari Marble Group, India, Rajasthan, Kishangarh.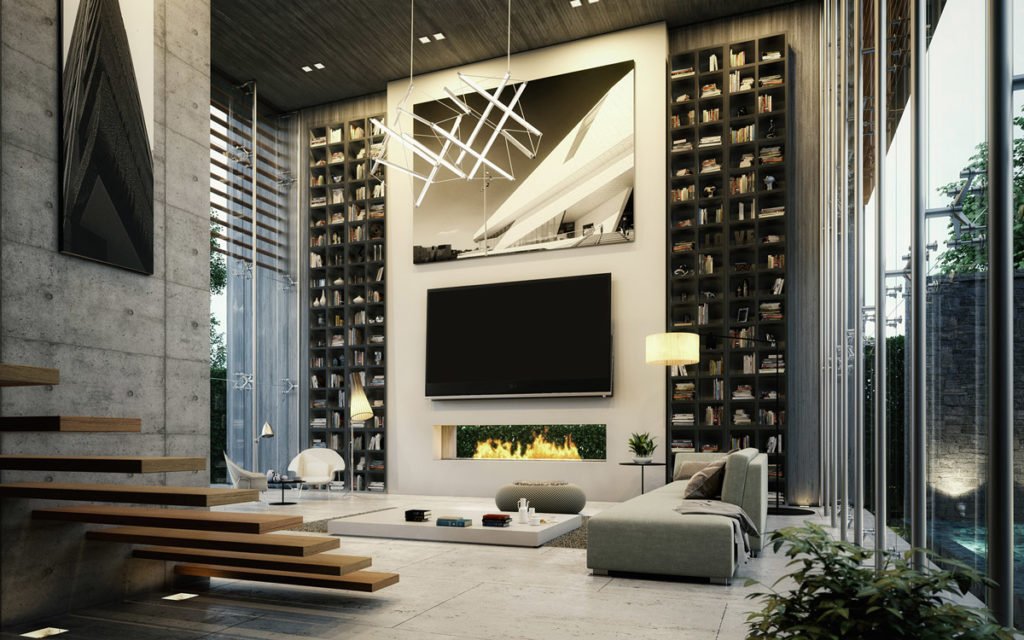 Architects and Interior designers
Commenting about the factors influencing the selection of flooring, "Today's popular choices for hotel flooring depend upon factors such as budgets, maintenance, durability, etc. Marble stone, because of its large size and flexible bodies, is practical, aesthetically pleasing, and stain-resistant. They are very durable and often inexpensive ways to stimulate the appearance of every budget marble floorings. In addition to the vast variety of colors, marble stone often have different grades of polishes, different finishes which include matt, polishes, honed, etc, which provide good aesthetics and help in safety too." Bhandari marble group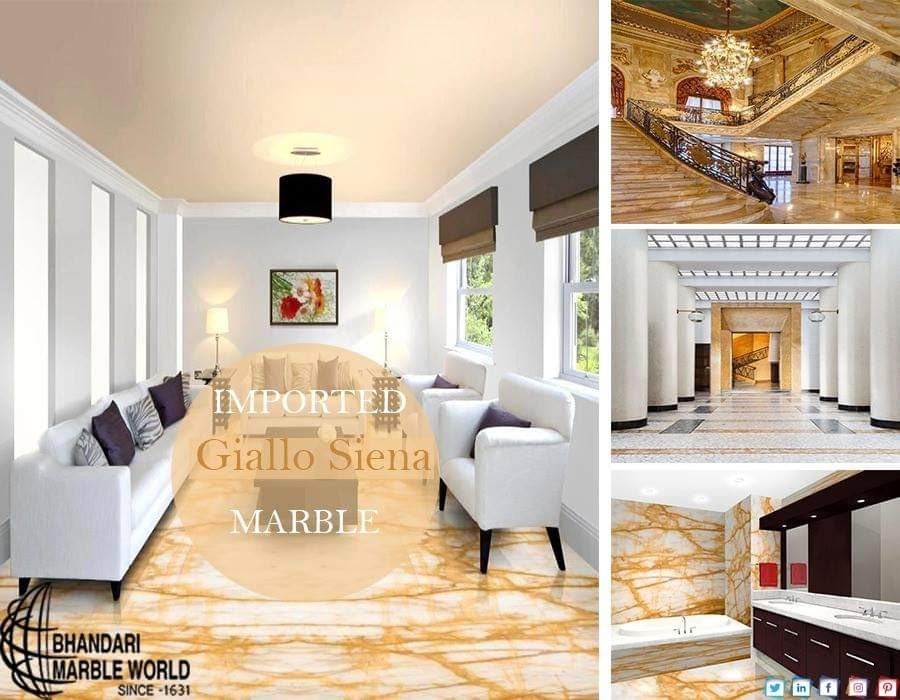 The other option for adding a new dimension in natural stones such as marble, granite Kotah, and Cuduppah. "Also gaining popularity are hard-stone floorings and premium marble floorings.
Architects and Interior designers
There is a trend of adding some special design element to each project with a strong emphasis on creating a wall and floor art. However, this has been accomplished through innovative ways, including water jet cut patterns, custom-made terrazzo with metal inserts, marble stone and also natural stones cut in different shapes and joined together to form patterns,"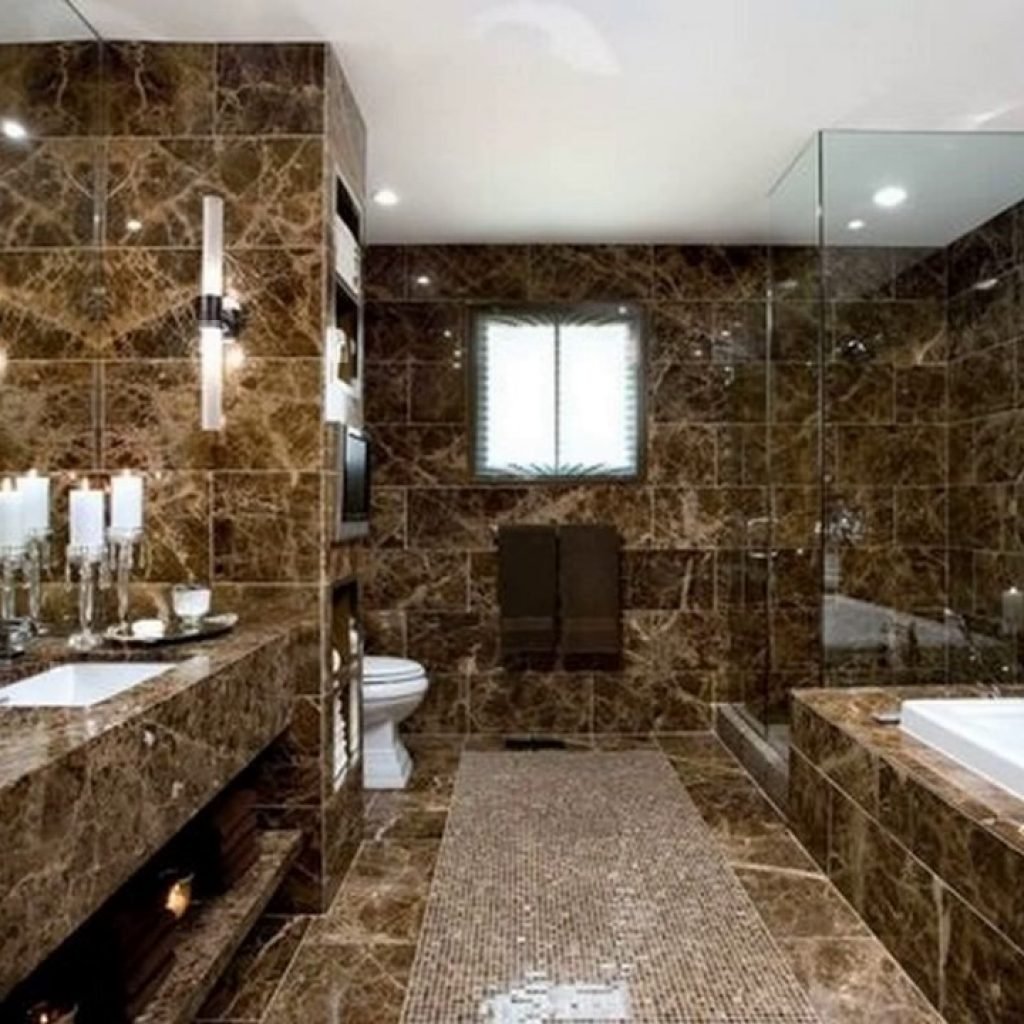 In order to cater to the growing demand for terrazzo flooring, recently Bhandari Marble Group introduced three new products— the Forum, Elba, and Trevi in their Kalinga Stone Terrazzo collection. "These products bring back the retro look and are very high in demand. Several hotels are installing the terrazzo range in flooring, stairs, and pillars. As a complementing edition to the terrazzo, we have also introduced the stone and Luce collection which shares designs with terrazzo, but is a translucent marble.
It allows light to pass through the marble and when installed in backlit applications, brings out the beauty of the embedded chips. The product is a popular countertop application such as bar counters in restaurants," says D.C. Bhandari, Chairman, At Bhandari Marble Group.
On the wall creates an aesthetically appealing bathroom. Taking the flooring solution to another level we advise fresh statuary marble and don't advise and filing or chemical treatment technology.
Architects and Interior designers
"This technology is meant to retain the sheen and life of our products for a longer period of time."
Texture and Finishes
There are several options of textures and finishes available to go with various décor patterns and designs. While the basic elements of flooring remain the same, a variety of finishes, thickness, durability, colors, textures, and sizes have been trending. We possess the ability to customize designs, sizes, and colors. It is a great pleasure to see materials like Marble, Granite, and stone increase the scope for exploring.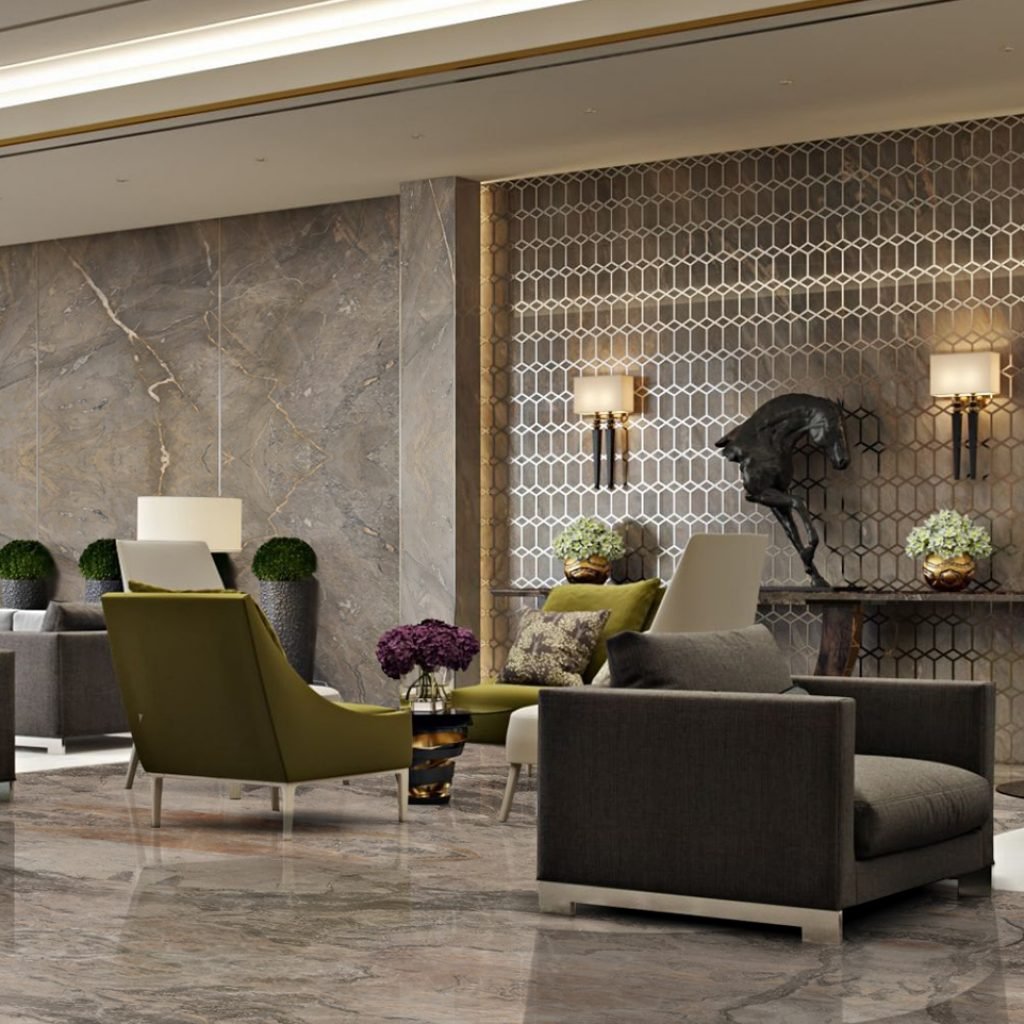 Architects and Interior designers
Simple patterns have gained prominence, with people's focus shifting towards minimalism rather than grandeur. An emerging trend in flooring design is the use of seamless joints between flooring options, using innovative fillers, or eliminating the use of one altogether says.
Architects and Interior designers
Italian marble collection is trending because of variations in colors, textures, and patterns they offer. In terms of finishes, hand-scraped for more natural lived-in kind of feel, mild brushed, medium brushed, smooth and glossy finishes are in vogue.
Architects and Interior designers
On the troubles is a successful trend. Colors such as whites, classics, and exotic hues of beige and off-white are trending.
Granites are popular for their artistic look and affordability. Polished and honed finished granite are also in vogue. Nature-inspired and geometric patterns, earth-color and textures, or marble tiles with a thickness matching international standards are also making their appearance in the commercial flooring industry,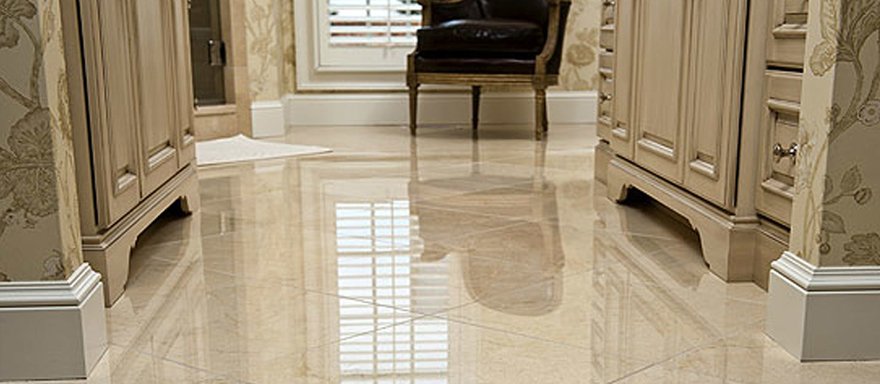 What Experts Say
The experts at Bhandari Marble Group pen down some of the key factors to look out for before choosing the right stone for your projects
In this article, you will see the similarity and differences between marble and granite. Both granite and marble are naturally found stone extracted from the earth. Also, both marble and granite have some similarities as well. Both marble and granite are natural stone and extracted after mining.
These both stone are long-lasting and have multiple uses such as wall cladding, flooring, countertops, vanity tops, and stairs.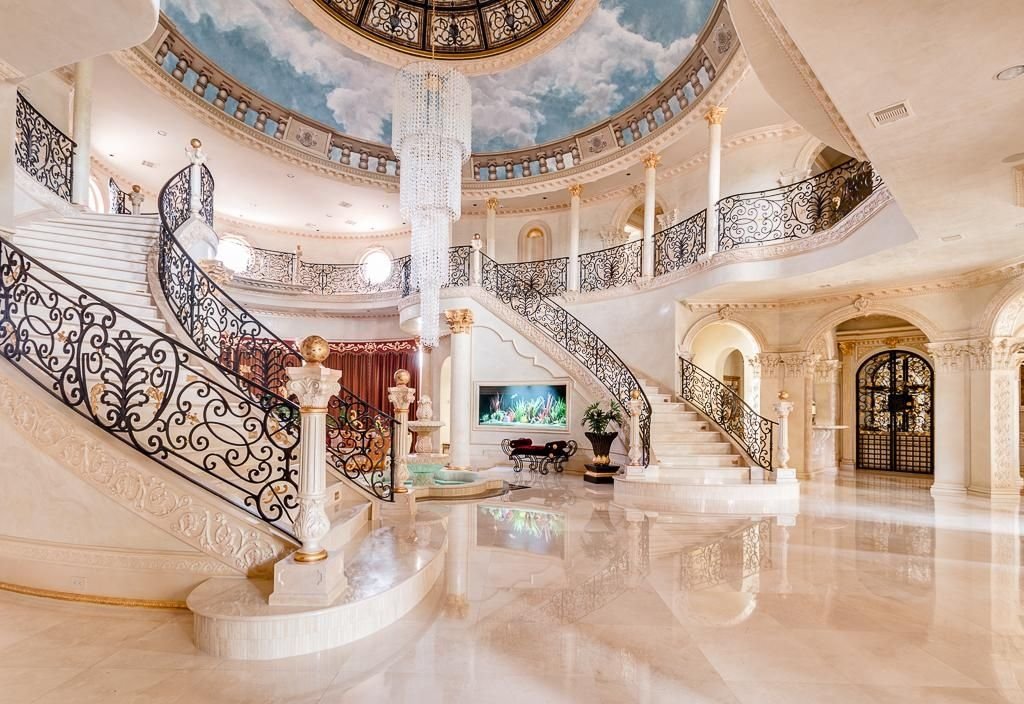 Marble and Granite:
Marble is a metamorphic rock comprising of recrystallized carbonate minerals like dolomite or calcite, whereas Granite is fundamentally an igneous rock, which has approximately 65% of alumina and 20% of silica. Since granite is harder than marble, it's also more resistant.
These characteristics make granite the most used in kitchen countertops or laundry rooms because it is known for resistant to scratches and stains which are caused by using sharp knives. It has been in use for centuries for both indoor and outdoor applications.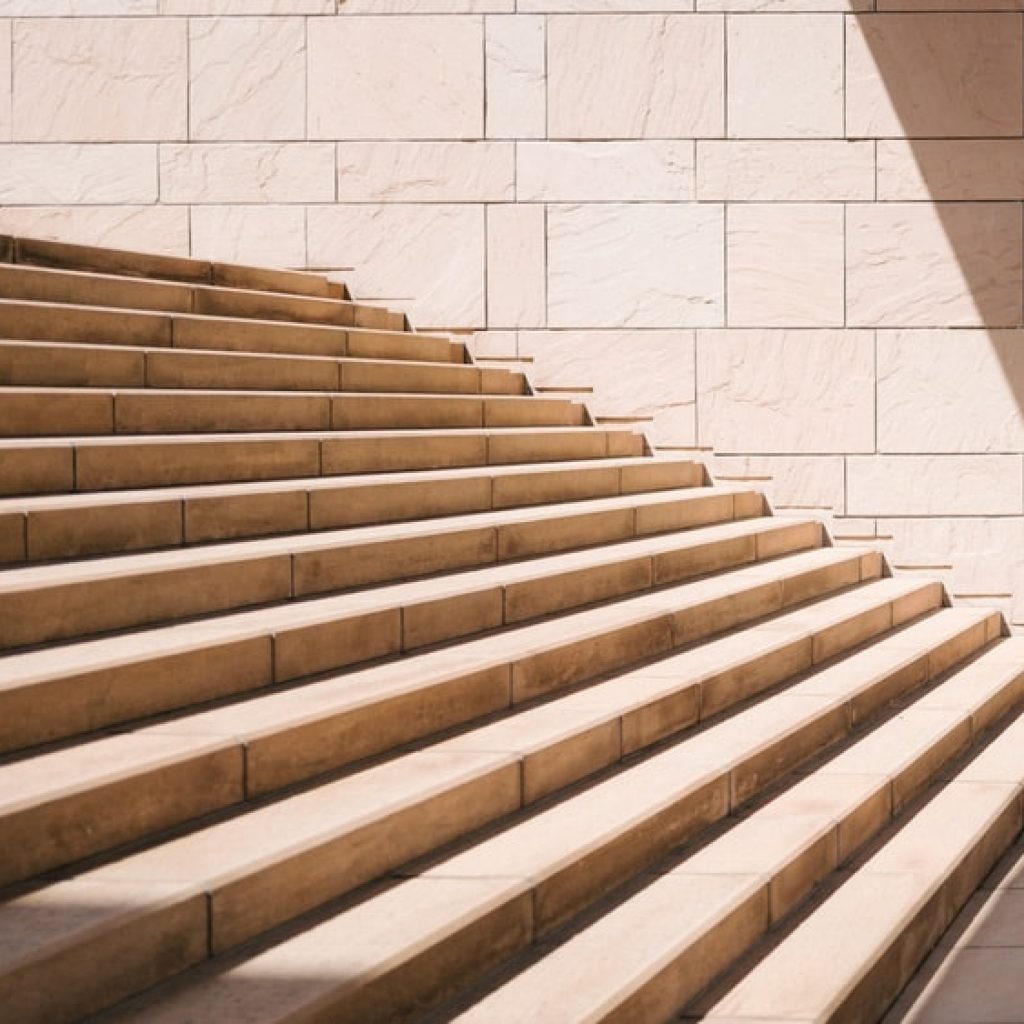 The hardness of Marble & Granite:
– Granite is a harder and stronger stone as compared to marble. It is mostly known as the most durable and harder natural stone due to its composition. That is the reason it is resistant to heat, stain and can easily withstand hot cookware, therefore, it is perfect for kitchen tops and countertops.
– It is preferred for the public place due to its high durability and hardness than marble. But in the case of marble, the stains cannot be removed easily a marble has no way of getting its shine back. Marble is a soft stone due to its composition.
– It is less durable as compare to granite stone which makes it useful for private places like home and offices because of the less amount of flow of People. For this reason, granite is often found in public places, kitchens while marble is more commonly found in other areas, like bathrooms, indoor areas, and outdoor areas.
– Reactivity to Acidic substance: Marble and Granite Both natural stones are porous but the metamorphic composition of marble makes it more porous than granite which makes it easily stained by spills acidic liquids like lemon juices and wines.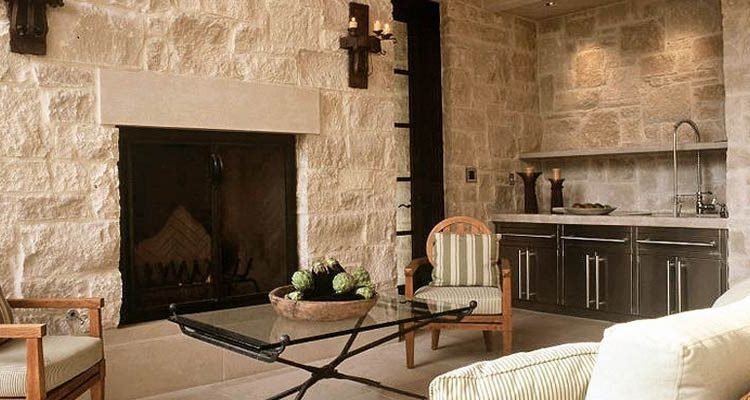 – While granite is much more resistant towards stains as long as an effective sealant is maintained on the surface liquid spills will not permeate into the surface.
The appearance of Stone:
Marble and granite are varying from each other in terms of appearance. Granite is found in polished appearance while marble has unpolished appurtenance.
However, with certain polishing sealants, modern granite can be made to look much glossier than marble, on the other hand, it has a grayish or Marble has a cream color with veins on its background. Granite has consistent color and variations while marble has slight color variations.
Granite variations generally found as flecking throughout the stone on the other Marble color variations found as colorful veins that swirl throughout the stone.
Major Application Areas:
Granite's hard to structure and durability makes it perfect for kitchen countertops, worktops, and floors while marble is preferred for the areas with less traffic, like a home, office where it can be used for tub decks, shower walls, vanities, and flooring.
Many homeowners prefer the look of natural stone while choosing countertops for the kitchen or bathroom, which offers high durability. Granite is one of the famous and most popular countertop materials and the perfect choice for modern or traditional houses.
On the other hand, marble is a classic choice that offers unique and endless look for high-end homes and is perfect for surfaces that are used less frequently.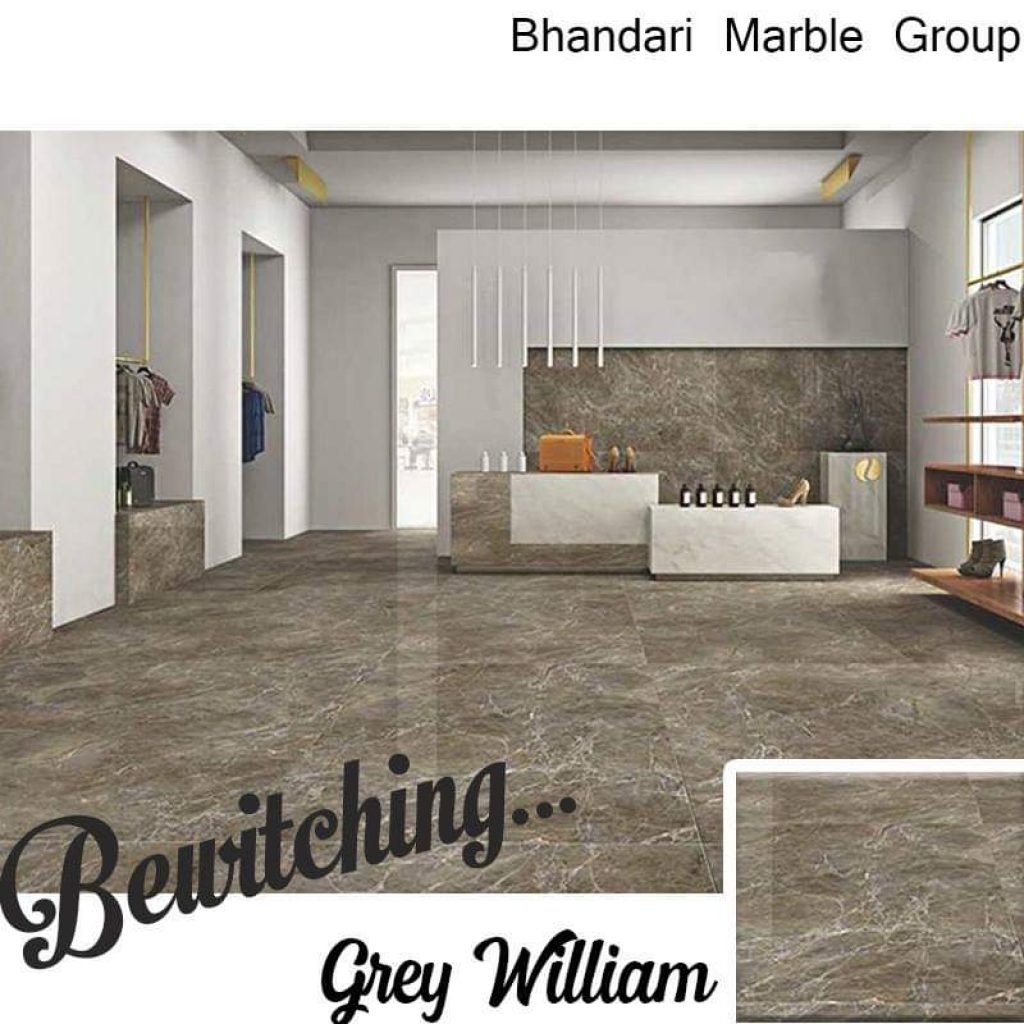 The durability of Material:
In terms of durability Granite is the most durable natural countertop material due to its composition and it is the best-known material for resisting stain, cracks, and chips well. When you put Hotpots on the granite countertop, you wipe away easily.
Marble is also a very strong and durable stone. It is resistant to damage but it is much more porous than granite, therefore, Placing hot cookware on marble may cause damage to the stone, and acidic foods or liquids, like vinegar or lemon or lime juice, stains cannot be removed from marble.
However, both materials are long-lasting and remain beautiful for years in the home. So it's important to pick the correct material for the space to ensure that damage doesn't occur.
Maintenance of Stone:
Marble requires more maintenance than granite while granite requires less maintenance once in a year as marble surface requires more sealants for cleaning to avoid damaging the porous stone.
By using a cleaning sealant, you can avoid discoloring the marble. So it is suggested to seal the marble up once or twice a year and in the case of granite, it can be done about once every two years.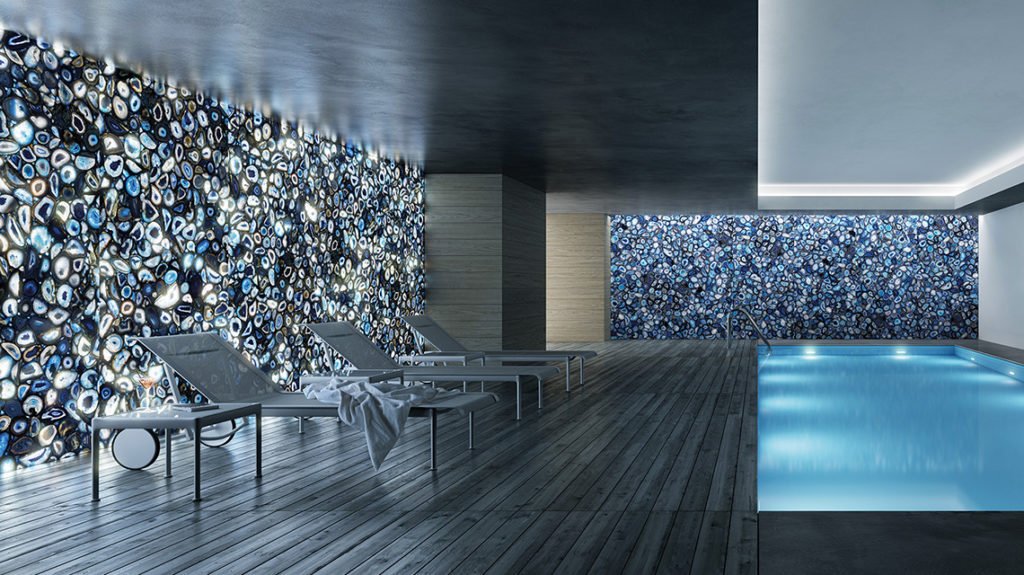 Cost of Marble & Granite:
Granite costs around 60rs to 500rs per square foot, including the cost of installation. Marble cost 25 rs to 300rs per square foot. Costs vary according to color and general appearance.
Conclusion:
We hope the guide on the difference between marble and granite is useful for you now. Marble and Granite both have their own characteristics. It completely depends on the space where you are going to install this stone
CALACATTA MARBLE, CALACATTA WHITE MARBLE, ITALIAN MARBLE
Marble is a metamorphic rock composed of recrystallized carbonate minerals, most commonly calcite or dolomite. Marble is typically not foliated, although there are exceptions. In geology, the term "marble" refers to metamorphosed limestone, but its use in stonemasonry more broadly encompasses unmetamorphosed limestone.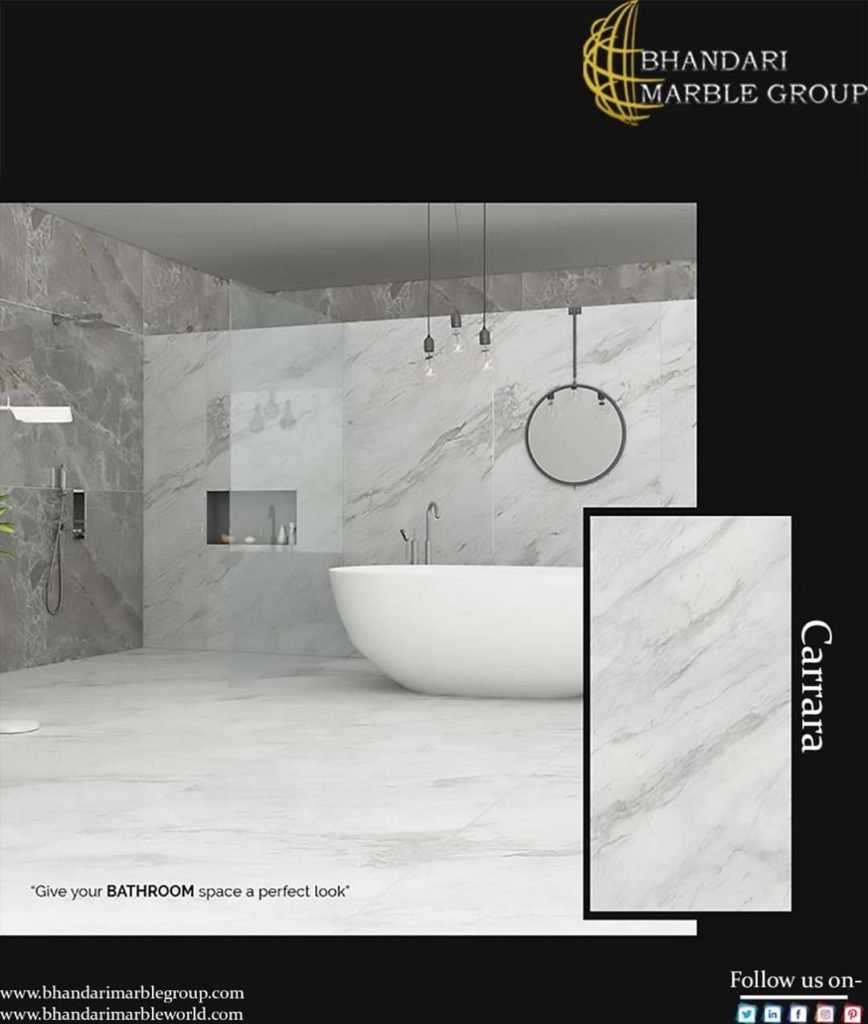 Marble has always been known as an expensive rock, only available to the rich and wealthy. Historically, it was a highly preferred and desired material by the Greeks and Romans for both sculpting and creating architectural marvels. It eventually became a symbol of culture, tradition, and royalty.
Marble comes in different colors, patterns, and types, thus making it a popular decorative material among the masses. It happens to be the top choice of anyone wanting to renovate his or her interior or even exterior. It adds a touch of both class and elegance to the aesthetics of any space.
Calacatta Marble
Starting with the most popular of them all, Calacatta marble is considered the most Luxurious marble type primarily because of its rarity. This rock is frequently mistaken for the Carrara marble owing to the striking similarities in the color and veining of these two types of marbles.
It is even quarried from the same area in Italy as the Carrara marble. However, there are a few distinct differences that can help set the two types of marbles apart. For example, Calacatta marble is known to have a dark and thick veining pattern and is of bright white color. Carrara, on the contrary, is also white in color but has an intricate grey veining pattern. Calacatta marble is at the top of the marble hierarchy because of its rarity.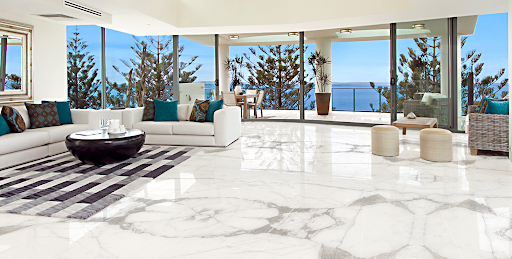 Calacatta Gold Marble
Calacatta Gold is a subcategory of the Calacatta marble type. It is considered to be the epitome of grandiose and splendor. This marble kind is visually stunning and best suited for aristocrats. The veining of this marble is golden, hence the name Calacatta gold.
Calacatta Michelangelo Marble
Another subcategory of Calacatta marble is the Calacatta Michelangelo marble, it has delicate, gray veining usually against a regular white background. Calacatta Michelangelo is usually preferred in Minimalist design schemes.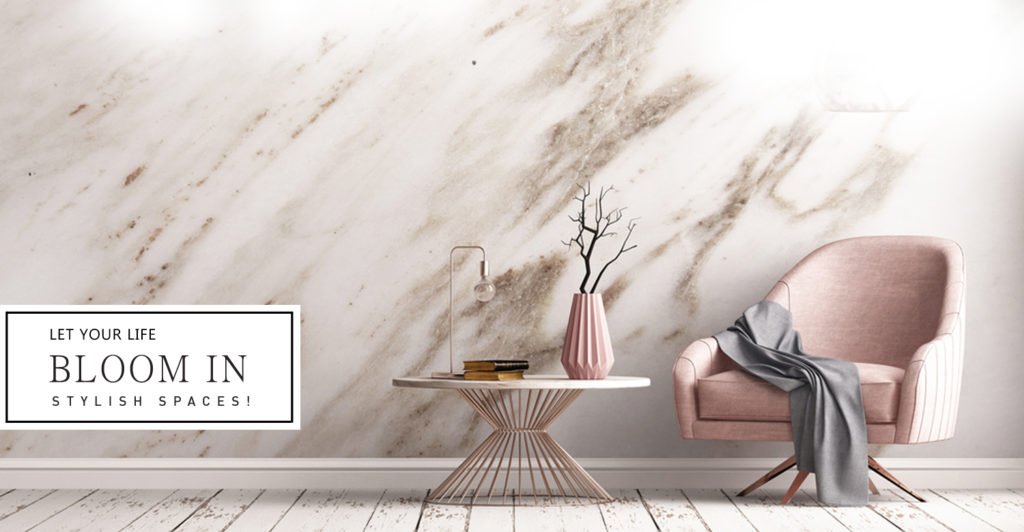 Calacatta Borghini Marble
Calacatta Borghini is a marble type with a unique, thick, grey veining pattern with sporadic undertones of gold against a consistent white background.
Calacatta Crestola Tedeschi 1
This subtype of the Calacatta marble has more of a neutral tone, with most of these being off-white with dark (typically brown or black) veins running throughout the marble. This marble subtype of Calacatta is strikingly similar to Tedeschi 1, except that the markings and veins within this marble are darker.
Calacatta Grey
This marble subtype is named after its grayish-white marble, and the subtle, light- brown veining.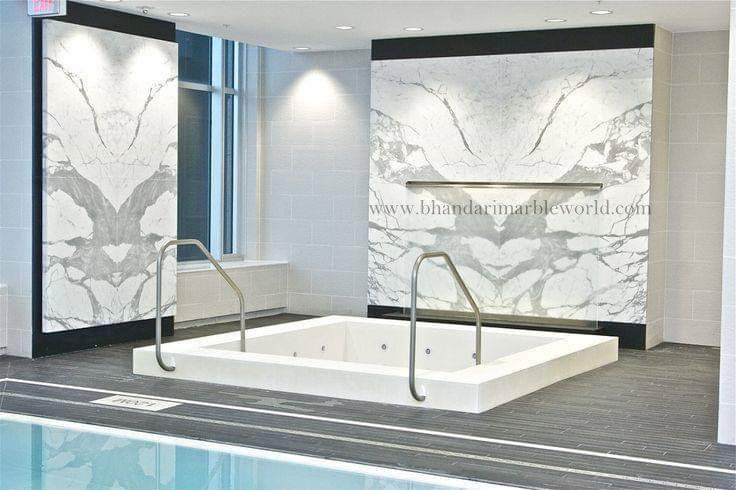 Calacatta Oro
This marble of a whitish-beige shade and consists of medium-brown veining throughout the marble.
Calacatta Vagli
This marble subcategory has a unique appearance, with its medium-brown toned background and large, lightly shaded spots that are sporadically spattered all over the marble.
Calacatta Vagli Rosata
The Calacatta Vagli Rosata marble comes in two shades, brown and off-white, and is splattered with splotches of dark brown and black colors.
Silver-Beige Marble
Talathello or silver-beige marble is the kind of rock that has deposits of varying shades of silver and beige veining in its structure against a light grey background.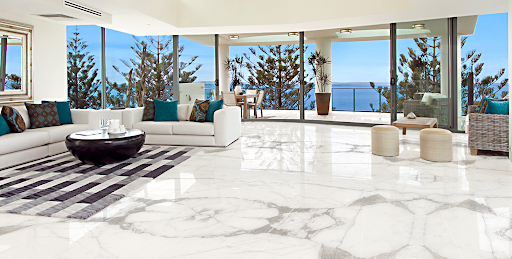 The Bhandari Marble Group Luxurious Marble
Marble has its own type of appeal to anybody that loves it. The stone can have a homey type of appearance with a natural look or it can have that Bhandari Marble Group studio quality that many are looking for. If you love a natural stone this type of stone would work well in your home, villa, hotel, and projects.
When it comes to selecting flooring, Elevation, Decoration, and countertops, classic white marble remain the top choice for many homes, Villa, Hotel, and Projects. It's no surprise that marble is so popular—the material has been attracting fans from centuries, a natural material with a great variety, depending on which species you select and how it's cut. It creates a really lovely natural pattern, which you don't get with a lot of artificial materials.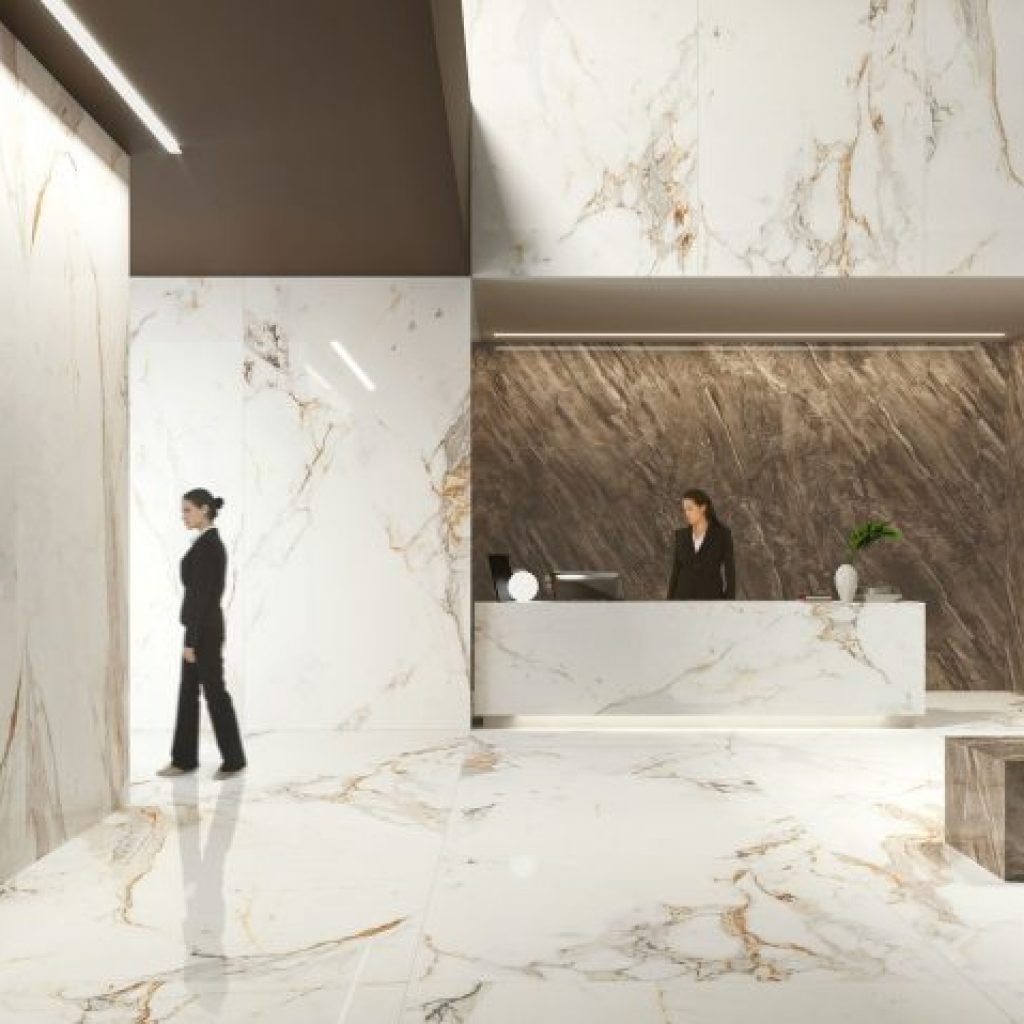 You won't find anything as white in nature as white marble, King Sahnjaha the great emperor who made the Taj Mahal. You just don't get that color and kind of figuring in any other type of natural stone.
But it's not a perfect product. While good-quality marbles, such as the world-famous products from Kishangarh, India, Carrara, Italy, are dense and relatively nonporous which makes them durable and stain-resistant.
A nonfoliated metamorphic rock, marble is generally composed of calcium carbonate or magnesium carbonate; they can be a beautiful, functional choice for your design that lasts a lifetime.
Types of Marble
Although many people automatically think of creamy, white stone when they think of marble, there are hundreds of varieties, says Architects and Interior designers including types that are taupe, green, gold, red, and black.

Bhandari Marble Group
We put a thousand caveats on any dark marble or nonwhite marble being used for kitchen countertops.
While classic Makrana white & Italian white marble-like Calacatta and Statuario are generally excellent quality and a great idea for flooring, Elevation, Decoration, and Countertop.
How to Select Marble Slabs
Every stone slab is slightly different, so it's ideal to select the exact pieces of marble stone that will be used for your home, villa, hotel and project flooring, elevation, decoration, and countertops. There's an art to marble—selecting the slabs and understanding where the veining is going to be located on the flooring elevation, decoration, and countertop, you want to artfully place the markings so that it's almost like a dream.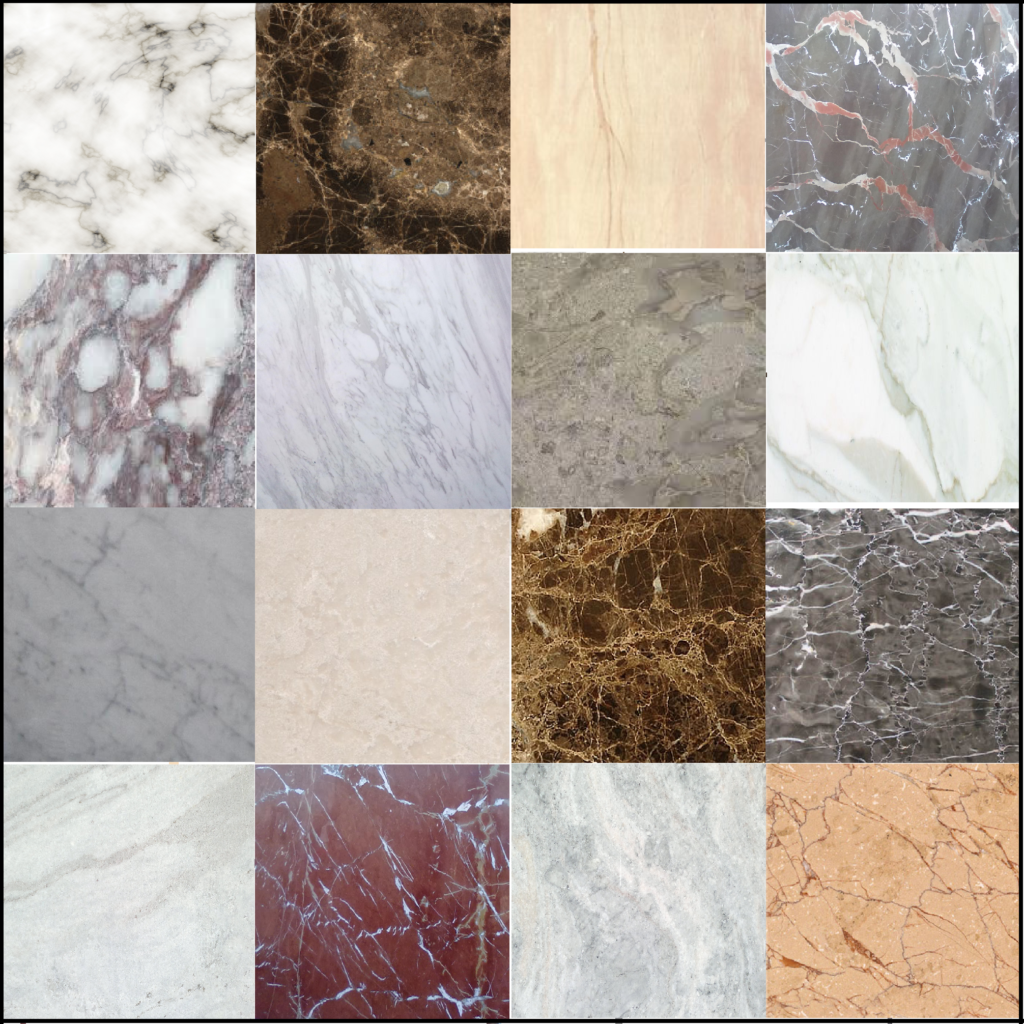 Veining in Marble
Every quarry is different, but it's possible to cut certain types of marble blocks two different ways to achieve unique veining patterns. Crosscut, or fleuri cut, results in stone slabs with an open flowered pattern, which looks fairly random and is ideal for book-matching. Vein cut, the block the other way to achieve a linear, striped appearance.
Marble Finishes
The whole stone industry has been going through a massive wave of technology, and it's transforming the product, which might be called a leather, brushed, or river-wash finish. Most popular choices remain polished, which looks glossy, or honed, which appears matte. For home, villa, hotel, and Projects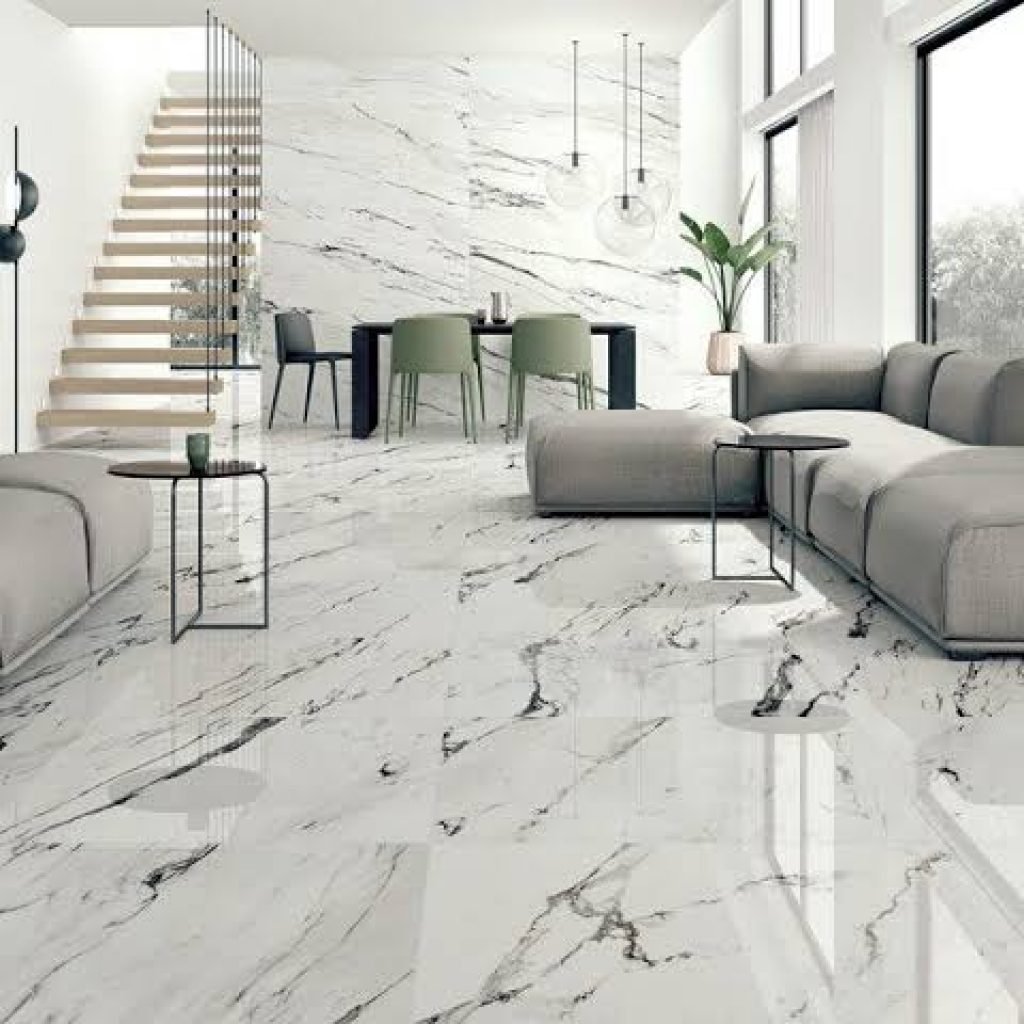 The good marble is that you can always sand it down or polish it again, with a lot of other materials, once you damage it, you can't do that.
CONTACT US
Feel free to contact us:
Mobile no: +91-9672941111
Mobile no: +91-9116341111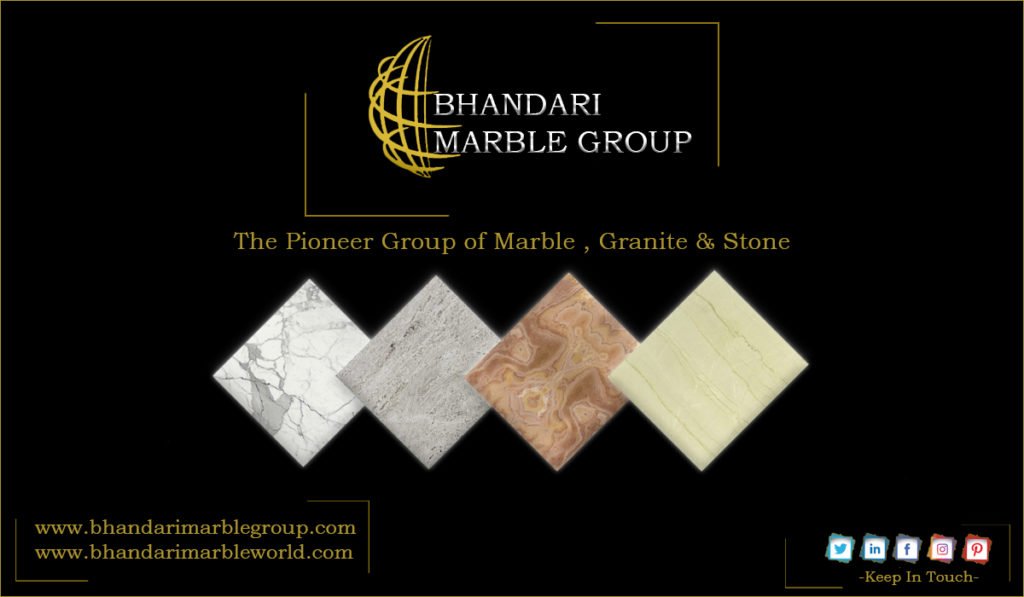 Mail us: bhandarimarblegroup@gmail.com/bhandarimarbleworld@gmail.com
Enquire now & get 7% off on all products!
Architects and Interior designers
IMPORTED, ITALIAN MARBLE BY BHANDARI MARBLE GROUP