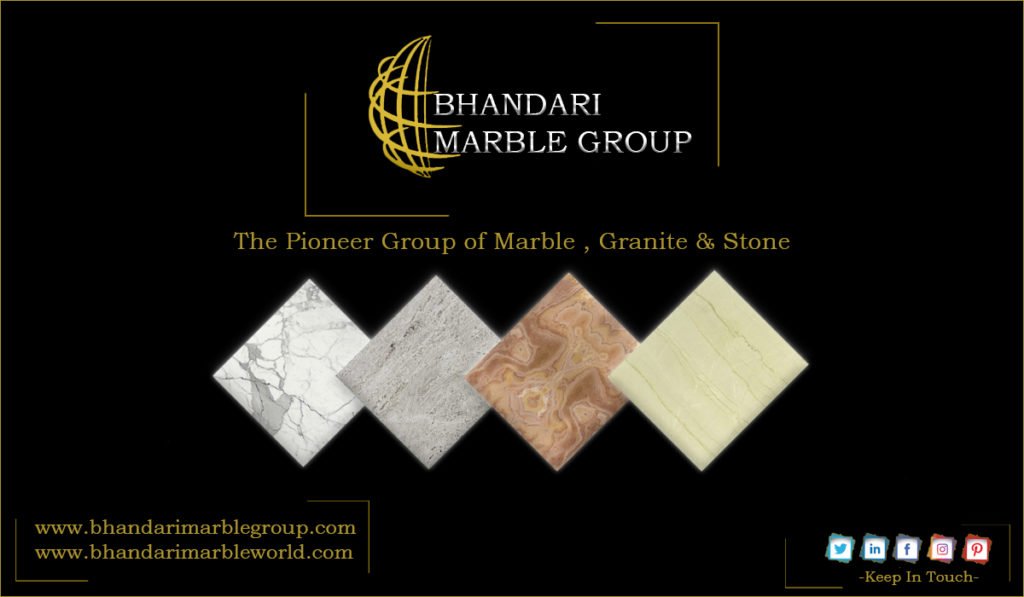 BLOG – 9
Granite in India
India has varieties of granite in over 500 shades. As of 2020, Granite reserves in India was approx 45000 million cubic meters and ranked 2nd in export of the processed product. Resources are found in Rajasthan, Madhya Pradesh, Odisha, Tamil Nadu, Karnataka, Jharkhand, Chhattisgarh, Telangana, and Andhra Pradesh.
Granite is a natural stone that is famous for its beauty and strength. With more than 500 colors, India is known to produce the hardest and strongest granite. In India, granite is categorized as North Indian Granite and South Indian Granite. There are several granite quarries located in different parts of India and thus they have distinct colors too.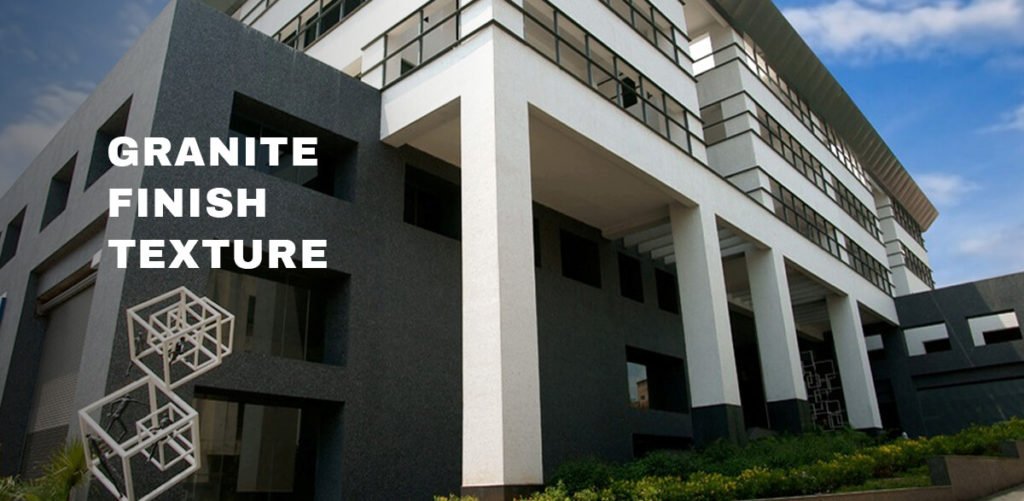 The hardness of Granite is comparatively harder and stronger than marble. It is mostly known as the most durable natural stone and compared to marble. It is resistant to heat and can easily withstand hot cookware therefore it is perfect for kitchen tops. The offered granite is ideally available in tiles and slabs for kitchen countertops, wall cladding, flooring, and tabletops.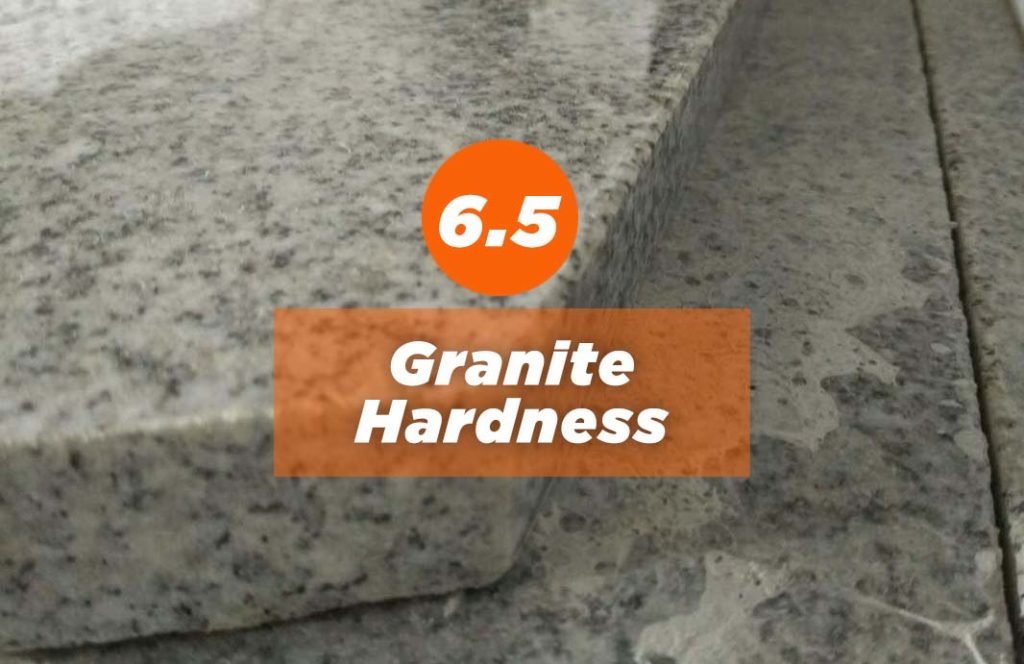 Granite is an igneous rock, which means it was once molten and formed as it cooled deep within the earth. The minerals contained in granite usually appear as small flecks throughout the stone. Marble, on the other hand, was once limestone that changed due to intense heat and pressure. We also offer granite in various finishes such as mirror-polish, honed, flamed, leather or satin.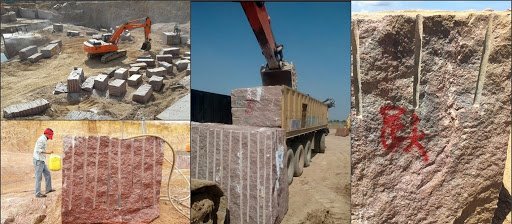 Granite countertops are the heart of every modern kitchen. We at Bhandari Marble Group, spoil you with choice by offering polished sheets of stone that can be used for kitchen countertops, tabletops, and wall cladding.
We prestigious invite you to involve in the majestic collection of stones that are inspired by the beauty of nature. Come indulge in the luxurious collections of hand-picked Granite, Marble, Sandstone, Limestone, Artifacts, Cobble Pebble, and Engineered Stone. We take you closer to nature with our wide range of stones that do not lose their aesthetic beauty forever!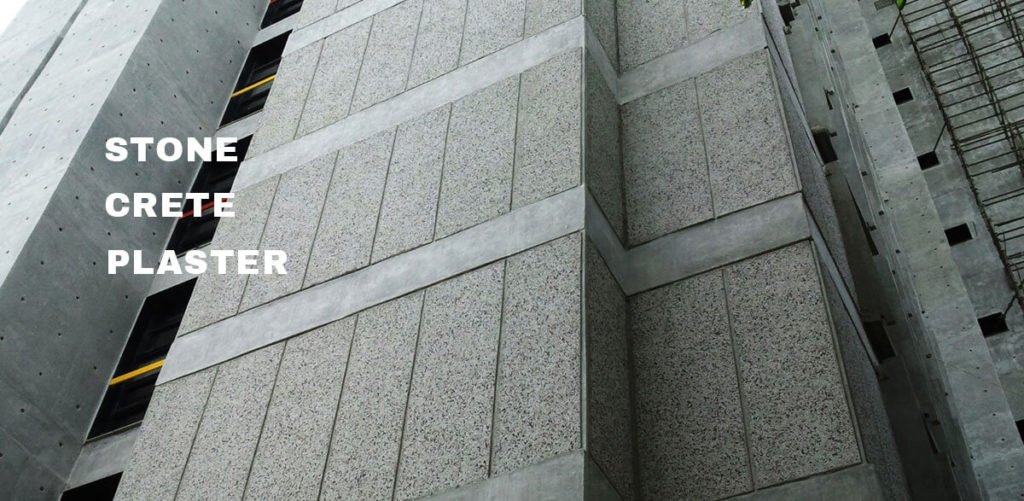 Granite is a natural stone that is quarried in many countries around the globe. Granite and Quartzite are the names that are used interchangeably wherever stone tile and slabs are sold.
– True Granite is a porous, igneous rock that has any number of chemical compositions that include a quartz base.
– Quartzite is a metamorphic rock that has a higher percentage of quartz in its chemical makeup than granite does.
For the record, true quartzite is harder than true granite. But, don't get too caught up in the name of the stone because regardless of which it is, geologically speaking, it has the same purpose and durability.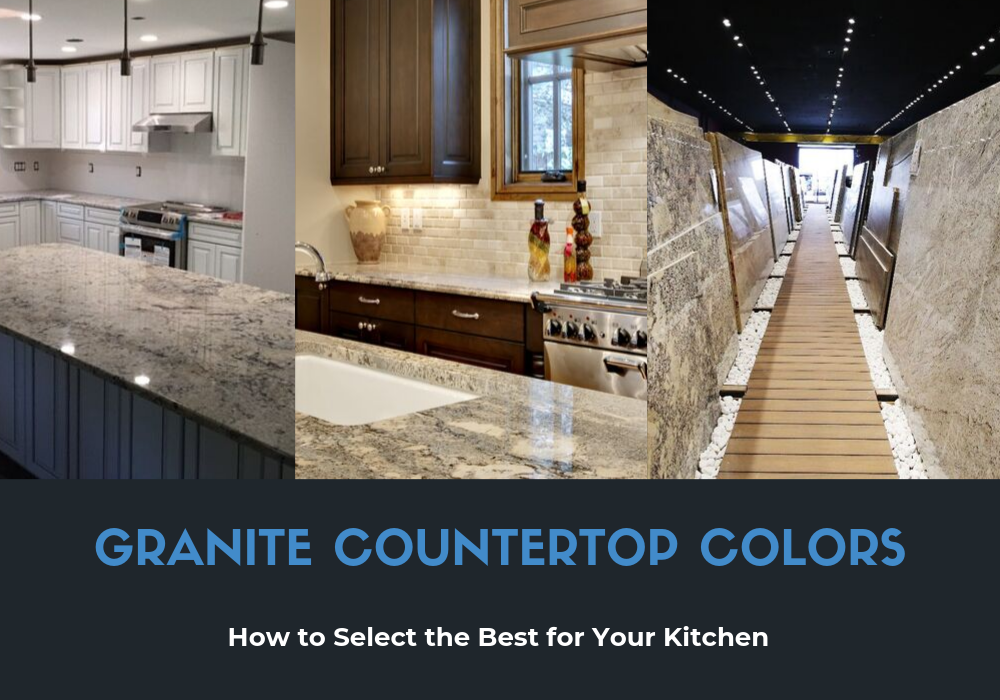 White Granite is harder to find than black or brown granite. All granite gets its name from the background color. Some white granite slabs have veins similar to marble while others may have a spattering of freckles in either brown, grey, black or red and may include a sprinkling of blue throughout.
Bhandari marble group's classic granite products are available in all colors, all shapes, and finishing. Granite for all projects and other stones are also available. We deal in Granite which includes tiles, floor designs, flooring, images, India, prices, statues, suppliers, stones, etc.

Best Granite in India
India produces 500+ different types of granite. There is almost every color of granite available in India. The best granite in India is based on demand, pattern, uniformity, and availability. India and Brazil export the best quality Granite across the world.  High-Grade Granite: It is the finest quality stone that comes from India and Brazil. This stone stuns all with rare colors, patterns, and veins.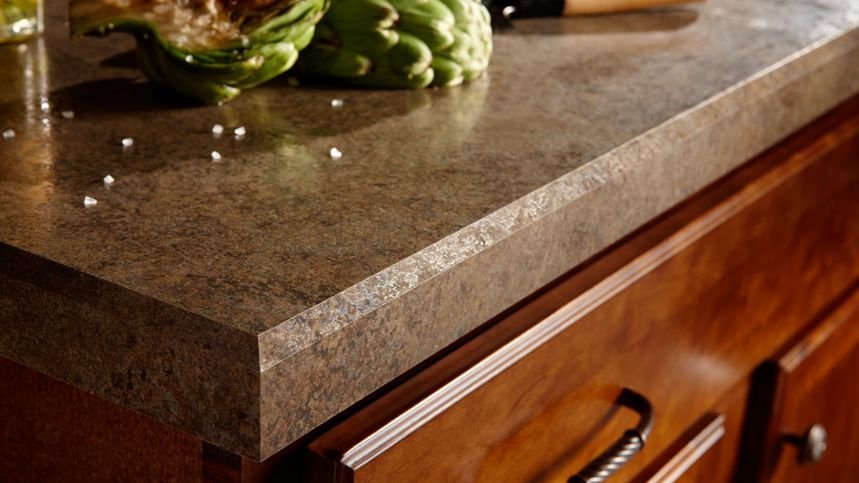 BHANDARI MARBLE GROUP INDIA RAJASTHAN KISHANGARH
Absolute Black
River White
Fantasy Brown
Alaska White
Black Galaxy
Tan Brown
Kashmir White
Steel Grey
Colonial White
Imperial Red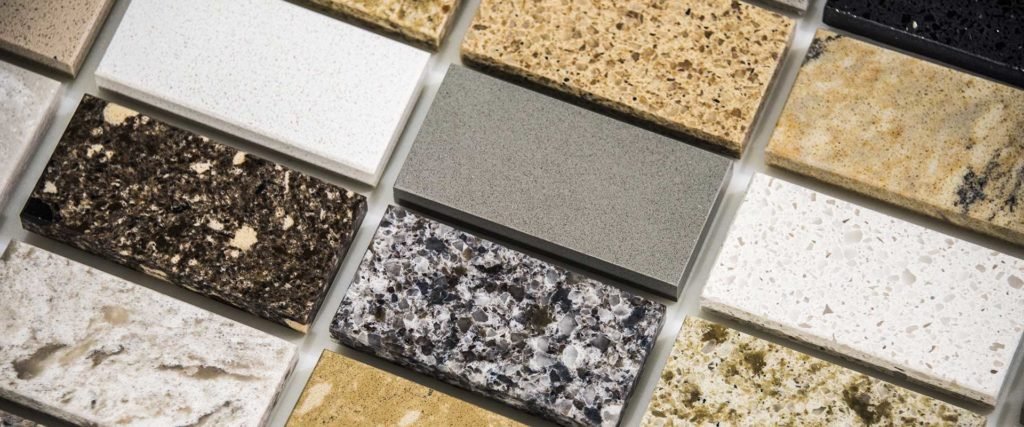 Absolute Black
This solid black granite is popular all over the world. This is the best Black Granite available in India. There is no specific market, where it is more or less popular. The consistency of this granite is very high. This is uniform granite, mostly used for Kitchen Countertops and Memorials. You can buy this dark granite in slab and tiles form. We also make wholesale Kitchen countertops and memorials in this granite. This is the best granite in India.

River White
River White granite has a white/grayish background with waves and veins of white and grey color. This granite is a popular choice for flooring and Kitchen Countertops. This is medium to high variation material. This is the best white granite in availability and pattern. You can order for floor slabs and floor tiles of this granite.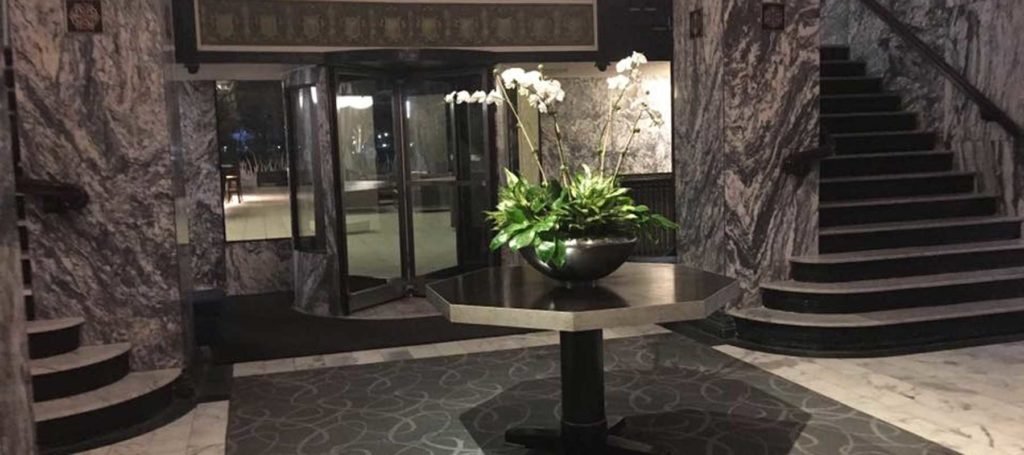 Fantasy Brown
Also called Fantasy Brown Marble, this granite has earned a reputation of being a solid kitchen material. This is particularly popular in the US, Canada, and the Italian market. Fantasy Brown Granite is an ideal choice for Kitchen Countertops and indoor flooring. Fantasy Brown is a medium to high variation granite. This is the best light brown granite available.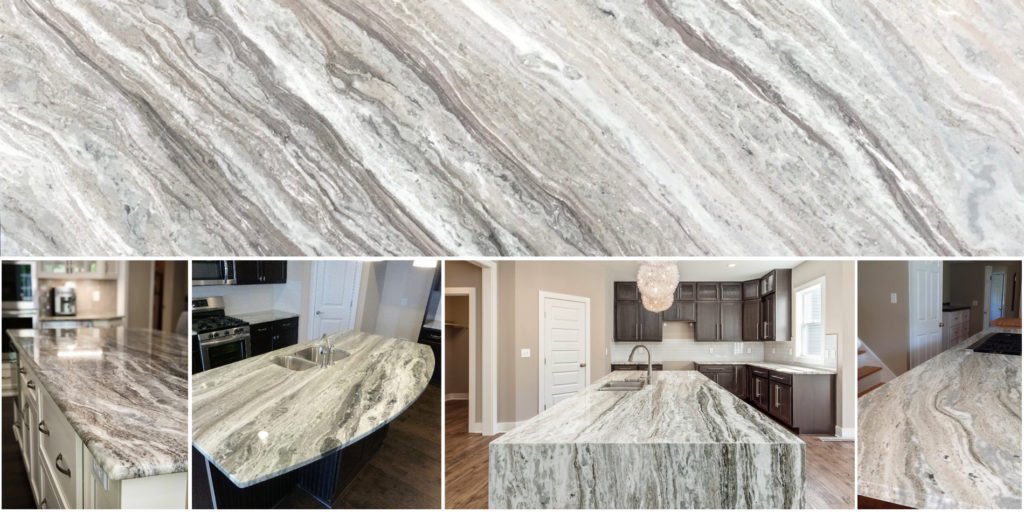 Alaska White
The Alaska White Granite is also one of the best white granite available in India. This granite is a very good choice for making Kitchen Countertops and this is very popular in the US market. The pattern of this granite is so unique and amazing. This is available in slabs and kitchen tops size with different thickness and cut sizes.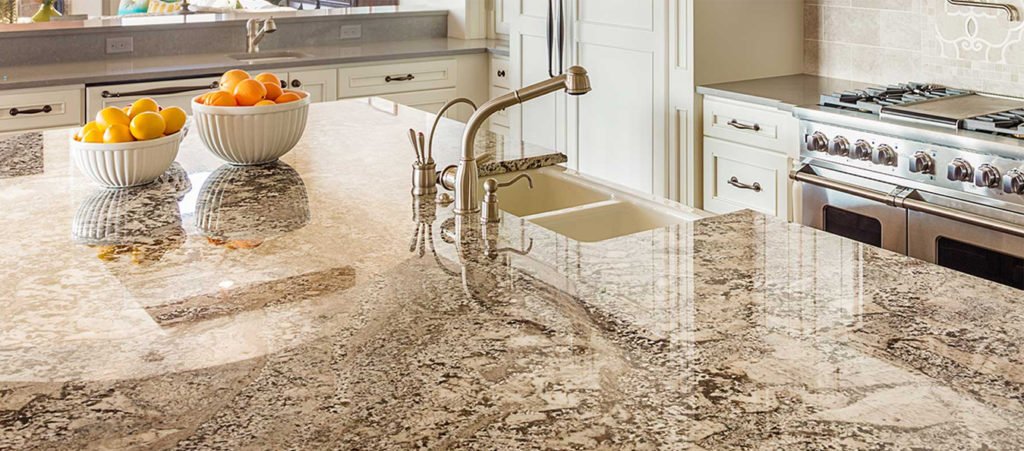 Black Galaxy
Black Galaxy granite is one of the most exported granite from India. This is the best black granite after absolute black granite. In many countries of GCC and North Africa, this is even more popular than the absolute black granite. This is used for flooring and Kitchen Countertops. The Pattern is a dark black background with copper, silver, and golden specks.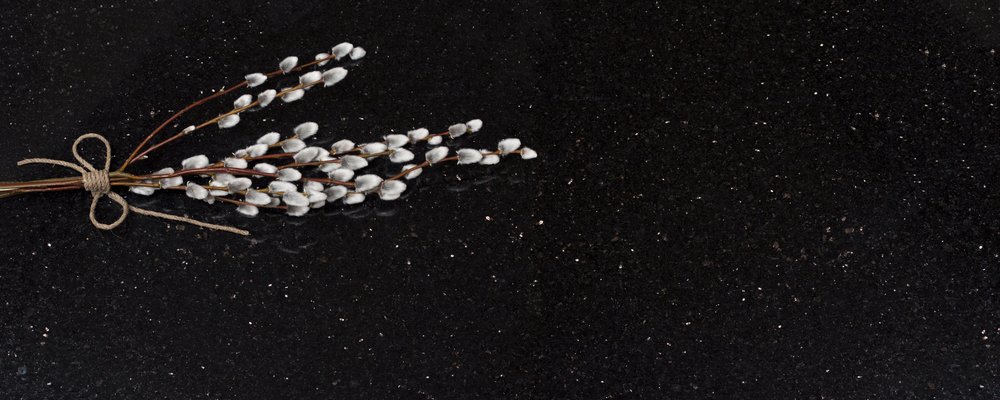 Tan Brown
Tan Brown granite is perhaps the best brown granite available in India. This granite has a tan and brown color background with a lighter shed box type pattern. This granite is very much popular throughout the world. This is mostly sold in slabs and tiles form. You can use this beautiful brown granite in Kitchen, Flooring, and outdoor wall elevation.
Kashmir White
Beautiful white granite with grey sheds and brown veins. The Kashmir White Granite has earned a very good reputation for being the most popular Indian Granite. This granite is available in slabs and tiles. You can make counters and flooring with this beautiful white granite. This granite has been used in very large projects such as Airports, Shopping Malls, and residential complexes all over the world.

Steel Grey
Steel Grey or sometimes called Silver Pearl Granite is strong and beautiful granite from India. This granite is cheap in price, yet the quality of this granite is superb. This is mainly used in flooring and Kitchen Countertops. The Steel Grey Granite is sold in slabs and tiles. You can use it in Flooring, Kitchen, wall cladding, and big size projects. This is one of the most popular granites in India.
Colonial White
The White is premium white granite from India. You can use colonial white granite in Kitchen Countertops. The beautiful white background of this granite allows fabricators to use it in different types of counters. This is available in small and big size slabs. You can buy this granite in slabs and tiles form.
Imperial Red Granite
The Red is blood-red granite with small lighter shed flowers. This is such beautiful red granite available from India. You can use this granite in Kitchen, flooring, wall cladding, and memorials for beloved ones. New Imperial Red is available in different sizes and thicknesses. You can buy small slabs, big slabs and cut to size tiles in this granite. You can also get flamed and polished finishing on this granite.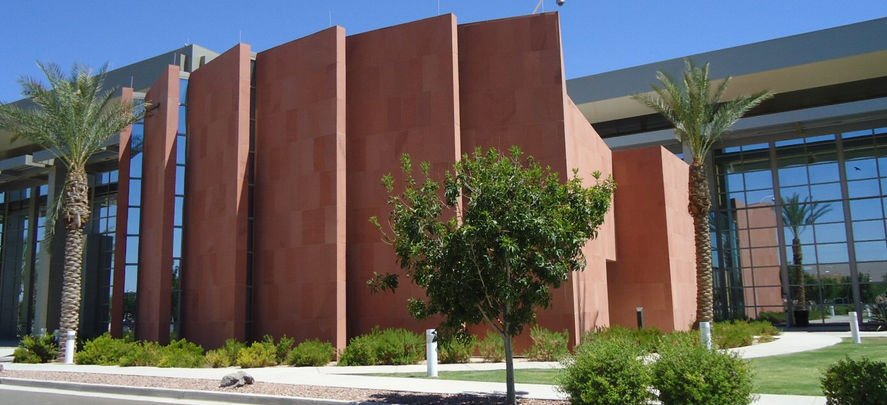 Apart from these granites, there are several beautiful Indian Granite available such as Red Multicolor, Paradiso, etc. The list is as per the global choice and quality. All these materials are available inconsistency quality with excellent finishing. You can buy these granite colors from India, from us. We manufacture and wholesale this granite.
Granite is a hard, Granular, indigenous, and crystalline rock mainly consisting of the minerals mica, quartz, and Feldspar. It is widely used for the Budding Construction. It can be used for both interior and exterior. It Consists of quartz and feldspar.
Granite Price
Rajasthan Black Granite
Rs 70/square feet
Galaxy Granite
Rs 200/square feet
Black Pearl Granite
Rs 750/square feet
R. Black Granite Leather Finish
Rs 150/square feet
South Black Granite
Rs 150/square feet
Green Granite
Rs 150/square feet
Rajasthan Black Granite
Rs 75/square feet
Cotton White Granite
Rs 60/square feet
Pearl White Granite
Rs 200/square feet
White Galaxy Granite
Rs 155/square feet
Applications of Granite
Granite is a preferred building material for modern architecture because of its physical properties. It can be used for multipurpose applications. It is commonly being for both exterior and interior. It is primarily used for Countertop in kitchen and Bathrooms. It can be also used for flooring and wall decoration.

It has rich color and texture variety that it is the hardest and artistic construction material. Due to the fact that granite can be cleaned easily, it is the most useful and hygienic material to use in exterior and interior spaces. Polished granite surfaces are also used for the Engineering works. This hardstone is also used for the memorials and Sculpture.
Features of Granite
Granite is popular in the world of building construction because of its texture, color, hardness, and durability. All types have common Granular texture. These come in various colors like white, Grey, Black, Green, and many other colors, it cannot be without texture and pattern on it. After chiseling and polishing it can be used for commercial purposes.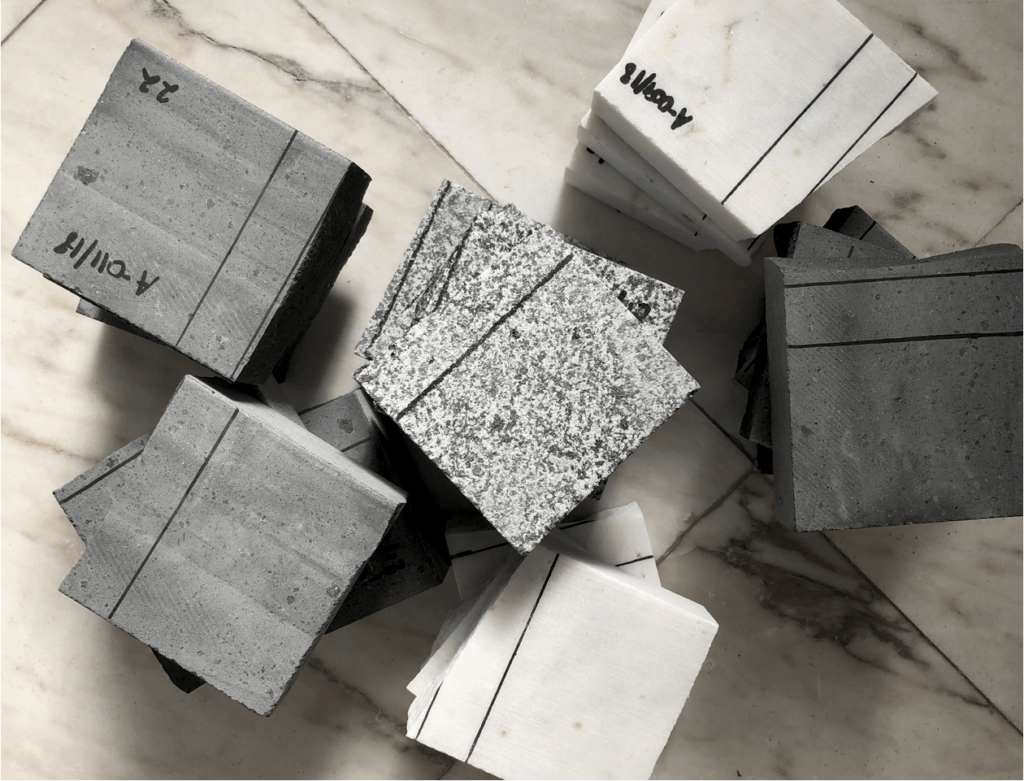 Color of Granite:
The chemical composition of Granite usually provides Red, Pink, grey, White, Black, and another dark color. Granite Colors of this stone also depends on the reason of origin of rock and Participating Granular element in it.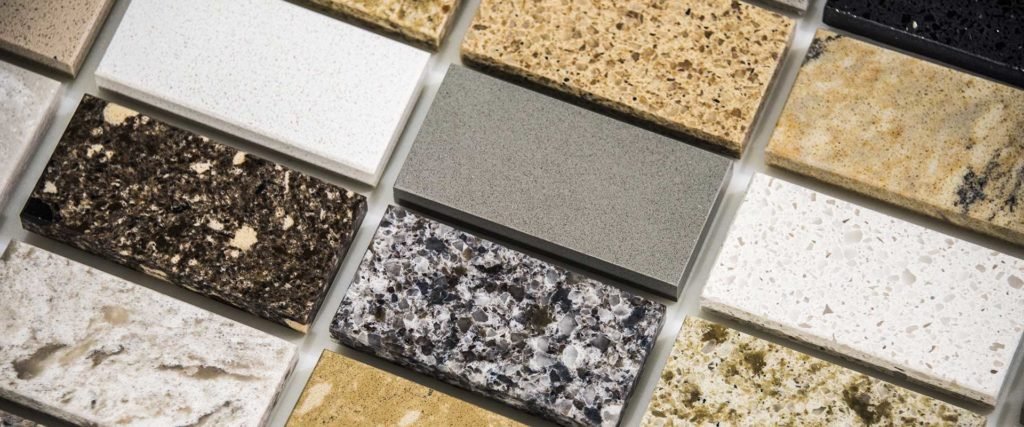 Add by expert and export team of BHANDARI MARBLE GROUP INDIA RAJASTHAN KISHANGARH
GRANITE IN INDIA, BY BHANDARI MARBLE GROUP INDIA RAJASTHAN KISHANGARH