AN INLAY WORK IN MARBLE
ALL ABOUT AN INLAY WORK IN MARBLE – STONE COLOUR, DESIGN, USES, PRICE, SIZE, THICKNESS
BY D.C.BHANDARI CHAIRMAN
BHANDARI MARBLE GROUP INDIA
INLAY-WORK
The inlay work in marble or marble with semi-precious stone or Marble stone lot of different design and uses, calcite or aragonite deposited from cold-water solutions in caves and crevices and around the exits of springs from long time in the Mother Earth with expertise of man cut and set other colors semi-precious stones. We can say either marble or onyx and decorative stone are mix match for Luxurious look and feel make it eye catching look and timeless beauty.
Inlay in the white Marble with colored stone precious or limestone makes visual arts, decorative technique used to create an ornamental masterpiece with rangoli design, flower and other pattern, or scene by inserting or setting into a shallow or depressed ground or surface a material of a different stone color or type. Inlay techniques are used in Taj mahal, Temples enamelwork, furniture decoration, surfaces, and every most important place of home, villa, Temple, hotel lobbies and other important places.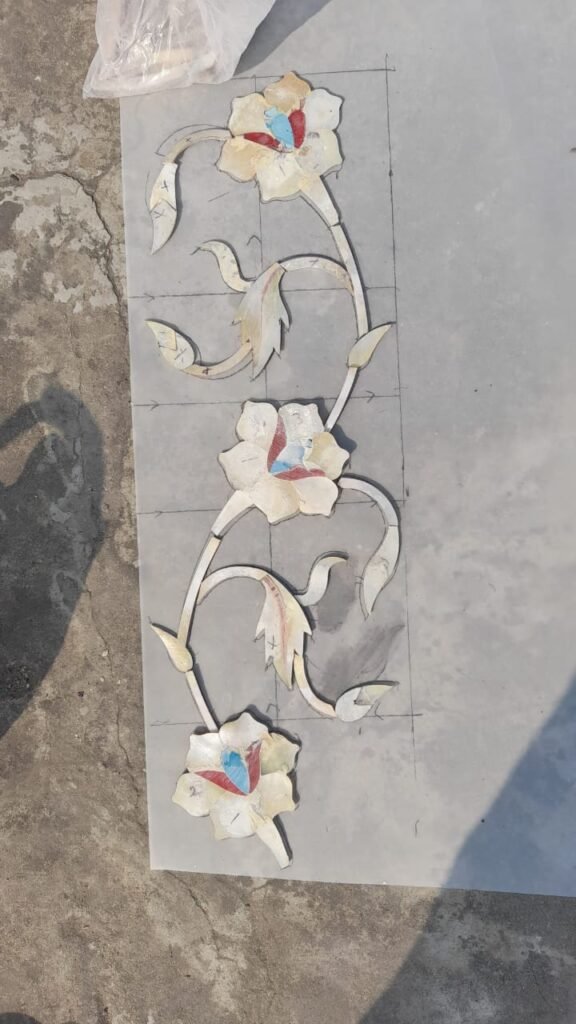 MARBLE-INLAY-WORK – CARRIED OUT IN BHANDARI MARBLE GROUP IN INDIA
This Inlay work are done on Marble is mainly carried out in Bhandari Marble Group in India, Rajasthan, Kishangarh where the former is noted for its Inlay work on table tops, flooring, and all wall decorative and latter is known for its Parchin Kari work done by us from Taj mahal to modern home, villa, hotel and Temples.
Marble-inlay inlay flooring basically decorating pattern which has been made by our expert team marble with precious , semi-precious, mother of pearl, indian stones to design marble flooring in Mandir, Memorials, houses, buildings, commercial complex, offices, bungalow, hotels, restaurants, Malls, Towers, Showrooms and places.
An-inlay, the space is filled with a single, solid piece that is usually fabricated in a lab and they are typically made out of a material like gold or precious stone with attractive colors and designs by our most experienced technicians.
Inlay-white-marble-with-color-stone or colored stones inlaid in white or black marbles, and inlays of precious metals in a base metal matrix are other forms of inlay done in many historical monuments by us.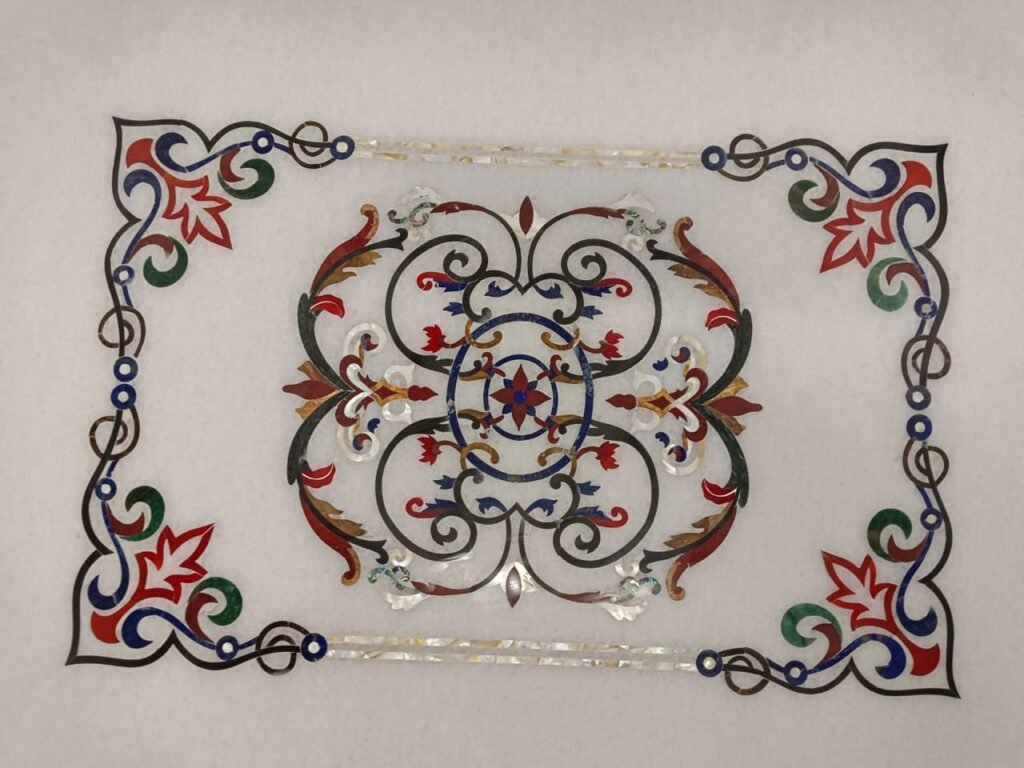 For more details about Inlay work in marble feel free to contact us:
Bhandari Marble Group India, Rajasthan, Kishangarh.
Contact and whatsapp number:
+919829040013
Mail id:
bhandarimarblegroup@gmail.com
Website:
www.bhandarimarblegroup.com