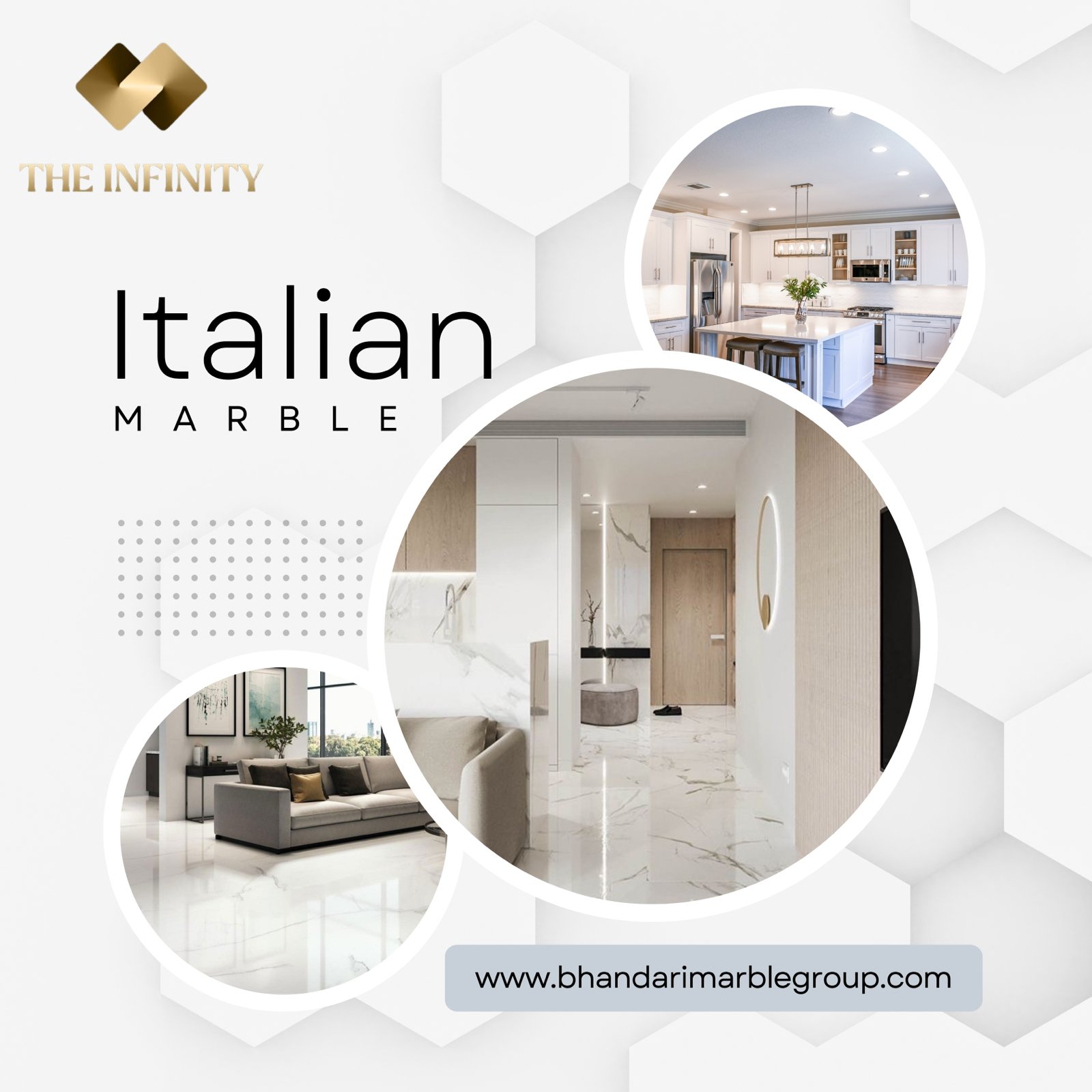 Italian Marble In India
Introduction
Italian marble is renowned for its exquisite beauty, elegance, and opulence. Known for its intricate veining, rich colors, and lustrous finish, Italian marble has been used for centuries to create some of the world's most stunning architectural and artistic masterpieces. From Michelangelo's David to the Taj Mahal, Italian marble has been used to create some of the most iconic and timeless works of art. Its beauty and durability have also made it a popular choice for luxury homes, hotels, and commercial spaces. With its unparalleled beauty and prestige, luxury Italian marble remains a symbol of sophistication and class
Best Italian Marble in India
 Italian marble is widely considered to be the best marble in India, as well as around the world. Known for its exceptional quality, durability, and beauty, Italian marble has a long and storied history in the world of architecture and design. Italian marble is valued for its intricate veining, which is created by a process of natural compression and crystallization that occurs over millions of years. This veining gives Italian marble a unique and luxurious look that is highly prized by architects, designers, and homeowners alike. In addition to its stunning appearance, Italian marble is also known for its durability and resistance to scratches, stains, and wear and tear. While Italian marble may be more expensive than other types of marble, its exceptional quality and beauty make it well worth the investment for those seeking to create a luxurious and timeless aesthetic in their homes or businesses.
Italian and Indian Marble difference
 Italian marble and Indian marble are both highly sought-after materials in the construction and design industries. While each has its own unique characteristics, many people consider Italian marble to be the best of the best.
Italian marble is known for its exceptional quality, stunning beauty, and durability. It is also highly coveted for its intricate veining, which gives each slab a unique, one-of-a-kind look. Indian marble, on the other hand, is prized for its wide range of colors, patterns, and finishes, as well as its affordability. While Indian marble may not have the same level of prestige as Italian marble, it is still a highly valued material and is often used in a variety of applications, from flooring to countertops. Ultimately, the choice between Italian and Indian marble comes down to personal preference, as well as factors such as budget, design aesthetic, and project requirements.
World's top and India's best marble, granite and natural Stone company
 The Bhandari Marble group of India is a leading provider of high-quality marble, granite, and natural stone products in India and around the world. With over three decades of experience in the industry, we have established ourselves as one of the top and most trusted names in the natural stone industry, both in India and globally.
Our commitment to quality and customer service has earned us a reputation as a world-class provider of natural stone products. We specialize in providing a wide range of products, including classic Italian marble, exotic granites and onyx, and other natural stones that are sourced from quarries around the world.
At the Bhandari Marble group of India, we are committed to providing our customers with the highest quality products and services. Our team of experienced professionals works closely with each client to ensure that they get the best possible product for their needs, and we offer a range of services, including custom cutting and finishing, to ensure that each project is completed to the highest standards.
In addition to our focus on quality and customer service, we are also committed to sustainability and responsible sourcing practices. We work closely with our suppliers and partners to ensure that our products are sourced ethically and responsibly, and we are committed to minimizing our impact on the environment.
Whether you're a homeowner, contractor, or designer, the Bhandari Marble group of India has the products and expertise to help you bring your vision to life. Contact us today.
Bhandari Family's Marble Legacy
The Bhandari family has a rich and illustrious history in the world of marble. With roots in both India and Italy, the Bhandari family has established a legacy that spans generations and continents. From their beginnings as quarry owners to their current status as leading exporters of marble, the Bhandari family has left an indelible mark on the world of marble.
In India, the Bhandari family's legacy can be traced back to the early 1900s, when their forefathers established their first marble quarry in the state of Rajasthan. Over the years, the family's reputation for producing high-quality marble grew, and they soon became one of the most sought-after marble suppliers in the region. Today, the Bhandari family continues to operate several marble quarries in Rajasthan and is one of the largest exporters of Indian marble.
One of the Bhandari family's most significant contributions to the Indian marble industry has been their focus on sustainability. With a deep respect for the environment and a commitment to responsible mining practices, the family has worked tirelessly to reduce the impact of their quarrying operations on the natural surroundings. They have invested in state-of-the-art technology and equipment to ensure that their operations are as efficient and environmentally friendly as possible.
The Bhandari family's commitment to sustainability has also extended to their community. They have established a number of social initiatives aimed at improving the lives of the people living in the surrounding areas. These initiatives include the construction of schools and hospitals, the provision of clean water and sanitation facilities, and the creation of job opportunities for local residents. By investing in the well-being of their community, the Bhandari family has demonstrated that their commitment to sustainability extends beyond their quarrying operations.
In addition to their contributions to the Indian marble industry, the Bhandari family has also established a strong presence in the world of Italian marble. In the early 1960s, the family's patriarch, Mr. Gian Chand Bhandari, travelled to Italy to learn more about the country's marble industry. He quickly established relationships with some of the most prominent marble suppliers in Italy, and soon the Bhandari family was importing Italian marble to India.
Over the years, the Bhandari family has continued to cultivate their relationships in the Italian marble industry, and today they are one of the largest importers of Italian marble in India. They have also established a showroom in Italy, which allows them to showcase the latest trends and designs in Italian marble to their Indian clients.
The Bhandari family's expertise in both Indian and Italian marble has enabled them to offer their clients a wide range of options. They are able to source marble from both countries and provide their clients with a diverse selection of colours, patterns, and finishes. This has helped to establish the Bhandari family as one of the most reliable and trusted suppliers of marble in India.
In conclusion, the Bhandari family's legacy in the world of marble is a testament to their hard work, dedication, and commitment to sustainability. Their contributions to the Indian marble industry, as well as their presence in the Italian marble industry, have helped to establish them as one of the most respected and influential families in the world of marble. With a focus on quality, sustainability, and community, the Bhandari family's legacy is sure to endure for generations to come.