All about Carrara White Marble : kishangarh
All about Carrara White Marble Carrara White Marble is a premium marble sourced from the Carrara region of Italy. It is a beautiful,
timeless stone with a bright white background and subtle grey veining. It is an ideal choice for a variety of applications, such as countertops, floors, shower surrounds, and wall cladding. It is exceptionally durable and easy to clean, making it an ideal choice for both residential and commercial projects. It also offers a luxurious look that will add elegance to any space
Why Do You Should Choose Carrara Marble?
Carrara marble is a type of white marble that is highly valued for its elegant and luxurious appearance. It is named after the Italian city of Carrara, which is where it is quarried. Some of the reasons why Carrara marble is a popular choice for countertops, flooring, and other applications include:
Beauty: Carrara marble has a timeless beauty that can add a touch of elegance and sophistication to any space. Its distinctive veining and soft white background make it a popular choice for designers and homeowners alike.

Durability: Despite its soft and delicate appearance, Carrara marble is surprisingly durable and long-lasting. It is resistant to scratches, heat, and other types of damage, making it an excellent choice for high-traffic areas.

Versatility: Carrara marble is versatile and can be used in a variety of applications, including countertops, flooring, and wall cladding. It is also available in a range of finishes, from honed to polished, giving you more design options.

Value: While Carrara marble is more expensive than some other types of natural stone, it is still an excellent value because of its durability and timeless beauty. It can also increase the resale value of your home, making it a smart investment.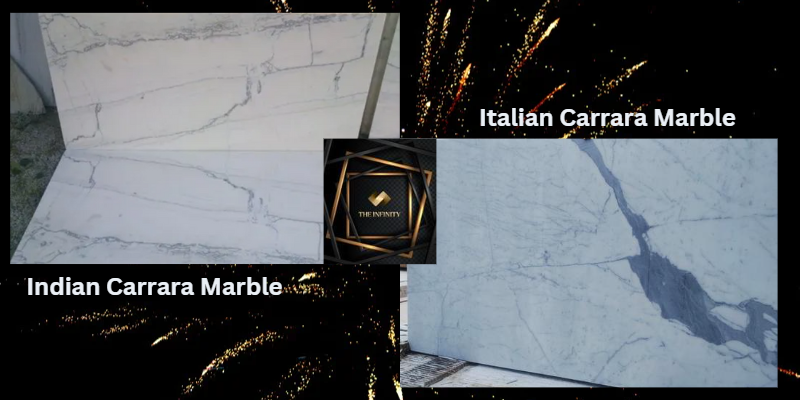 Difference Between Italian Carrara Marble V/s Indian Carrara Marble
Italian Carrara marble and Indian Carrara marble are both popular choices for homeowners and designers who want to incorporate the beauty of natural stone into their projects. However, there are some key differences between the two types of marble that are worth considering before making a decision.
Origin: The most obvious difference between Italian and Indian Carrara marble is their origin. Italian Carrara marble is quarried in the mountains of Carrara in Italy, while Indian Carrara marble is quarried in various regions of India.

Color: While both types of Carrara marble are predominantly white with gray veining, Italian Carrara marble tends to have a brighter white background and more subtle veining than Indian Carrara marble. Indian Carrara marble can also have more variation in color, with some slabs having warmer or cooler tones.

Price: Italian Carrara marble is generally more expensive than Indian Carrara marble due to its reputation as a luxury material and its limited availability. Indian Carrara marble, on the other hand, is more affordable and accessible.

Quality: Italian Carrara marble is widely considered to be of higher quality than Indian Carrara marble due to its consistency in color and veining, as well as its reputation for durability and longevity. However, the quality of Indian Carrara marble can vary depending on the quarry and the specific slab.

Sustainability: Italian Carrara marble has been quarried for centuries and is known for its sustainability practices. In recent years, Indian Carrara marble has also made strides in sustainability, with some quarries implementing eco-friendly practices.
In summary, Italian Carrara marble is a luxurious and high-end option that is known for its consistency and quality. Indian Carrara marble is more affordable and accessible, but its quality can vary. Ultimately, the choice between the two will depend on your budget, design preferences, and the specific characteristics of the marble slab you choose.
BEST CARRARA MARBLE SUPPLIERS
At Bhandari Marble Group India, we are proud of the legacy we have created and strive to maintain it through our commitment to excellence. We have built a reputation for providing the highest quality marble and stone products, as well as outstanding customer service. We are dedicated to upholding our legacy of excellence to ensure that every customer receives the best possible service. At Bhandari Marble Group, we are proud to offer the best quality Carrara White Marble, a highly sought-after natural stone from Italy. This beautiful, timeless marble is perfect for a variety of projects from kitchen countertops to flooring and even decorative accents. With its classic white color and subtle grey veining, Carrara White Marble adds a luxurious and timeless touch to any space. We are committed to providing the highest quality marble with exceptional service, so you can trust that you are receiving the best product for your project. Thank you for choosing Bhandari Marble Group! We are proud to offer this exquisite marble with its unique characteristics, including its beautiful white
base and grey veins. The marble is perfect for any interior design project, from flooring to countertops, and its timeless beauty will last for years to come. We take great care to ensure that all of our marble is of the highest quality, and our team of experts is available to answer any questions you may have. Bhandari Marble Group India, located in Rajasthan's Kishangarh, is your one-stop destination for all your Carrara White Marble needs. Our expert team of professionals is well-versed in the export of Carrara White Marble and is dedicated to providing you with a high-quality product and excellent customer service. With years of experience in the industry, we are sure to fulfill all of your Carrara White Marble needs in a timely and efficient manner. For personal support on the project, draft an email or contact our team. We would be glad to assist you Thank you for considering Bhandari Marble Group, India, for your marble needs.
Carrara Marble Stock Available