WHICH IS MORE POPULAR IN HIGH-END BOUTIQUE HOTELS AND RESIDENCES? MARBLE STATUARIO OR CARRARA OR CALACATTA
Posted In: Bhandari Marble Group India 🇮🇳
On January 23, 2023
Published by D.C.Bhandari
Table of Contents
●High-end marble
●High-end Statuario Marble
●High-end Carrara marble
●High-end Calacatta marble
●Popular marble for boutique hotels
●Popular marble for high-end residence
●Why did you choose high-end marble frome the Infinity Luxurious Imported Marble by Bhandari marble group India 🇮🇳
●FAQ"S
●About the author ♥️
High-end-Marble
Marble is a most exclusive, luxurious, elegant, stylish, durable, stunning addition to any boutique hotels, high class Villa, prestigious restaurants, multy national companies offices, jewelry showrooms, modern hospitals, and Commercial and residential towers etc. Marble is an eye-catching look, cozy and charming beauty, time-honoured classic, and well-known luxury building stone that has the ability to make happy and healthy your family transform the mood of every person increase value of any product and home. Due to natural products, choosing marble can be challenging, as it requires more knowledge and expert advice that you can get from our blogs, website or from our expert team which is ready to help you 24 × 7. It's proved from many centuries that there is no alternative to natural marble. The most famous examples are in abroad Michelangelo's Devid abroad and in India the Taj Mahal seven wonder of the world. benefits of natural marble are obvious. Any man-made substitute has never to accurately replicate its clear and crisp appearance, exquisite modeling, and stunning depth and healthy and happy home. Man made are chemical mix and may be harmful to health.
Marble is a gift of Mother Nature extracted from the Earth's surface. It is most popular is white in color. Without a doubt, marble is the material of choice for lobby, guest room, dining room, and kitchen countertops, bathroom andflooring, elevation, decoration, countertops, architecturalcarving, statues, furniture, tabletops, treads etc. Additionally, marble is commonly available in a variety of blocks, slabs, tiles, and handicraft styles. Its natural beauty and magnificent elegance look has the ability to transform any home, villa, hotel, and project make a strong statement of luxury with durability. If correctly maintained, it can significantly increase the good health, mental peace, prosperity, and market value of your project.
High-end-statuario-marble
It can be confidently said that Statuario marble represents the top demanding of most sought after and highest quality luxurious, elegant, stylish, durable, precious, prestigious, marthe world. Statuario is most popular kind of flooring, elevation, decoration, countertops, architectural carving, statues, furniture, tabletops, treads, bathrooms, kitchens, living rooms, restrooms, and other masterpieces expensive, with Statuario taking top spots in terms of quality, a single stone of Statuario marble makes Michael Anglo world famous and rich at the Infinity luxurious Imported Marble by Bhandari marble group India 🇮🇳 We have hundreds of such types of Statuario Marble Stone.
High-end-carrara-marble
While high-end marbles, such as the world-famous products from Carrara, Italy, are dense and relatively nonporous—which makes them durable and stain-resistant.
Italian high-end White Carrara Marble at Best Price in India
Carrara Marble is the most demanded stone all over the world 🌎. Italian White Carrara Marble is an elegant and pristine marble with soft grey or black veins and a white background.
High-end-Calacatta-marble
High-end Calacatta marble is a premium quality Italian marble, also known as Calacatta Gold Marble. It is an imported marble having the origin Apuan Mountains near Carrara in Italy 🇮🇹.
Italian Calacatta Marble is one of the top marble – a dramatic gorgeous, high-end Italian marble desirable for its distinctive look and precious rarity for a range of white background with bold golden and gray veining
Popular-marble-for-boutique-hotels
Boutique Hotel & Five Star 🌟 resort and spa Marble: The Use of Marble in Boutique Hotels and five-star resorts and spa
The Infinity luxurious Imported Marble by Bhandari marble group India marble present in hotel projects especially luxury, boutique and five star are synonymous with best quality and uniqueness and still remains the preferred aesthetic covering, despite for lobby Italian Carrara marble and rooms Banswara White Marble. Many five-star hotels are regularly buying for India and abroad, our Statuario marble, Calacatta marble, Carrara marble, and Banswara White Marble.
Always considered an Italian Statuario Marble of prestige and timeless elegance, Calacatta marble marble is still used today in the decoration of luxury hotels all over the world.
As all the major five-star hotels in aindia, Dubai, Maldives, Singapore, London, North America, Canada, Australia, Asia, Austria, Belgium, Brazil, California, China, Denmark, Delhi, Europe, England, France, Florida, Germany, Greece, Hong Kong, Hawaii, Honeoye, Italy, India, Japan, Jamaica, Kansas, Korea, Latin America, Mexico, Malaysia, New Zealand, Norway, North America, Ohio, Oklahoma, Oakland, Pennsylvania, Portland, Poland, Portugal, Panama, Russia, Rome, Romania, Spain, South America, South Dakota, South Dakota, South Africa, Texas, Tennessee, Tanzania, United States of America, United Kingdom, United Arab countries, Vietnam, Virginia, Vermont, Wisconsin, West Virginia, West Bengal.
Popular-marble-for-high-end-home-villa
Our newly updated collection of marble floor designs in our online ebook catalog and virtual showroom on our website has 900 the best marble flooring design ideas you could use in your home villa!
One of the higher-end Italian marble is Statuario and Calacatta, a unique option with a white background and bold and unstructured veins. Imported from the Apuan Mountains, Carrara Italy and imported and produced in India by The Infinity Luxurious Imported Marble by Bhandari marble group India 🇮🇳.
Let us start with one of the most popular types of marble flooring, Statuario, Calcutta and Carrara white marble which is known to be quite luxurious look and feel and dramatic patterns as it is a rare marble, high in demand and supply by The Infinity Bhandari.
Why did you choose high-end marble frome the Infinity Luxurious Imported Marble by Bhandari marble group India 🇮🇳
The Infinity Luxurious Imported Marble by Bhandari Marble Group is one of India's leading exporters, importers, manufacturers, and the best wholesale marble supplier in India. We deal in Italian marble
as well as other marble, granite, and stone, too.
The Infinity exclusive Italian marble with the purity of natural stone and international standard. Statuario marble, Calacatta marble, and Carrara marble are the most popular marble available in the Infinity with quality, quantity, and competitive price.
DESIGN-YOUR-FLOOR-ELEVATION-DECORATION-COUNTERTOPS-SURFACESS-WITH-THE-INFINITY-LUXURIOUS-IMPORTED-MARBLE-BY-BHANDARI-MARBLE-GROUP-INDIA
About the Author
About the Author Hi, I am D.C. Bhandari, chairman of Bhandari Marble Group living in India, Rajasthan, Kishangarh. I love seeing the new and creative ways people use our Marble, Granite, and Natural Stone. Our customers are so creative. My favorite design style is a preppy traditional mix with modern especially pieces that can be found in a vintage or antique stone. I like to invent travel, search, and experiment with natural stone products. For more posts visit our website.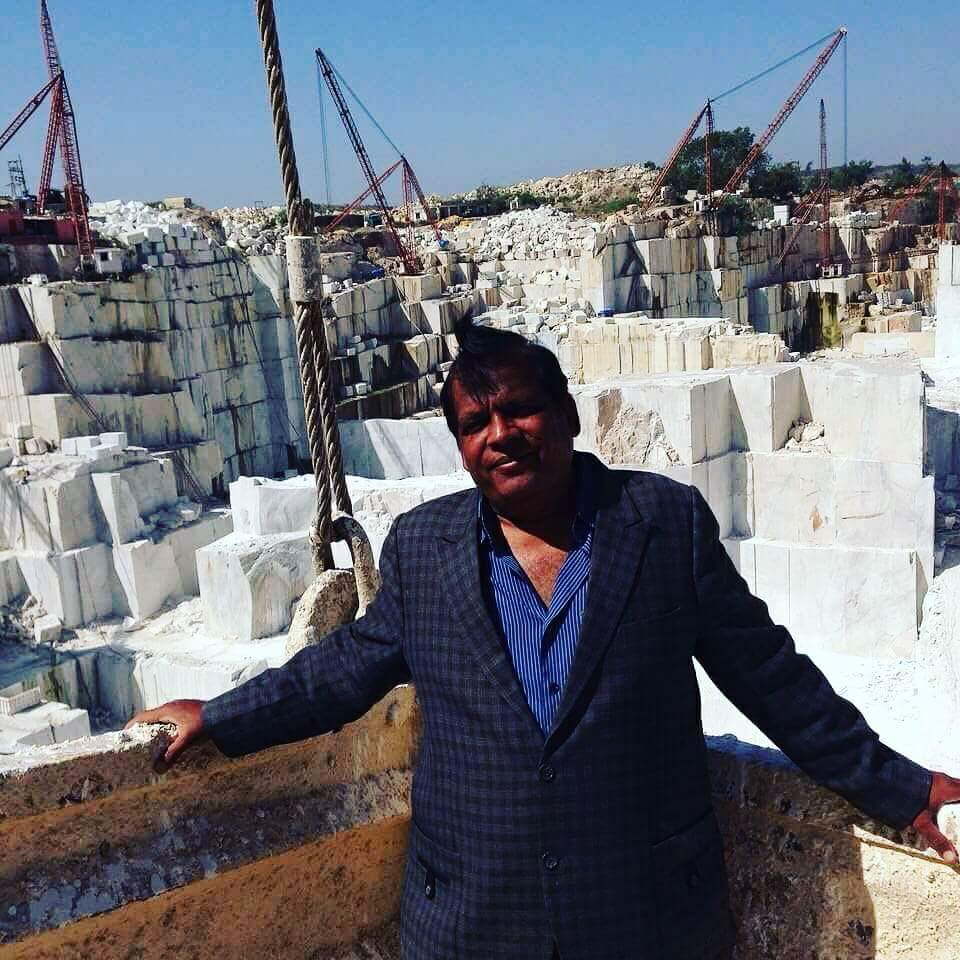 WORLD'S TOP AND INDIA'S BEST MARBLE, GRANITE AND STONE COMPANY
ADD BY EXPERT AND EXPORT TEAM OF BHANDARI MARBLE GROUP. CONTACT US AT: +919829040013
WHICH IS MORE POPULAR IN HIGH-END BOUTIQUE HOTELS AND RESIDENCES? MARBLE STATUARIO OR CARRARA OR CALACATTA