Statuario Marble
Calacatta gold marble
Carrara white marble
Top Italian Marble from The Infinity Luxurious Imported Marble by Bhandari marble group India
To the untrained eye, it is often difficult to distinguish between the to Luxurious Italian marble slab: Statuario, Calacatta, and Carrara. The main reason is that these veined marbles all come from the same Apuan mountain range in Carrara, Italy and process by Bhandari since 1969 making the differences especially subtle.

Statuario white—otherwise known as statuary marble is the most precious, cozy and charming, delightful coveted of the three because of its super white background and distinctive veining. With a bright white field similar to Calacatta makes it world's top marble Statuario veins are a mix of bold grey and gold interspersed with thinner ones that can assist you attractive. Italian Statuario marble a beauty of Nature striking dark-on-light contrast found in no other natural stone like that. With this marble, natural property from Mother Earth's pretty uniqueness in every slab, one cannot be as exclusive as in Statuario marble of our company.
Why Choose Italian Statuario Marble
With all of Italian Statuario marble's exceptional extraordinary and characteristics, much still depends on your desired look and high taste. These are some helpful considerations that could help you decide if it works for and with your designs or you can contact with our experienced team.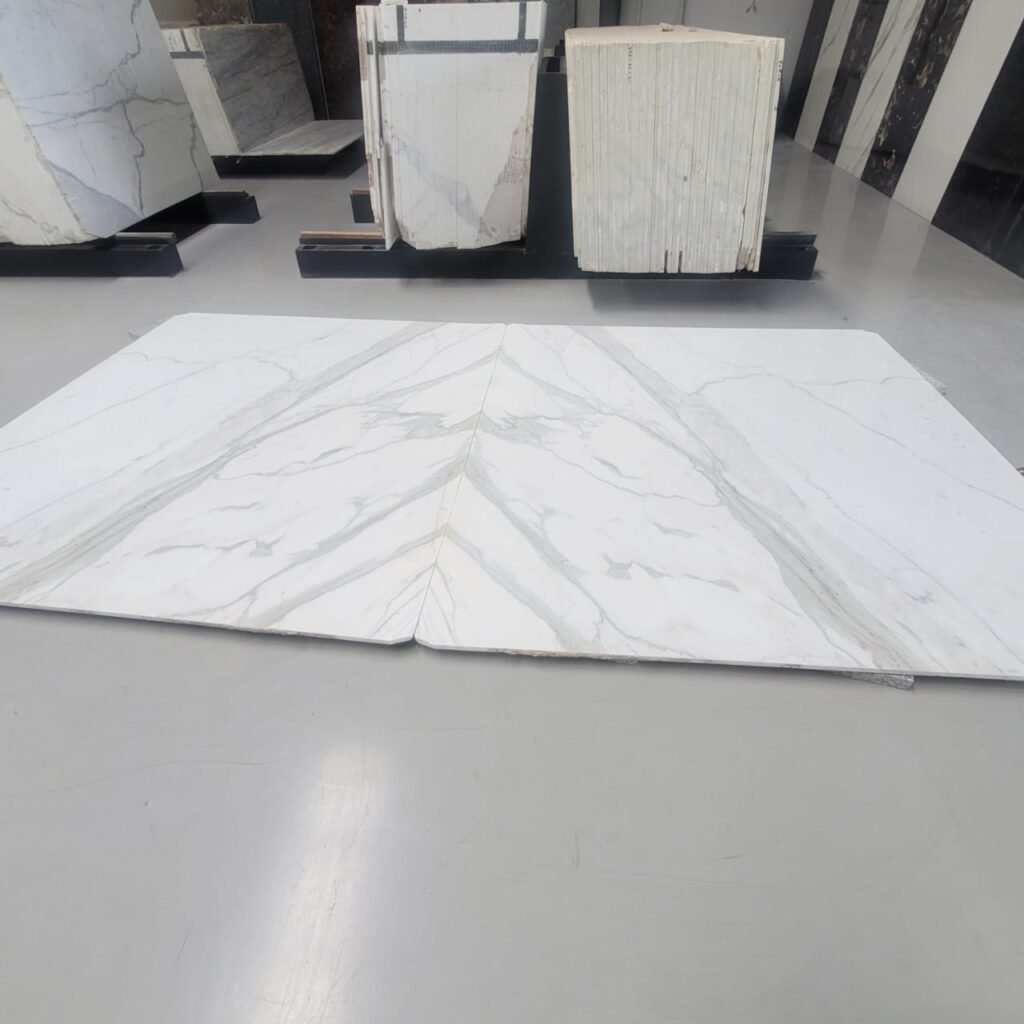 Italian Statuario marble Colour:
Statuario marble with thick grey veins in a bright white background offer an excellent play of contrast, thus making it perfect as a lobby, bedroom, bathroom, kitchen and staircase with plenty of natural light or as a bright shine ✨ in your home villa.
Italian Statuario marble Utilization: These same properties work best for interior flooring, elevation, decoration, counter tops, backslashes, bench tops, reception counters, and even all over home.
Italian Statuario marble Statement: If you want your 🏡 home to convey a subtle but strong sense of status symbol luxury, exclusivity, and prestige, no surface concepts quite state it better than Italian Statuario marble. Its availability is as rarest rare as its best quality and high demand. Therefore, one can only find it installed in high class villa, jewellery showrooms, top clubs, best restaurants, five-star hotels or very exclusive elite class private residences.

Italian Statuario Marble Care and Maintenance:
For Shiny white background and luxury look cleaning is another important consideration that our customers often enquire about this marble. With marble and any other natural stone, it is quite natural for best quality marble that them to develop some unique finishes, which some owners consider as added character. Actual care for the marble, however, starts with finishing your stone slabs with a high-quality polish and sealer, which stops liquids from seeping in and leaving a stain. With regular household use
A properly sealed marble surface easy to clean using a clean damp cloth and some gentle soap or mild detergent. As a Luxurious Natural stone avoid strong low quality commercial cleaners altogether as these can damage the sealing or etch the marble itself.
Best advantage of Statuario marble and other marble unique property when it comes to maintenance they can always be re polished once as per your need.

Why Choose The Infinity luxurious Imported Marble?
The Infinity luxurious Imported Marble is a beaned name of market leader Bhandari Marble Group India in Italian stone in India and all around the World. Our highly skilled experienced marble granite and stone expert team source and process the best natural stone for flooring, elevation, decoration, Landscape, Counter tops etc for homes or commercial establishments and projects. We also advise our clients on how to take finishes and uses of their particular type of marble granite and building stone or other type of natural stone. For many decades, we have been providing unmatched expertise in India and overseas with high-quality products, service, and advise our clients deserve. We are proud of our team work, and it shows in our business and goodwill growth built primarily on referrals and repeat business all over World 🌎.

For any question, inquiry or assistance, you can speak to our specialists at (91) 9829040013 on 24 × 7 or mail us bhandarimarblegroup@gmail.com
Or visit us
www.bhandarimarblegroup.com
We also happily welcome for on-line booking or appointments for showroom visits so you can pick first-hand the marble, granite and natural stone that fits your design scheme and taste for your home, villa, hotel and project.
Writing this blog ✨ by D.C. Bhandari, Chairman, Bhandari Marble Group, India on 4th June 2022 at 03.41 Am.