TAGS: Marble, Marbleflooring, Marbledesign, Marblematerial
ALL ABOUT MARBLE
MATERIALS MARBLE FLOORING
Marble, flooring option in marble.
Marble, the formation of marble,
Marble, category of marble by origin, Colors, Finishes,
Marble, Origin of marble,
Marble, Marble's Magnesium Carbonate Content,
Marble, Carrara white Marble,
Marble, Dramatic Calacatta gold Marble,
Marble, The best quality White Statuario Marble,
Marble, Breccia Marble,
Marble, Arabescato Marble,
Marble, dark and light color marble,
Marble, Crem color Marble,
Italian and Indian marble,
Marble, Surface Finish on marble,
Marble, polished and smooth surface,
Marble in a honed finish,
Marble, Tumble finish marble,
Marble, Brushed finish marble,
Marble, thickness Size and Shape,
Marble, in the shape of square and rectangular,
Marble, mosaic design,
Marble, types, and range,
Marble premium-quality high-end Marble,
Marble low-cost budget-friendly cost,
Marble, Installation cost,
Eye-catching designs of marble,
Marble, The unique Natural stone,
Marble, Cozi, and Charming,
Marble, Floor Options in marble
All abut the Marble's available price, finishes, sizes, and colors
Marble, options in marble
When considering marble slabs as a flooring material, most people think of the classic, glass-smooth white stone with smoky grey veining. But there are actually many other options for finishes, sizes, colors, and vein patterns of marble floor slabs.
Marble, formation of marble
It may surprise you that marble is typically formed out of limestone or dolomite rock, both of which are common types of sedimentary rocks. The rocks are then metamorphosed under heat and pressure when the earth's crust moves, resulting in a recrystallized and hard marble stone. Depending on the chemical composition of the original sedimentary rock, and the conditions under which it metamorphoses, the marble can take a variety of appearances, though nearly always with distinctive wavy veins running through it.
Marble, Origin of marble
The various types of commercial marble sold by retailers are usually named for the region from which they are quarried. Nearly every continent contains deposits of marble, but most of the commercial marble sold for residential building materials comes from India, Italy, or other areas of the world. The appearance of the marble usually gives clear clues as to its place of origin. Here's a list of the most popular marbles and where they are quarried.
Marble, Marble's Magnesium Carbonate Content
Although rarely highlighted by sellers of marble, different types of marble are sometimes categorized according to the amount of magnesium carbonate they contain. The more magnesium carbonate content, the more the marble may react to acids which could etch the marble's surface:
Dolomite marble contains over 35% magnesium carbonate.
Magnesium marble contains between 7% and 50% magnesium.
Calcite marble contains less than 8% magnesium carbonate.
Marble, Carrara white Marble
This classic white or light gray stone with soft gray veins is one of the lightest colored marble used for flooring slabs. It is quarried in the city of Carrara in the northern tip of Tuscany, Italy. With hundreds of operating quarries producing it, Carrara marble is one of the most readily available marbles you can choose. By some accounts, more than 80% of all marble used in residential construction up to now is Carrara marble. Supplies of Carrara marble are dwindling, however, and you can expect other different sources of marble to come into heavier use in the coming years.
Marble, Dramatic Calacatta gold Marble
Calacatta gold marble is a whitish marble with very pronounced veins ranging from gray to golden brown. Originating in the Apuan Mountains in Carrara, Italy, it is a high-end luxury stone that is used both in countertop and flooring slabs and tiles. It is available in both honed and polished finishes. Calacatta is quite similar to Carrara marble, but with more prominent veining. This is a rare and more expensive form of marble.
Marble, The best quality White Statuario Marble
White Statuario, this marble is also quarried from the Carrara region of Italy, but it has a lighter field with less color variation than classic Carrara marble. The veins are usually a mixture of light and dark gray. LIke Calacatta, this is a rare and more expensive form of Italian marble.
Marble, Breccia Marble
Breccia is a warmer, darker marble in creamy browns and reds, and is also quarried in Italy. It is used both for countertops and floors. It is sometimes considered a form of limestone, and the stone has a more complicated veining pattern than most marble. The term breccia refers to the rock's composition, in which broken fragments are cemented together in a fine-grained mixture. This angular, broken pattern makes for a very attractive stone surface.
Marble, Arabescato Marble
This is a very dark marble with sweeping veins of light gray to brown. It is a premium, high-end marble that comes from Italy.
Marble, dark and light color marble
This marble is available in various shades of brown with fine grains and irregular veins. It is quarried from three different regions of Spain. The darker color makes a good choice for high-traffic floor areas and it is also commonly used for fireplace surrounds.
Marble, Cream color Marble
This textured creamy beige stone has an overall yellow, cinnamon, or golden beige color with very soft veins of darker colors. Like breccia cicada, it is sometimes marketed as a form of limestone. It is quarried in Spain.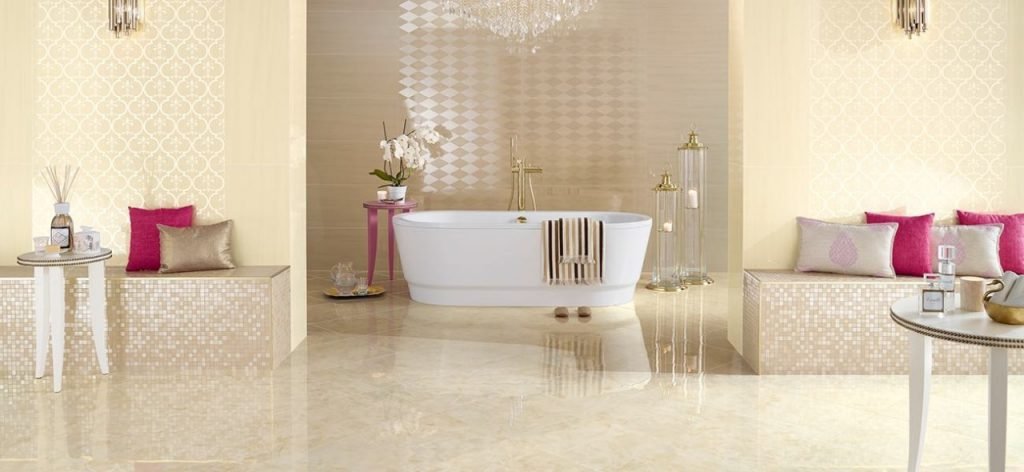 Italian and Indian marble
There is also alluring marble available from India, Italy, and other regions. These often are quite expensive, but they can have truly unique colors, such as deep reds or greens.
Marble, Surface Finish on marble
Marble tile can be finished with any one of several different surface styles. The most popular marble finishes are polished, honed, tumbled, and brushed.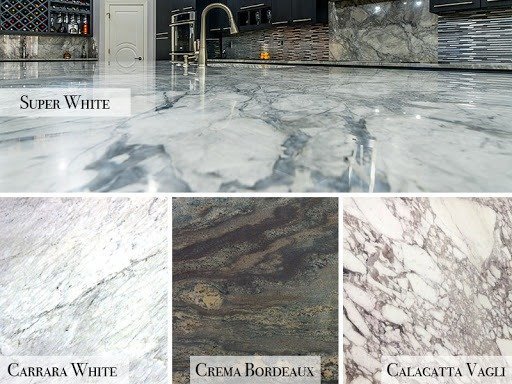 Marble, polished and smooth surface
One of the prized characteristics of a marble floor is its ability to take a very high polish. This allows the material to be buffed until it glistens in the light and is perfectly smooth to the touch. In lighter-colored marbles, polished tiles will actually glow, with the light of the room penetrating slightly into the stone and then reflecting outward with soft illumination.
Marble in honed finish
In a honed surface, the marble is ground down until it is flat and smooth, but not to the point where it is slippery and polished. These tiles allow you to have the beauty of marble but with less concern about slipping hazards. Honed marble may be more muted and often does not have the same vibrancy of color as a highly polished stone. The finish also still has a relatively low coefficient of friction, and it can be scratched if not cared for properly.
Marble, Tumble finish marble
Tumbled marble is created by processing tiles in a drum with rock and sand aggregate that create small chips, scratches, and rounded edges on the tiles. The resulting tiles have a rustic, natural look. The texture of tumbled marble is ideal for shower floors since the finish reduces the risk of slipping. Each piece of tumbled marble is slightly different. Though the tiles are fairly standard in size, the shapes will vary slightly, and not every piece will be a perfect right-angled square or consistently textured. This irregularity is part of the appeal of using honed materials.
Marble, Brushed finish marble
Brushed marble is created by scuffing the surface of the tile with abrasives until a natural antiqued look is created. The brushing process, however, creates a somewhat porous surface that must be frequently sealed in order to resist staining. The floor needs to be cleaned frequently because dust tends to collect in the textured pits of the surface.
Marble, thickness Size and Shape
While marble flooring can be installed in large slabs, this is rarely done except informal, commercial settings. For residential use, marble flooring is almost always installed in the form of tiles. Classic marble floor tile is usually square in shape, with several dimensions most common: Tiles measuring inches by inches and generally 16, 18, 20, and 30 mm thick are most common. Tiles measuring inches by inches and usually thick are also quite common. We can customize every size and thickness measuring inches by inches and typically inch thick are usually the largest available for marble flooring. There are also rectangular marble tiles available in a variety of dimensions, such as inches by inches, inches by inches, and inches by inches. There are also geometric tiles, most commonly in the shape of hexagons.
Marble, mosaic design marble
Marble is often available in a variety of mosaic cuts. These can either be small individual chips or mesh-mounted chips laid on a flexible mesh backing and ready for installation. You can also buy medallions or patterns in which the marble colors are arranged on the mesh mount to create attractive and colorful displays.
Marble, types and range
Marble tiles can be purchased from a big home to a small villa, but for a wider range of options, consult a specialty flooring store or tile retailer.
Marble premium quality high end Marble
Marble floor tiles at retail can range in price from as low as 200 rs per square foot for a pure white Statuario marble to 5000 rs per square foot for a rare quantity. You can pay considerably more prices upwards of 200 per square foot are possible for designer mosaic tile sheets that feature a blend of marbles in different colors and shapes.
Marble low cost budget friendly cost
Costs for genuine marble can be as low as 40 per square foot to about 200 per square foot, but the selection is generally limited to standard Cararra marbles or other mass-produced varieties.
Marble, Installation cost of marble
As with any tile, you can install marble flooring yourself to save labor costs. In addition to the material costs, professional installation can cost from Indian marble 30 rs and about Italian marble 70 rs per square foot, depending on the size of the room, the complexity of the work, and the labor cost/availability in your area. Simple square or rectangular tiles will be easier to install, and therefore cheaper, than installations calling for intricate patterns and extensive tile cutting.
Eye catching designs of marble
The biggest advantage of marble floor tile and slab is that it instantly elevates the appearance of a space, giving it a regal bearing that is hard to imitate. And marble is available in multiple colors, and even in stunning multicolor mixes, providing flexible options for a variety of decorative schemes. Tiles can also be cut to rectangles, and triangles of varying sizes in order to create complex mosaic installations.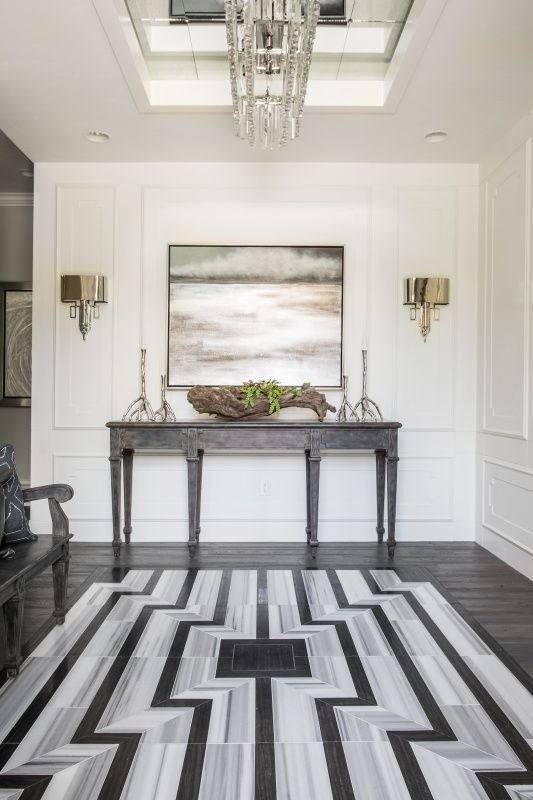 Marble, The unique Natural stone
Because it is a product of the earth, every piece of marble tile used in every single floor is one-of-a-kind; there is no other like it anywhere in the world. In the case of multi-colored marble, this uniqueness can be quite pronounced, with distinct features blaring forth from every tile. With more solid-colored marble, the color differences shifts are much more subtle and subdued, but your floor will still stand out with its own personality.
Marble, Cozy and Charming
Unlike most natural stones, marble is able to take a very high polish, achieving a silky smooth, and shimmering look when treated properly. This look of sophistication and glamor evokes the highest sense of elegance.
Marble flooring
All stone and ceramic tile, including marble, is notoriously cold underfoot. But like other hard flooring materials, marble also makes a very good base for radiant floor heating systems, in which hydronic tubing or electrical wiring is networked through the underlayment. This can turn a normally cold flooring material into one that is wonderfully comfortable.
Installation of marble
Whenever marble is installed, purchase at least one extra box of tiles and keep them in storage. Every lot of marble tiles will have slightly different coloring and veining, and having replacement tiles from the same batch ensures that they come from the same quarry, making it much easier to match tiles if one breaks, cracks, or becomes stained.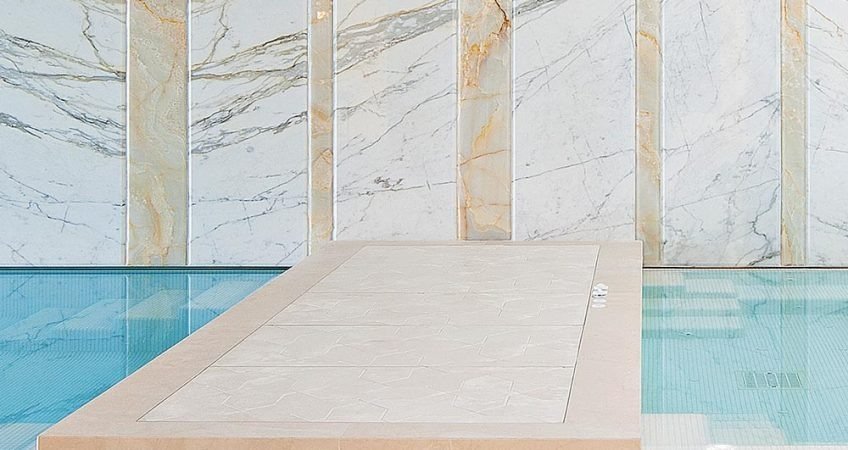 Marble the timeless beauty
Marble floors have symbolized timeless elegance for hundreds of years. The variety in marble's natural veining and color blends beautifully with decorating styles from mid-century modern to traditional. While marble floors are extremely durable, they do require regular cleaning and care with the right products and tools to keep them looking their best.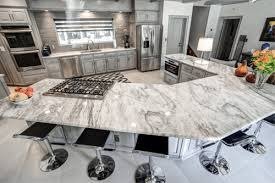 Marble tiles and slabs installation
Installing marble tile and slab is similar to installing other types of tile, such as ceramic or porcelain tile. In fact, the steps are pretty straight-forward. After preparing the subfloor, glue down the tiles and slabs, grout, then seal. Plus, if you have previously installed tile, then chances are you already own most of the tools needed to install marble tile and slabs.
Is Travertine marble or limestone
Travertine is an especially attractive form of limestone. Its fibrous, marble-like texture and attractive earth-tone colors make it one of the most popular stones used for building materials. Historically, much of the travertine used in architecture and artwork came from the mountains of Italy.
Other options of Marble, slate
The slate floor is a type of natural stone that is quarried from the side of mountains or taken from the earth. A finely grained, homogeneous, metamorphic rock, it is named for the way the material forms in plains, like sheets resting one atop the other, compressed under great pressure to create a powerful bond. While slate is one of many natural stone floor tiles available, there are also different types of slate, each with its own look and characteristics. Slate has its pros and cons as a floor tile.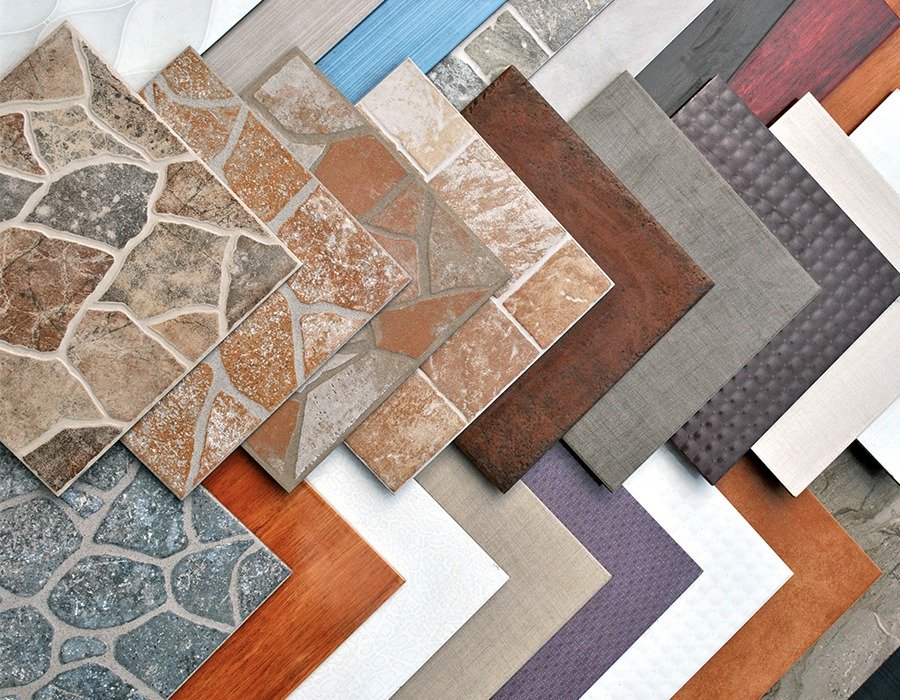 Marble in bathrooms
Classic and elegant, marble slabs are always a good choice when it comes to bathroom decor. It's timeless, it adds value to your property, and it's really, really pretty.
Indian Statuario Marble, and Wonder White Marble Kitchen
Indian Statuario Marble and Wonder White Marble adds a flair of style to any room, and this is especially true in the kitchen where it's one of the most popular choices for kitchen countertops and islands. It's light yet elegant color helps the kitchen area look more spacious, putting all who eat and cook there at ease. Take care of your marble by giving it the occasional polish as well as a strong seal, and it should remain pristine for years to come. This Indian Statuario Marble and Wonder White Marble countertop have thick yet soft gray veins running through it, and it really showcases the quality of the stone.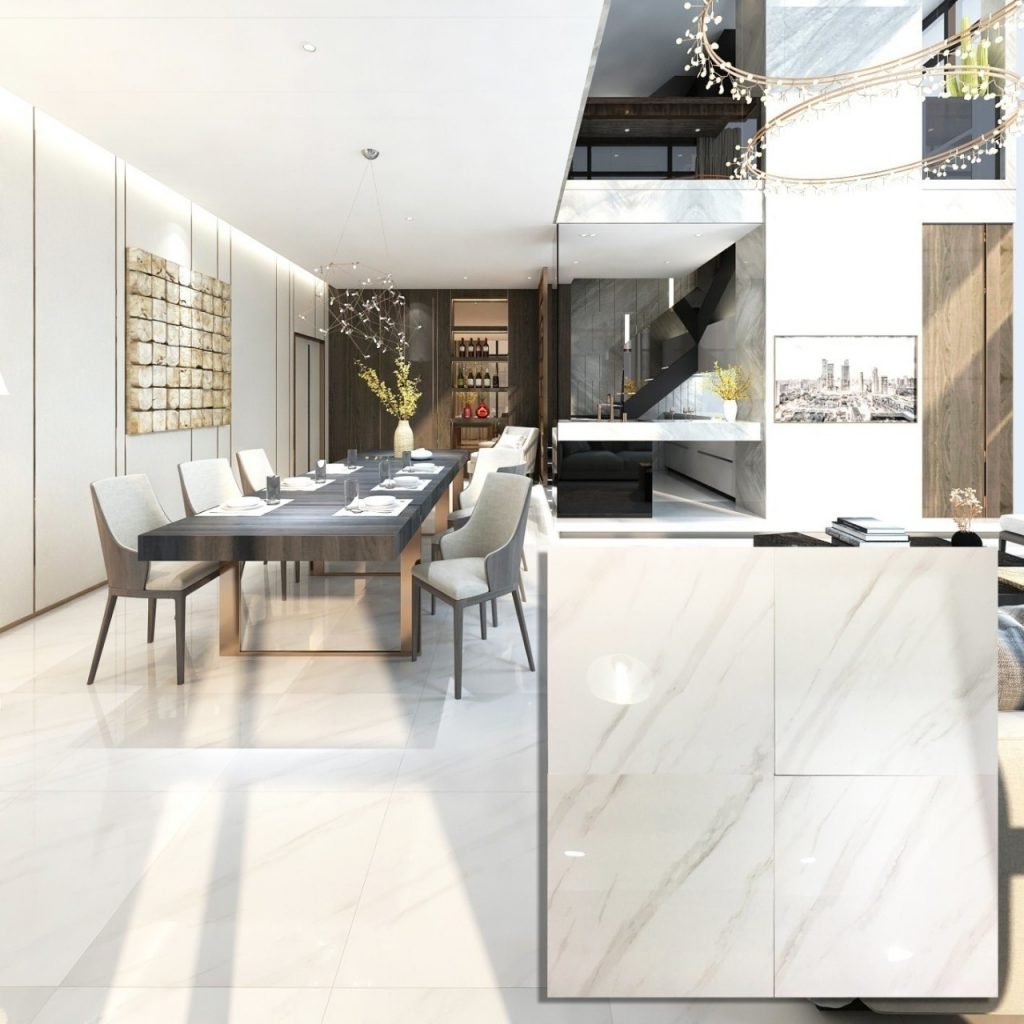 INDIA'S TOP AND WORLD'S BEST MARBLE, GRANITE AND STONE COMPANY
CATEGORIES: MARBLE, MARBLE FLOORING, MARBLE DESIGN, MARBLE IN ROOMS AND BATHROOMS, ITALIAN MARBLE, INDIAN MARBLE, MARBLE SLABS, MARBLE TILES, MARBLE INSTALLATION.
ADD BY EXPERT AND EXPORT TEAM OF BHANDARI MARBLE GROUP. CONTACT US ON; 9672941111.