Italian Marble is the material that has mostly used for decorative purposes. Many kinds of materials have been on the market most of the time, instead of Italian marble others are no longer available due to some limited resources. Because of our latest technology and upgraded knowledge it has become the most admired material in the market. It is the material that is most widely used for the flooring and mainly used for bathrooms as floor tiles. It is one of the largest selections of stone all over the world. It provides the richest visual appeal and high shining to that area.
We deal in Italian marble, tiles, Italian floor designs, flooring, prices, statues, and stones, etc. Get the high-quality Italian marble from Bhandari Marble Group at best prices
*Italian marble flooring patterns
*Italian marble price
*White Statuary marble
*Volakas
*Botticino classic
*Royal Diana Italian marble
*Calcutta Marble
*Michel Angelo Marble
*Vietnam White Marble
Italian Marbles are highly durable and have a long life. These marble's raw stones are imported from Italy in India and have high demand around the world. These marble stones are really very good. The most famous type of this marble is Perlato, Dyna and beige marble.
Italian Marble is a beautiful natural stone and is still the most preferred flooring material for Indian homes compared to other factory-made materials such as vitrified or porcelain tiles. Numerous varieties of both Indian marble and Italian marble are readily available in different colors and vein patterns. If you are planning to use marble for your home and haven't yet decided whether to go with Indian marble or Italian marble, this article can help you make up your mind.
Italian Marble is the brand name under BHANDARI MARBLE GROUP From the humble beginning 387 years ago, BHANDARI MARBLE GROUP. Marble has come a long way having carved its rightful place in the stone industry and revolutionized the functioning of the marble industry in India. At a time when other companies were importing polished marble slabs in India from abroad, BHANDARI MARBLE GROUP of the Group was the first to directly import the Marble Blocks from quarries all over the world. Besides Marble Blocks, the company has also been importing selected and finest Granite, Marble, Travertine, Onyx, and artificial stones, etc.
BHANDARI MARBLE GROUP is the best Italian Marble supplier in India which provides Italian Marble, marble slabs with assured quality and best price in the market. BHANDARI MARBLE GROUP is one of the leaders in supplying and manufacturing Italian marble in India. The company produces multiple designs, colors, and sizes of this product. The market prices of Italian Marbles price vary according to their quality and intensity, but BHANDARI MARBLE GROUP promises to deliver the best products that are obtained from some of the finest resources in the world
Italian marble is the best and premium quality marble that is considered to be the perfect choice for the flooring of your house and office and to add more shine and elegance to your floor. Italian marbles come in different sizes and varied thicknesses. This graciously polished marbles have classic textures and are available in the market at slightly higher prices than the normal ones.
Italian Marble gives a vibrant appearance to the house floor, walls, Kitchen, rooms, and bathroom with its beautiful color, attractive luster, and shades. Because of its elegant appearance, it is commonly used for decorations in hotels, offices of various MNCs, restaurants, resorts, shopping malls, schools, houses, and other luxury places.
TYPES OF ITALIAN MARBLE: *Antique Beige *Australian White Marble *Green Onyx Marble *Black Marquina *Blue Pearl Granite *Bottocino Marble *Bottocino Classico Marble *Bottocino Fiorito Marble *Carrara Marble *Crema Marfil *Crema Flurry
Another reason that Italian marble is thought to be superior comes simply from the rich stone working heritage of Italy. They were the first to streamline and perfect quarrying methods still used today. The Italian has set very high standards for quality control and do everything with precision. In fact, Italian is still thought of as some of the most skilled cutters and carvers in the stone world today.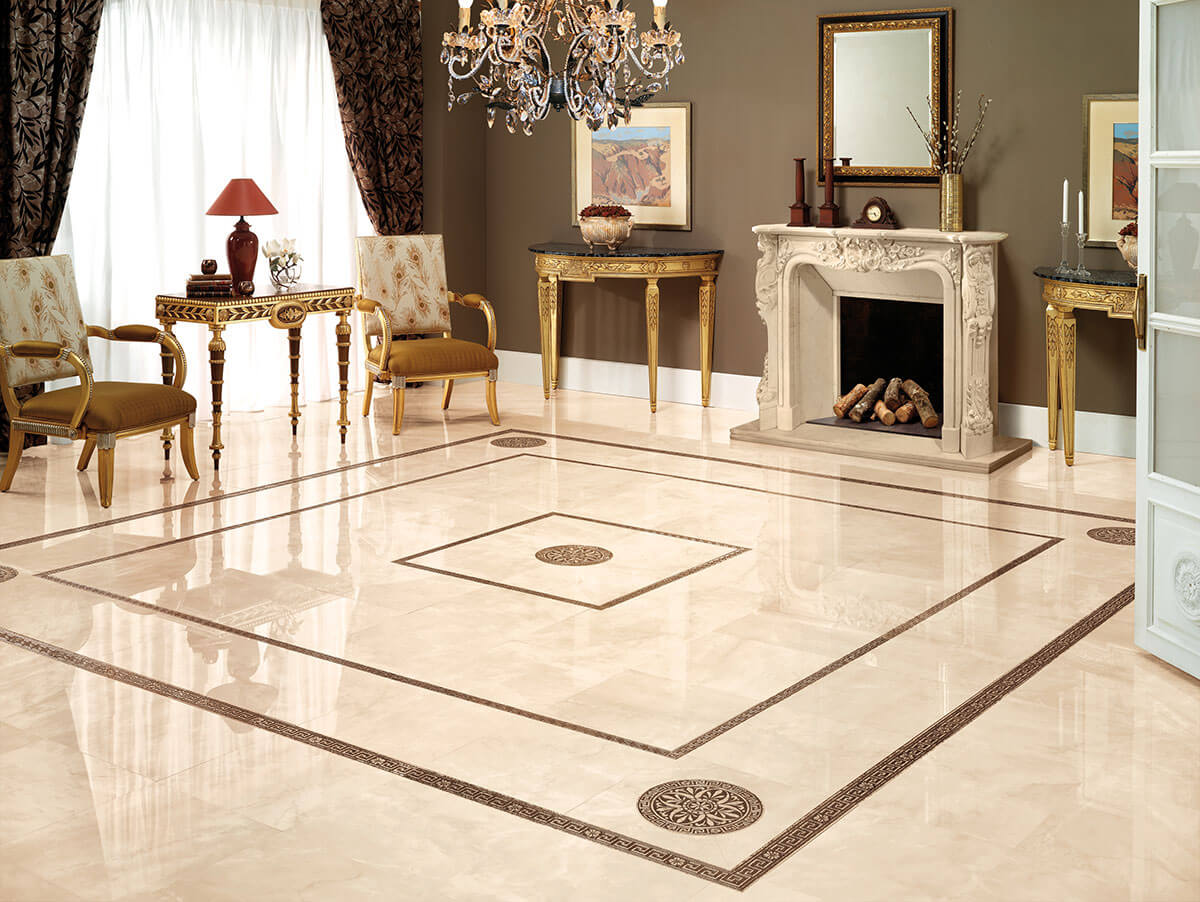 Let's look at Carrara marble, for example. Since it comes from only one quarry in the world located in Tuscany, it's in very high demand. This makes the price of Carrara marble higher than other marble types on the market. But be aware that since this marble is rare, it is also often duplicated, without the end-users knowledge.
BOTTOCINO MARBLE Bottocino Marble is the premium quality imported Italian Marble. It has a beautiful color and pattern with amazing shine. Exclusive Bottocino Marble is recommended for flooring. When place in the right direction, they make beautiful patterns. FEATURES *Imported Marble
*Used for flooring and countertops
*Beautiful Appearance
SPECIFICATIONS *Thickness 15-20mm
*Available in slab form
*Polished
DYNA MARBLE Dyna is beige color marble with thin & thick brown veins pattern. This is one of the most popular Italian marble for flooring in India. This pattern is also available & in all sizes. FEATURES *Used for flooring
* Available in slab form
*Beautiful Appearance
SPECIFICATIONS *Easy Maintenance
*Fine Finish
*High Durability
TRAVERTINE MARBLE Travertine is essentially white travertine with very light veins ranging from white to beige, sometimes with shades or veins of silver color quarried in Italy. This stone is especially good for Building stone. Travertine is a variety of limestone characterized by linear striations. We offer a carefully-curate selection of travertine tile and slabs; items that have proven successful in commercial and residential applications for years. FEATURES *Used as wall tile, Garden Path, Patio Paving
*Long-Lasting
* Available in the slab, tile, block
SPECIFICATIONS *Imported Marble
* Thickness 15-20 mm
*Smooth Texture
*Good toughness
CARRARA MARBLE Carrara Marble from Italy. Carrara marble is greyish-white with less large veins and finer, feathery veining that often appears to be linear. Carrara marble is a type of white or blue-grey marble popular for use in sculpture. FEATURES *Imported Marble
* Uses Flooring and countertop SPECIFICATIONS *Thickness 15-20mm Slab available
* Beautiful shine
STATUARIO MARBLE We Deal in all types of Statuario Marbles. Statuario Marble is an expensive white marble. We are providing a quality collection of Statuario Marble that is available in a different finish, sizes and designs as per requirements of valued clients. Offered Statuario marble is very demanded advantages like smooth texture, long-lasting shine, and high durability. Statuario marble is widely used for flooring purposes in households and corporate houses. We are one of the leading Statuario marble manufacturers. FEATURES
* Available in the slab, tile, block
SPECIFICATIONS
*Thickness 15-20 mm
*Smooth Texture
*Good toughness
Italian Marble Tiles Tiles with sizes like customer request (for example 400 x 400 (16″x16″), 600×600 mm (24″x24″), etc. It is necessary to offer the price every time on customer requests for these particular marbles. We have various designs, colors, pattern and sizes of this product. We deal with tiles and slab. Italian Marble price may vary according to its quality and color, but we promise our clients that the quality and services provided by us will be better than others.
DYNA ROYAL
Dyna Marble is the best and premium quality of Italian Marble. This marble is the perfect choice for the Flooring. Extensively used for architectural purposes under big as well as small projects, our products are available in various sizes and designs. Slabs are used for long-lasting monuments and for trim and decoration on buildings.

BLACK MARQUINA MARBLE
Black Marquina is a deep black marble with a distinctive white features color dense metamorphic rock quarried in Spain. This stone is especially good for Exterior – Interior wall and floor applications, countertops, mosaic, fountains, pool, and wall capping and other design projects.
BHANDARI MARBLE GROUP,
INDIA,
RAJASTHAN,
KISHANGARH-305801
CONTACT US
+91 9672941111
+91 9829040013
Things to know about Italian Marble