TAGS: Whiteitalian, Italianmarble, Architect, Statuariomarble
White Italian Marble is a natural material with great diversity, be contingent on which species you select and how it's cut. It fabricates a really lovely natural pattern, which you don't get with a lot of artificial materials. Among Italian marble options, Italian white marble takes the cake. You won't find anything as white in natural stones as Italian white marble. You just don't get that color and kind of figuring and book match patterns in any other type of natural stone. But as long as you select carefully, know what to expect, and care for Italian white marble countertops, they can be a beautiful, amazing, and functional choice for your house design that lasts a lifetime.
How to choose the right white?
Italian White Marble when reveal anywhere sends a message of luxury and sophistication. An Italian white marble flooring, an Italian white marble countertop never fails to make a statement. Another reason that White Italian marble is thought to be superior comes simply from the rich stone working heritage of Italy. They were the first to smooth running and perfect quarrying methods still using today.
Glossy
One of the most desirable attributes of white Italian marble is its shine, which is why it can be easily emulated. Many manufacturers incorporate glass or other crushed materials to get the gloss, which is not permanent when compared to real marble.
Coloration
Italian White marble as the name describes is pure white in color, which means it has no impurities or is perfectly flawless. Only when combined with minerals, it gives various colorations such as blue, grey, cream, or pink. Darker colors are indicates of granite, a man-made stone, or a marble that has been mixed with cement to give a different finish.
WHY ITALIAN MARBLE IS SO EXPENSIVE?
The reality is that Italian white marble isn't expensive just because it is a luxury item; and actually, it becomes a luxury item because of its premium and superior quality. This is what you are paying for. When you buy Italian white marble, you are making a long-term investment. You will not have to replace your marble countertops in a few years because they chipped away too much. Good quality marble will outlast many other types of material easily. It becomes even more resilient if you apply sealant on the marble.
White Statuario Marble
Statuario marble contains an equivalent white and gray hues found in Carrara, with grey veining almost like that which you'll find in Calacatta slabs. This marble may be a very bright white in color, and it's relatively rare. This makes it one of the pricier and more sought-after marbles available on the market. While Statuario is revered in Italy for being the right marble for carving statues, it's also a perfect material for residential and commercial projects. Given its rarity, it's not surprising that Statuario marble is usually used as a focus in any room during which it's featured.
Bianco Statuario
Like its Calacatta counterpart, this beautiful white marble variety works well during a large tile format, also as within the sort of countertop slabs or book-matched backsplashes or wall panels. Statuario marble is a perfect stone for indoor applications. Like its Calacatta counterpart, this beautiful white marble variety works well during a large tile format, also as within the sort of kitchen and toilet countertop slabs or book-matched backsplashes or wall panels. Bianco Statuario Marble White Slab from Italy quarry, during which a white background with very fine light grey streaks by tiny amber and gold vein. it's available on a spread of finished surfaces including honed, polished, etc, and available in walls and floor tiles. the foremost popular material for luxury residential and hotel projects.
CARRARA MARBLE
Named after the region in Northern Italy where it comes from, Carrara is usually what first involves the mind for people when brooding about Italian marble. Carrara marble features a really light grey background with darker contrasting grey to blue-grey veining across it. The grey figuring tends to display during lighter, almost feathery streaks.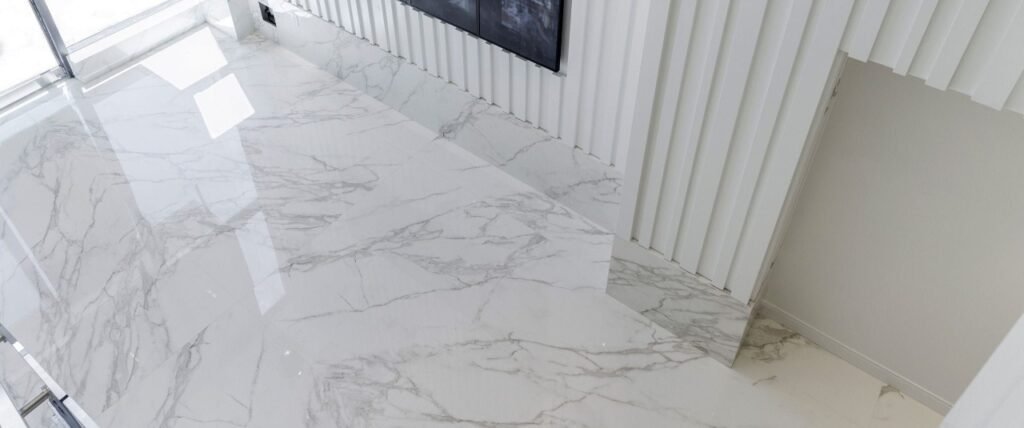 CALACATTA MARBLE:
Adding to the confusion between the two, Calacatta is even quarried from an equivalent region of Italy. the foremost distinct difference of Calacatta is its brighter white field and more dramatic veining. The streaks also feature more color variation than Carrara, starting from dark grey to brown and gold.
INDIA'S TOP AND WORLD'S BEST MARBLE, GRANITE AND STONE COMPANY
CATEGORIES; STATUARIO MARBLE, CARRARA MARBLE, CALACATTA MARBLE, BIANCO MARBLE, COLORATION, GLOSSY.
ADD BY EXPERT AND EXPORT TEAM OF BHANDARI MARBLE GROUP. CONTACT US ON; 9672941111.