ARCHITECTS+INTERIOR DESIGNERS+BUILDERS+HOTALIERS ACROSS THE WORLD LOVE THE INFINITY LUXURIOUS MARBLE TO INCORPORATE INTO YOUR HOME VILLA HOTEL AND PROJECT BY BHANDARI MARBLE GROUP-FIND OUT WHY
Marble is a luxurious natural stone that will add a touch of class to floors, countertops, and backsplashes throughout your home. But believe it or not, the look of marble can vary drastically, depending on the type of finish of marble you choose. All marble is made by Nature, but it's humans who decide how to finish the stone to make it work well within a design. In fact, marble floor and tile can be finished in four distinct ways — with honed, polished, tumbled, or brushed finishes. Each finish provides a different look, and even feel.
POLISH FINISH MARBLE FLOOR TO YOUR HOME, VILLA, HOTEL AND PROJECTS
Polished marble makes it the most popular marble finish. Its high gloss comes from finishing the stone with diamond discs, and other buffers and polishes. Polished marble works well in both contemporary and traditional settings. Not only is the polished finish versatile, but it also makes the marble less porous and easier to maintain than other floor finishes.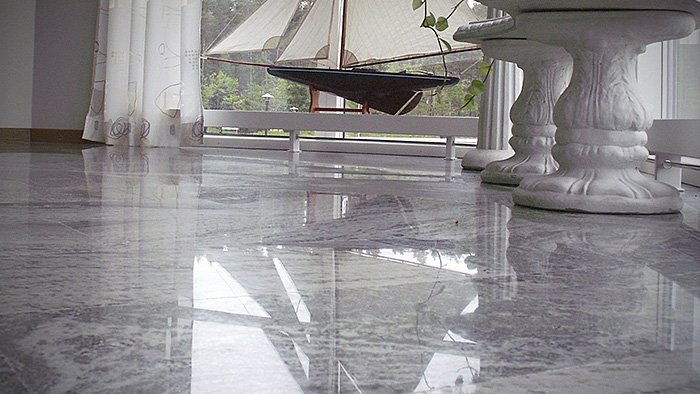 HONED FINISH MARBLE FLOOR TO YOUR HOME, VILLA, HOTEL AND PROJECTS
Honed marble has an old look and almost buttery feel, but it resists scratches and stands up to high-traffic areas. Honed finishes are created when abrasives remove small bits of stone from slabs or tile. Scratches virtually disappear on honed finishes; however, wine spills can more easily soak into honed marble, which is more porous than other finishes.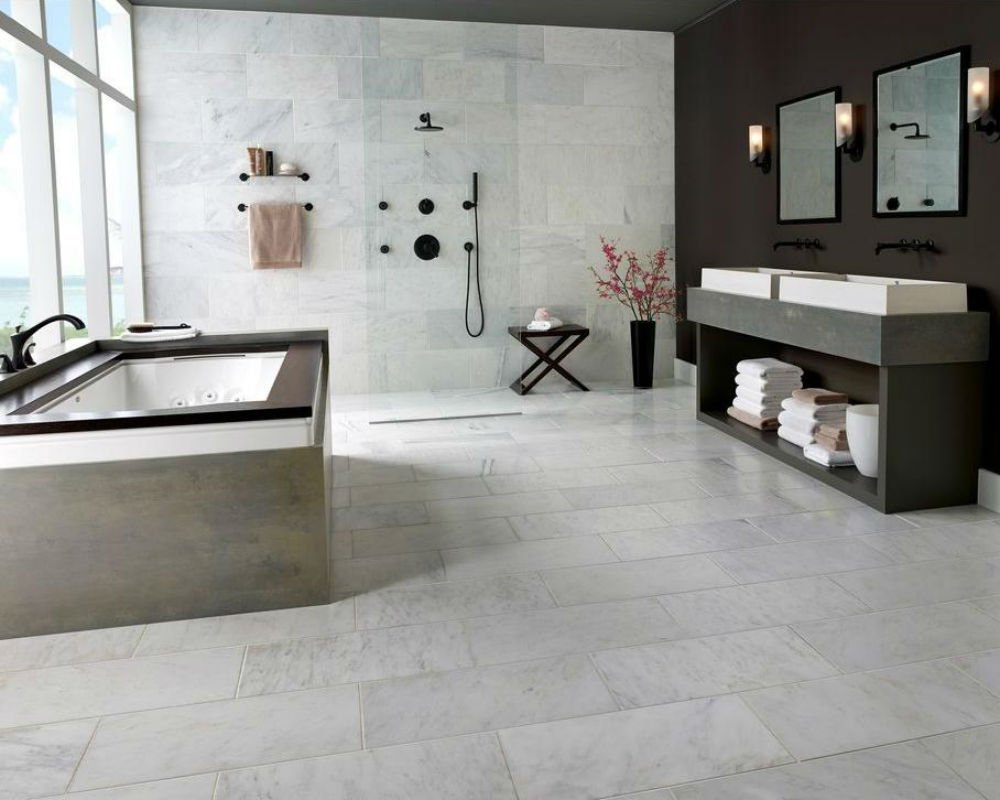 TUMBLED FINISH MARBLE FLOOR TO YOUR HOME, VILLA, HOTEL AND PROJECTS
Tumbled marble is, as you might imagine, tumbled in a drum that contains rocks, sand, or other abrasives. These create small holes and chips on the surface of the stone. The result is a finish that feels smooth but looks worn, which adds warmth to any décor. You'll love a tumbled finish. Tumbled marble gives feet a better grip when stepping out of a shower. That's why tumbled is a great finish for marble floor tiles in bathrooms.
BRUSHED FINISH MARBLE FLOOR TO YOUR HOME, VILLA, HOTEL AND PROJECTS
A brushed finish makes marble look like it was installed ages ago, giving it a natural and antique look. To get the brushed look, manufacturers gently brush the surface of marble until it becomes textured.
Flooring is an important element of brand personality, be it a hospital, hotel, corporate, or even your home. However, you must decide which among vitrified floor tiles, marble tiles, natural marble, or composite marbles offer ease of maintenance and durability. While natural marble floor stands out for its classic elegance and luxurious high-end appeal. However it is expensive, has a high installation cost, and given its high porosity, is not easy to maintain against water, stain, or scratches.
WHY CHOOSE COMPOSITE MARBLE OVER NATURAL MARBLE?

Composite marble flooring comes in numerous options with a wide variety of colors and designs such as Empyrean Series, European series, Magnum series, or Victorian series. Whether for hotels, Airports lounge, homes,s or clubs, composite marble offers various benefits that range from affordability, uniformity to durability.
INDIA'S TOP AND WORLD'S BEST MARBLE, GRANITE AND STONE COMPANY
ADD BY EXPERT AND EXPORT TEAM OF BHANDARI MARBLE GROUP. CONTACT US ON; 9672941111.
THE INFINITY LUXURIOUS MARBLE TO INCORPORATE IN YOUR HOME, VILLA, HOTELS, AND PROJECTS