TAGS: Marble, Granite, Naturalstone, Luxurystone
The biggest 2021 trends for luxury marble, granite, and rare onyx
We want our homes to be luxurious, one-of-a-kind and above all, space where we can retreat and unwind. Architecture and design with marble have always been in style, as the majestic structures built by ancient Greeks still stand to this day. It is inarguably a timeless gift of Mother Nature that redefines luxury in each space it adorns. As we approach the end of 2020, the biggest game-changer ever, not just for us but the whole world as we know it, we tapped some marble trends that can be big in 2021, with some valuable inputs that we received from Bhandari marble group India Conversations with the future – 50 of India's brightest architects and interior designers across India.
Biophilic Design
As we arrive into a new decade, Biophilic Design is already becoming widely discussed in Interior Architecture and Design trends 2021. Next year will be all about bringing the outside in with biophilia, creating spa-like sanctuaries with intricate murals, and fusing vintage and modernity with stunning marble installations. A similar thought was put forward by an Interior Designer, who said, "The future of residential design is in the outdoors. People will crave terraces, balconies, and green spaces. Designers, builders and even clients will value balconies and open spaces more, the way they currently value parking areas and lobbies."
Marble Kitchen Countertops
Marble has become a favorite option for countertops in the interior design industry. The reason it has made its way to the top of most designer's lists for nearly any kitchen or bathroom design is due to its lasting beauty, durability, and wide range of textures, patterns, and colors. Once your marble countertop is installed, it will stay beautiful for years to come. That is why Bhandari marble group India offers you innovations like the bacteria resistant BactoFinish and special ultra-strengthening technology to increase the integrity and longevity of the stone for the kitchen or any other interior space.
Bath Interiors
Marble is timeless and resistant, it is a beautiful natural material that comes in a wide variety of colorings, markings, and veinings. One can never find two pieces of the same slab, which of course greatly adds to its appeal. Marble in bathrooms is used for the coating of walls, floors, bathtubs, and sinks, giving the bathroom space an uplifted luxurious look.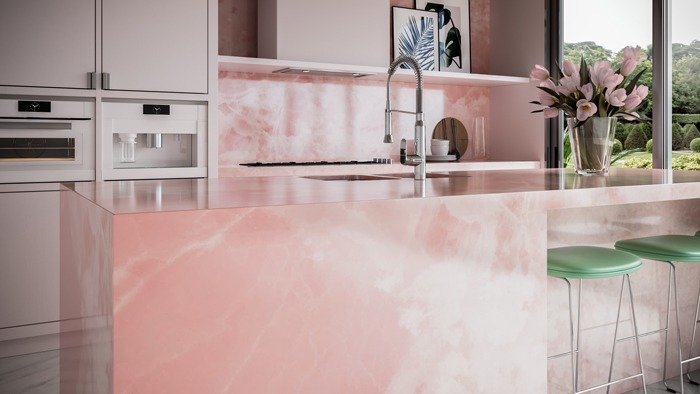 Tropical Forest and Carrara for Bathroom
The white Italian Carrara marble represents purity and subtle vibrancy to a bathroom or any other space. Like we said Carrara marble is for every interior surface. Whether it is the master bathroom or a powder room, Carrara marble can make it look pristine and welcoming. If you are looking for innovative usage of the Carrara marble you can always book an appointment.
Countless Shades
With 2021 coming, people envision the coming year to be bright and easy, thus the expectations of the mass will result in marble interior spaces with uplifting, optimistic, and natural colors.
Avocado Vert for Bathroom
"I would love to see the hues and tints of Blue, Green, Sodalite, Amazonite, or the beautiful Avocado Verte. I believe these colors will add a sense of vigor and freshness in design, making clients feel closer to the natural world. After all, we have been deprived of the great outdoors, and it's about time for us all to be in harmony with nature again", said Interior Designer Manuni Shah, Founder of Converge Designs.
Fluted Finishes
A visual and tactile delight, ribbed marble finish surfaces give a contemporary twist to any bathroom interior. Delicately ribbed surfaces on vanity units and cabinets provide subtle interest, and shower doors in decorative, vertically grooved glass offer instant privacy while allowing light to shine through.

Sodalite Super Extra Plus for Bathroom Counter
Visit Bhandari marble group India and find inspiration for your one-of-a-kind home will take you on a personalized tour of the space so that you make a perfect choice.
Why Natural Stone is an Environmentally Healthy Choice for Buildings
Natural stone stands out as the perfect choice for any responsible housebuilder. Think sustainability, environmental considerations and then there's the durability and design flexibility of the material too. It's the perfect 'green' solution – the environmentally healthy choice. Added to this, natural stone always looks superb, adding a timeless elegance to any building or structure.
Natural stone for buildings
There are various forms of natural stone for buildings delivered in different colors, textures, and technical characteristics. The most common types of stone include Quartzite, found in the mountains and used for roofing, paving, and cladding; Granite, an igneous rock that is incredibly hard, making it popular for use in construction and Limestone, a sedimentary rock made of calcite, flint, sand, and clay and used for restoration works and new builds.
Natural resource Natural stone is an incredibly enduring material; it can be salvaged, reused, and recycled and, at the end of the day, it's still stone. It won't hurt the earth when it is returned to it. As a natural resource, the stone doesn't require any 'dirty' manufacturing processes. It contains no toxins or harmful chemicals, so the atmosphere in a stone building will be a healthy, pollutant-free space. There is an abundant supply of stone, which means that natural stone supplies can often be sourced locally, minimizing the environmental footprint of the supply and transportation process.
Durability Stone is hugely enduring, lasting centuries, so, as a building material, you know you are never going to have to replace it. In fact, most stone weathers and ages well, and, like a good wine, actually enhances its look over time. The longevity of the material is an important point to factor in when you are specifying materials; whilst stone might cost more at the outset, you can be confident that the reduced costs of upkeep and maintenance will, over time, make it a cost-effective choice. Its robustness, resilience, and durability make light work of general wear and tear. And because it's effectively maintenance-free, natural stone is a perfect solution for buildings and walkways with a high amount of traffic.
Easy to clean/anti-allergy
Stone buildings and flooring are easy to keep clean. Often all they need is a wipe down with soap and water. However, there are various protective materials that you can apply to a stone floor, for example, to protect it and make it even more resistant.
Sustainable/environmentally-friendly Stone is 100% recyclable. It can be reused in so many ways; from reusing the original stone pieces to reforming or refinishing for use as paving materials, facades. Stone waste is used for aggregate and, in powder form, can be used in paints and even toothpaste. One by-product of quarrying for limestone is lime; farmers choose to use this agricultural lime to improve their land by reducing soil acidity. There's no doubt that natural stone is an environmentally healthy choice for buildings – in all aspects. From production to recyclability, aesthetics, and all environmental considerations. So, if you're looking to specify the best material for a build, make stone your first choice.
INDIA'S TOP AND WORLD'S BEST MARBLE, GRANITE AND STONE COMPANY.
CATEGORIES: MARBLE, LUXURY STONE, GRANITE, NATURAL STONE, ENVIRONMENT FRIENDLY
ADD BY EXPERT AND EXPORT TEAM OF BHANDARI MARBLE GROUP. CONTACT US ON; 9672941111.
The biggest 2021 trends for luxury marble, granite, and rare onyx