PRECIOUS MARBLE BY BHANDARI MARBLE GROUP
Precious Marble is glamour's stone that signifies elegance and luxury. Its translucent and lustrous quality allows light to shine through it, giving it a majestic look. Bhandari Marble Group is providing the best quality of Precious marble. Precious Stone is an exotic variant of the Bhandari Marble Group family that symbolizes luxury and glamour. It has been used to project luxury and grandeur since the ancient Roman Empire. Indian Maharajas used Precious Marble to decorate their Palaces. The other benefit of having the Precious Marble in your surrounding area that it relieves stress provides comfort and relaxes the heart.
Precious Marble is a unique stone that showcases brilliance and extravagance. A one-of-a-kind marble, Precious stone is almost similar to that of a gemstone. The various shades of light displayed on the stone, gives it an alluring quality, making it immensely popular. One of the most fascinating properties of Precious Marble is that light gets absorbed evenly throughout the stone today; Precious Marble is a synonym to opulence. Did you know? Precious stones were once used to create ornaments, luxury showpieces, and more. In order to save yourself from fraudulent pieces, it is better to look for the best Precious Marble dealers.
Marble and Precious Marble can both provide stunning beauty as countertops or accent pieces in homes, apartments, and businesses. These two materials will add equity and style to any area but are mainly recommended for low flow locations like master bathrooms, exclusive bar tops, and bath surrounds. Marble is one of our most popular stones at Marble. If you are looking to add a sophisticated and luxurious look at your home or business, there is no other countertop material that rivals marble.
Marble is a metamorphic rock that evolves from limestone. Marble has a wide color selection ranging from white, black, grey, pink, grey, red and blue. Because of marbles' high-end appearance, it is commonly used in elegant settings like master bathrooms, wash stations, bath surrounds and fireplace surrounds. Since marble maintains a consistent temperature, it is also ideal for baking areas. Marble.com has an extensive collection of marble that will be able to fit whatever your project is.
Since marble is a natural stone it is porous in nature. Try to avoid placing harsh cleaning chemicals and acidic liquids, like wine, on marble counters to advert potential staining, however, daily cleaning and bi-annual sealing will be all it takes to retain the beauty and elegance of your marble countertops. Marble can last a lifetime with just minimal maintenance.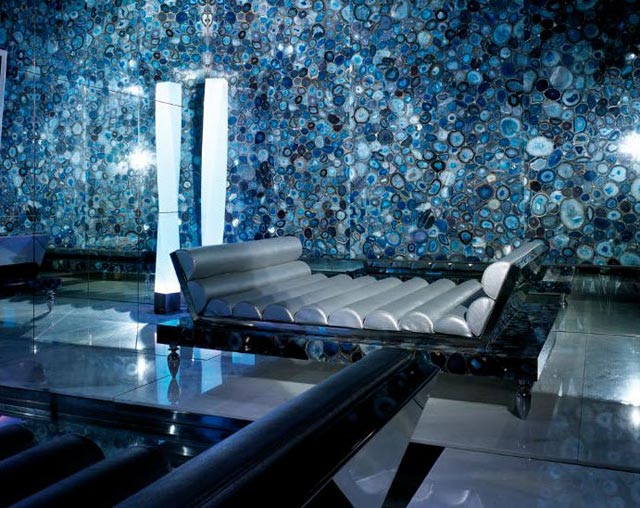 Precious Marble is a unique and exotic stone that is sure to make a breathtaking impression. Its stunning appearance, which features rich parallel layers with contrasting shades are naturally formed over the course of thousands of years. It has a remarkable one-of-a-kind style. The lavish beauty of Precious Marble caught the attention of civilizations dating back to the ancient Egyptians, and Greeks, who utilized the natural beauty of Precious Marble for making jewelry and extraordinary cravings.
A special feature that certain Precious Marble has is its ability to be backlit because of its translucency. This is a fairly inexpensive process that truly allows the stone to exhibit its pure beauty and makes it the focal point of any room. Precious Marble is best used in low trafficked areas, such as home bars. In a retail setting, we recommend it to be used merely as an artistic accessory.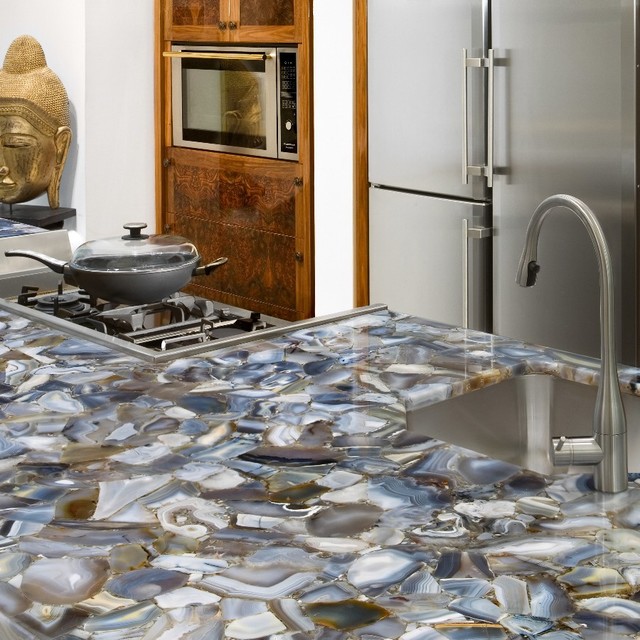 Precious Marble: Precious Marble primarily refers to the parallel banded variety of the silicate mineral chalcedony. Agate and Precious Marble are both varieties of layered chalcedony that differ only in the form of the bands: agate has curved bands and Precious Marble has parallel bands. The colors of its bands range from white to almost every color. Commonly, specimens of Precious Marble contain bands of black and/or white. Precious Marble adds a glamorous and sophisticated element to your home. With its translucent appearance, a wide array of colors and rich patterns to choose from, only Precious Marble is a natural choice for those wanting a dramatic impact. These marbles are used for different purposes like wall cladding. Precious Marble is a unique and exotic stone that makes a breathtaking impression. Precious Marble stone gives an astonishing and rich appearance when used for flooring or any other purpose. It has an amazing exceptional style. The price range of Precious Marble stone varies according to the quality of the product and color of occurrence. Precious Marble stone is regularly used for making decorative items and jewelry and other amazing things. We can provide you many colors and quality types in this marble.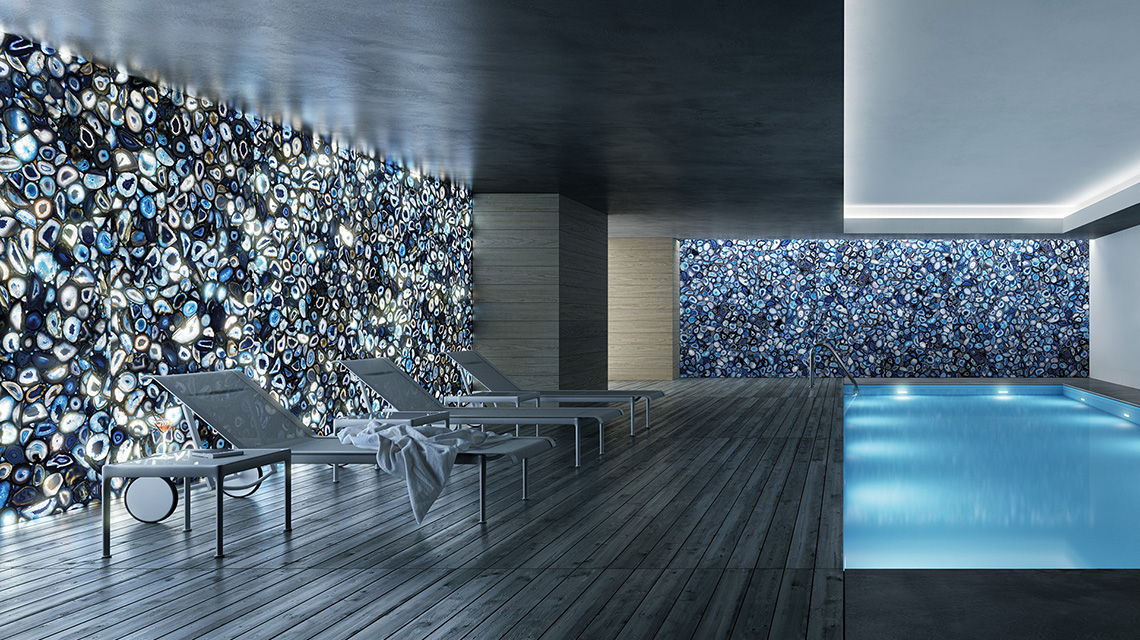 The unique creation of the Precious Marble gives a unique texture to the marble. It is created in the caves of the Middle East, North Africa, and South America from drips of water, that form stalactites and stalagmites, and when the water evaporates from these naturally created stone slabs; it leaves behind deposits of calcium carbonate and other minerals. These deposits are responsible for swirls, spots, and colorful bands, seen on Precious Marble. Travertine deposits are also commonly found in Precious Marble.
​We are a leading Mines owner, Manufacturer, Producer, Supplier, Exporter of Precious Marble in slab sizes & tile sizes. Precious Marble is one of the best qualities of marble with a number of natural figures, patterns & linings on it. Moreover, it is free from any chemical treatment, therefore, it does not change color and neither develops pinholes nor loses polish with time. It has the highest degree of durability, shining & whiteness which perfectly meets international standards. Various Colors of Precious Marble Slab, We Ship Anywhere in the World. The Best Vanity Top Precious Marble and Gems Countertops. Get Precious Marble Dining Table, Granite Dining Table, Dining Table Design, Dining Room, Precious Marble dining table tops with faux marble top, high-quality Precious Marble Dining Table Price products at best price from certified Marble suppliers.
Precious Marble Pink or as it is popularly called as Lady Precious Marble Pink Marble is a white base, Indian Marble, with swirls of Green and pink colors. Both Precious Marble Green and Pink are obtained from the same quarry however the selection is made out of prominence of Green or Pink color in the blocks. The marble blocks showing the prominence of Pink are classified as Lady Precious Pink Marble. The predominant color in the Pink Precious Marble is pink with shades of cream and green are woven in the tapestry. Precious Marble Pink exuberates translucent pink coloration having an innate ability to beautify your surroundings like never before. The beautiful pink shade will take you into a serene world of pristine tranquility. Your house or office or garden will be reckoned by your near and dear for the extraordinary grace and beauty it exhibits. Lady Precious Marble Pink Marble is suitable for bathrooms, entryways and fireplaces, living & dining areas. Lady Precious Marble Pink Marble is also used for both interior and exterior flooring applications. An eye-catching look, smooth surface and fine finishing of Pink Precious Marble are appreciated at large by the customers all over the World. Pink Precious Marble is offered in slabs, tiles, blocks, tops, steps, risers, etc. form as per the requirement of the client. Precious Pink Marble is extensively used to enhance the beauty of myriad interior and exterior applications and constructions. Precious Pink Marble is the natural choice for individuals who desire something really unique in countertops, vanity tops, showers, floors, and other elements of the home. When you choose natural stone, you are assured that no other home in the world will have a stone that is exactly the same.
is known for its rich palette of beautiful colors and appearance. It became a popular choice due to its beauty and elegance. This marble is available in various colors, textures, and sizes. Precious stones are extensively used for floorings, wall claddings, borders and designs, handicraft items and more. Precious Marble has a natural white color with different variations being stricken with a tinge of golds and greys. Precious Marble is available in various types of designs and colors. This marble is optimized for commercial and home applications and appears as fortune variety in designing countertops; table tops fireplace surroundings and bathrooms vanity.
Your search for Precious Marble in India will end with us. We are one of the largest Precious Marble suppliers in India. Bhandari Marble Group is dealing with all different types of Precious Marble varieties. The marble is produced with the utmost finishing using advanced processing and cutting tools. If you are looking for Precious Marble in Udaipur with incredible texture and strength, we are the right place for you. The varieties we cover are Travo Precious Marble, sunrise, smokey, royal cappuccino, emerald Precious Marble, pink, Precious Marble, and many others.
We are providing our clients with a high-quality array of Precious Marble. This marble is finished using advanced tech tools as per the set industry standards. Offered Precious Marble is a very demanded advantage like beautiful texture, strength, and perfect finish. With a cryptocrystalline structure and translucent property, Precious Marble is one of the more popular precious gemstones. Precious Marble is generally formed from layered deposits in warm springs and limestone caves. Precious Marble colors are soft, opulent and almost fragile stone. Fireplaces, bar tops, and islands are some appropriate places to use. Translucent qualities of Precious Marble can be leveraged by placing the material under or over the lighting areas. Precious Marble tends to be more crystalline, strongly banded and colored in browns to yellow and clear.
CONTACT US ON; 9829040013
Precious Marble in Kishangarh