Marble is undoubtedly the most demanded and most used natural stone. The main factors that cause it to be extremely popular are its unmatched aesthetically pleasing looks and remarkable durability along with resistance to any kind of damage. Marble is not only a trendy material to be used in your house, villa, hotel, or project but is also an evergreen building stone.
THE EVERGREEN NATURAL STONE- MARBLE
It has been used since the beginning of time as a perfect building material. It was used extensively in Italy and also in India where it was mined in huge quantities. Both Indian, as well as Italian marble, are equally trendy because of their unique and marvelous traits. The greatness of Italian marble is commonly known, however, Indian marble is very underrated. Indian marble is as great as Italian marble and the shine and durability of Indian marble are at par with that of Italian marble. Some of the greatest architecture of all times like David of Michelangelo, The Victoria Memorial, and the Taj Mahal have been made using marble and have remarkably stood the test of time with their shine, beauty, and color all very much intact even after several decades of direct exposure to harsh weather and extreme pollution.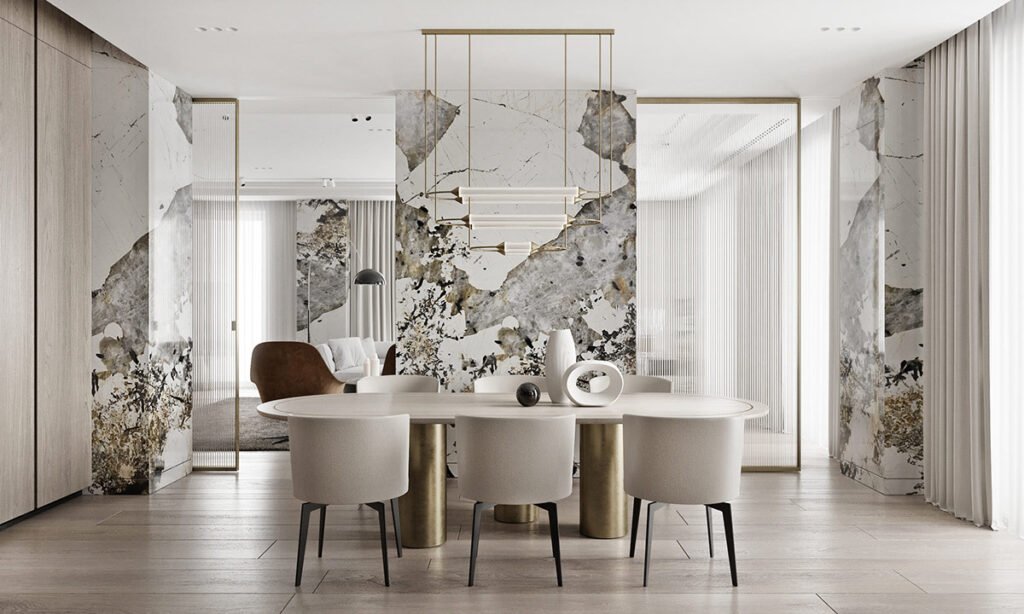 CREATIVITY AT ITS BEST- COMBINATIONS AND CONTRASTS
Marble is perfect to be placed in the interior as well as the exterior of any type of project. There are several options to choose from in terms of style, design, color, texture, etc. Marble also provides creative liberty to put together a combination of contrasting marble stones to make a unique and customized look. Marble is also perfect in terms of durability and resistance because it can take a lot of weight and is also available in stain-resistant, heat resistant, and water-resistant categories at Bhandari Marble group that too in the best quality one can find.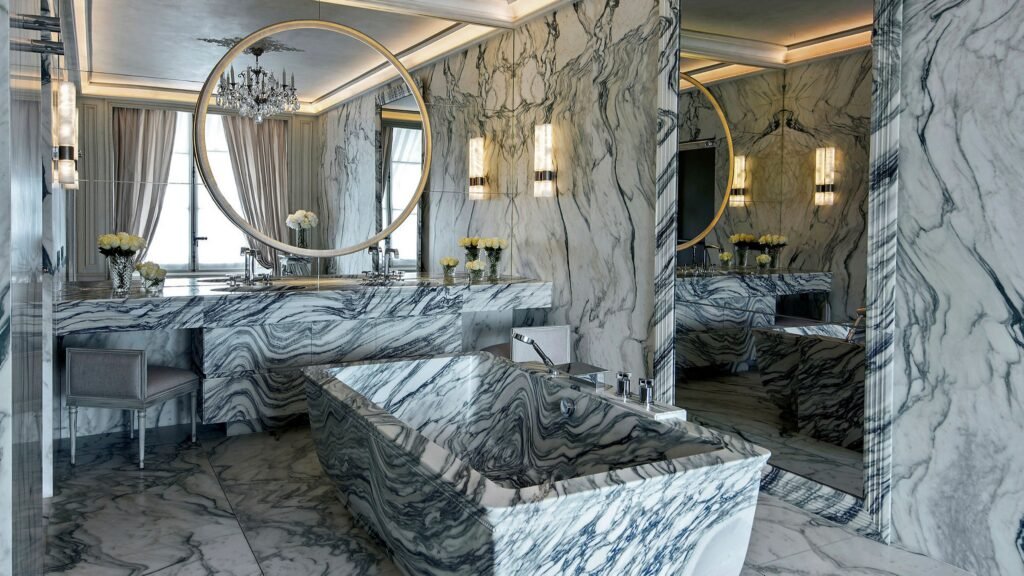 INDOOR LOCATIONS WHERE MARBLE CAN BE INCORPORATED
There are various classy ways to incorporate this beautiful and luxurious natural stone into the interior of your project. We at Bhandari Marble group offer a variety of marbles for various spaces in your project. Some of them are listed below:
RESISTANT MARBLE FOR KITCHEN
Marble is a perfect choice for the kitchen because of its remarkable heat-resistant qualities. Carrara marble, statuary marble, Calcutta marble, etc. are some of the most popularly used kitchen marbles. It is very easy to clean marble and you can simply wipe the dirt off with a cloth dipped in warm water. It is recommended to use gentle cleaners. The durability of marble also makes it a good choice for the kitchen.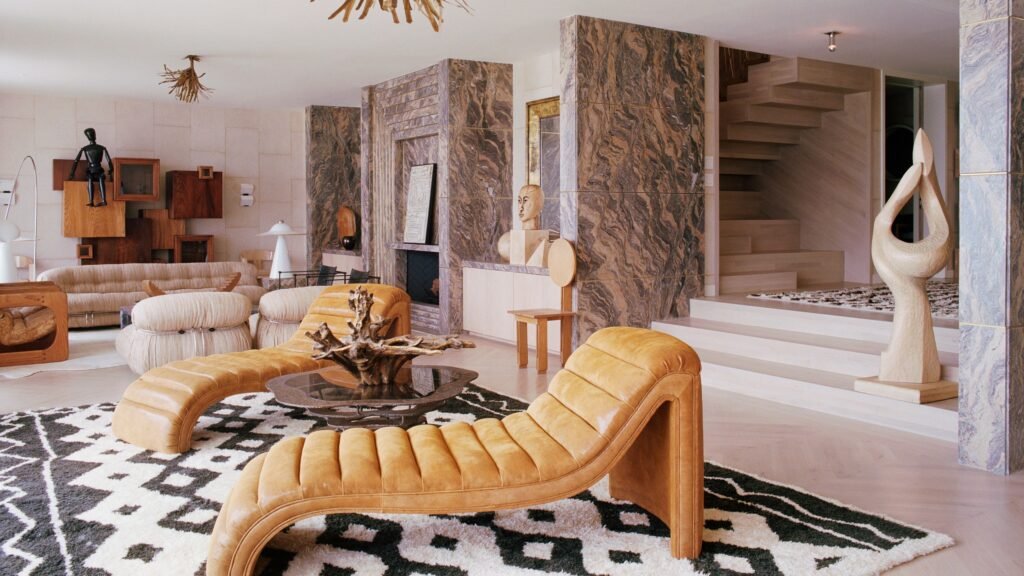 NON-SKID MARBLE FOR BATHROOM
Marble is a very good option to be placed in the bathroom because of its beauty and elegance. The scratch-resistant category of marble provided by Bhandari Marble Group is perfect for use in the bathroom space. Marble is also highly absorbent which makes it further suitable for placement in bathrooms. White marble is a marvelous choice of marble for bathrooms because it adds a very unique and luxurious beauty to the space. The public baths in Rome were also made of white marble to make them look very luxurious for the elite class.
LIVELY MARBLE FOR LIVING SPACES
Marble is an evergreen natural stone which makes it the best choice for your living space so that it looks trendy forever. Not only is marble suitable for living spaces because of its evergreen trend but also because it possesses favorable characteristics to suit the requirement of such spaces. All kinds of furniture go very well with marble and it also gives a very high-end and luxurious touch to the place. From mesmerizing Black Marble to elegant White Marble, you can never go wrong with marble for your living space.
SOOTHING MARBLE FOR BEDROOM
Marble not only gives a very classy and elegant appearance to your bedroom but is also very pleasing to look at and gives very soothing vibes. The beauty and durability of Marble make it a perfect choice for your bedroom. Along with being remarkably durable, it requires minimal maintenance and is also scratch-resistant, weather-resistant, and water resistant. Marble won't lose its shine and luster anytime soon!
STYLISH MARBLE FOR BACKSPLASHES
Marble, when used as a backsplash, instantly lifts the look of your kitchen. It looks very classy and beautiful and makes the place look very unique and maintained. Marble is a very porous and soft stone with high absorbing properties which makes it the best choice for a backsplash. It makes the kitchen look decorated and eye-catching with minimal effort.
DURABLE MARBLE FOR COUNTERTOPS
You can always count on marble for your countertops. Marble countertops are extremely beautiful and durable and add a very beautiful and classy touch to the space. Marble countertops are also very eco-friendly and sustainable because they are made by utilizing excess marble and this avoids the production of unnecessary waste. Marble countertops are easy to clean and scratch-resistant. The heat-resistant and water-resistant properties of marble make it perfect for countertops.
EYE-CATCHING MARBLE FOR VANITY TOPS
Marble is very versatile and can be used for vanity tops to give a very beautiful and eye-catching appearance to the whole space. It is durable, water-resistant, and highly absorbent which makes it a very suitable option for vanity tops. Marble vanity tops are also very easy to maintain and can be easily cleaned. Marble vanity tops are also scratch-resistant to make their beauty and shine last forever.
OUTDOOR LOCATIONS WHERE MARBLE CAN BE INCORPORATED
Marble is not only good for the interior but also use in the exterior of any project. Here are some classy ways to incorporate marble in outdoor locations:
MARBLE FOR PATIOS
Marble is a very durable and resistant stone which makes it perfect for use in patios. Marble is a natural stone of the highest quality and brings high-end vibes and sophistication to your outdoor space. Indian marble types are the best suited for patios.
MARBLE FOR PARKING LOT
Marble is very durable and even in areas like parking lots where there is high foot traffic and the need for remarkable durability and resistance, marble proves to be a good choice. The glazed finishing of marble stones makes it perfect not only in terms of the highly lustrous look but also in terms of resistance to damage.
MARBLE FOR PATHWAYS
As stated before, marble is a good option for areas with high traffic and its durability makes it perfect for use in pathways. Marble is not only long-lasting but also very good looking which further adds to its pros. Marble is a very good option for pathways and outdoor use. Both Indian and Italian marble is best suited for pathways.
MARBLE ARTIFACTS AND FOUNTAINS
Marble is a very beautiful stone and is just the right choice for decorative items such as artifacts, statues, and fountains for the outdoors. The high weather resistance of marble makes it suitable for use in artifacts and fountains which are placed outdoors. This beautiful stone is also water-resistant and its strength and durability along with its remarkable appearance make it perfect for use in decorative items outdoors. Bhandari Marble Group has provided the highest quality marble for the most prestigious hotel chains, hospitals, parliament buildings, and projects and takes pride in serving the nation and the world with its premium grade products. Be it your home, hotel, villa, or project, you can always rely on us because we believe in perfection for your project.
WORLD'S TOP AND INDIA'S BEST MARBLE, GRANITE AND STONE COMPANY
ADD BY EXPERT AND EXPORT TEAM OF BHANDARI MARBLE GROUP. CONTACT US ON; +919829040013, +919672941111.
NATURAL STONE- MARBLE BY BHANDARI MARBLE GROUP