Kota Stones has wide application in exterior works for its non-porous, non-absorbent, tough and homogenous properties and is an excellent building stone for both humid and freezing regions. The availability of the stones in slab and tile form makes it convenient to achieve different patterns of flooring.
CHARACTERISTICS OF KOTA STONE
COMPOSITION– Kota Stone is a very fine-grained stone, siliceous calcium carbonate rock of sedimentary nature.
PHYSICAL PROPERTIES– Kota Stone is hard, compact and tough natural stone. It is non- slippery.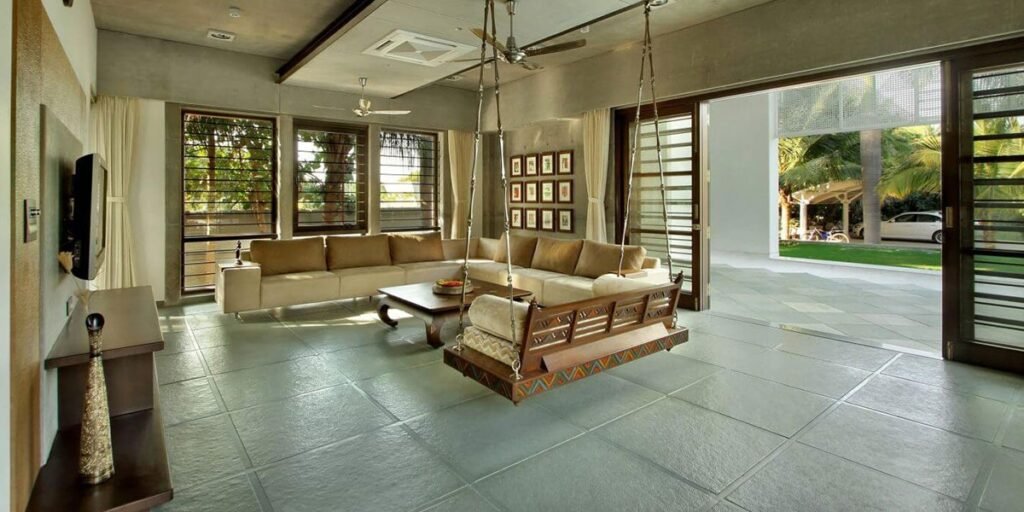 ADVANTAGES OF KOTA STONE
Beautiful
Natural stone
Different Finishes
Hygenic
Cool
Affordable
Wide Range
Kota stone slabs have various colors such as gray or rich greenish-blue, brown, yellow-gray. Kota stone is available in a rough and polished form and Blue (Green) & Brown, a popular limestone, makes the Best building stone because it can be carved easily. Kota stone specialty lies in its hardness and it can be used both for interiors as well as exteriors. Kota stone is much cheaper than marble and granite, hence makes economic sense. Depending upon the location, it can be laid polished side up anyway, but also can be laid the unpolished side up to get a textured floor finish. Though it is also a natural stone like granite, it can be re-polished over the decades if a fresh look is desired. Among the few eco-friendly materials, the Kota stone floor can last as long as we want it.
1- KOTA STONE TILES–
The tiles should be of desired quality, hard, dense, homogeneous, and free from any cracks, decay, weathering, etc. It could be either hand or machine cut for the required thickness. The exposed face of the tiles should be polished before being placed at the site and also the contractor shall get the slab sample approved by the concerned Engineer.
2- DRESSING OF TILES-
Each tile shall be tailored to the required size and shape and chisel dressed along the sides to obtain a straight edge. The edges shall be either table rubbed or machine rubbed with coarse sand before paving.
3- PREPARATION OF KOTA STONE TILES-
The surface upon which the slabs are to be laid should be cleaned, wetted and mopped. The bedding mortar of tile shall be of specified thickness.
4-LAYING OF KOTA STONE-
The cleaned slab is laid on top, pressed, and tapped with a wooden mallet in order to bring in the same level as the adjoining slab. The slab is then lifted and placed aside. The top surface of the mortar is made uniform by filling up the hollows with fresh mortar and is allowed to harden.
5- CURING, POLISHING AND FINISHING-
The curing of tiles by wetting the surface shall be continued for a minimum period of seven days. After grinding the surface should be prepared by thoroughly washing and cleaning for final grinding. Hand polishing may be allowed instead of machine polishing for small areas after laying.
TYPES OF KOTA STONE-
Kota blue natural
Kota brown natural
Kota blue polish
Kota brown polish
Kota honey stone
Rough/Natural Kota stone
White Kota stone
Green Kota stone
Kota stone leather finish
SUITABLE PLACE FOR USING KOTA STONE-
Suitable for circulation space such as corridor, entrance hall, porch, and staircase where wear tear is more.
Suitable for use in commercial buildings where wear and tear are more. Suitable for public places such as bus stand, railway plate form, and other circulation space.
Suitable for kitchen and dining hall as its polished surface is easily cleaned and it bears the heavy human traffic.
Suitable for bathroom flooring due to nonsloppy, non-water-absorbent, and less porous.
If budget limitation, it can very well be laid in the bedroom, drawing room, lobby, balcony, etc, and give decorative effect and have a long life.
Rough Kota stone is laid in the garden patio, pathway, and driveways as it is a hard and tough stone.
Suitable for wall cladding.
INDIA'S TOP AND WORLD'S BEST MARBLE, GRANITE AND STONE COMPANY.
ADD BY EXPERT AND EXPORT TEAM OF BHANDARI MARBLE GROUP. CONTACT US