TAGS: Statuariomarble, Italianmarble, Interiordesign, Architect
The Best Ways To Use Statuario Marble In Interior Design in 2021
Statuario marble is without a doubt, one of the most beautiful Italian marble available and is the epitome of style and elegance and has been utilized as a symbol of sophistication and status in interior design for centuries. We are often asked about statuario marble by architects, interior designers, luxury builders, and end-users alike. Statuario Marble wall tiles are just as great. Use them to create an accent wall in your bathroom or kitchen. Statuario White marble reflects and amplifies light so keep that in mind when choosing the color. Complement the marble wall with a few wood elements for a warm and welcoming look. Even a small Statuario marble detail can have a big impact on the design and ambiance of a space. That's true for every type of space, including the living room, the bedroom, or even the office. There's no wrong place to use marble in which only helps to prove just how versatile and truly timeless this material really is.
Statuario Marble
Statuario marble is a striking and exclusive bright white natural stone, denoted by its beautiful gold and grey veining and its rich, bold patterns. It is arguably the most sought-after white stone in the marble family. Statuario marble often contains heavy grey veining throughout with unique and complex patterns. It originates from the mountain quarries of Statuario, above Carrara in Italy. We are one of the leading suppliers of the rare statuario marble in the World and its limited availability, coupled with its high demand, makes it a real statement in any residence or commercial building.
White is the generally-preferred color when it comes to Statuario marble of all kinds which is great because Statuario Carrara marble doesn't come in many nuances. Still, some darker gray tones are available in case of interest. Statuario marble countertops and backsplashes are very common but there are not the only ways to use Carrara marble in interior design. A less popular option is a marble tabletop. Perhaps your coffee table could use a makeover just about now. Similarly, a console table with a Statuario marble top can look very stylish and refined. This can potentially be an exquisite focal point for an entryway, hallway, or for dressing room. It's easy to get carried away when decorating with Statuario Carrara marble. You start with a vanity counter, you add a matching backsplash, maybe a matching sinks too, and before you know it your whole bathroom is covered in marble. Sometimes that's actually not a bad idea.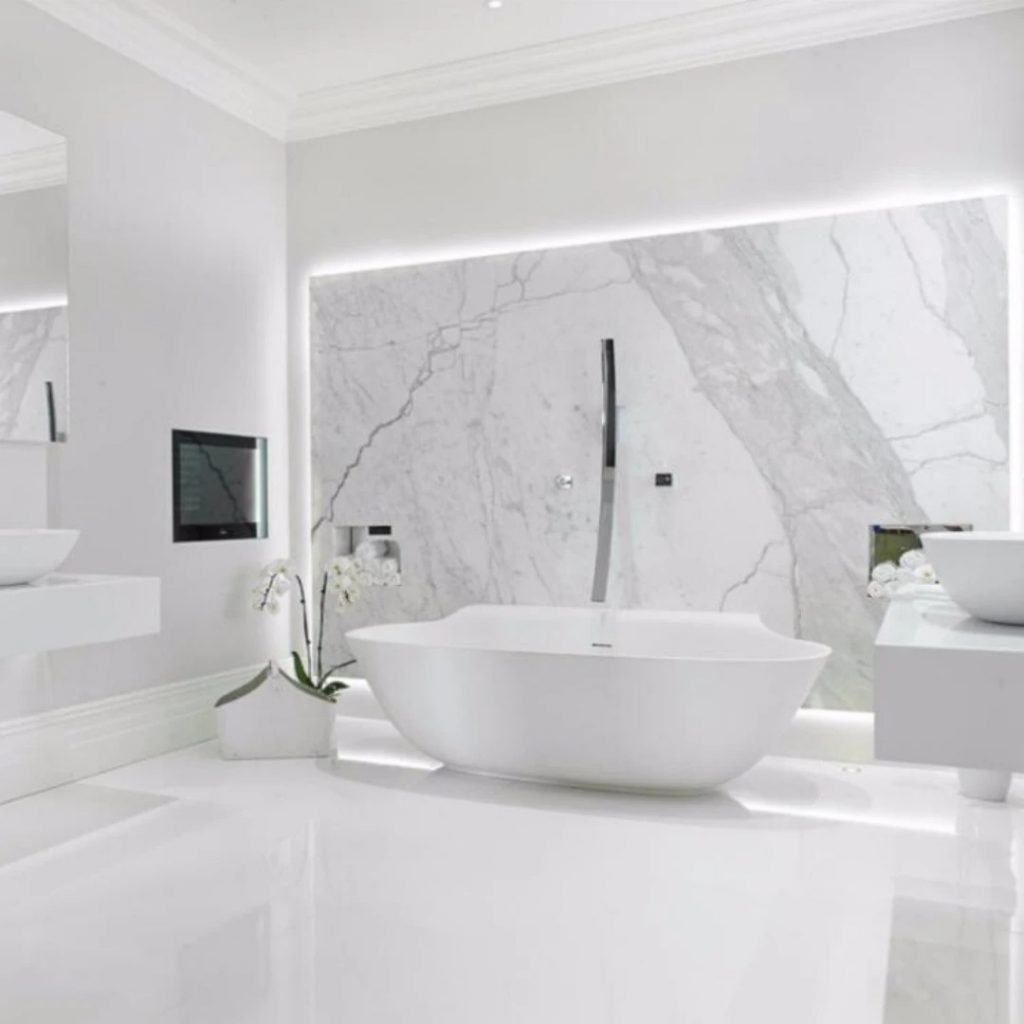 The above are just a few reasons why statuario marble could be the perfect building material for your luxury interior project. We are market leaders in Italian marble in India. To discuss your options and how to make natural stonework for you, drop into our factory outlet showroom today or give us a call or email and we'll be happy to give you an expert opinion. Cool colors for walls and cabinets look best with Statuario marble counters, but you can style with any color. Extracted from the mountains of Carrara in Tuscany, Statuario marble is a beautiful material with many different uses, most commonly in spaces like the kitchen or the bathroom. One of the reasons why it's so popular has to do with its affordable pricing. Statuario Marble is less expensive than quartz or granite and a lot of people would say it's also more beautiful and elegant.
Best Uses for Statuario Marble in Architecture
Given its prestige status, statuario marble is unsurprisingly commonly used as a focal point of any room. Most of our clients use it for stunning kitchen countertops and backsplashes or as large floor tiles. Luxury bathrooms are equally good uses for this natural stone, as it's the perfect material for a vanity area or even as eye-catching floor tiles. Generally speaking, statuario marble is not a good material for external projects. It's equally popular with our commercial clients where it can be used as part of a statement reception area or boardroom, in 5-star hotels, and can often be seen in religious buildings such as churches. In ancient Italy, statuario marble was the marble of choice for carving lavish statues and was the stone used for Michelangelo's famous 'David' masterpiece.
One of the most common uses for Statuario Carrara marble is in the kitchen, for countertops and backsplashes, often in matching pairs. A waterfall countertop is perfect for showcasing the beautiful gray veins on white Statuario Carrara marble. Freestanding kitchen islands are a convenient way of highlighting such a feature. If you like the delicate and timeless look of Statuario Carrara marble there's no reason to limit yourself to countertop or backsplash surfaces. It can be interesting to have a whole vanity covered in this material. It's an option best-suited for bathrooms. One of the coolest things about Statuario Carrara marble, besides its refined and elegant look, is its versatility. This timeless material can look classy and beautiful when paired with a lot of different styles. A great way to emphasize the magnificent and unique beauty of Statuario marble is to create an accent wall like this one. It's a great idea for modern bathrooms which are typically very simple and airy.
Speaking of stylish bathrooms, another elegant idea is a marble walk-in shower, preferably with transparent glass enclosures so the space remains open and airy. A matching vanity counter would make the space look even better. Not a shower kind of person? Maybe a Statuario marble bathtub would be better suited in your case. Such a piece would make an exquisite focal point for any bathroom, no matter how big or small. If you'd like to use some Statuario marble in the bathroom but not in a very eye-catching manner, a marble sink or washbasin could be the perfect solution. Statuario Marble floor tiles are a cool option too. The bathroom floor rarely gets any attention and this is a way in which you can change that.
Features of Statuario marble
– Smooth finish
– Striking color
– Used for Flooring
– Appealing design
– Polished
– Easy to maintain and long-lasting
It often has brown and gold undertones. Statuario is the most precious marble varieties found in Italy. It has distinctive veining that can range from gold to grey.
INDIA'S TOP AND WORLD'S BEST MARBLE, GRANITE AND STONE COMPANY
CATEGORIES: STATUARIO MARBLE, USES, ARCHITECTURE, INTERIOR DESIGN, FEATURES.
ADD BY EXPERT AND EXPORT TEAM OF BHANDARI MARBLE GROUP. CONTACT US ON; 9672941111.