TAGS: Italianstatuariomarble, Indianstatuariiomarble, Whitemarble, Interiordesign
Italian Statuario Marble vs Indian Statuario Marble: Which Is Better? –
Italian Statuario Marble vs Indian Statuario Marble: What is the difference?
Properties of Italian Statuario Marble vs Indian Statuario Marble
Thickness Commonly available in 18-20 mm slabs Available in various thicknesses, can go up to 30 mm and Polishing marble needs highly skilled craftsmen and Indian Statuario marble require a lesser level of skills as compared to Italian marble. s it is soft, it has a nylon backing and is treated with epoxy resins, matching pigments, and chemical resin sealers, No toxins or chemicals used to reinforce stone as it is harder Where used High-end floors of living, foyer, staircases, tabletops. Not preferred in kitchens as it is very soft and can easily stain. Indian Statuario marble mostly used in bathroom walls and floors, kitchen countertops.

Pros And Cons of Indian Marble and Italian Marble
While the most significant advantage of marble is its aesthetic appeal, it does come with a lot of drawbacks. Marble is a porous stone and is prone to stains. Chemically, it is made of calcium carbonate, a basic salt that can react with an acidic material. That's why citrus juices can corrode the surface and make it susceptible to small pits. For this reason, granite is preferred over marble for kitchen countertops. As marble is a natural stone, deeper layers of the stone could have fissures and cracks which may not be visible on the surface. As a result, the slabs you buy may sometimes come with a high percentage of wastage. Marble is prone to scratches and heavy or sharp objects should not be moved on the floor. Unless you have experts laying the stone, it may not be done perfectly level. Over a period of time, marble can wear away and develop hairline cracks due to weight or pressure. This is more common in Italian marble. However, many people feel this adds to the charm of the stone ages.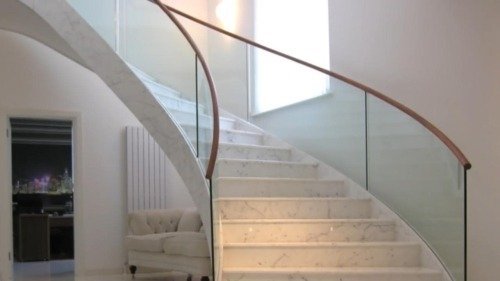 Cost: Indian Marble vs Italian Marble
Italian Statuario Marble is among the finest in the world and is accordingly priced—with the cheapest varieties starting from Rs 200 per square foot, and the more exclusive, fine stones costing even Rs 4000 for a square foot. Creamy Calacatta Marble with its feathery veins and Carrara are classified as Group A. These are available only at the lower depths of quarries. They are highly-priced as they have very few fissures running through the stone and the Statuario Marble is much more cost-effective, with the lower-end prices starting at Rs 150 per square foot. When calculating the costs, you will also need to factor in the prices of cutting the slabs to size and laying it in your required pattern. This will come to around 150 per square foot inclusive of the fixing material. Marble inlay work requires very specialized craftsmen to do the work. Depending on how intricate the design is, costs can go up to Rs 2,500 per square foot. Finally, the marble needs to be polished with fine stones of carborundum and buffed and sealed with tin oxide. This polishing costs approximately Rs 40 per square foot.
Cleaning Tips: Italian Statuario Marble Vs Indian Statuario Marble
Marble is a stone that requires a high degree of maintenance to keep it looking good. Its porous nature makes it very prone to scratches and stains, and such imperfections show up all too well against a polished surface. Here are some maintenance tips:
Acidic substances like vinegar, lime, and tomato will stain the marble, so wipe up any spills immediately.
Use diluted organic cleaners that are environmentally friendly and do not contain any chemicals.
Seal the surface regularly with a sealant that forms a protective barrier. When water stops beading on the surface, it's time to re-seal.
Every few years, marble should be re-polished with carborundum stone and tin oxide, to restore the surface luster.
The water used for mopping the floor should not be hard or contain any chemicals.
INDIA'S TOP AND WORLD'S BEST MARBLE, GRANITE AND STONE COMPANY
CATEGORIES: ITALIAN STATUARIO MARBLE, INDIAN STATUARIO MARBLE
ADD BY EXPERT AND EXPORT TEAM OF BHANDARI MARBLE GROUP. CONTACT US ON; 9672941111.
Italian Statuario Marble vs Indian Statuario Marble