TAGS: Blackgranite, Granitedesign, Graniteexporter, Architect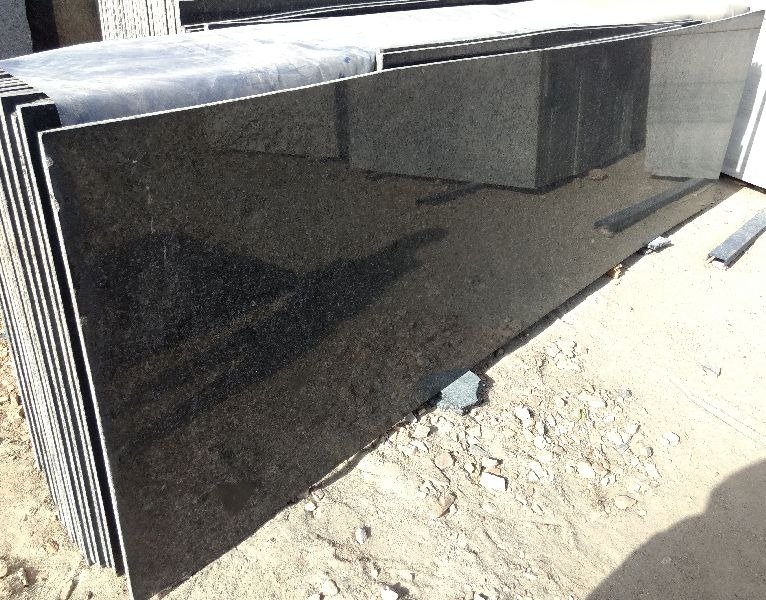 BLACK GRANITE- A STAPLE OF MODERN INTERIORS:
Black Granite tops the list of the most popular stone among homeowners. It is used in several forms such as tiles and slabs. At Bhandari Marble Group, Kishangarh, a bestselling black granite is the granite from Rajasthan which is extremely popular among Indian and international buyers. Its strength and beauty are second to none and its properties make it an all-time favorite among homeowners. In the world of natural stone, the looks of black Granite remain unmatched.
REASONS TO CHOOSE BLACK GRANITE:
• Black aesthetics stand out of the crown in both interiors as well as exterior applications. If you choose Black Granite, chances are that your property will be a head0turner and one that is different from the usual. It is also a risk-free option to choose black granite as this color cannot go wrong in terms of design aesthetics as well.
• The patterns, swirls, dots, and waves that one can find on black granite add to its beauty. Among the most popular granite slabs, you can find a contrasting and complementing pattern of colors such as red, white, and grey. These colors add more depth to the black backdrop and make this stone more interesting. These patterns are almost like a layer of beauty that envelopes the deep, rich black color.
• Other stone trends come and go but black marble is a trend that stays forever. It adds luxury, class, and elegance that are timeless and nothing compares to its charm. Black granite is a unique and modern way of making a style statement.
• Homeowners prefer black granite to add a striking look to their kitchens and bathrooms. The application can be in the form of countertops, vanity tops, sinks, basins, accessories, monuments, artifacts, and much more.
• If you are looking to remodel or renovate, nothing can be a better option than black granite. The reason being that black granite simply complements all colors in your interiors. You do not have to worry about finding a complementing color pallet and then searching for a stone in that hue. Simply opt for a black stone such as black granite and you're good to go.
• Black granite gives stunning contrasts to white, beige, and lighter colored islands and cabinets. Black granite accentuates these colors and brings out the best look.
• The polished surface of Black Granite reflects shine. You can easily choose a type depending upon your needs. At Bhandari Marble Group, we offer special recommendations for residential and commercial needs. Our team of experts is just a call away and is ready to guide you towards an appealing home, villa, hotel, or commercial project.
USES OF BLACK GRANITE:
KITCHEN COUNTERTOP:
A sturdy Black Granite countertop remains as it is for several years to come. It is highly unlikely for it to lose its shine and gloss and since it is a natural stone, it comes with a range of properties that make it even more desirable. Be it wood-work or modern aesthetics, the black stone will highlight it and make it look even better.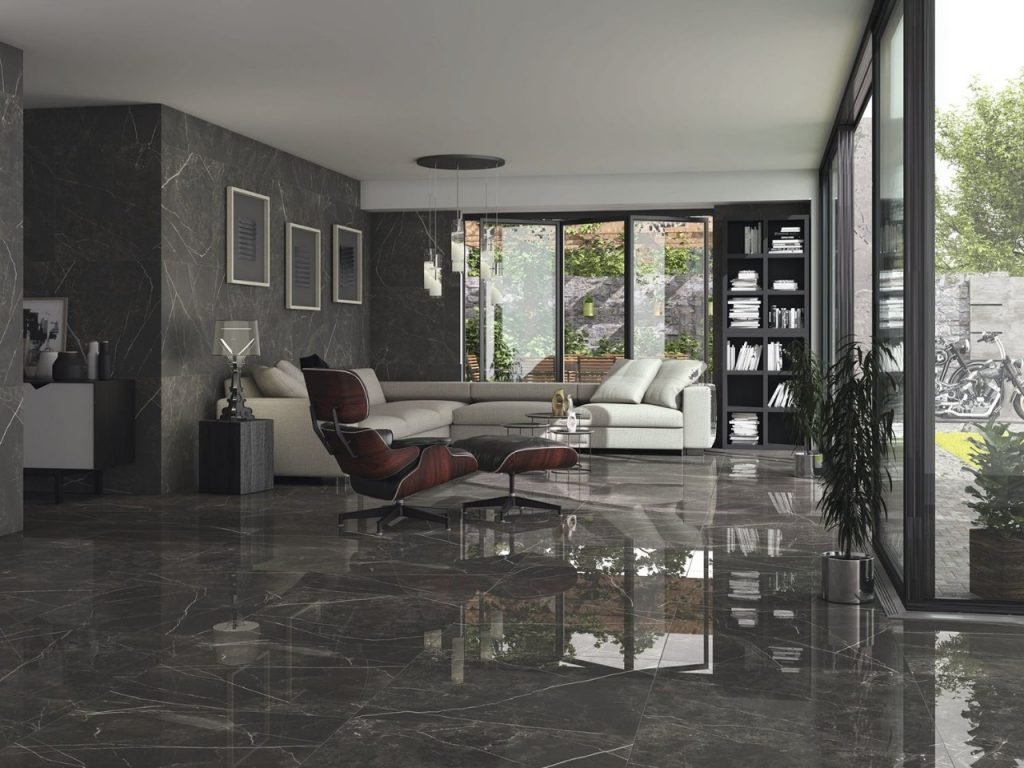 BATHROOM:
The black stone represents luxury and sophistication. This makes it a perfect choice for bathrooms. An added advantage other than its gorgeous looks is that this tone is resistant to heat, water, and a humid environment.
FLOORING:
Granite slabs or tiles can be uses for flooring however it is advisable to use them in the form of tiles as they are easier to install and yet come with the benefits of this material which is natural stone. The color black adds more depth to the interiors if used in flooring. Our experts recommend you install this tone in rooms that are spacious and have enough sunlight. This setting goes well with black colored natural stone.
WALL ACCENTS:
Adding black stone as wall accents is the easiest and most effortless way of using this stone to add more depth and charm. Wall accents can be added in the kitchen, bathroom, behind the shower, or even above the basin mirror.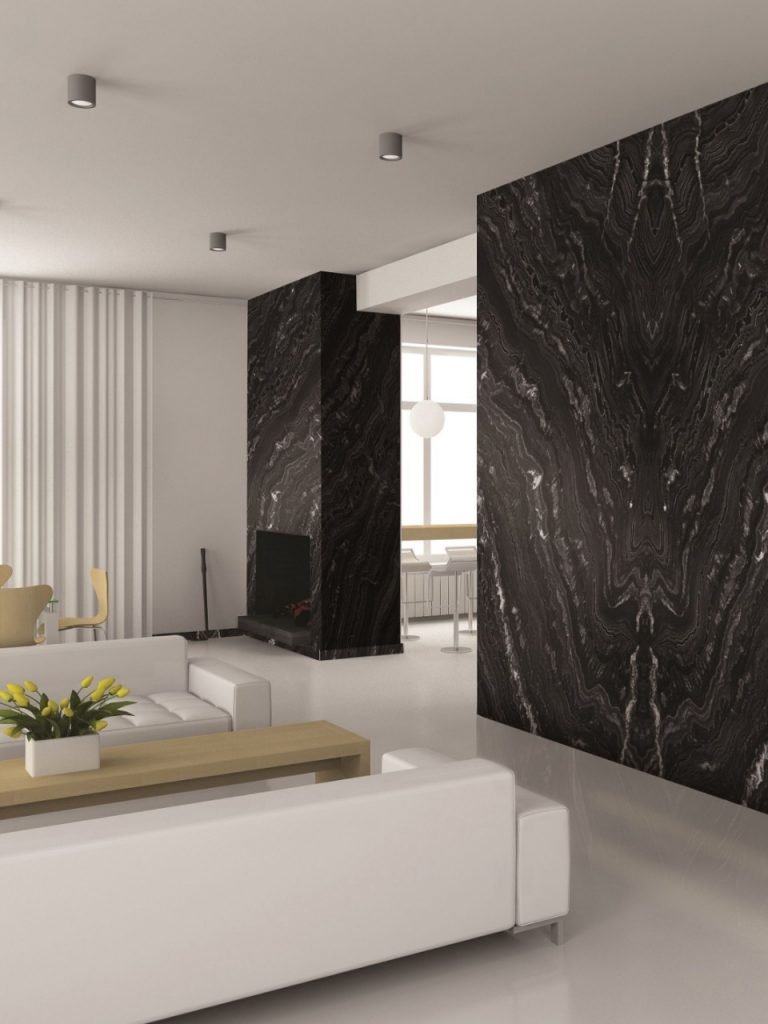 OUTDOOR APPLICATION:
Black Granite is a better option than other stones because it is heat, water, and humidity resistant. It is also unaffected by sunlight. It does not lose its color or gloss. It is also easy to clean and does not stain easily. Even if there is any form of dirt or staining, it will not be as evident on a black stone. You can choose the finishing of your stone. We offer finishes that are high in gloss, satin, or even completely matte.
HERE ARE SOME OF THE POPULAR VARIETIES AVAILABLE AT BHANDARI MARBLE GROUP:
• ABSOLUTE BLACK
• BLACK GALAXY
• BLACK PEARL
• NERO MIST
• IMPALA BLACK
• RAJASTHAN BLACK
NATURAL STONE AT YOUR DOORSTEP:
On our website, you can purchase marble from the manufacturer quickly and easily. Before placing an order, please contact our specialists. They will assist you in selecting the finish and color of the stone based on the intended use and the style of the environment.
DOORSTEP DELIVERY:
If you are looking to install natural stone in your new home, Contact us at BHANDARI MARBLE GROUP and we would make your task easy and hassle-free. We also offer doorstep delivery where it is ensured that the best quality products reach you. BHANDARI MARBLE GROUP has been a reliable partner for all your MARBLE GRANITE AND NATURAL STONE requirements since the year 1631. Decades of experience in the marble industry have made us what we are and we remain grateful to you for contributing to our success.
BHANDARI MARBLE GROUP has exclusive relationships with some of the world's most renowned Architects, Interior designers, Builders, Developers from all around the globe.
From homes or villas to hotels, we cater to all types of requirements.
For more information, follow our Facebook and Instagram.
INDIA'S TOP AND WORLD'S BEST MARBLE, GRANITE AND STONE COMPANY
CATEGORIES: REASONS TO CHOOSE, USES, BATHROOM, WALL ACCENTS, FLOORING, OUTDOOR APPLICATION, VARITIES, DELIVERY.
ADD BY EXPERT AND EXPORT TEAM OF BHANDARI MARBLE GROUP. CONTACT US ON; 9672941111.